Tanziya Shayari (Sarcastic ) "Kisi Aankh Ko Sada Do Kisi Zulf Ko Pukaro"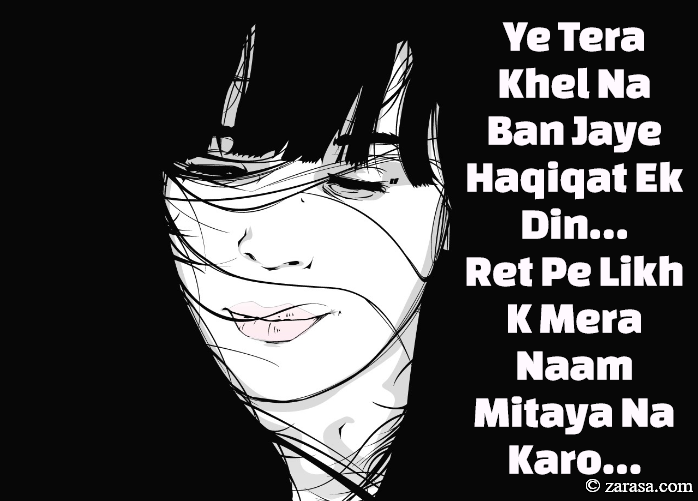 Ye Tera Khel Na Ban Jaye Haqiqat Ek Din…
Ret Pe Likh K Mera Naam Mitaya Na Karo…
ये तेरा खेल न बन जाये हक़ीक़त एक दिन …
रेट पे लिख क मेरा नाम मिटाया ना करो …
یہ تیرا کھل نہ بن جائے حقیقت ایک دن …
ریت پی لکھ کے میرا نام مٹایا نہ کرو …
---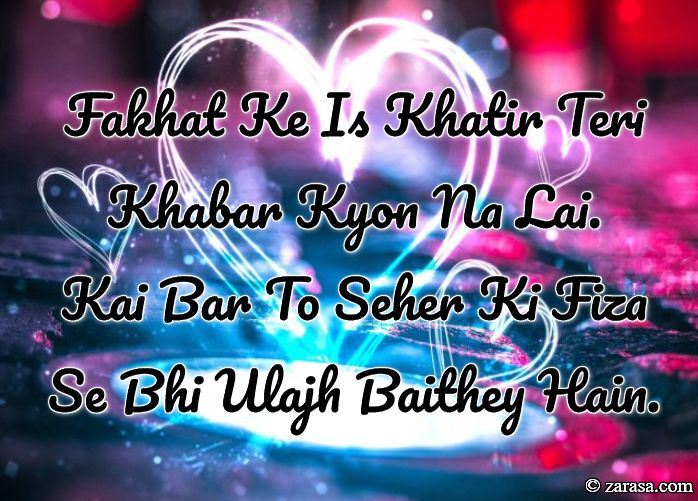 Fakhat Ke Is Khatir Teri Khabar Kyon Na Lai.
Kai Bar To Seher Ki Fiza Se Bhi Ulajh Baithey Hain.
फखत के इस खातिर तेरी खबर क्यों ना ले .
कई बार तो सेहर की फ़िज़ा से भी उलझ बैठे हैं .
فاخت کے اس خاطر تیری خبر کیوں نہ لی .
کی بار تو سہر کی فضا سے بھی الجھ بیٹھے ہیں .
---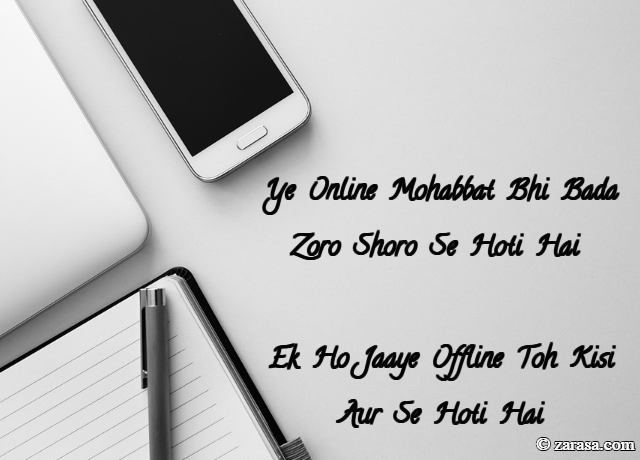 Ye Online Mohabbat Bhi Bada Zoro Shoro Se Hoti Hai
Ek Ho Jaaye Offline Toh Kisi Aur Se Hoti Hai...
ये ऑनलाइन मोहब्बत भी बड़ा ज़ोरो शोरों से होती है
एक हो जाए ऑफलाइन तोह किसी और से होती है।
یہ آن لائن موحبّت بھی بد زورو شورو سے ہوتی ہے
ایک ہو جائے وففلنے توہ کسی اور سے ہوتی ہے
---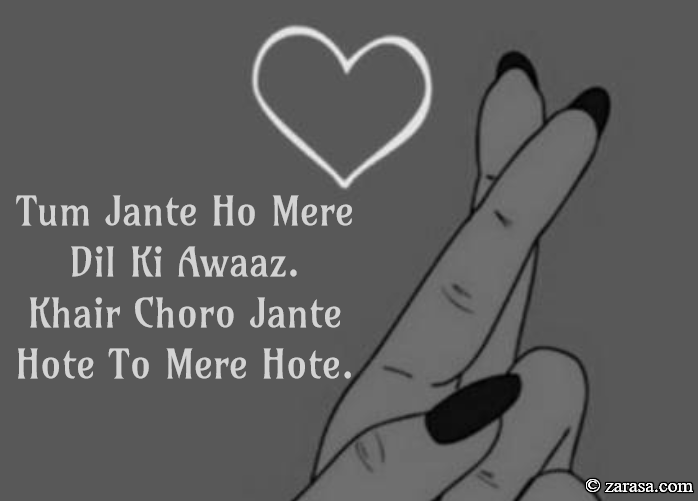 Tum Jante Ho Mere Dil Ki Awaaz.
Khair Choro Jante Hote To Mere Hote.
तुम जानते हो मेरे दिल की आवाज़ .
खैर चोरो जानते होते तो मेरे होते .
تم جانتے ہو میرے دل کی آواز .
خیر چھوڑو جانتے ہوتے تو میرے ہوتے .
---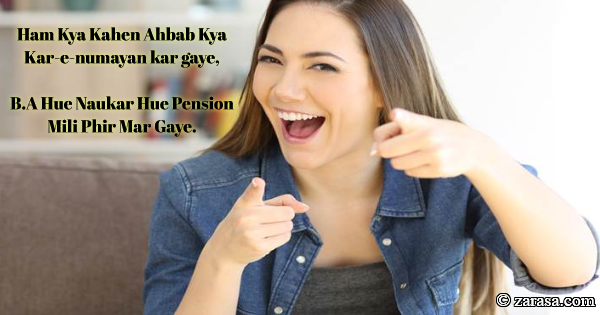 Ham Kya Kahen Ahbab Kya Kar-e-numayan kar gaye,
B.A Hue Naukar Hue Pension Mili Phir Mar Gaye.

           











हम क्या कहें अहबाब क्या कर -ए -नुमायां कर गए ,
B.A हुए नौकर हुए पेंशन मिली फिर मर गए .



ہم کیا کہیں احباب کیا کر-ے- نمایاں کر گئے ,
بی .اے ہوئے نوکر ہوئے پنشن ملی پھر مر گئے .


           
---