Tanziya Shayari "Sukoon Milta Hai"
|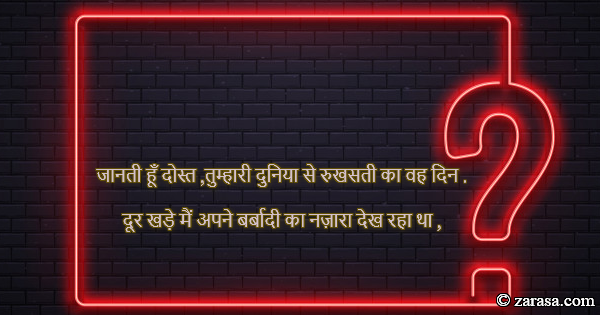 Janti Hoon Dost,Tumhari Duniya Se Rukshati Ka Woh Din,
Door Khade Main Apne Barbadi Ka Nazara Dekh Raha Tha.
जानती हूँ दोस्त ,तुम्हारी दुनिया से रुखसती का वह दिन .
दूर खड़े मैं अपने बर्बादी का नज़ारा देख रहा था ,
جانتی ہوں دوست ,تمہاری دنیا سے رکستی کا وہ دن .
دور کھڈے میں اپنے بربادی کا نظارہ دیکھ رہا تھا ,
---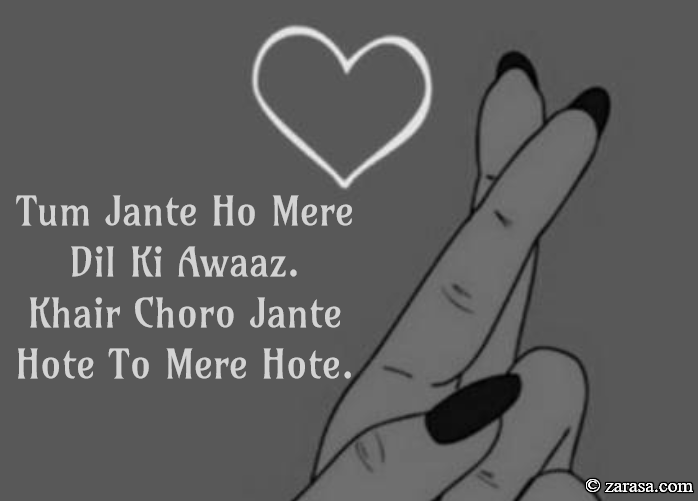 Tum Jante Ho Mere Dil Ki Awaaz.
Khair Choro Jante Hote To Mere Hote.
तुम जानते हो मेरे दिल की आवाज़ .
खैर चोरो जानते होते तो मेरे होते .
تم جانتے ہو میرے دل کی آواز .
خیر چھوڑو جانتے ہوتے تو میرے ہوتے .
---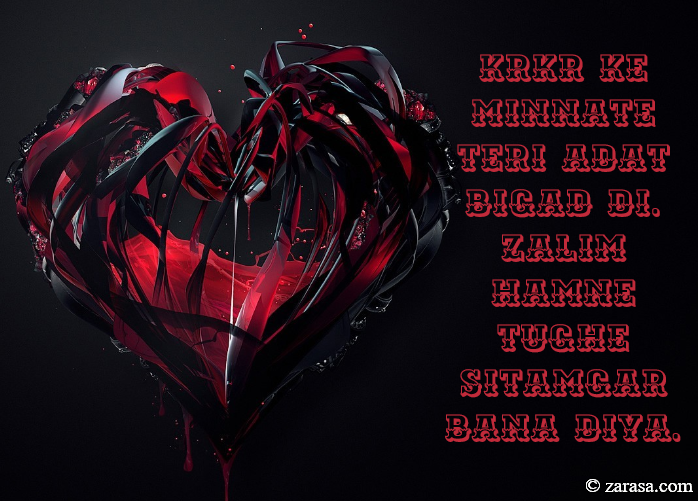 Krkr Ke Minnate Teri Adat Bigad Di.
Zalim Hamne Tughe Sitamgar Bana Diya.
करकर के मिन्नतें तेरी आदत बिगड़ दी .
ज़ालिम हमने तुझे सितमगर बना दिया .
کرکر کے منناتے تیری عادت بگد دی .
ظالم ہمنے تجھے ستمگر بنا دیا .
---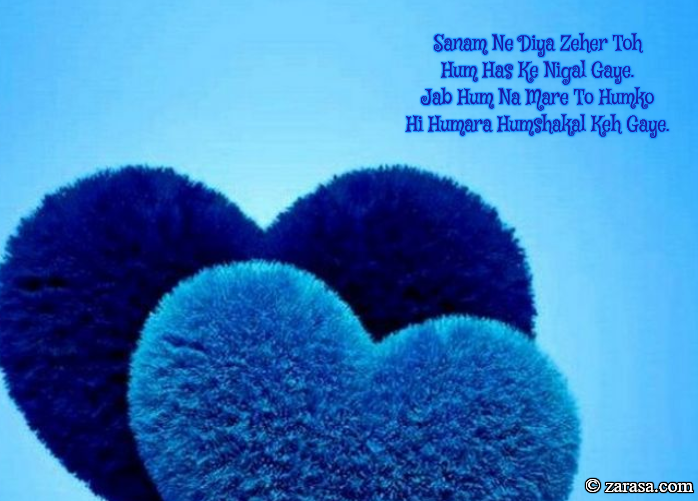 Sanam Ne Diya Zeher Toh Hum Has Ke Nigal Gaye.
Jab Hum Na Mare To Humko Hi Humara Humshakal Keh Gaye.
सनम ने दिया ज़हर तोह हम है के निगल गए .
जब हम ना मारे तो हमको ही हमारा हमशकल कह गए .
صنم نے دیا زہر ٹوہ ہم حس کے نگل گئے .
جب ہم نہ مارے تو ہمکو ہی ہمارا ہمشکل کہ گئے .
---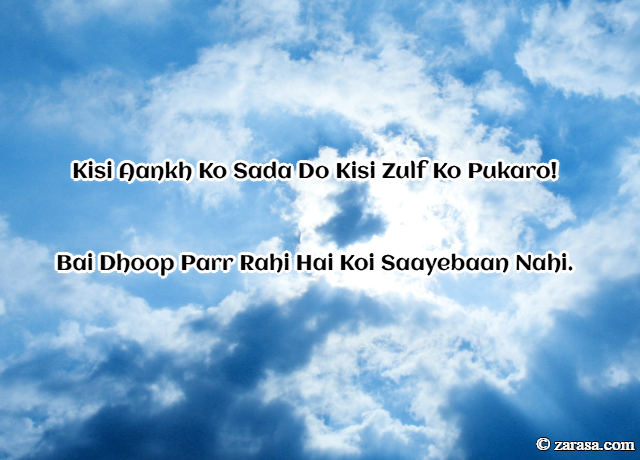 Kisi Aankh Ko Sada Do Kisi Zulf Ko Pukaro!
Bai Dhoop Parr Rahi Hai Koi Saayebaan Nahi.
किसी आँख को सदा दो किसी ज़ुल्फ़ को पुकारो !
बर्री धुप पढ़ रही है कोई सायबान नहीं .
کسی آنکھ کو سادہ دو کسی زلف کو پکارو !
برری دھوپ پڑھ رہی ہے کوئی ساےبان نہیں.
---