Tanziya Shayari (Sarcastic ) "Zuban Khamosh Hai"
|
Zuban Khamosh Hai Lekin Meri Aankhon Mein Likkha Hai.
Ki Haal-E-Dil Padha Jaata Hai, Batlaaya Nahi Jaata.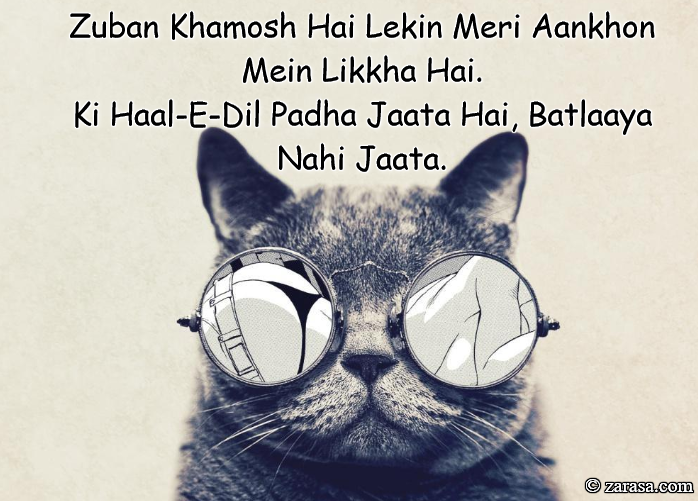 ---

ज़ुबान खामोश है लेकिन मेरी आँखों में लिखा है .
की हाल -इ -दिल पढ़ा जाता है , बतलाया नहीं जाता .


---

زبان خاموش ہے لیکن میری آنکھوں میں لکّھا ہے .
کی حال -ا -دل پڑھا جاتا ہے , بتلایا نہیں جاتا .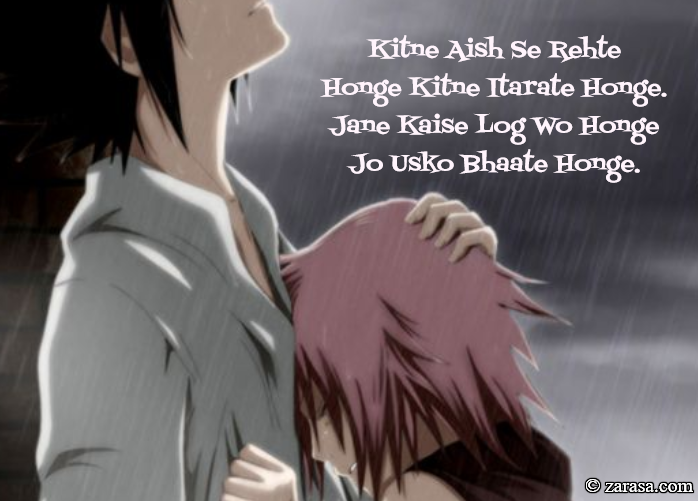 Kitne Aish Se Rehte Honge Kitne Itarate Honge.
Jane Kaise Log Wo Honge Jo Usko Bhaate Honge.
कितने ऐश से रहते होंगे कितने इतराते होंगे .
जाने कैसे लोग वो होंगे जो उसको भाते होंगे .
کتنے ایش سے رہتے ہونگے کتنے اترتے ہونگے .
جانے کیسے لوگ وو ہونگے جو اسکو بھاتے ہونگے .
---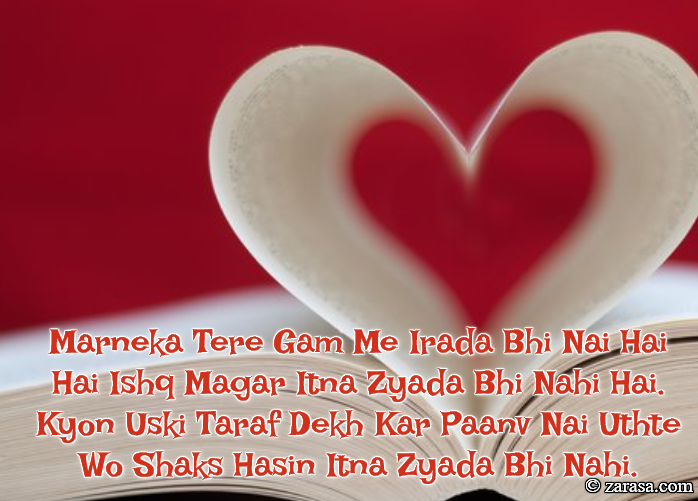 Marneka Tere Gam Me Irada Bhi Nai Hai Hai Ishq Magar Itna Zyada Bhi Nahi Hai.
Kyon Uski Taraf Dekh Kar Paanv Nai Uthte Wo Shaks Hasin Itna Zyada Bhi Nahi.
मरनेका तेरे गम में इरादा भी नहीं है इश्क़ मगर इतना ज़्यादा भी नहीं है .
क्यों उसकी तरफ देख कर पाँव नहीं उठते वो शख्स हसीं इतना ज़्यादा भी नहीं .
مرنیکا تیرے گم مے ارادہ بھی نہیں ہے عشق مگر اتنا زیادہ بھی نہیں ہے .
کیوں اسکی طرف دیکھ کر پہنو نہیں اٹھیں وو شکس حسین اتنا زیادہ بھی نہیں .
---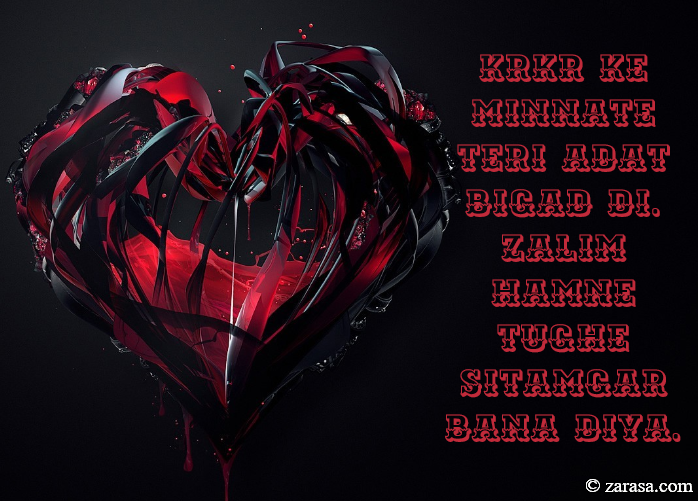 Krkr Ke Minnate Teri Adat Bigad Di.
Zalim Hamne Tughe Sitamgar Bana Diya.
करकर के मिन्नतें तेरी आदत बिगड़ दी .
ज़ालिम हमने तुझे सितमगर बना दिया .
کرکر کے منناتے تیری عادت بگد دی .
ظالم ہمنے تجھے ستمگر بنا دیا .
---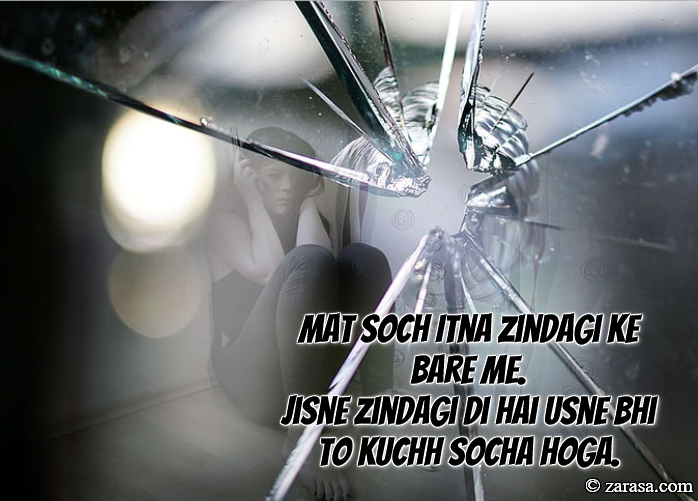 Mat Soch Itna Zindagi Ke Bare Me.
Jisne Zindagi Di Hai Usne Bhi To Kuchh Socha Hoga.
मत सोच इतना ज़िन्दगी के बारे में .
जिसने ज़िन्दगी दी है उसने भी तो कुछ सोचा होगा .
مت سوچ اتنا زندگی کے بارے مے .
جسنے زندگی دی ہے اسنے بھی تو کچھ سوچا ہوگا .
---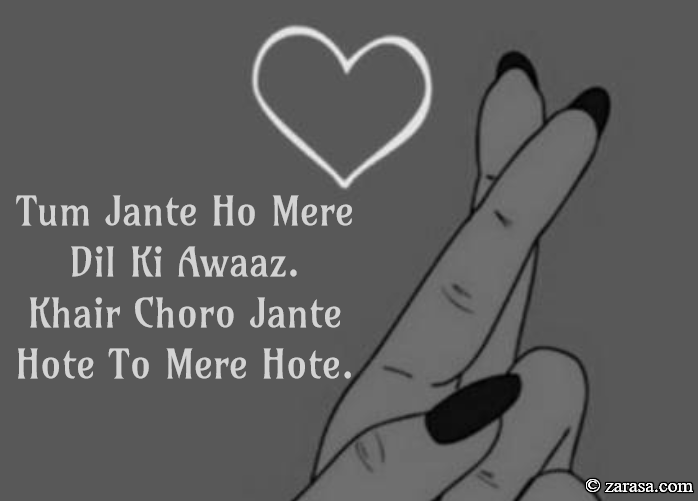 Tum Jante Ho Mere Dil Ki Awaaz.
Khair Choro Jante Hote To Mere Hote.
तुम जानते हो मेरे दिल की आवाज़ .
खैर चोरो जानते होते तो मेरे होते .
تم جانتے ہو میرے دل کی آواز .
خیر چھوڑو جانتے ہوتے تو میرے ہوتے .
---