Tanziya Shayari (Sarcastic ) "Zuban Khamosh Hai"
|
Zuban Khamosh Hai Lekin Meri Aankhon Mein Likkha Hai.
Ki Haal-E-Dil Padha Jaata Hai, Batlaaya Nahi Jaata.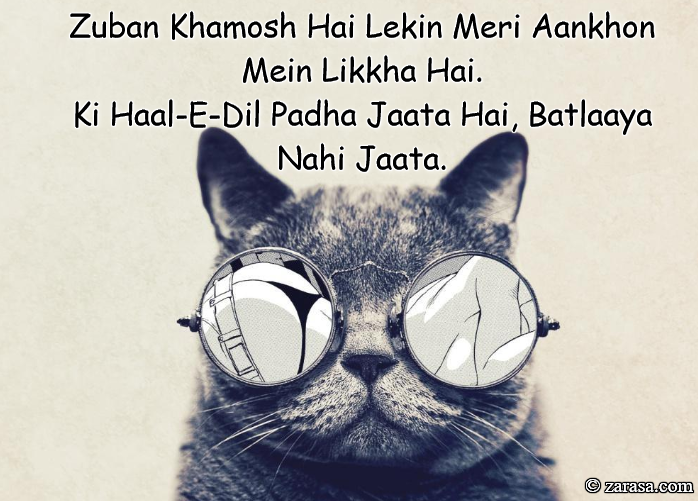 ---

ज़ुबान खामोश है लेकिन मेरी आँखों में लिखा है .
की हाल -इ -दिल पढ़ा जाता है , बतलाया नहीं जाता .


---

زبان خاموش ہے لیکن میری آنکھوں میں لکّھا ہے .
کی حال -ا -دل پڑھا جاتا ہے , بتلایا نہیں جاتا .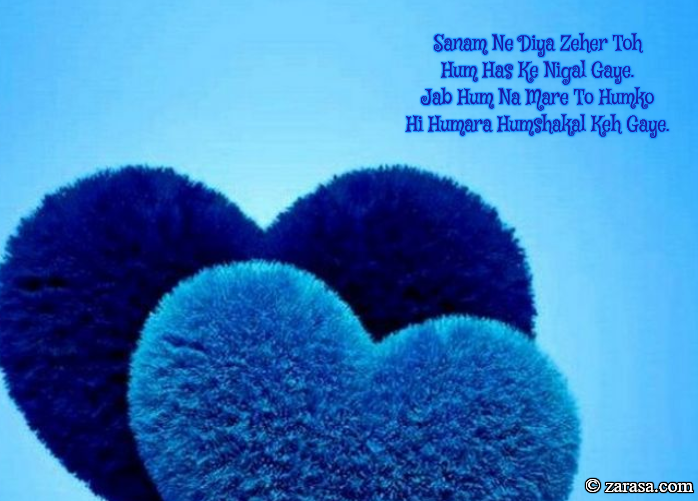 Sanam Ne Diya Zeher Toh Hum Has Ke Nigal Gaye.
Jab Hum Na Mare To Humko Hi Humara Humshakal Keh Gaye.
सनम ने दिया ज़हर तोह हम है के निगल गए .
जब हम ना मारे तो हमको ही हमारा हमशकल कह गए .
صنم نے دیا زہر ٹوہ ہم حس کے نگل گئے .
جب ہم نہ مارے تو ہمکو ہی ہمارا ہمشکل کہ گئے .
---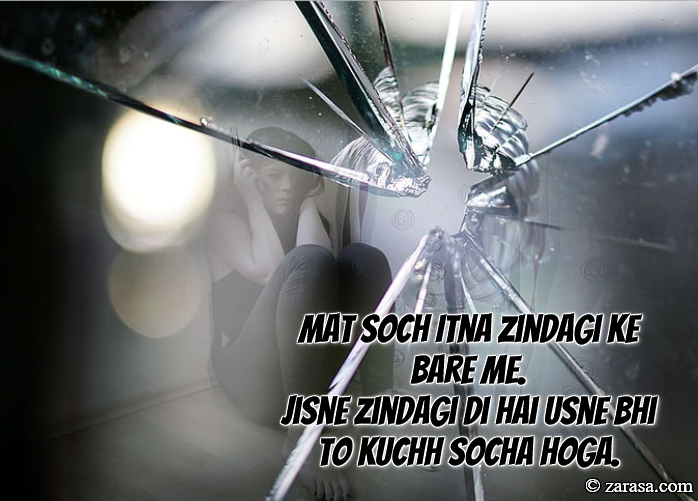 Mat Soch Itna Zindagi Ke Bare Me.
Jisne Zindagi Di Hai Usne Bhi To Kuchh Socha Hoga.
मत सोच इतना ज़िन्दगी के बारे में .
जिसने ज़िन्दगी दी है उसने भी तो कुछ सोचा होगा .
مت سوچ اتنا زندگی کے بارے مے .
جسنے زندگی دی ہے اسنے بھی تو کچھ سوچا ہوگا .
---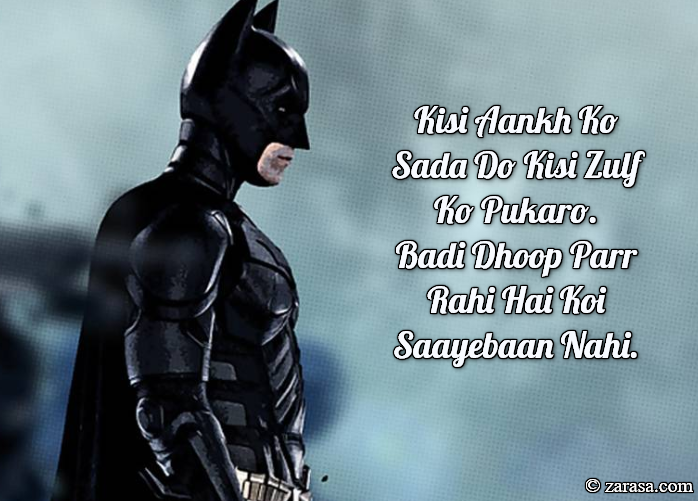 Kisi Aankh Ko Sada Do Kisi Zulf Ko Pukaro.
Badi Dhoop Parr Rahi Hai Koi Saayebaan Nahi.
किसी आँख को सदा दो किसी ज़ुल्फ़ को पुकारो .
बड़ी धुप पर रही है कोई सायबान नाही .
کسی آنکھ کو سادہ دو کسی زلف کو پکارو .
بدی دھوپ پرر رہی ہے کوئی ساےبان نہیں .
---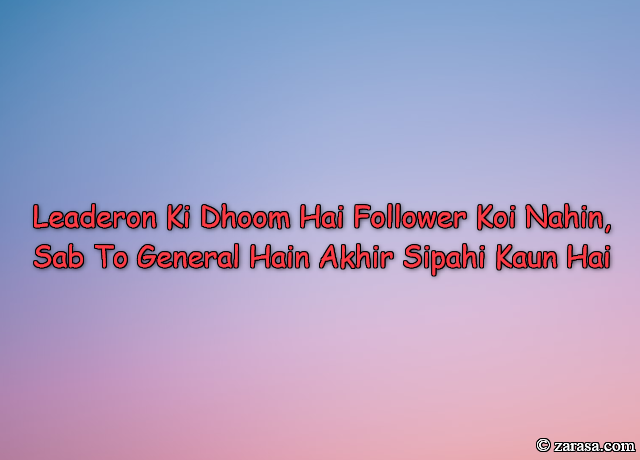 Leaderon Ki Dhoom Hai Follower Koi Nahin,
Sab To General Hain Akhir Sipahi Kaun Hai


लीडरों की धूम है फोल्लोवेर कोई नहीं ,
सब तो जनरल हैं आखिर सिपाही कौन है
              अकबर अल्लहाबादी
لیڈروں کی دھوم ہے فولّور کوئی نہیں ,
سب تو جنرل ہیں اکھڑ سپاہی کون ہے -
              اکبر اللہآبادی
---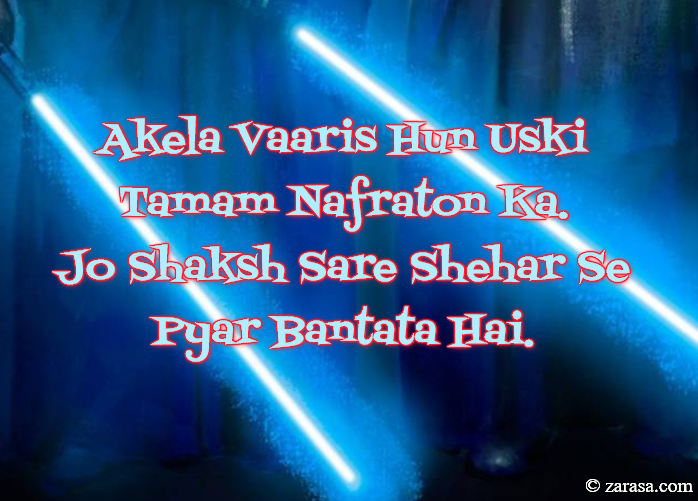 Akela Vaaris Hun Uski Tamam Nafraton Ka.
Jo Shaksh Sare Shehar Se Pyar Bantata Hai.
अकेला वारिस हूँ उसकी तमाम नफरतों का .
जो शक्श सरे शहर से प्यार बांटता है .
اکیلا وارث ہوں اسکی تمام نفرتوں کا .
جو شکش سارے شہر سے پیار بانٹتا ہے .
---