Zid Shayari "Khud Se Jeetane Ki Zid Hai Mujhe"


Khud Se Jeetane Ki Zid Hai Mujhe Khud Ko Hi Harana Hai,
Main Bheed Nahi Hun Duniya Ki, Mere Andar Ek Zamaana Hai.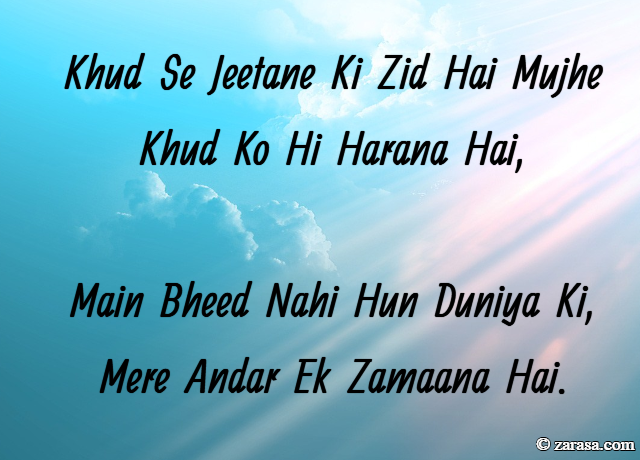 ---

खुद से जीतने की जिद है मुझे खुद को ही हराना है,
मै भीड़ नहीं हूँ दुनिया की ,मेरे अन्दर एक ज़माना है.


---

خود سے جیتنے کی زد ہے مجھے خود کو ہی ہرانا ہے
می بھیڈ نہی ہو دنیا کی میرے اندر ایک زمانہ ہے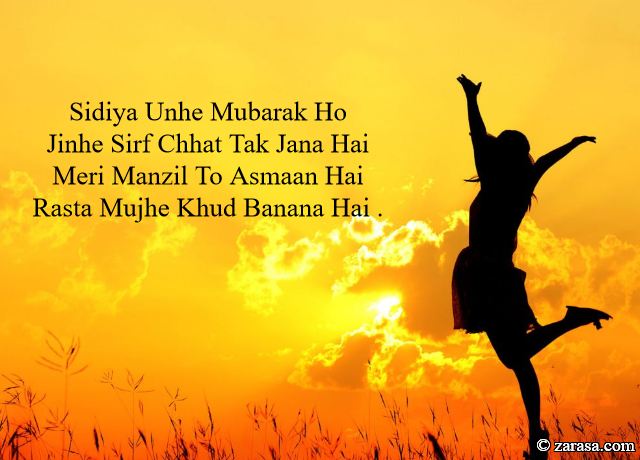 Sidiya Unhe Mubarak Ho
Jinhe Sirf Chhat Tak Jana Hai
Meri Manzil To Asmaan Hai
Rasta Mujhe Khud Banana Hai .
सिडिया उन्हें मुबारक हो
जिन्हे सिर्फ छत तक जाना है
मेरी मंज़िल तो आसमान है
रास्ता मुझे खुद बनाना है
صدیا انھ مبارک ہو
جنہے صرف چہت تک جانا ہے
میری منزل توه آسمان ہے
راستہ مجھے خود بنانا ہیں
---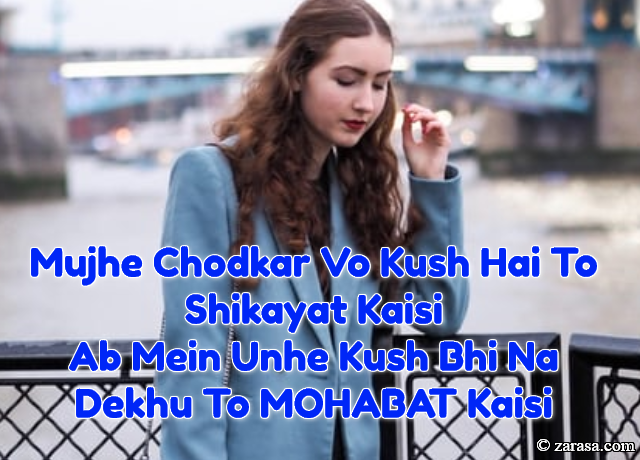 Mujhe Chodkar Vo Kush Hai To Shikayat Kaisi
Ab Mein Unhe Khush Bhi Na Dekhu To Mohabbat Kaisi
मुझे छोड़कर वो कुश है तो शिकायत कैसी
अब में उन्हें कुश भी न देखु तो मोहबत कैसी
مجھے چھوڑکر وہ خوش ہے تو شکایات کیسی
اب میں انھ خوش بھی نہ دیکھو تو موہبت کیسی
---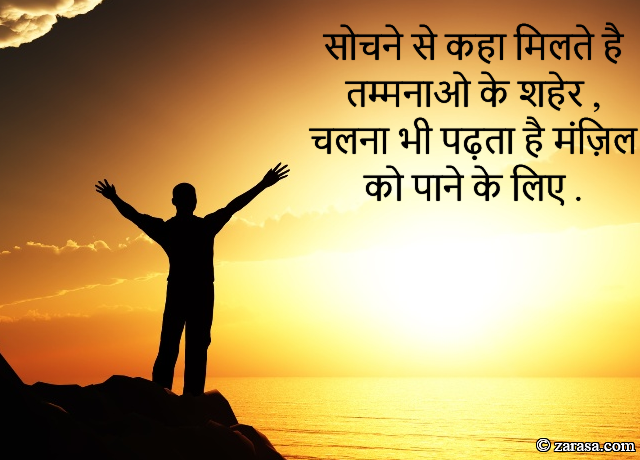 Sochne Se Kha Milte Hai Tamannao Ke Sheher,
Chalna Bhi Zaroori Hai Manzil Ko Pane Ke Liye.
सोचने से कहा मिलते है तम्मनाओ के शहेर ,
चलना भी पढ़ता है मंज़िल को पाने के लिए .
سوچنے سے کہا ملتے ہے تممناؤ کے شہر ,
چلنا بھی ضروری ہے منزل کو پانے کے لئے .
---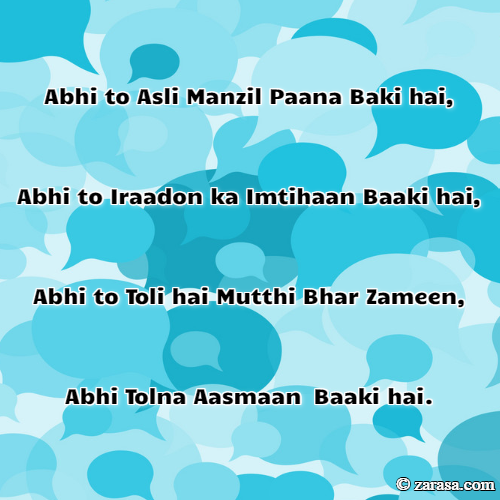 Abhi to Asli Manzil Paana Baki hai,
Abhi to Iraadon ka Imtihaan Baaki hai,
Abhi to Toli hai Mutthi Bhar Zameen,
Abhi Tolna Aasmaan  Baaki hai.
अभी तो असली मंजिल पाना बाकी है,
अभी तो इरादों का इम्तिहान बाकी है,
अभी तो तोली है मुट्ठी भर जमीन,
अभी तोलना आसमान बाकी है।
ابھی تو اصلی منزل پانا باکی ہے
ابھی تو ارادو کا امتحاں باکی ہے
ابھی تو ٹولی ہے مٹھی بھر زمین
ابھی تولنا آسمان باکی ہے
---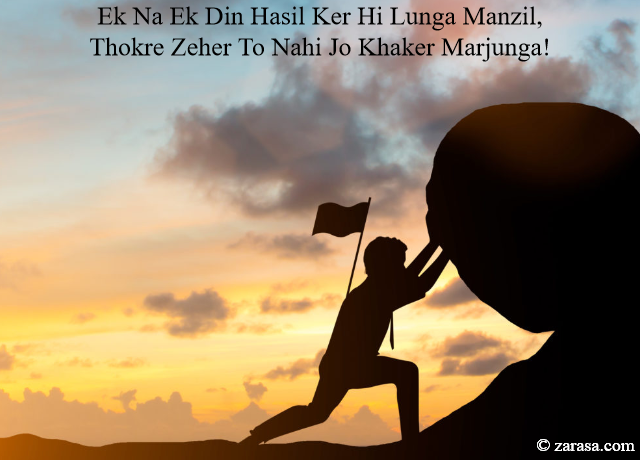 Ek Na Ek Din Hasil Ker Hi Lunga Manzil,
Thokre Zeher To Nahi Jo Khaker Marjunga!
एक न एक दिन हासिल कर ही लूंगा मंज़िल ,
ठोकरे ज़हर तो नहीं जो खाकर मेरजाऊँगा !
ایک نہ ایک دن حاصل کر ہی لونگا منزل ,
تھوکرے زہر تو نہیں جو کھاکر مرجاؤنگا !
---