Zid Shayari "Khud Se Jeetane Ki Zid Hai Mujhe"
|


Khud Se Jeetane Ki Zid Hai Mujhe Khud Ko Hi Harana Hai,
Main Bheed Nahi Hun Duniya Ki, Mere Andar Ek Zamaana Hai.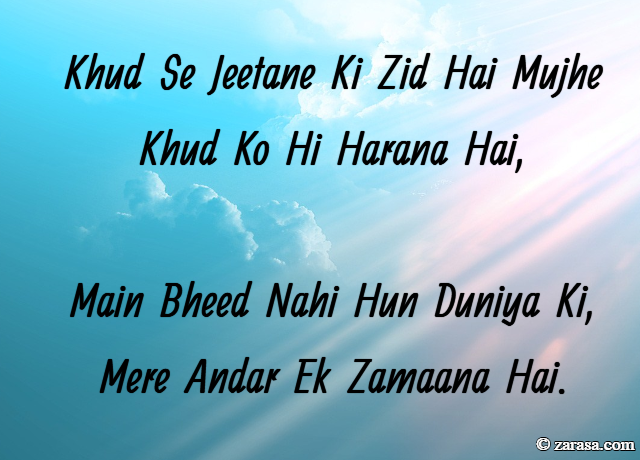 ---

खुद से जीतने की जिद है मुझे खुद को ही हराना है,
मै भीड़ नहीं हूँ दुनिया की ,मेरे अन्दर एक ज़माना है.


---

خود سے جیتنے کی زد ہے مجھے خود کو ہی ہرانا ہے
می بھیڈ نہی ہو دنیا کی میرے اندر ایک زمانہ ہے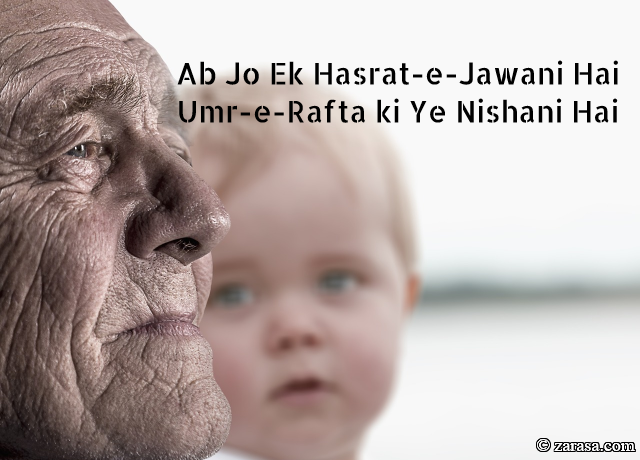 Ab Jo Ek Hasrat-e-Jawani Hai
Umr-e-Rafta ki Ye Nishani Hai
अब जो एक हसरत-ए-जवानी है
उम्र-ए-रफ्ता की ये निशानी है
اب جو ایک حسرت-ے-جوانی ہے
عمر-ے-رفتا کی یہ نشانی ہے
---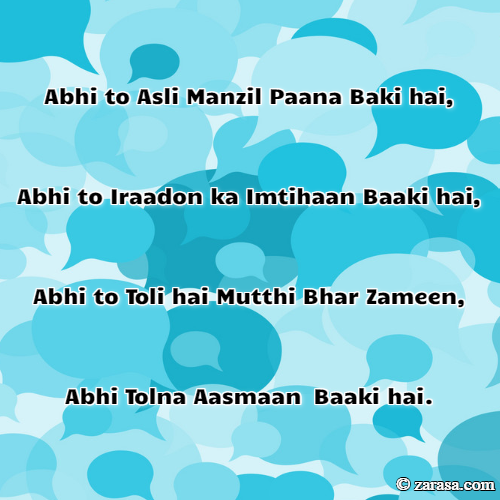 Abhi to Asli Manzil Paana Baki hai,
Abhi to Iraadon ka Imtihaan Baaki hai,
Abhi to Toli hai Mutthi Bhar Zameen,
Abhi Tolna Aasmaan  Baaki hai.
अभी तो असली मंजिल पाना बाकी है,
अभी तो इरादों का इम्तिहान बाकी है,
अभी तो तोली है मुट्ठी भर जमीन,
अभी तोलना आसमान बाकी है।
ابھی تو اصلی منزل پانا باکی ہے
ابھی تو ارادو کا امتحاں باکی ہے
ابھی تو ٹولی ہے مٹھی بھر زمین
ابھی تولنا آسمان باکی ہے
---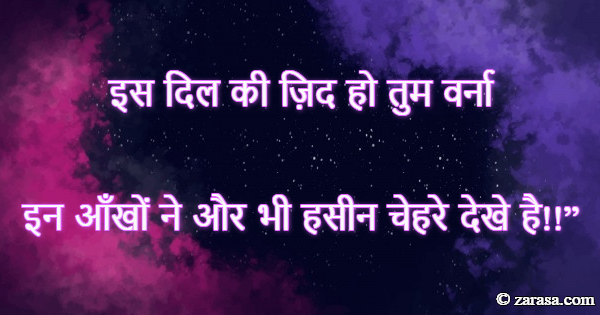 Is Dil Ki Zid Ho Tum Varna
In Aankhon Ne Aur Bhi Haseen Chehre Dekhe Hai....
इस दिल की ज़िद हो तुम वर्ना

इन आँखों ने और भी हसीन चेहरे देखे है!!"
اس دل کی زد ہو تم ورنہ
ان آنکھو نے اور بھی حسین چہرے دیکھ ہے
---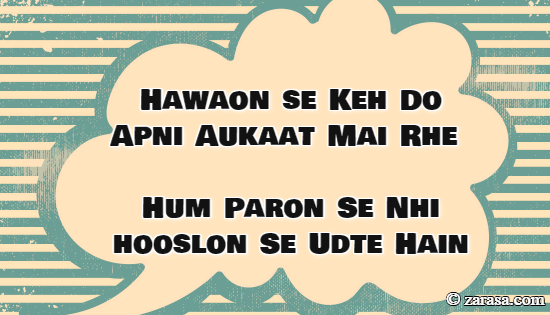 Hawaon se Keh Do Apni Aukaat Mai Rhe
Hum Paron Se Nhi hooslon Se Udte Hain.
हवाओं से कह दो अपनी औकात में रहे,
हम परों से नहीं हौसलों से उड़ते हैं |
ہواؤں سے کہدو اپنی اوکات می رہی
ہم پروں سے نہی حوصلوں سے اڑتے ہیں
---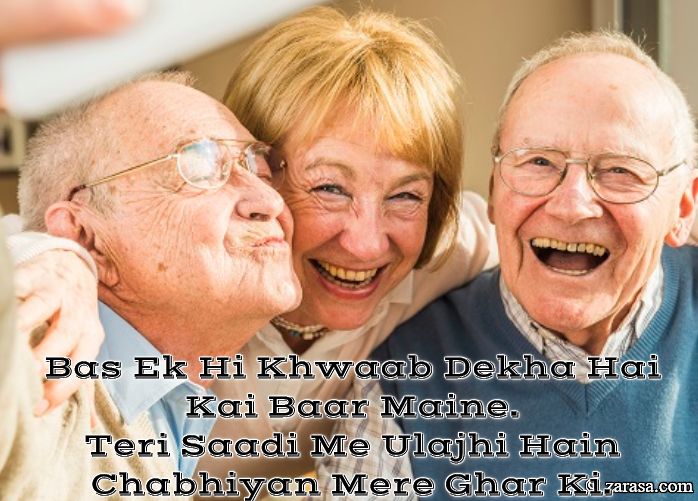 Bas Ek Hi Khwaab Dekha Hai Kai Baar Maine.
Teri Saadi Me Ulajhi Hain Chabhiyan Mere Ghar Ki.
बस एक ही ख्वाब देखा है कई बार मैंने .
तेरी साडी में उलझी हैं चाभियाँ मेरे घर की .

بس ایک ہی خواب دیکھا ہے کی بار مہینے .
تیری سادی مے الجھی ہیں چبھیں میرے گھر کی .
---