Motivation Shayari For Students"Jitna Sochte Hai "
|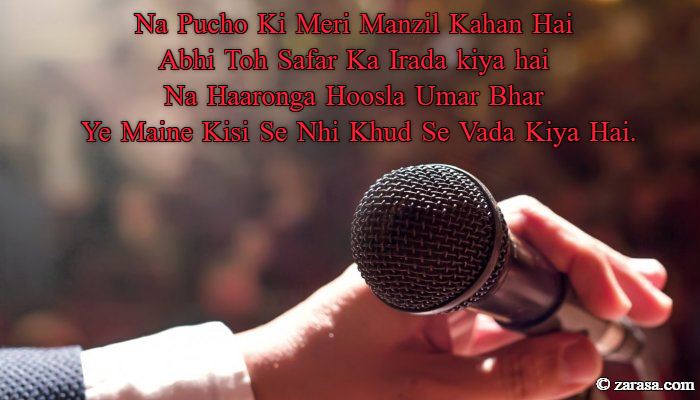 Na Pucho Ki Meri Manzil Kahan Hai
Abhi Toh Safar Ka Irada kiya hai
Na Haaronga Hoosla Umar Bhar
Ye Maine Kisi Se Nhi Khud Se Vada Kiya Hai.
ना पूछो कि मेरी मंजिल कहाँ है
अभी तो सफर का इरादा किया है
ना हारूंगा हौंसला उम्र भर
ये मैंने किसी से नहीं खुद से वादा किया है |
نہ پچو کی میری منزل کہاں ہے
ابھی تو سفر کا ارادہ کیا ہے
نہ ہارونگا حوصلہ امر بھر
یہ مہینے کسی سے نہی خود سے وادا کیا ہے
---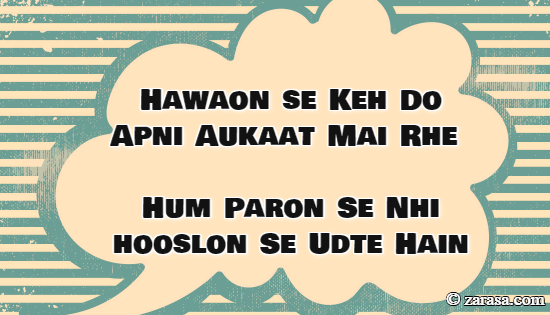 Hawaon se Keh Do Apni Aukaat Mai Rhe
Hum Paron Se Nhi hooslon Se Udte Hain.
हवाओं से कह दो अपनी औकात में रहे,
हम परों से नहीं हौसलों से उड़ते हैं |
ہواؤں سے کہدو اپنی اوکات می رہی
ہم پروں سے نہی حوصلوں سے اڑتے ہیں
---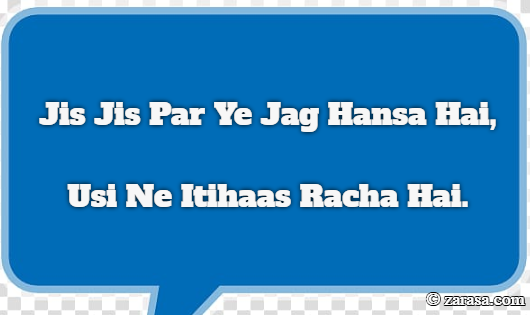 Jis Jis Par Ye Jag Hansa Hai,
Usi Ne Itihaas Racha Hai.

जिस-जिस पर ये जग हँसा है,

उसी ने इतिहास रचा है।
جس جس پر یہ جگ حسا ہے
اسی نے اتہاس رچا ہے
---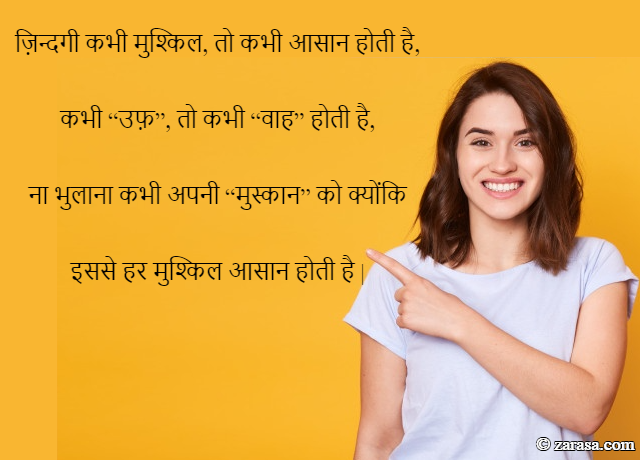 Zindagi Kabhi Mushkil, To Kabhi Aasaan Hoti Hai,
Kabhi "Uf", To Kabhi "Vaah" Hoti Hai,
Na Bhulaana Kabhi Apni "Muskaan" Ko Kyonki
Isse Har Mushkil Aasaan Hoti Hai .
ज़िन्दगी कभी मुश्किल, तो कभी आसान होती है,
कभी "उफ़", तो कभी "वाह" होती है,
ना भुलाना कभी अपनी "मुस्कान" को क्योंकि
इससे हर मुश्किल आसान होती है |
زندگی کبھی مشکل تو کبھی آسان ہوتی ہے
کبھی اف تو کبھی واہ ہوتی ہے
نہ بھلانا کبھی اپنی مسکان کو کیونکی
اسے ہر مشکل آسان ہوتی ہے
---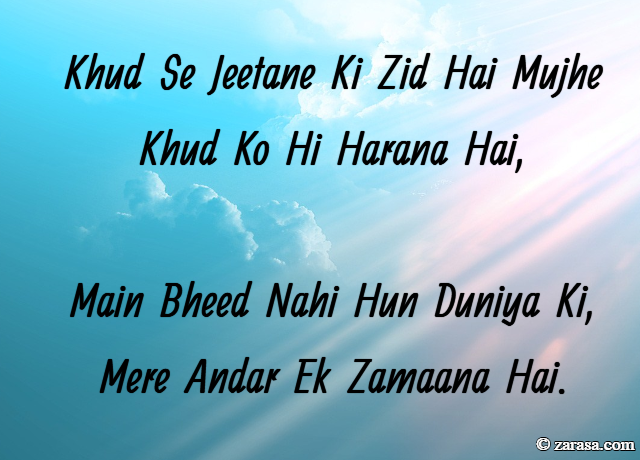 Khud Se Jeetane Ki Zid Hai Mujhe Khud Ko Hi Harana Hai,
Main Bheed Nahi Hun Duniya Ki, Mere Andar Ek Zamaana Hai.



खुद से जीतने की जिद है मुझे खुद को ही हराना है,
मै भीड़ नहीं हूँ दुनिया की ,मेरे अन्दर एक ज़माना है.
خود سے جیتنے کی زد ہے مجھے خود کو ہی ہرانا ہے
می بھیڈ نہی ہو دنیا کی میرے اندر ایک زمانہ ہے
---