Shayari for Old peoples "Aag Lage Aur Dhuan Na Ho "
|
Koshish Bahot Ki Ke Raj-E-Mohabbat Bayan Na Ho.
Par Kahan Mumkin Hai He Aag Lage Aur Dhuan Na Ho.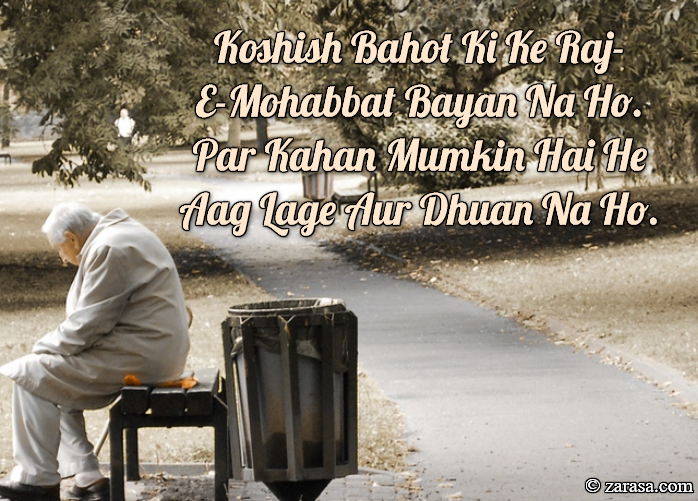 ---

कोशिश बहोत की के राज -इ -मोहब्बत बयां ना हो .
पर कहाँ मुमकिन है हे आग लगे और धुआं ना हो .



---

کوشش بھوت کی کے راج -ا -موحبّت بیان نہ ہو .
پر کہاں ممکن ہے ہے آگ لگے اور دھان نہ ہو .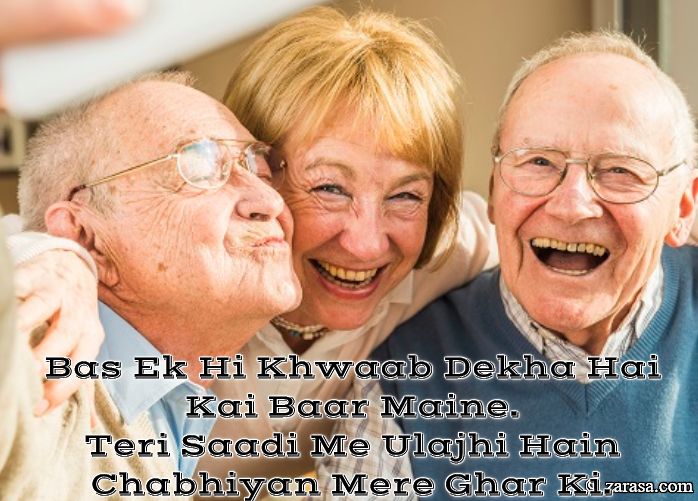 Bas Ek Hi Khwaab Dekha Hai Kai Baar Maine.
Teri Saadi Me Ulajhi Hain Chabhiyan Mere Ghar Ki.
बस एक ही ख्वाब देखा है कई बार मैंने .
तेरी साडी में उलझी हैं चाभियाँ मेरे घर की .

بس ایک ہی خواب دیکھا ہے کی بار مہینے .
تیری سادی مے الجھی ہیں چبھیں میرے گھر کی .
---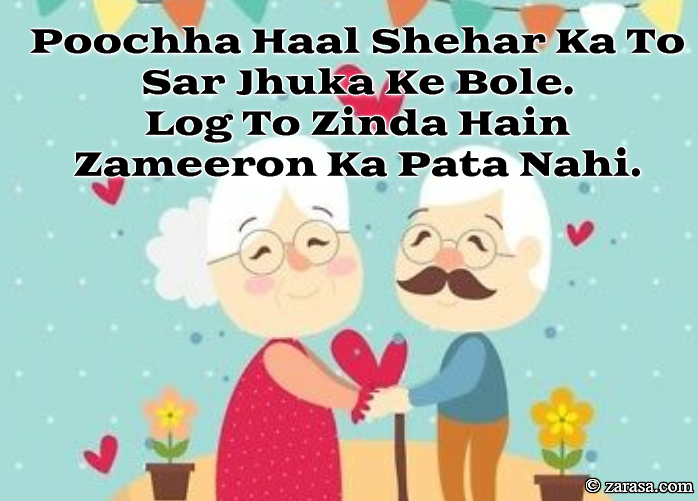 Poochha Haal Shehar Ka To Sar Jhuka Ke Bole.
Log To Zinda Hain Zameeron Ka Pata Nahi.
पूछा हाल शहर का तो सर झुका के बोले .
लोग तो ज़िंदा हैं ज़मीरों का पता नहीं .
پوچھ حال شہر کا تو سر جھکا کے بولے .
لوگ تو زندہ ہیں ضمیروں کا پتا نہیں .
---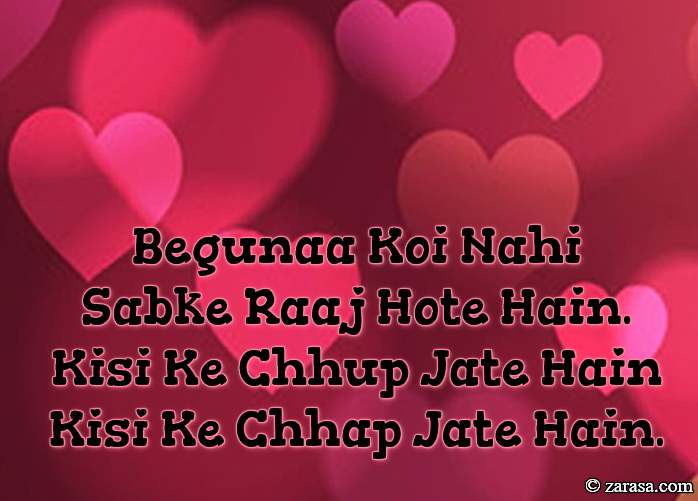 Begunaah Koi Nahi Sabke Raaj Hote Hain.
Kisi Ke Chhup Jate Hain Kisi Ke Chhap Jate Hain.
बेगुनाह कोई नहीं सबके राज़ होते हैं .
किसी के छुप जाते हैं किसी के छाप जाते हैं .

بیگناہ کوئی نہیں سبکے راز ہوتے ہیں .
کسی کے چھپ جاتے ہیں کسی کے چھپ جاتے ہیں .
---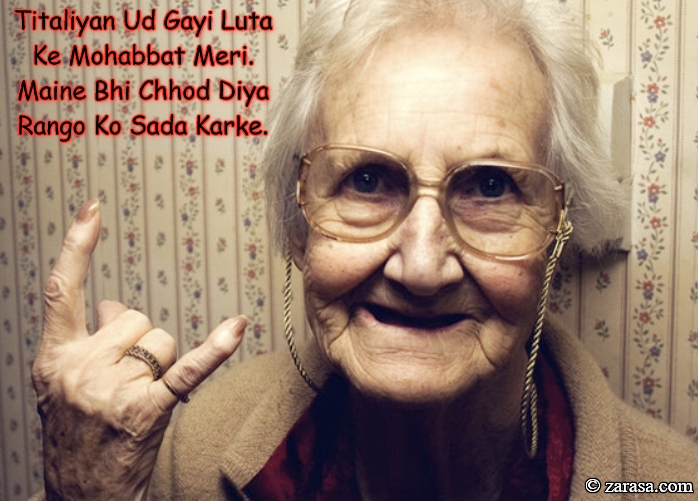 Titaliyan Ud Gayi Luta Ke Mohabbat Meri.
Maine Bhi Chhod Diya Rango Ko Sada Karke.
तितलियाँ उड़ गयी लुटा के मोहब्बत मेरी .
मैंने भी छोड़ दिया रंगो को सदा करके .
تتلیاں اد گی لوٹا کے موحبّت میری .
مہینے بھی چھوڈ دیا رنگو کو سادہ کرکے .
---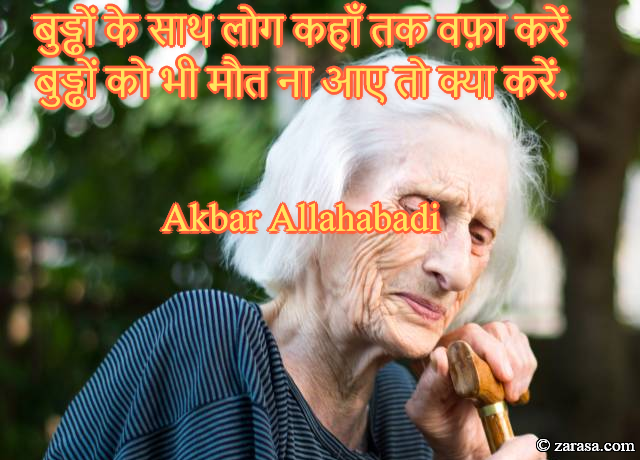 Boordhon Ke Saath Log Kahan Tak Wafa Karen
Boordhon Ko Bhi Maut Naa Aae To Kya Karen.
बुड्ढों के साथ लोग कहाँ तक वफ़ा करें
बुड्ढों को भी मौत ना आए तो क्या करें .
بوڑھوں کے ساتھ لوگ کہاں تک وفا کریں
بوڑھوں کو بھی موت نا اے تو کیا کریں .


---