Shayari for Old peoples "Aag Lage Aur Dhuan Na Ho "
|
Koshish Bahot Ki Ke Raj-E-Mohabbat Bayan Na Ho.
Par Kahan Mumkin Hai He Aag Lage Aur Dhuan Na Ho.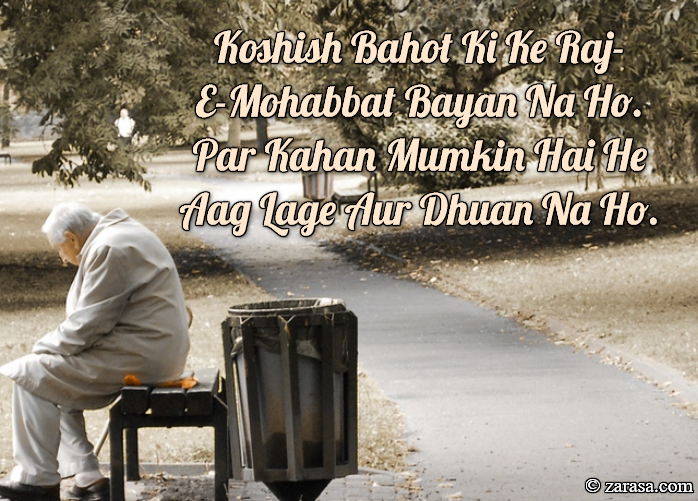 ---

कोशिश बहोत की के राज -इ -मोहब्बत बयां ना हो .
पर कहाँ मुमकिन है हे आग लगे और धुआं ना हो .



---

کوشش بھوت کی کے راج -ا -موحبّت بیان نہ ہو .
پر کہاں ممکن ہے ہے آگ لگے اور دھان نہ ہو .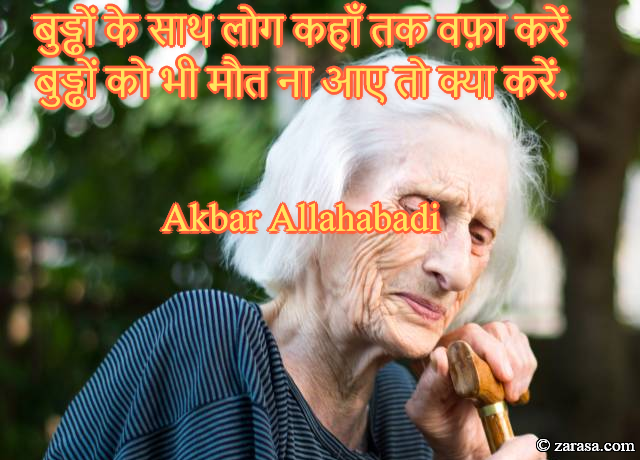 Boordhon Ke Saath Log Kahan Tak Wafa Karen
Boordhon Ko Bhi Maut Naa Aae To Kya Karen.
बुड्ढों के साथ लोग कहाँ तक वफ़ा करें
बुड्ढों को भी मौत ना आए तो क्या करें .
بوڑھوں کے ساتھ لوگ کہاں تک وفا کریں
بوڑھوں کو بھی موت نا اے تو کیا کریں .


---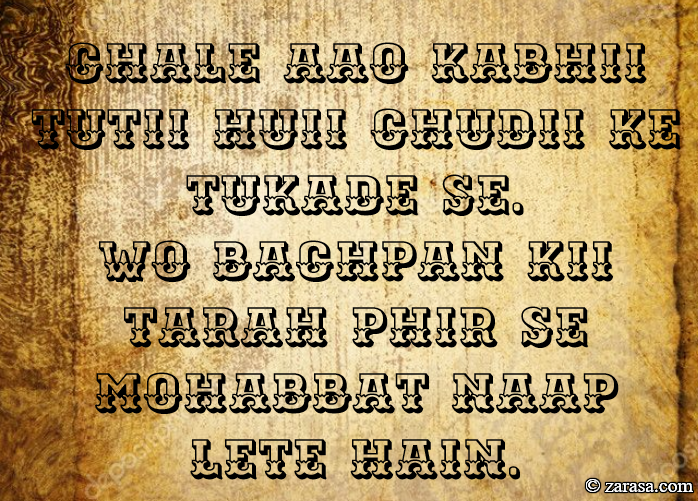 Chale Aao Kabhii Tutii Huii Chudii Ke Tukade Se.
Wo Bachpan Kii Tarah Phir Se Mohabbat Naap Lete Hain.
चले आओ कभी टूटी हुई चूड़ी के टुकड़े से .
वो बचपन की तरह फिर से मोहब्बत नाप लेते हैं .
چلے اؤ کبھی ٹوٹی ہوئی کھودی کے تکدے سے .
وو بچپن کی طرح پھر سے موحبّت ناپ لیتے ہیں .
---
Ajeeb Saudaagar Hai ye Waqt Bhii.
Jawaani Kaa Laalach De Ke Bachpan Le Gayaa.
अजीब सौदागर है ये वक़्त भी .
जवानी का लालच दे के बचपन ले गया .
عجیب سوداگر ہے یہ وقت بھی .
جوانی کا لالچ دے کے بچپن لے گیا .
---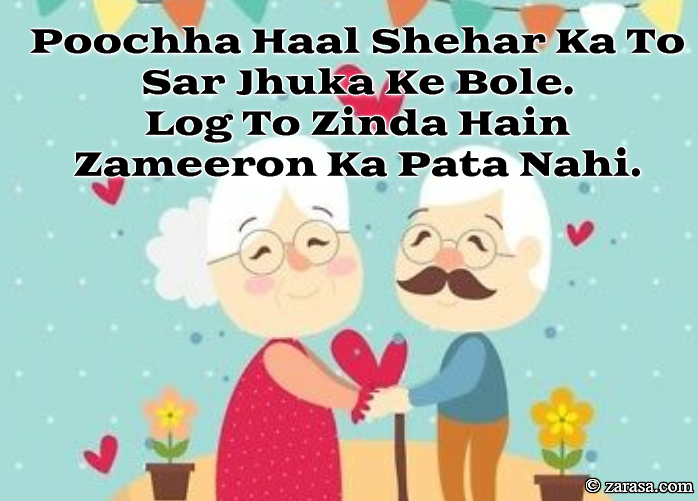 Poochha Haal Shehar Ka To Sar Jhuka Ke Bole.
Log To Zinda Hain Zameeron Ka Pata Nahi.
पूछा हाल शहर का तो सर झुका के बोले .
लोग तो ज़िंदा हैं ज़मीरों का पता नहीं .
پوچھ حال شہر کا تو سر جھکا کے بولے .
لوگ تو زندہ ہیں ضمیروں کا پتا نہیں .
---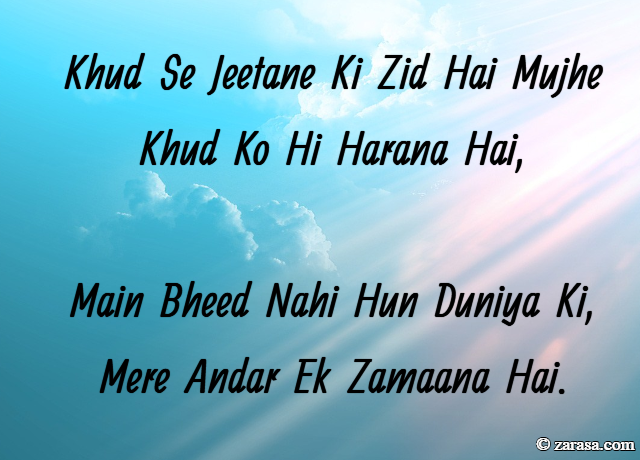 Khud Se Jeetane Ki Zid Hai Mujhe Khud Ko Hi Harana Hai,
Main Bheed Nahi Hun Duniya Ki, Mere Andar Ek Zamaana Hai.



खुद से जीतने की जिद है मुझे खुद को ही हराना है,
मै भीड़ नहीं हूँ दुनिया की ,मेरे अन्दर एक ज़माना है.
خود سے جیتنے کی زد ہے مجھے خود کو ہی ہرانا ہے
می بھیڈ نہی ہو دنیا کی میرے اندر ایک زمانہ ہے
---