(MOTIVATION SHAYARI FOR STUDENTS)"Sochne Se Kha Milte Hai Tamannao Ke Sheher"
|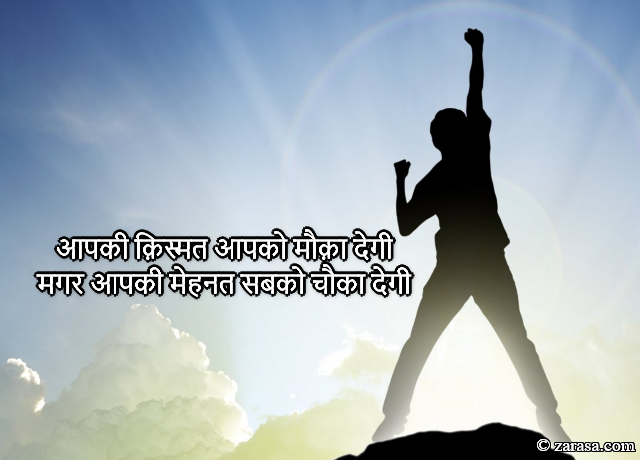 APKI KISMAT APKO MOQA DEGI
MAGER APKI MEHNAT SABKO CHOWKA DEGI
आपकी क़िस्मत आपको मौक़ा देगी
मगर आपकी मेहनत सबको चौका देगी
آپکی قسمت آپکو موقع دیگی
مگر آپکی محنت سبکو چوکا دیگی
---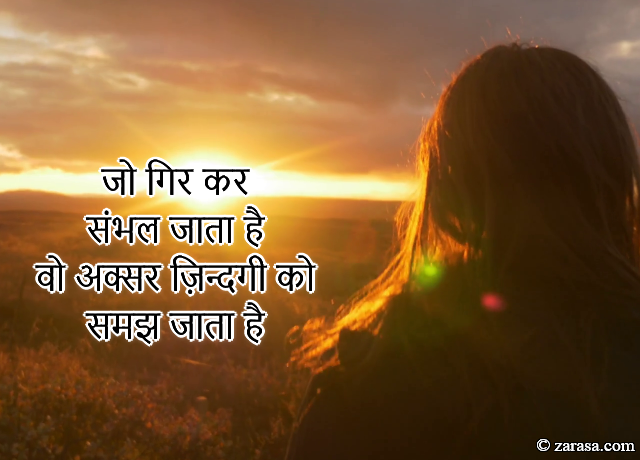 JO GIR KAR
SAMBHAL JATA HAI ,
WO AQSAR ZINDAGI KO
SAMAJH JATA HAI
जो गिर कर
संभल जाता है
वो अक्सर ज़िन्दगी को
समझ जाता है

جو گر کر
سمبھال جاتا ہے ,
وو اکثر زندگی کو
سمجھ جاتا ہے
---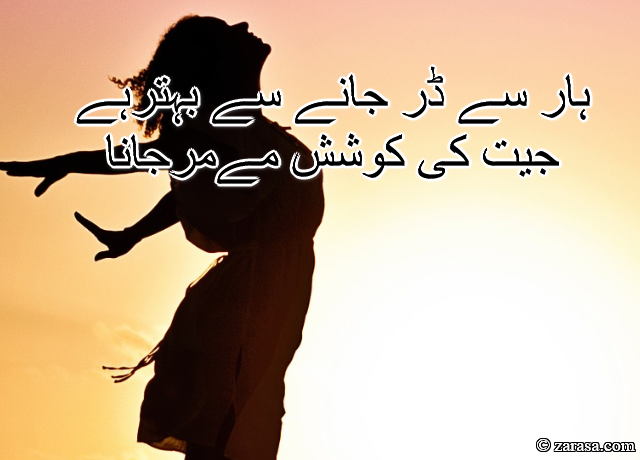 HAAR SE DER JANE SE BEHTER HAI ,
JEET KI KOSHISH ME MERJANA .
हार से डर जाने से बेहतर है
जीत की कोशिश में मरजाना
ہار سے ڈر جانے سے بہتر ہے
جیت کی کوشش مے مرجانا
---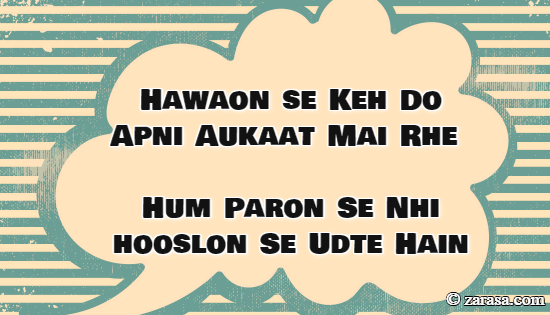 Hawaon se Keh Do Apni Aukaat Mai Rhe
Hum Paron Se Nhi hooslon Se Udte Hain.
हवाओं से कह दो अपनी औकात में रहे,
हम परों से नहीं हौसलों से उड़ते हैं |
ہواؤں سے کہدو اپنی اوکات می رہی
ہم پروں سے نہی حوصلوں سے اڑتے ہیں
---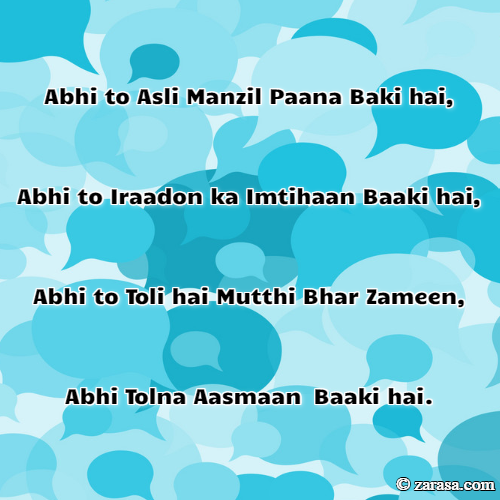 Abhi to Asli Manzil Paana Baki hai,
Abhi to Iraadon ka Imtihaan Baaki hai,
Abhi to Toli hai Mutthi Bhar Zameen,
Abhi Tolna Aasmaan  Baaki hai.
अभी तो असली मंजिल पाना बाकी है,
अभी तो इरादों का इम्तिहान बाकी है,
अभी तो तोली है मुट्ठी भर जमीन,
अभी तोलना आसमान बाकी है।
ابھی تو اصلی منزل پانا باکی ہے
ابھی تو ارادو کا امتحاں باکی ہے
ابھی تو ٹولی ہے مٹھی بھر زمین
ابھی تولنا آسمان باکی ہے
---