Shayari for Speeches "Himmat Walo Ka Irada Kabhi Adhura Nahin Hota"
|
Mat Soch Ki Tera Sapna Kyun Poora Nahin Hota,
Himmat Walo Ka Irada Kabhi Adhura Nahin Hota,
Jis Insaan Ke Karam Acche Hote Hain,
Uske Jeevan Me Kabhi Andhera Nahi Hota .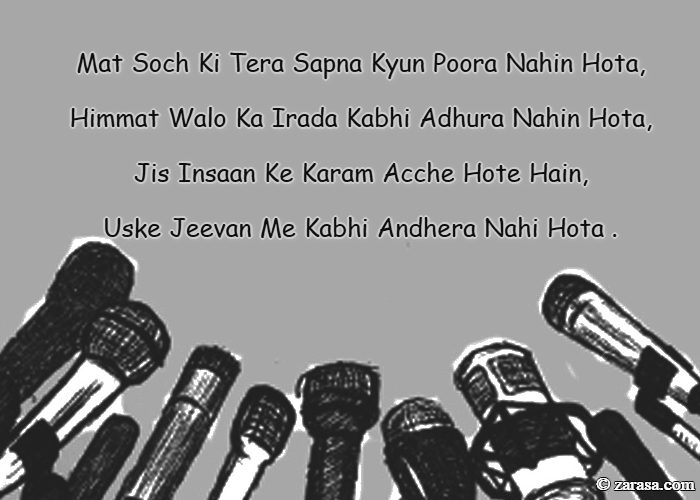 ---

मत सोच की तेरा सपना क्यों पूरा नहीं होता,
हिम्मत वालों का इरादा कभी अधूरा नहीं होता,
जिस इंसान के करम अच्छे होते है,
उसके जीवन में कभी अँधेरा नहीं होता।


---

مت سوچ کی تیرا سپنا کیو پورا نہی ہوتا
ہمّت والو کا اراد کبھی ادھورا نہی ہوتا
جس انسان کے کرم اچھے ہوتے ہے
اسکے جیون مے کبھی اندھیرا نہی ہوتا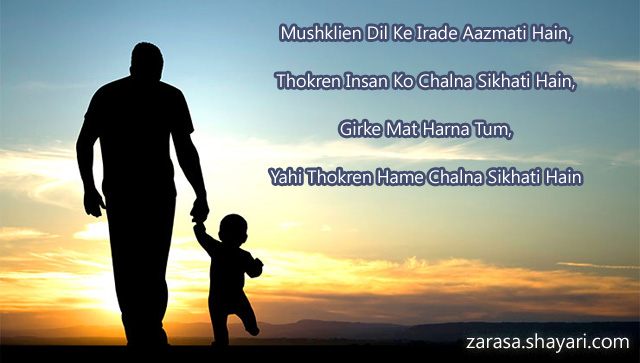 Mushklien Dil Ke Irade Aazmati Hain,
Thokren Insan Ko Chalna Sikhati Hain,
Girke Mat Harna Tum,
Yahi Thokren Hame Chalna Sikhati Hain





मुश्कलें दिल के इरादे आजमाती हैं,
ठोकरें इन्सान को चलना सिखाती हैं,
गिरके मत हारना तुम,
यही ठोकरें हमें चलना सिखाती है।
 مشکلیں دل کے ارادے آزماتی ہیں
ٹھوکریں انسان کو چلنا سختی ہیں
گرکے مت ہارنا تم
یہی ٹھوکریں ہمی چلنا سختی ہی
---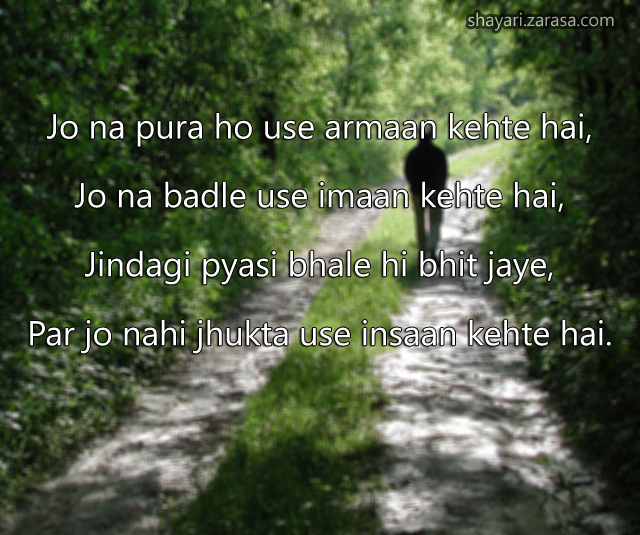 Jo na pura ho use armaan kehte hai,
Jo na badle use imaan kehte hai,
Zindagi pyasi bhale hi bhit jaye,
Par jo nahi jhukta use insaan kehte hai.






जो न पूरा हो उसे अरमाँ कहते है,
जो न बदले उसे ईमान कहते है,
जिंदगी प्यासी भले ही बीत जाये,
पर जो नहीं झुकता उसे इंसान कहते है.

جو  نہ  پورا  ہو اسے  ارمان  کہتے  ہے
جو  نہ  بدلے  اسے  امان کہتے  ہے
زندگی پیاسی  بھلے  ہی  بیت  جائے
پر  جو  نہیں  جھکتا  اسی  انسان  کہتے ہے
---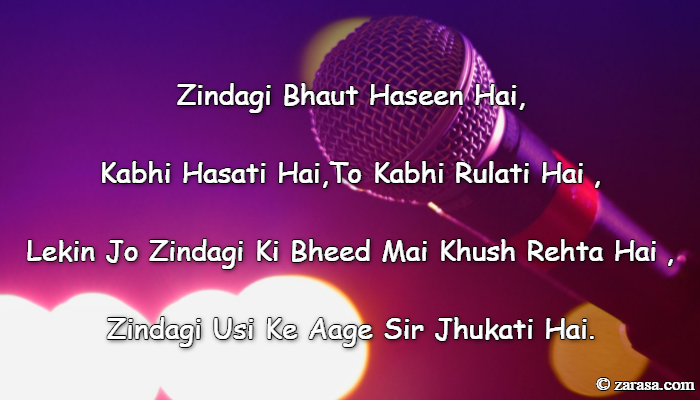 Zindagi Bhaut Haseen Hai,
Kabhi Hasati Hai,To Kabhi Rulati Hai ,
Lekin Jo Zindagi Ki Bheed Mai Khush Rehta Hai ,
Zindagi Usi Ke Aage Sir Jhukati Hai.
ज़िन्दगी बहुत हसीन है,
कभी हंसाती है, तो कभी रुलाती है,
लेकिन जो ज़िन्दगी की भीड़ में खुश रहता है,
ज़िन्दगी उसी के आगे सिर झुकाती है।
زندگی بہت حسین ہے
کبھی حسنتی ہے ،ٹوہ کبھی رلاتی ہے
لیکن جو زندگی کی بھیڈ می خوش رہتا ہے
زندگی اسی کے آگے سر جھکتی ہے
---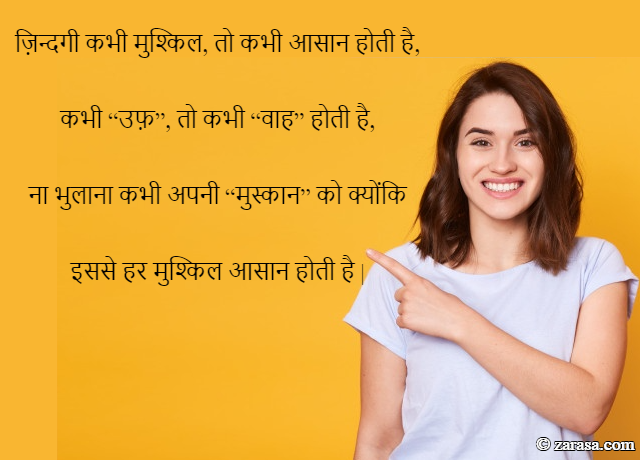 Zindagi Kabhi Mushkil, To Kabhi Aasaan Hoti Hai,
Kabhi "Uf", To Kabhi "Vaah" Hoti Hai,
Na Bhulaana Kabhi Apni "Muskaan" Ko Kyonki
Isse Har Mushkil Aasaan Hoti Hai .
ज़िन्दगी कभी मुश्किल, तो कभी आसान होती है,
कभी "उफ़", तो कभी "वाह" होती है,
ना भुलाना कभी अपनी "मुस्कान" को क्योंकि
इससे हर मुश्किल आसान होती है |
زندگی کبھی مشکل تو کبھی آسان ہوتی ہے
کبھی اف تو کبھی واہ ہوتی ہے
نہ بھلانا کبھی اپنی مسکان کو کیونکی
اسے ہر مشکل آسان ہوتی ہے
---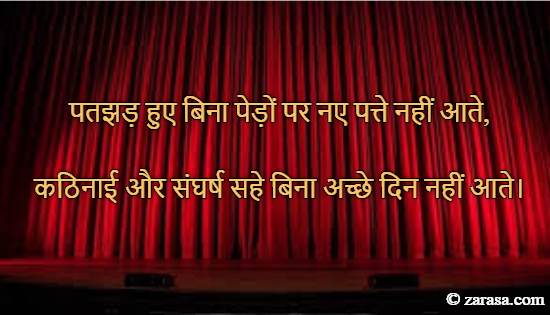 Patjhad Huye Bina Pedo Par Naye Patte Nahi Aate,
Kathinai Aur Sangharsh Sahe Bina Achhe Din Nahi Aate.

पतझड़ हुए बिना पेड़ों पर नए पत्ते नहीं आते,
कठिनाई और संघर्ष सहे बिना अच्छे दिन नहीं आते।
پتجہاڈ ہوئے بنا پیڈں پر نیے پتے نہی آتے
کٹھنائی اور سنگھرش سہی بنا اچھے دن نہیں آتے
---