Shayari for Speeches "Himmat Walo Ka Irada Kabhi Adhura Nahin Hota"
|
Mat Soch Ki Tera Sapna Kyun Poora Nahin Hota,
Himmat Walo Ka Irada Kabhi Adhura Nahin Hota,
Jis Insaan Ke Karam Acche Hote Hain,
Uske Jeevan Me Kabhi Andhera Nahi Hota .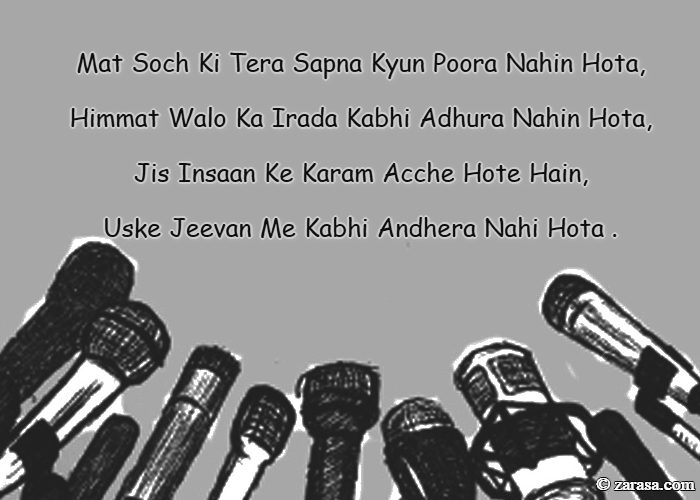 ---

मत सोच की तेरा सपना क्यों पूरा नहीं होता,
हिम्मत वालों का इरादा कभी अधूरा नहीं होता,
जिस इंसान के करम अच्छे होते है,
उसके जीवन में कभी अँधेरा नहीं होता।


---

مت سوچ کی تیرا سپنا کیو پورا نہی ہوتا
ہمّت والو کا اراد کبھی ادھورا نہی ہوتا
جس انسان کے کرم اچھے ہوتے ہے
اسکے جیون مے کبھی اندھیرا نہی ہوتا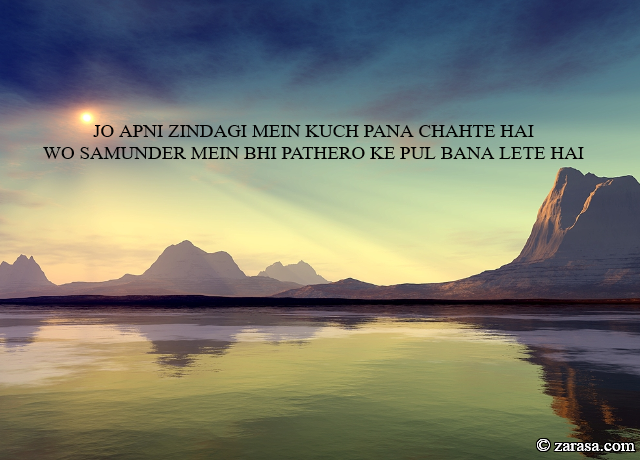 JO APNI ZINDAGI MEIN KUCH PANA CHAHTE HAI
WO SAMUNDER MEIN BHI PATHERO KE PUL BANA LETE HAI
जो अपनी में कुछ पाना चाहते है
वो समुन्दर में भी पथरो के पुल बना लेते है
جو اپنی زندگی میں کچھ پانا چاہتے ہے
وو سمندر میں بھی پتھرو کے پل بنا لیتے ہے
---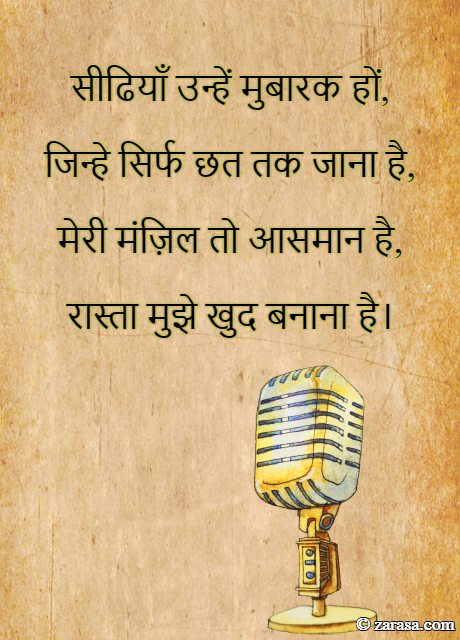 Sidiyan Unhe Mubarak Hon,
Jinhe Sirf Chhat Tak Jana Hai,
Meri Manzil To Aasmaan Hai,
Rasta Mujhe Khud Banana Hai.

सीढियाँ उन्हें मुबारक हों,
जिन्हे सिर्फ छत तक जाना है,
मेरी मंज़िल तो आसमान है,
रास्ता मुझे खुद बनाना है।
سیڈیاں انھ مبارک ہوں
جنھ صرف چھت تک جانا ہے
میری منزل تو آسمان ہے
راستا مجھے خود بنانا ہے
---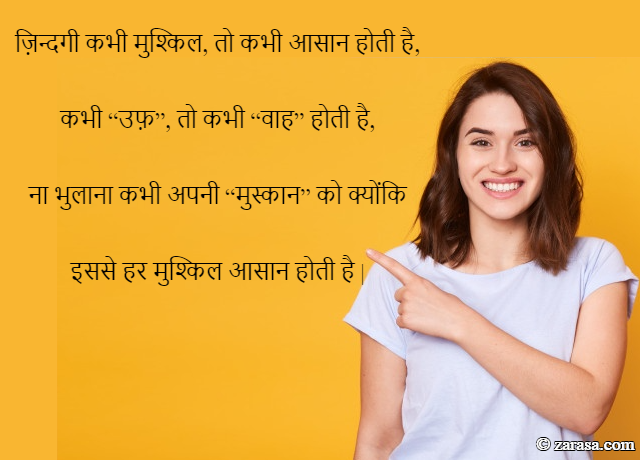 Zindagi Kabhi Mushkil, To Kabhi Aasaan Hoti Hai,
Kabhi "Uf", To Kabhi "Vaah" Hoti Hai,
Na Bhulaana Kabhi Apni "Muskaan" Ko Kyonki
Isse Har Mushkil Aasaan Hoti Hai .
ज़िन्दगी कभी मुश्किल, तो कभी आसान होती है,
कभी "उफ़", तो कभी "वाह" होती है,
ना भुलाना कभी अपनी "मुस्कान" को क्योंकि
इससे हर मुश्किल आसान होती है |
زندگی کبھی مشکل تو کبھی آسان ہوتی ہے
کبھی اف تو کبھی واہ ہوتی ہے
نہ بھلانا کبھی اپنی مسکان کو کیونکی
اسے ہر مشکل آسان ہوتی ہے
---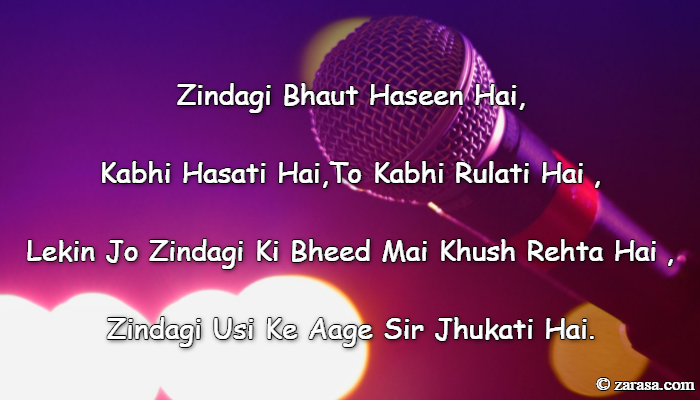 Zindagi Bhaut Haseen Hai,
Kabhi Hasati Hai,To Kabhi Rulati Hai ,
Lekin Jo Zindagi Ki Bheed Mai Khush Rehta Hai ,
Zindagi Usi Ke Aage Sir Jhukati Hai.
ज़िन्दगी बहुत हसीन है,
कभी हंसाती है, तो कभी रुलाती है,
लेकिन जो ज़िन्दगी की भीड़ में खुश रहता है,
ज़िन्दगी उसी के आगे सिर झुकाती है।
زندگی بہت حسین ہے
کبھی حسنتی ہے ،ٹوہ کبھی رلاتی ہے
لیکن جو زندگی کی بھیڈ می خوش رہتا ہے
زندگی اسی کے آگے سر جھکتی ہے
---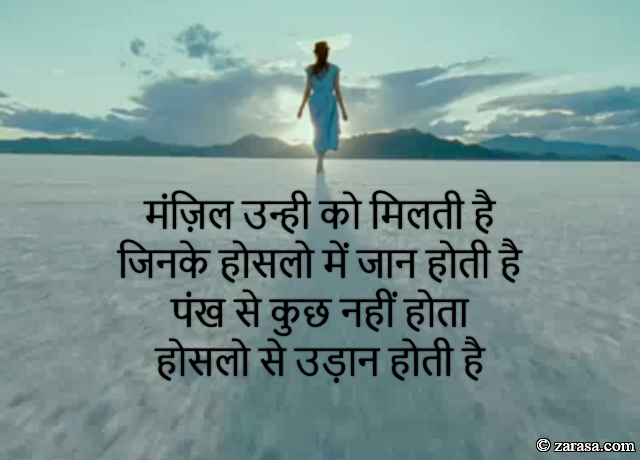 MANZIL UNHI KO MILTI HAI
JINKE SAPNO MEIN JAAN HOTI HAI
PANKH SE KUCH NAHI HOTA
HOSLO SE UDAAN HOTI HAI
मंज़िल उन्ही को मिलती है
जिनके होसलो में जान होती है
पंख से कुछ नहीं होता
होसलो से उड़ान होती है
منزل انہی کو ملتی ہے
جنکے سپنو میں جان ہوتی ہے
پنکھ سے کچھ نہیں ہوتا
ہوسلو سے ادان ہوتی ہے
---