Chand Shayari "Sitare Toote Rehte Hain"
|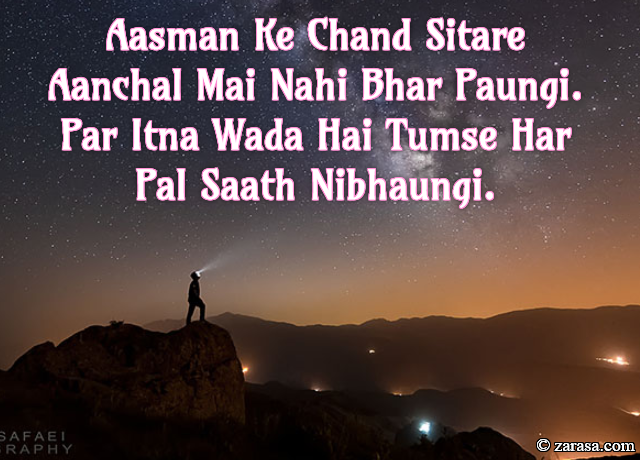 Aasman Ke Chand Sitare Aanchal Mai Nahi Bhar Paungi.
Par Itna Wada Hai Tumse Har Pal Saath Nibhaungi.

आसमान के चाँद सितारे आँचल मै नहीं भर पाऊँगी .
पर इतना वादा है तुमसे हर पल साथ निभाऊंगी .



آسمان کے چند ستارے آنچل می نہیں بھر پونگی .
پر اتنا وداع ہے تمسے ہر پل ساتھ نبھونگی .


---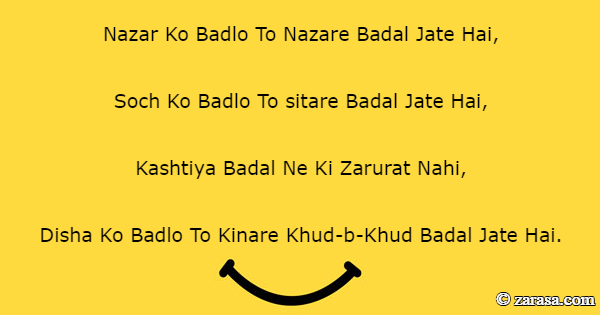 Nazar Ko Badlo To Nazare Badal Jate Hai,
Soch Ko Badlo To sitare Badal Jate Hai,
Kashtiya Badal Ne Ki Zarurat Nahi,
Disha Ko Badlo To Kinare Khud-b-Khud Badal Jate Hai.
नज़र को बदलो तो नज़ारे बदल जाते है,
सोच को बदलो तो सितारे बदल जाते है,
कश्तिया बदल ने की ज़रूरत नहीं ,
दिशा को बदलो तो किनारे खुद बा खुद बदल जाते है।
نظر کو بفلو تو نظارے بدل جاتے ہے
سوچ کو بدلو تو ستارے بدل جاتے ہے
کشتیا بدل نے کی ضرورت نہیں
دشا کو بدلو تو کنارے خود با خود بدل جاتے ہے
---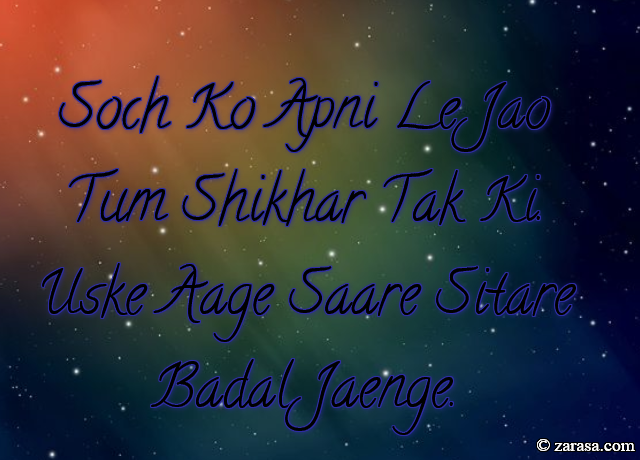 Soch Ko Apni Le Jao Tum Shikhar Tak Ki.
Uske Aage Saare Sitare Badal Jaenge.
सोच को अपनी ले जाओ तुम शिखर तक की .
उसके आगे सारे सितारे बदल जाएंगे .
سوچ کو اپنی لے جو تم شیکھر تک کی .
اسکے آگے سارے ستارے بدل جاینگے .
---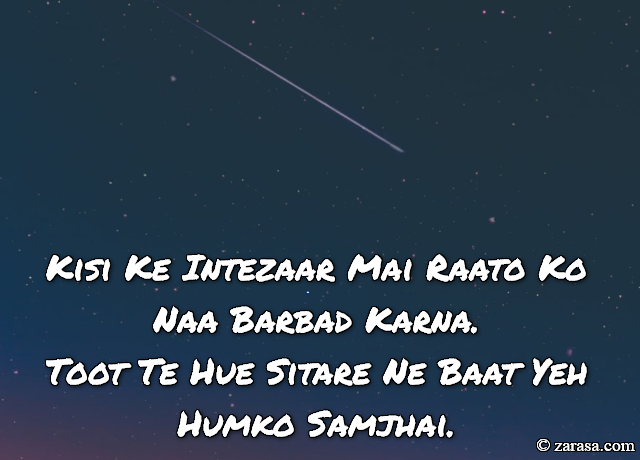 Kisi Ke Intezaar Mai Raato Ko Naa Barbad Karna.
Toot Te Hue Sitare Ne Baat Yeh Humko Samjhai.

किसी के इंतज़ार मई रातो को ना बर्बाद करना .
टूटते हुए सितारे ने बात यह हमको समझे .



کسی کے انتیزار می رہاتو کو نا برباد کرنا .
ٹوٹ تے ہوئے ستارے نے بات یہ ہمکو سمجھی .


---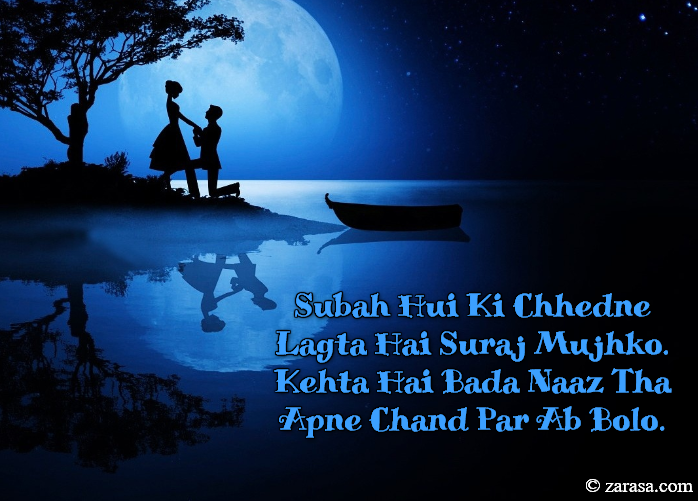 Subah Hui Ki Chhedne Lagta Hai Suraj Mujhko.
Kehta Hai Bada Naaz Tha Apne Chand Par Ab Bolo.
सुबह हुई की छेड़ने लगता है सूरज मुझको .
कहता है बड़ा नाज़ था अपने चाँद पर अब बोलो .
صوبہ ہی کی چھیدنے لگتا ہے سورج مجھکو .
کہتا ہے بد ناز تھا اپنے چند پر اب بولو .
---