Dard Shayari | "हमने आँसू बहाए हैं"
|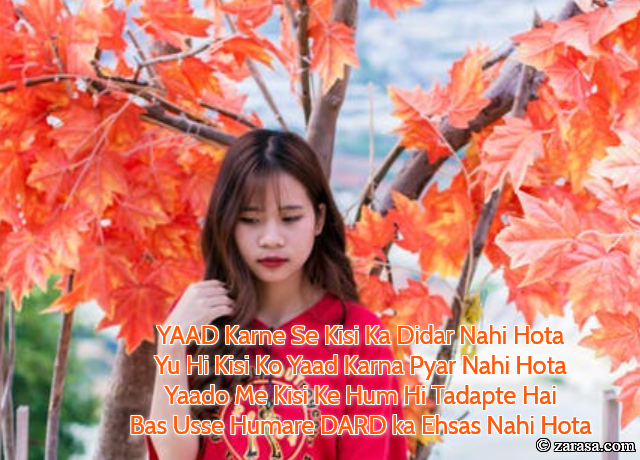 Yaad Karne Se Kisi Ka Didar Nahi Hota
Yu Hi Kisi Ko Yaad Karna Pyar Nahi Hota
Yaado Me Kisi Ke Hum Hi Tadapte Hai
Bas Usse Humare DARD ka Ehsas Nahi Hota
याद करने से किसी का दीदार नहीं होता
यु ही किसी को याद करना प्यार नहीं होता
यादो में किसी के हम ही तड़पते है
बस उससे हमारे दर्द का एहसास नहीं होता
یاد کرنے سے کسی کا دیدار ہوتا
یو ہی کسی کو یاد کرنا پیار نہیں ہوتا
یادو می کسی کے ہم ہی تداپتے ہے
بس اسے ہمارے درد کا احساس نہیں ہوتا
---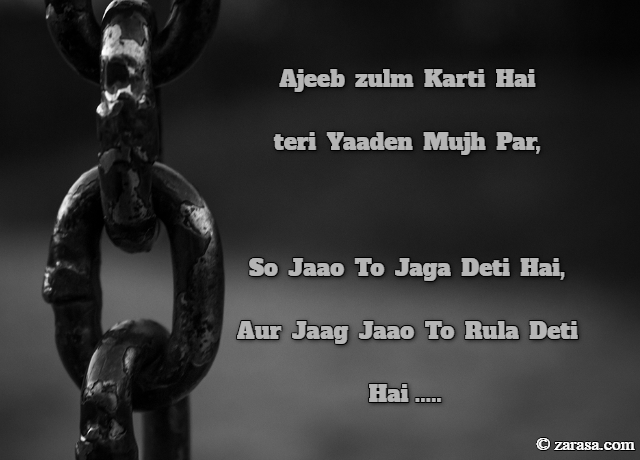 Ajeeb zulm Karti Hai teri Yaaden Mujh Par,
So Jaao To Jaga Deti Hai,Aur Jaag Jaao To Rula Deti Hai .....
अजीब जुल्म करती है तेरी यादें मुझ पर,
सो जाऊ तो जगा देती है, और जाग जाऊ तो रुला देती है…
عجیب ظلم کرتی ہے تیری یادیں مجھ پر
سو جاؤ تو جگا دیتی ہے ، اور جاگ جاؤ تو رولا دیتی ہے
---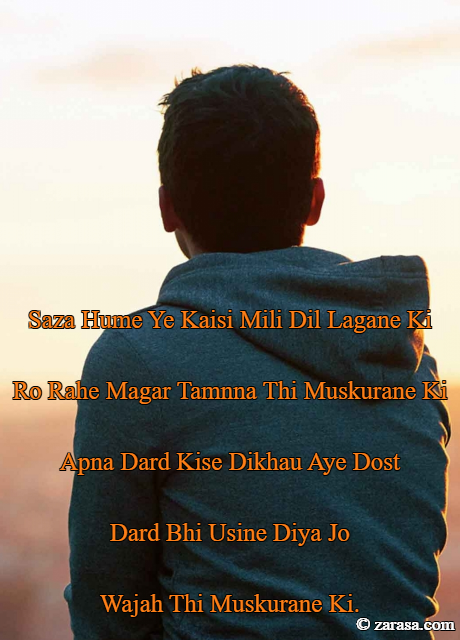 Saza Hume Ye Kaisi Mili Dil Lagane Ki
Ro Rahe Magar Tamnna Thi Muskurane Ki
Apna Dard Kise Dikhau Aye Dost
Dard Bhi Usine Diya Jo Wajah Thi Muskurane Ki.
सज़ा हमे यह कैसी मिली दिल लगाने की ,
रो रहे मगर तमन्ना थी मुस्कुराने की
अपना दर्द किसे दिखाऊ ए दोस्त
दर्द भी उसीने दिया जो वजह थी मुस्कुराने की।
سزا ہمے یہ کیسی ملی دل لگانے کی
رو رہی مگر تمنّ تھی مسکرانے کی
اپنا درد کیسے دیکھو ہے دوست
درد بھی اسنے دیا جو وجہ تھی مسکرانے کی
---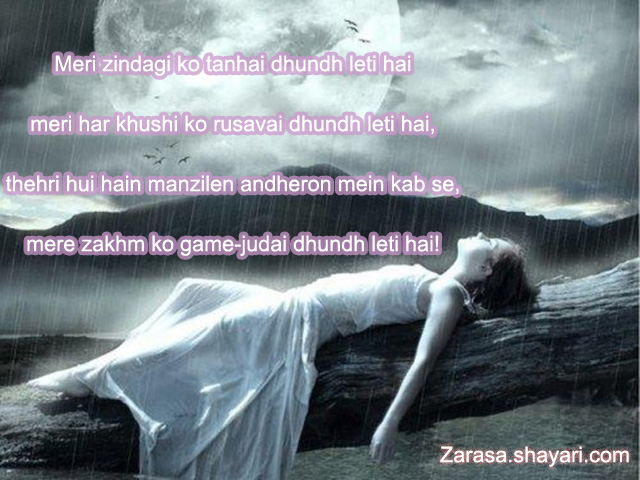 Meri zindagi ko tanhai dhundh leti hai
meri har khushi ko rusavai dhundh leti hai,
thehri hui hain manzilen andheron mein kab se,
mere zakhm ko game-judai dhundh leti hai!





मेरी ज़िन्दगी को तन्हाई ढूँढ लेती है,
मेरी हर खुशी को रुसवाई ढूँढ लेती है,
ठहरी हुई हैं मंजिलें अंधेरों में कबसे,
मेरे ज़ख्म को गमे-जुदाई ढूँढ लेती है!
میری زندگی کو تنہائی ڈھونڈ لیتی ہے
میری ہر خوشی کو رسوائی ڈھونڈ لیتی ہے
ٹھہری ہی ہیں منزلیں اندھیروں میں کب سے
میرے زخم کو گیم -جدائی ڈھونڈ لیتی ہے
---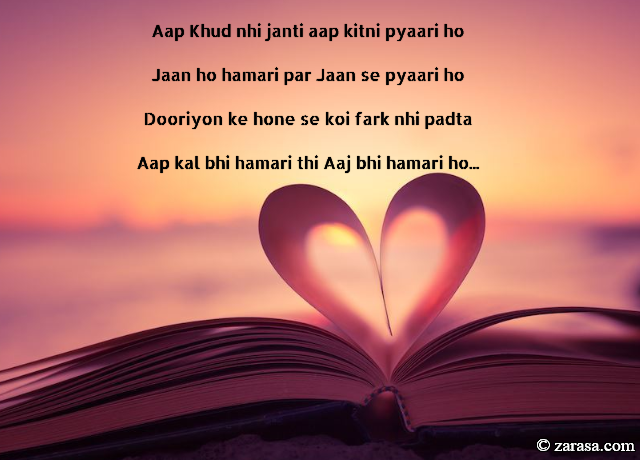 Aap Khud nhi janti aap kitni pyaari ho

Jaan ho hamari par Jaan se pyaari ho

Dooriyon ke hone se koi fark nhi padta

Aap kal bhi hamari thi Aaj bhi hamari ho...
आप खुद नहीं जानती आप कितनी प्यारी हो
जान हो हमारी पर जान से प्यारी हो
दूरियों के होने से कोई फर्क नहीं पड़ता
आप कल भी हमारी थी आज भी हमारी हो
آپ خود نہیں جانتی آپ کتنی پیاری ہو
جان ہو ہماری پر جان سے پیاری ہو
دوریوں کے ہونے سے کوئی پھڑک نہیں پڑتا
آپ کل بھی ہماری تھی آج بھی ہماری ہو
---