Zulm Shayari "Ajeeb zulm Karti Hai teri Yaaden Mujh Par"
|
Ajeeb zulm Karti Hai teri Yaaden Mujh Par,
So Jaao To Jaga Deti Hai,Aur Jaag Jaao To Rula Deti Hai …..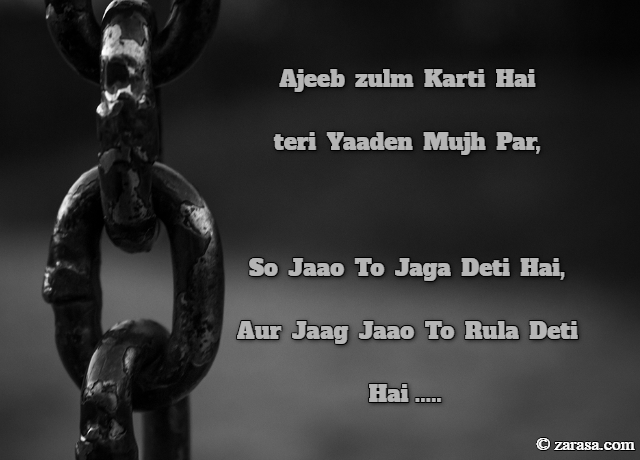 ---

अजीब जुल्म करती है तेरी यादें मुझ पर,
सो जाऊ तो जगा देती है, और जाग जाऊ तो रुला देती है…


---

عجیب ظلم کرتی ہے تیری یادیں مجھ پر
سو جاؤ تو جگا دیتی ہے ، اور جاگ جاؤ تو رولا دیتی ہے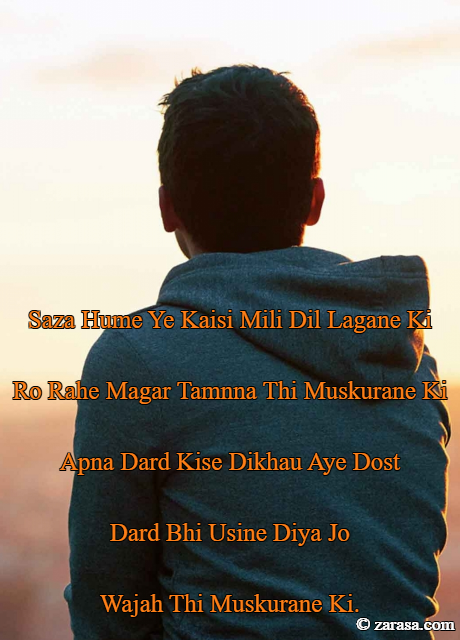 Saza Hume Ye Kaisi Mili Dil Lagane Ki
Ro Rahe Magar Tamnna Thi Muskurane Ki
Apna Dard Kise Dikhau Aye Dost
Dard Bhi Usine Diya Jo Wajah Thi Muskurane Ki.
सज़ा हमे यह कैसी मिली दिल लगाने की ,
रो रहे मगर तमन्ना थी मुस्कुराने की
अपना दर्द किसे दिखाऊ ए दोस्त
दर्द भी उसीने दिया जो वजह थी मुस्कुराने की।
سزا ہمے یہ کیسی ملی دل لگانے کی
رو رہی مگر تمنّ تھی مسکرانے کی
اپنا درد کیسے دیکھو ہے دوست
درد بھی اسنے دیا جو وجہ تھی مسکرانے کی
---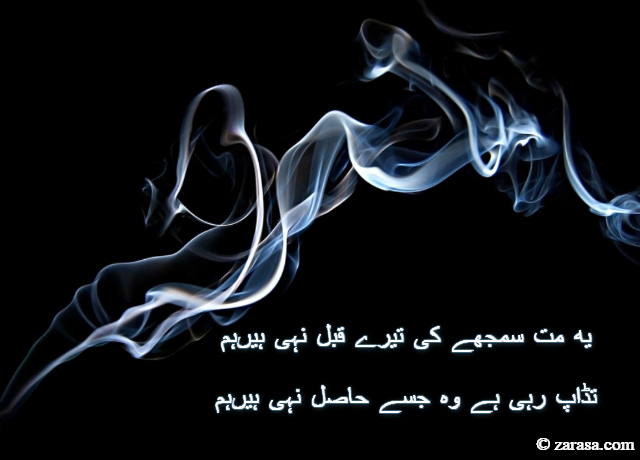 Yeh Mat Samjhiye Ki Tere Kabil Nhi Hain Hum,
Tadap Rhe Hai Vo Jise Haasil Nhi Hain Hum
ये मत समझ कि तेरे काबिल नहीं हैं हम,
तड़प रहे हैं वो जिसे हासिल नहीं हैं हम.....!!!
یه مت سمجھے کی تیرے قبل نہی ہیں ہم
تڈاپ رہی ہے وہ جسے حاصل نہی ہیں ہم
---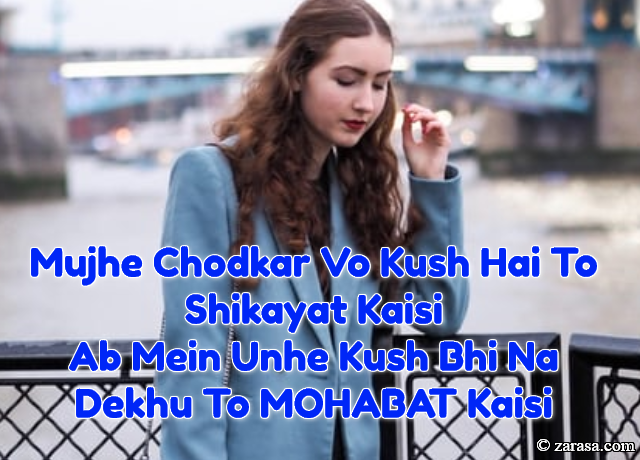 Mujhe Chodkar Vo Kush Hai To Shikayat Kaisi
Ab Mein Unhe Khush Bhi Na Dekhu To Mohabbat Kaisi
मुझे छोड़कर वो कुश है तो शिकायत कैसी
अब में उन्हें कुश भी न देखु तो मोहबत कैसी
مجھے چھوڑکر وہ خوش ہے تو شکایات کیسی
اب میں انھ خوش بھی نہ دیکھو تو موہبت کیسی
---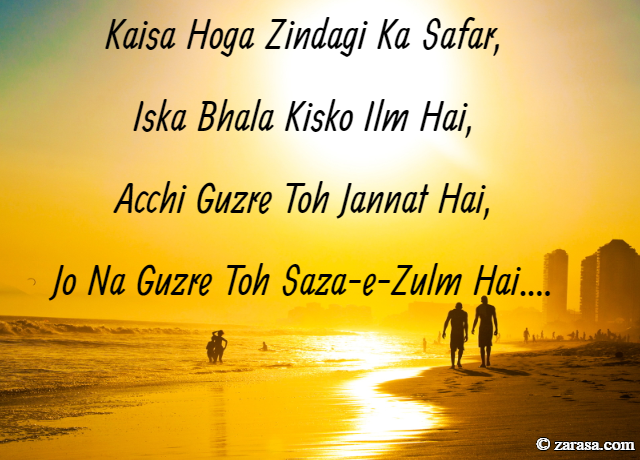 Kaisa Hoga Zindagi Ka Safar,
Iska Bhala Kisko Ilm Hai,
Acchi Guzre Toh Jannat Hai,
Jo Na Guzre Toh Saza-e-Zulm Hai....
कैसा होगा ज़िन्दगी का सफर ,
इसका भला किसको इल्म है ,
अच्छी गुज़रे तोह जन्नत है ,
जो न गुज़रे तोह सज़ा -ए -ज़ुल्म है।
کیسا ہوگا زندگی کا سفر
اسکا بھلا کیسکو علم ہے
اچھی گزرے تو جنّت ہے
جو نہ گزرے تو سزا -ا -ظلم ہے
---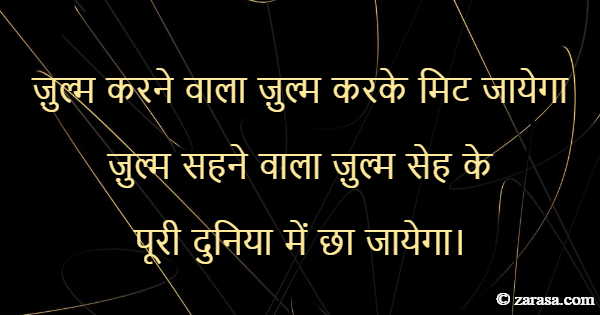 Zulm Karne Vala Zulm Karke Mit Jaega
Zulm Sehne Vala Zulm Sah Ke
Puri Duniya Ke Dilo Mai Cha Jayega.
ज़ुल्म करने वाला ज़ुल्म करके मिट जायेगा
ज़ुल्म सहने वाला ज़ुल्म सेह के
पूरी दुनिया में छा जायेगा।
ظلم کرنے والا ظلم کرکے مٹ جاےگا
ظلم سہنے والا ظلم سہ کے
پوری دنیا کے دلو می چا جاےگا
---