Zulm Shayari "Ajeeb zulm Karti Hai teri Yaaden Mujh Par"
|
Ajeeb zulm Karti Hai teri Yaaden Mujh Par,
So Jaao To Jaga Deti Hai,Aur Jaag Jaao To Rula Deti Hai …..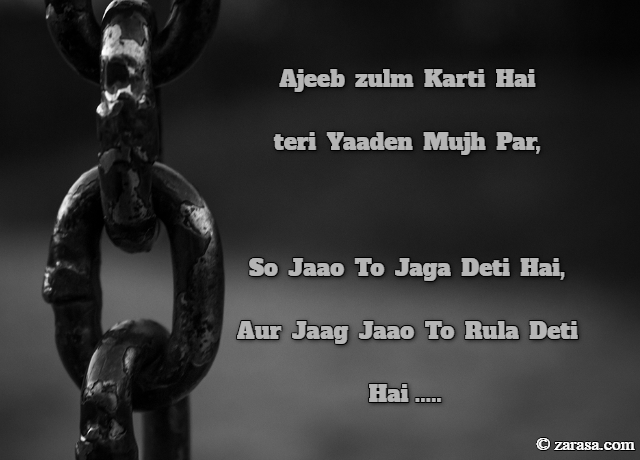 ---

अजीब जुल्म करती है तेरी यादें मुझ पर,
सो जाऊ तो जगा देती है, और जाग जाऊ तो रुला देती है…


---

عجیب ظلم کرتی ہے تیری یادیں مجھ پر
سو جاؤ تو جگا دیتی ہے ، اور جاگ جاؤ تو رولا دیتی ہے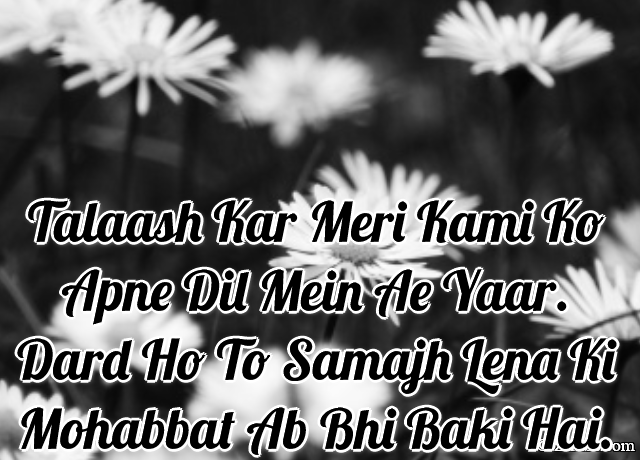 Talaash Kar Meri Kami Ko Apne Dil Mein Ae Yaar.
Dard Ho To Samajh Lena Ki Mohabbat Ab Bhi Baki Hai.
तलाश कर मेरी कमी को अपने दिल में ऐ यार .
दर्द हो तो समझ लेना की मोहब्बत अब भी बाकि है .
تلاش کر میری کمی کو اپنے دل میں اے یار .
درد ہو تو سمجھ لینا کی موحبّت اب بھی باکی ہے .
---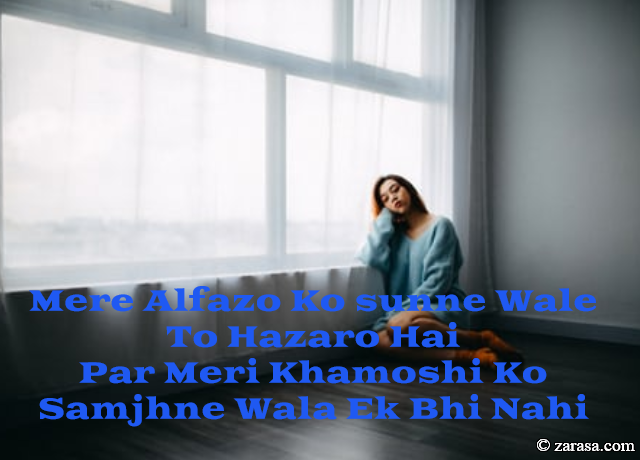 Mere Alfazo Ko sunne Wale To Hazaro Hai
Par Meri Khamoshi Ko Samjhne Wala Ek Bhi Nahi
मेरे अल्फाज़ो को सुनने वाले तो हज़ारो है
पर मेरी ख़ामोशी को समझने वाला एक भी नहीं
میرے الفاظو کو سنے والے تو ہزارو ہے
پر میری خاموشی کو سمجھنے والا ایک بھی نہیں
---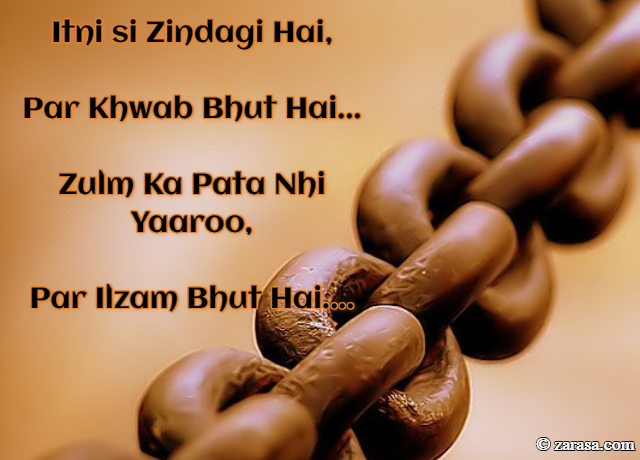 Itni si Zindagi Hai,
Par Khwab Bhut Hai...
Zulm Ka Pata Nhi Yaaroo,
Par Ilzam Bhut Hai....
इतनी सी ज़िन्दगी है ,
पर खुआब बहुत है। ..
ज़ुल्म का पता नहीं यारों ,
पर इलज़ाम बहुत है।
اتنی سی زندگی ہے
پر خواب بہت ہے
ظلم کا پتا نہی یارو
پر الزام بہت ہے
---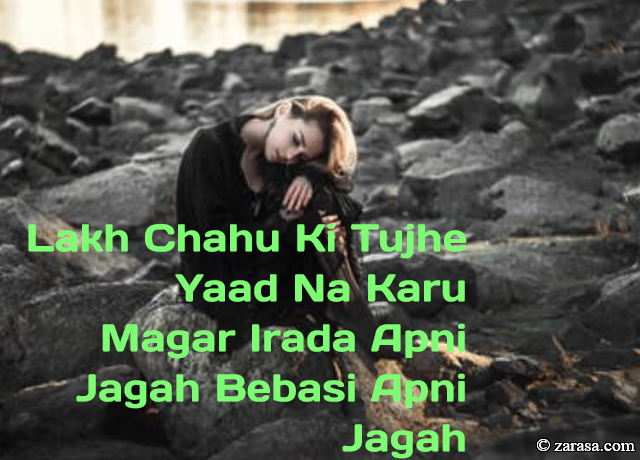 Lakh Chahu Ki Tujhe Yaad Na Karu
Magar Irada Apni Jagah Bebasi Apni Jagah
लाख चहु की तुझे याद न करू
मगर इरादा अपनी जगह बेबसी अपनी जगह
لکھ چاھو کی تجھے یاد نہ کرو
مگر ارادہ اپنی جگہ بےبسی اپنی جگہ
---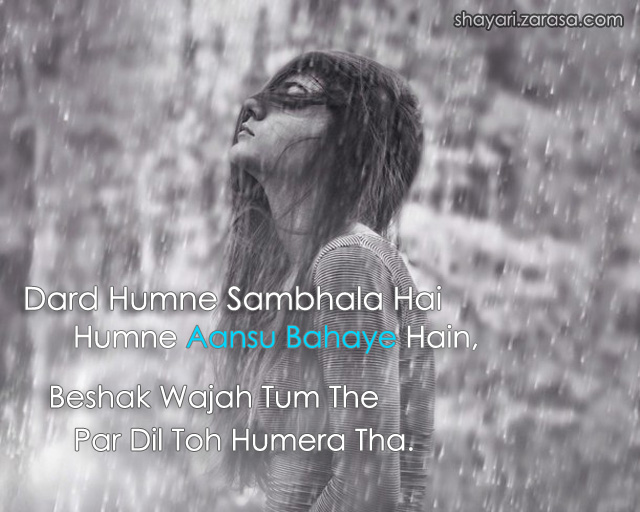 Dard Humne Sambhala Hai Humne Aansu Bahaye Hain,
Beshak Wajah Tum The Par Dil Toh Humara Tha.





दर्द हमने संभाला है हमने आँसू बहाए हैं,
बेशक वजह तुम थे पर दिल तो हमारा था।


درد ہمنے سمبھالا ہے ہمنے آنسو بھایں ہیں,
بیشک وجہ تم تھے پر دل تو ہمارا تھا.
---