Zulm Shayari "Ajeeb zulm Karti Hai teri Yaaden Mujh Par"
|
Ajeeb zulm Karti Hai teri Yaaden Mujh Par,
So Jaao To Jaga Deti Hai,Aur Jaag Jaao To Rula Deti Hai …..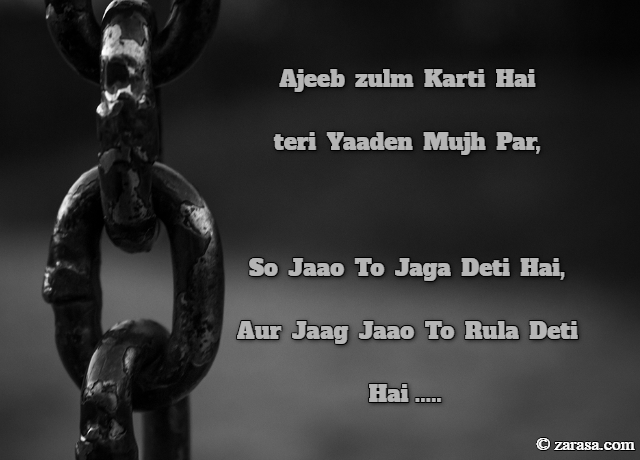 ---

अजीब जुल्म करती है तेरी यादें मुझ पर,
सो जाऊ तो जगा देती है, और जाग जाऊ तो रुला देती है…


---

عجیب ظلم کرتی ہے تیری یادیں مجھ پر
سو جاؤ تو جگا دیتی ہے ، اور جاگ جاؤ تو رولا دیتی ہے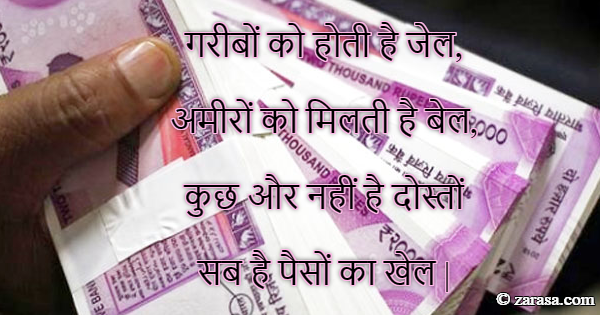 Garibon Ko Hoti Hai Jail ,
Amiron Ko Milti Hai Bail,
Kuch Or Nhi Hai Doston,
Sab Hai Paison Ka Khel.
गरीबों को होती है जेल,
अमीरों को मिलती है बेल,
कुछ और नहीं है दोस्तों
सब है पैसों का खेल |
گریبوں کو ہوتی ہے جیل
امیروں کو ملتی ہے بیل
کچھ ور نہی ہے دوستو
سب ہے پیسوں کا کھل
---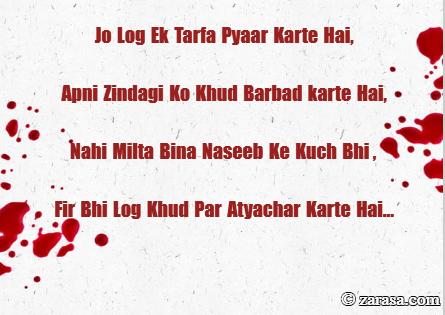 Jo Log Ek Tarfa Pyaar Karte Hai,
Apni Zindagi Ko Khud Barbad karte Hai,
Nahi Milta Bina Naseeb Ke Kuch Bhi ,
Fir Bhi Log Khud Par Atyachar Karte Hai...
जो लोग एक तरफा प्यार करते है,
अपनी ज़िन्दगी को खुद बर्बाद करते है,
नहीं मिलता बिना नसीब के कुछ भी,
फिर भी लोग खुद पर अत्याचार करते है..
جو لوگ ایک طرفہ پیار کرتے ہے
اپنی زندگی کو خود برباد کرتے ہے
نہیں ملتا بنا نصیب کے کچھ بھی
فر بھی لوگ خود پر اتیاچار کرتے ہے
---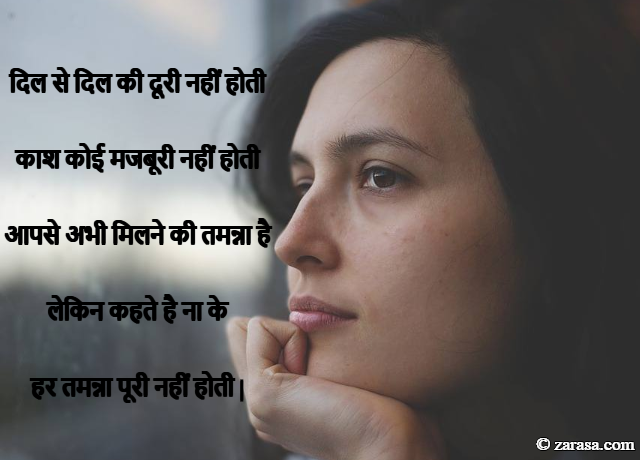 Dil se Dil ki Doori Nahi Hoti
Kash Koi Majburi nahi Hoti
Apse Abi Milne ki Tamanna Hai
Lekin Kehte Hain Na ke Har Tamanna Puri Nahi Hoti.
दिल से दिल की दूरी नहीं होती
काश कोई मजबूरी नहीं होती
आपसे अभी मिलने की तमन्ना है
लेकिन कहते है ना के हर तमन्ना पूरी नहीं होती |
دل سے دل کی دوری نہی ہوتی
کش کوئی مجبوری نہی ہوتی
آپسے ابھی ملنے کی تمنّا ہے
لیکن کہتے ہے نہ کے ہر تمننا پوری نہی ہوتی
---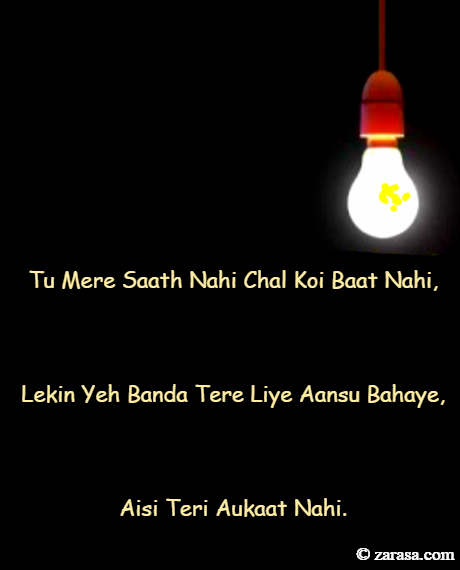 Tu Mere Saath Nahi Chal Koi Baat Nahi,
Lekin Yeh Banda Tere Liye Aansu Bahaye,
Aisi Teri Aukaat Nahi.
तू मेरे साथ नही चल कोई बात नही,
लेकिन यह बंदा तेरे लिये आँसू बहाए ,
ऐसी तेरी औकात नही।
تو میرے ساتھ نہی چل کوئی بات نہیں
لیکن یہ بندا تیرے لئے آنسو بہے
ایسی تیری اوکات نہیں
---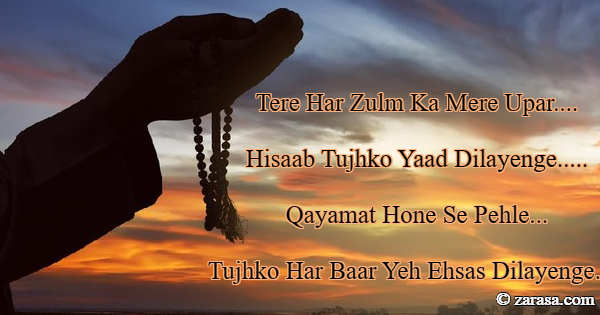 Tere Har Zulm Ka Mere Upar....
Hisaab Tujhko Yaad Dilayenge.....
Qayamat Hone Se Pehle...
Tujhko Har Baar Yeh Ehsas Dilayenge.....
तेरे हर ज़ुल्म का मेरे ऊपर
हिसाब तुझको याद दिलाएंगे ,
क़यामत होने से पहले
तुझको हर बार यह एहसास दिलाएंगे।
تیرے ہر ظلم کا میرے اوپر
حساب تجھکو یاد دلاینگے
قیامت ہونے سے پہلے
تجھکو ہر بار یہ احساس دلاینگے
---