Zulm Shayari "Ajeeb zulm Karti Hai teri Yaaden Mujh Par"
|
Ajeeb zulm Karti Hai teri Yaaden Mujh Par,
So Jaao To Jaga Deti Hai,Aur Jaag Jaao To Rula Deti Hai …..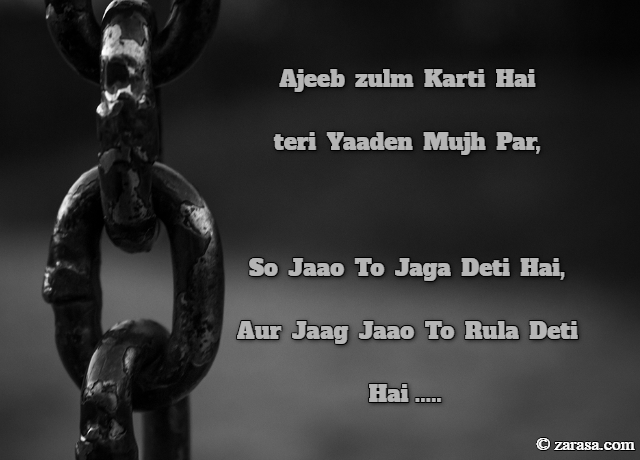 ---

अजीब जुल्म करती है तेरी यादें मुझ पर,
सो जाऊ तो जगा देती है, और जाग जाऊ तो रुला देती है…


---

عجیب ظلم کرتی ہے تیری یادیں مجھ پر
سو جاؤ تو جگا دیتی ہے ، اور جاگ جاؤ تو رولا دیتی ہے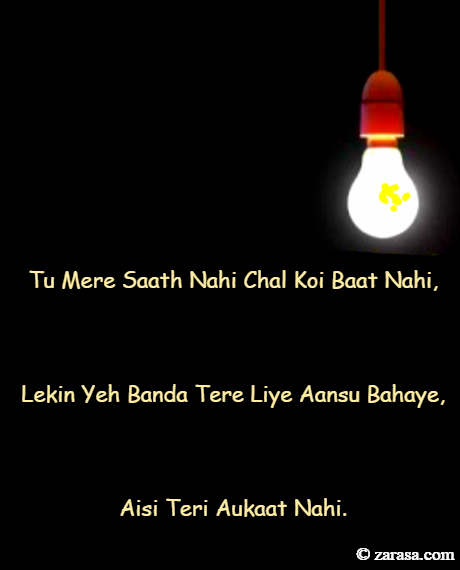 Tu Mere Saath Nahi Chal Koi Baat Nahi,
Lekin Yeh Banda Tere Liye Aansu Bahaye,
Aisi Teri Aukaat Nahi.
तू मेरे साथ नही चल कोई बात नही,
लेकिन यह बंदा तेरे लिये आँसू बहाए ,
ऐसी तेरी औकात नही।
تو میرے ساتھ نہی چل کوئی بات نہیں
لیکن یہ بندا تیرے لئے آنسو بہے
ایسی تیری اوکات نہیں
---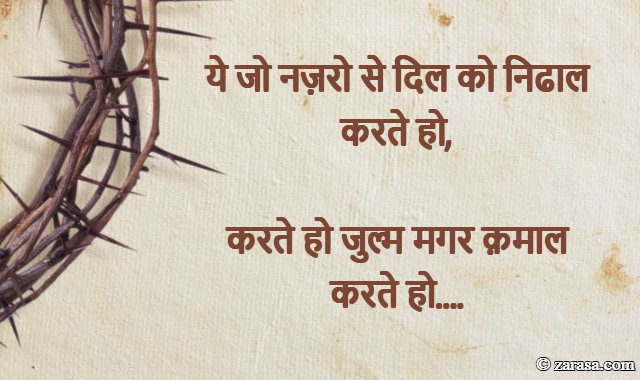 Yeh Jo Nazron Se Dil Ko Nidhal karte Ho ,
Karte Ho zulm Magar kamaal Karte Ho..........
ये जो नज़रो से दिल को निढाल करते हो,
करते हो जुल्म मगर क़माल करते हो….
یہ جو نظرو سے دل کو نڈھال کرتے ہو
کرتے ہو ظلم مگر کمال کرتے ہو
---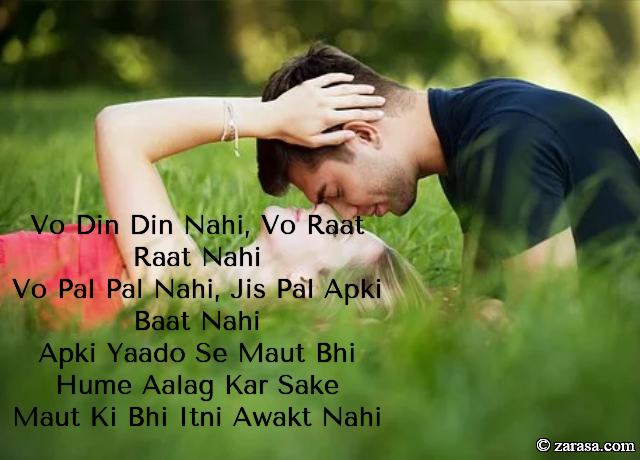 Vo Din Din Nahi, Vo Raat Raat Nahi
Vo Pal Pal Nahi, Jis Pal Apki Baat Nahi
Apki Yaado Se Maut Bhi Hume Aalag Kar Sake
Maut Ki Bhi Itni Awakt Nahi
वो दिन दिन नहीं , वो रात रात नहीं
वो पल पल नहीं , जिस पल आपकी बात नहीं
आपकी यादो से मौत भी हमे अलग कर सके
मौत की भी इतनी अव्यक्त नहीं
وہ دن دن نہیں , وو رات رات نہیں
وہ پل پل نہیں , جس پل آپکی بات نہیں
آپکی یادو سے موت بھی ہمیں الگ کر سکے
موت کی بھی اتنی آواکت نہیں
---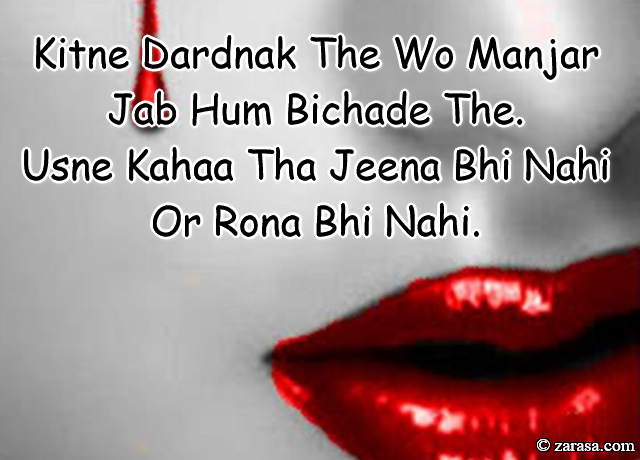 Kitne Dardnak The Wo Manjar Jab Hum Bichade The.
Usne Kahaa Tha Jeena Bhi Nahi Or Rona Bhi Nahi.
कितने दर्दनाक थे वो मंजर जब हम बिछड़े थे .
उसने कहा था जीना भी नहीं और रोना भी नहीं .
کتنے دردناک تھے وو منجر جب ہم بچادے تھے .
اسنے کہا تھا جینا بھی نہیں ور رونا بھی نہیں .
---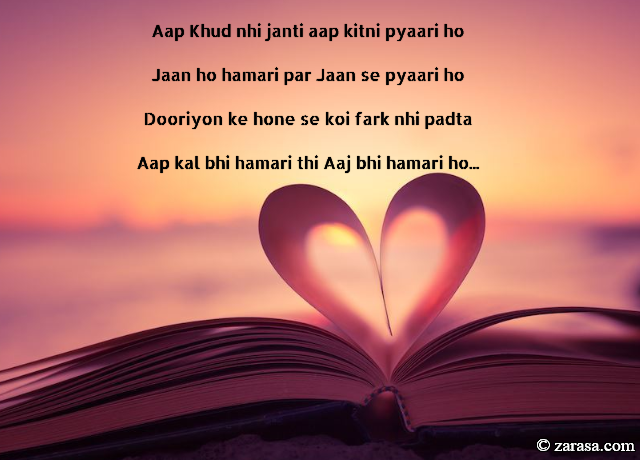 Aap Khud nhi janti aap kitni pyaari ho

Jaan ho hamari par Jaan se pyaari ho

Dooriyon ke hone se koi fark nhi padta

Aap kal bhi hamari thi Aaj bhi hamari ho...
आप खुद नहीं जानती आप कितनी प्यारी हो
जान हो हमारी पर जान से प्यारी हो
दूरियों के होने से कोई फर्क नहीं पड़ता
आप कल भी हमारी थी आज भी हमारी हो
آپ خود نہیں جانتی آپ کتنی پیاری ہو
جان ہو ہماری پر جان سے پیاری ہو
دوریوں کے ہونے سے کوئی پھڑک نہیں پڑتا
آپ کل بھی ہماری تھی آج بھی ہماری ہو
---