Zulm Shayari "Ajeeb zulm Karti Hai teri Yaaden Mujh Par"
|
Ajeeb zulm Karti Hai teri Yaaden Mujh Par,
So Jaao To Jaga Deti Hai,Aur Jaag Jaao To Rula Deti Hai …..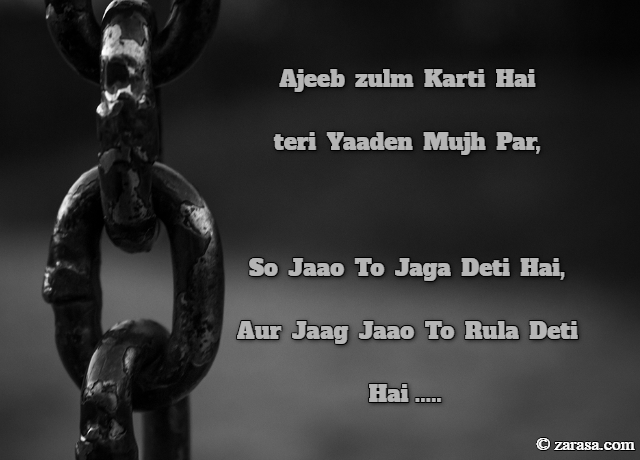 ---

अजीब जुल्म करती है तेरी यादें मुझ पर,
सो जाऊ तो जगा देती है, और जाग जाऊ तो रुला देती है…


---

عجیب ظلم کرتی ہے تیری یادیں مجھ پر
سو جاؤ تو جگا دیتی ہے ، اور جاگ جاؤ تو رولا دیتی ہے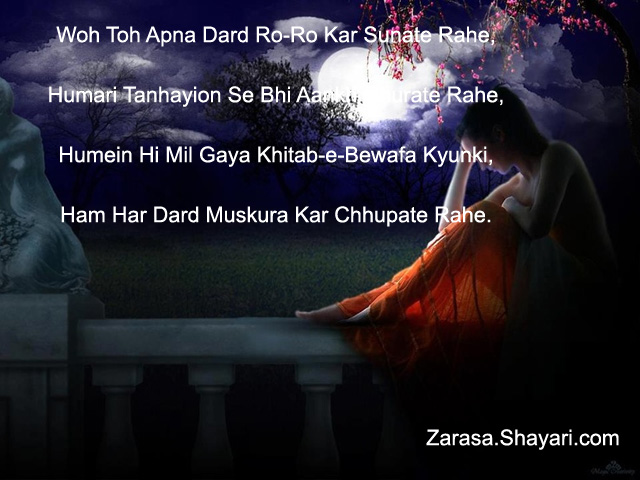 Woh Toh Apna Dard Ro-Ro Kar Sunate Rahe,
Humari Tanhayion Se Bhi Aankh Churate Rahe,
Humein Hi Mil Gaya Khitab-e-Bewafa Kyunki,
Ham Har Dard Muskura Kar Chhupate Rahe.




 


वो तो अपना दर्द रो-रो कर सुनाते रहे,
हमारी तन्हाइयों से भी आँख चुराते रहे,
हमें ही मिल गया खिताब-ए-बेवफा क्योंकि,
हम हर दर्द मुस्कुरा कर छुपाते रहे।
وہ  تو اپنا درد  رو-رو  کر  سناتے    رہے
ہماری  تنھایئوں  سے  بھی  آنکھ  چراتے   رہے
ہمیں  ہی  مل  گیا  خطا -ا -بیوفا   کیوںک
ہم  ہر  درد  مسکرا کر چھپاتے رہے
---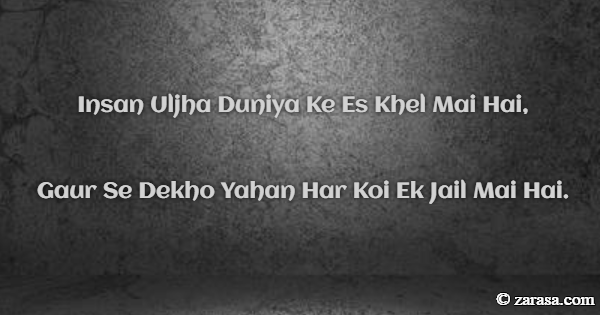 Insan Uljha Duniya Ke Es Khel Mai Hai,
Gaur Se Dekho Yahan Har Koi Ek Jail Mai Hai.
इंसान उलझा दुनिया के इस खेल में है,
गौर से देखों यहाँ हर कोई इक जेल में है |
انسان الجھا دنیا کے یس کھل می ہے
گور سے دیکھو یہاں ہر کوئی ایک جیل می ہے
---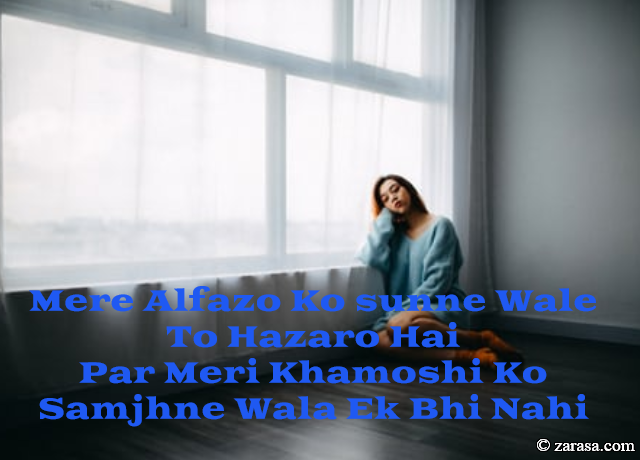 Mere Alfazo Ko sunne Wale To Hazaro Hai
Par Meri Khamoshi Ko Samjhne Wala Ek Bhi Nahi
मेरे अल्फाज़ो को सुनने वाले तो हज़ारो है
पर मेरी ख़ामोशी को समझने वाला एक भी नहीं
میرے الفاظو کو سنے والے تو ہزارو ہے
پر میری خاموشی کو سمجھنے والا ایک بھی نہیں
---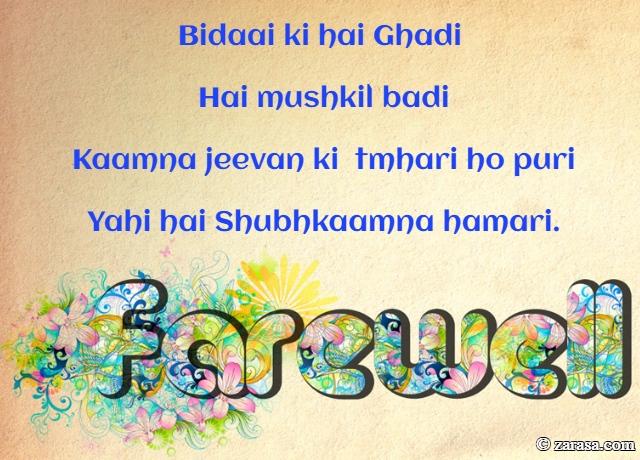 Bidaai ki hai Ghadi
Hai mushkil badi
Kaamna jeevan ki  tmhari ho puri
Yahi hai Shubhkaamna hamari.
विदाई की है घड़ी
है मुश्किल बड़ी
कामना जीवन की तम्हारी हो पूरी
यही है शुभकामना हमारी।
بدای کی ہے گھاڈی
ہے موشکل باڈی
کامنہ جیون کی تمہاری ھو پوری
یہی ہے شبھکامنہ ہماری
---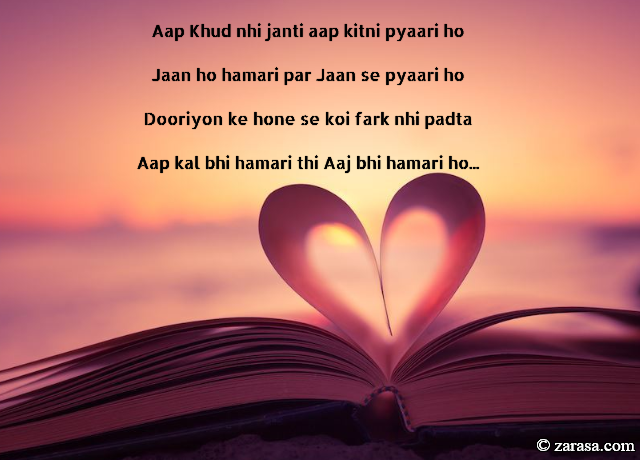 Aap Khud nhi janti aap kitni pyaari ho

Jaan ho hamari par Jaan se pyaari ho

Dooriyon ke hone se koi fark nhi padta

Aap kal bhi hamari thi Aaj bhi hamari ho...
आप खुद नहीं जानती आप कितनी प्यारी हो
जान हो हमारी पर जान से प्यारी हो
दूरियों के होने से कोई फर्क नहीं पड़ता
आप कल भी हमारी थी आज भी हमारी हो
آپ خود نہیں جانتی آپ کتنی پیاری ہو
جان ہو ہماری پر جان سے پیاری ہو
دوریوں کے ہونے سے کوئی پھڑک نہیں پڑتا
آپ کل بھی ہماری تھی آج بھی ہماری ہو
---