Shayari for Dard "Mere Alfazo Ko sunne Wale To Hazaro Hai"
|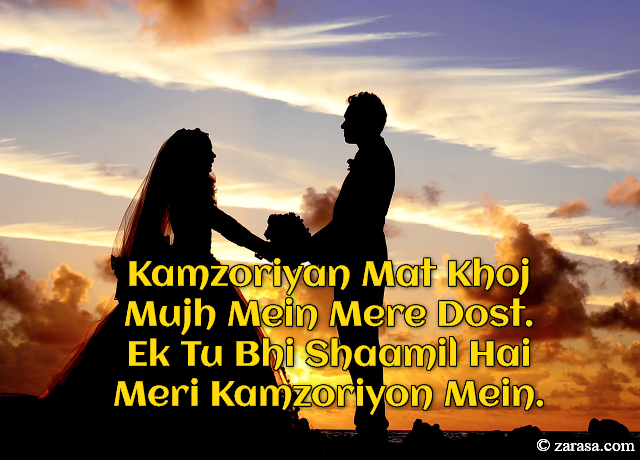 Kamzoriyan Mat Khoj Mujh Mein Mere Dost.
Ek Tu Bhi Shaamil Hai Meri Kamzoriyon Mein.
कमज़ोरियाँ मत खोज मुझ में मेरे दोस्त .
एक तू भी शामिल है मेरी कमज़ोरियों में .
کمزوریاں مت کھوج مجھ میں میرے دوست .
ایک تو بھی شامل ہے میری کمزوریوں میں .
---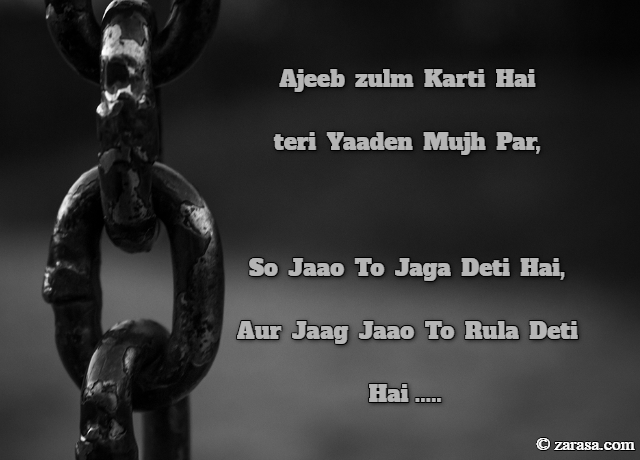 Ajeeb zulm Karti Hai teri Yaaden Mujh Par,
So Jaao To Jaga Deti Hai,Aur Jaag Jaao To Rula Deti Hai .....
अजीब जुल्म करती है तेरी यादें मुझ पर,
सो जाऊ तो जगा देती है, और जाग जाऊ तो रुला देती है…
عجیب ظلم کرتی ہے تیری یادیں مجھ پر
سو جاؤ تو جگا دیتی ہے ، اور جاگ جاؤ تو رولا دیتی ہے
---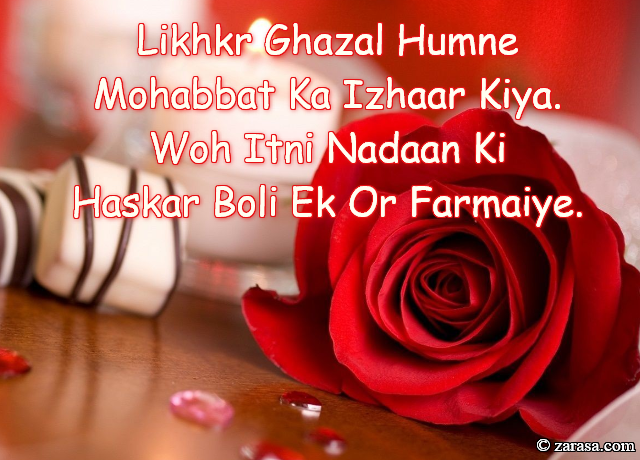 Likhkr Ghazal Humne Mohabbat Ka Izhaar Kiya.
Woh Itni Nadaan Ki Haskar Boli Ek Or Farmaiye.
लिखकर ग़ज़ल हमने मोहब्बत का इज़्हार किया .
वह इतनी नादान की हसकर बोली एक और फरमाइए .
لکھکر غزل ہمنے موحبّت کا اظہار کیا .
وہ اتنی ناداں کی حسکر بولی ایک اور فرمائے .
---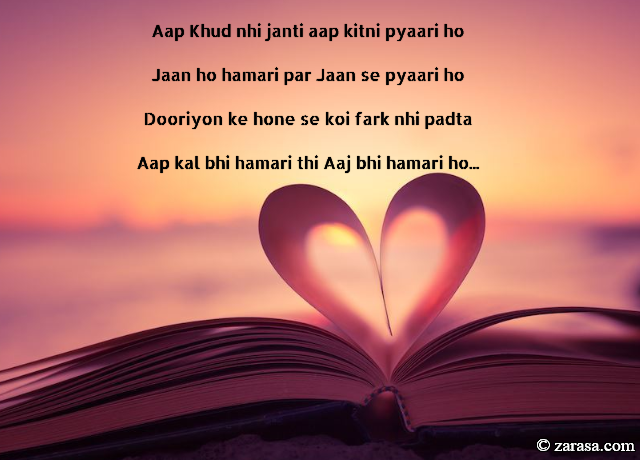 Aap Khud nhi janti aap kitni pyaari ho

Jaan ho hamari par Jaan se pyaari ho

Dooriyon ke hone se koi fark nhi padta

Aap kal bhi hamari thi Aaj bhi hamari ho...
आप खुद नहीं जानती आप कितनी प्यारी हो
जान हो हमारी पर जान से प्यारी हो
दूरियों के होने से कोई फर्क नहीं पड़ता
आप कल भी हमारी थी आज भी हमारी हो
آپ خود نہیں جانتی آپ کتنی پیاری ہو
جان ہو ہماری پر جان سے پیاری ہو
دوریوں کے ہونے سے کوئی پھڑک نہیں پڑتا
آپ کل بھی ہماری تھی آج بھی ہماری ہو
---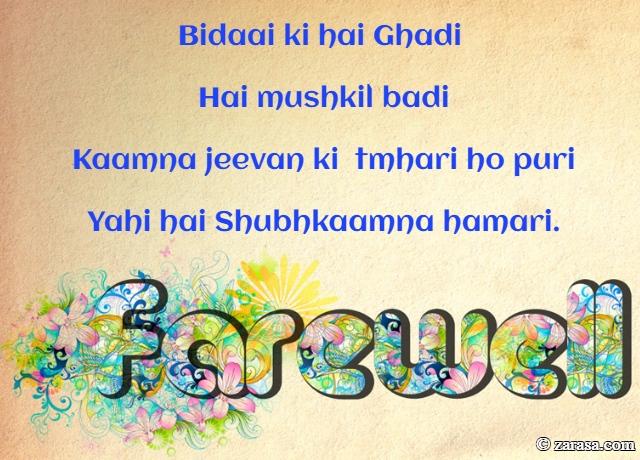 Bidaai ki hai Ghadi
Hai mushkil badi
Kaamna jeevan ki  tmhari ho puri
Yahi hai Shubhkaamna hamari.
विदाई की है घड़ी
है मुश्किल बड़ी
कामना जीवन की तम्हारी हो पूरी
यही है शुभकामना हमारी।
بدای کی ہے گھاڈی
ہے موشکل باڈی
کامنہ جیون کی تمہاری ھو پوری
یہی ہے شبھکامنہ ہماری
---