Fariyaad Shayari "Anginat Fariyaaden Hain"
|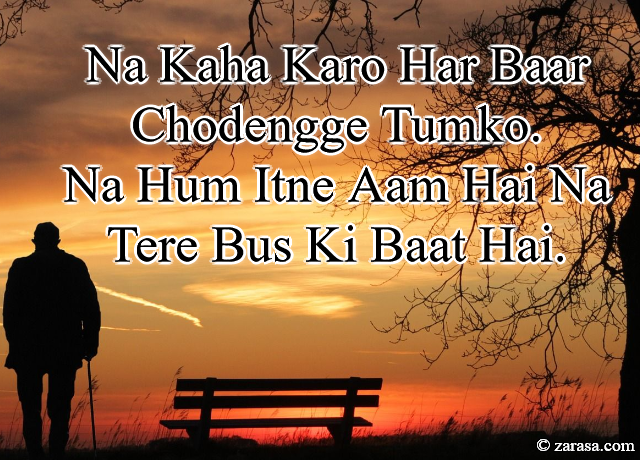 Na Kaha Karo Har Baar Chodengge Tumko.
Na Hum Itne Aam Hai Na Tere Bus Ki Baat Hai.
ना कहा करो हर बार छोडेंगज तुमको .
ना हम इतने आम है ना तेरे बस की बात है .
نہ کہا کرو ہر بار چودنگگے تمکو .
نہ ہم اتنے ام ہے نہ تیرے بس کی بات ہے .
---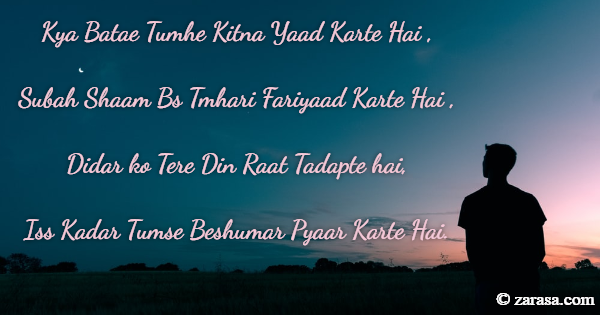 Kya Batae Tumhe Kitna Yaad Karte Hai ,
Subah Shaam Bs Tmhari Fariyaad Karte Hai ,
Didar ko Tere Din Raat Tadapte hai,
Iss Kadar Tumse Beshumar Pyaar Karte Hai.
क्या बताए तम्हें कितना याद करते है ,
सुबह शाम बस तम्हारी फ़रियाद करते है,
दीदार को तेरे दिन रात तड़पते है ,
इस कदर तुमसे बेशुमार प्यार करते है।
کیا بتاۓ تمھ کتنا یاد کرتے ہے
صوبہ شام بس تمہاری فریاد کرتے ہے
دیدار کو تیرے دن رات تداپتے ہے
اسس کدر تمسے بیشمار پیار کرتے ہے
---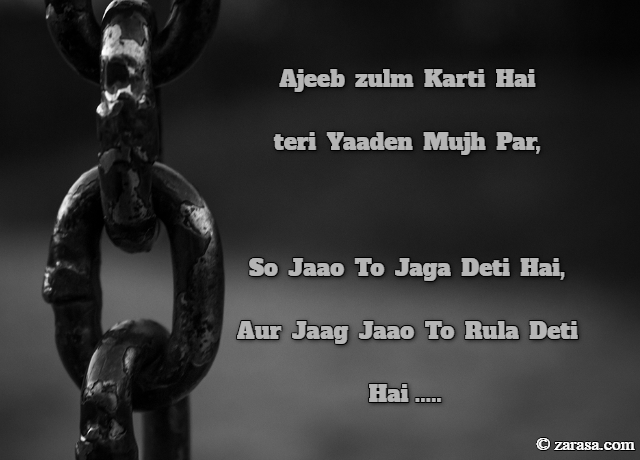 Ajeeb zulm Karti Hai teri Yaaden Mujh Par,
So Jaao To Jaga Deti Hai,Aur Jaag Jaao To Rula Deti Hai .....
अजीब जुल्म करती है तेरी यादें मुझ पर,
सो जाऊ तो जगा देती है, और जाग जाऊ तो रुला देती है…
عجیب ظلم کرتی ہے تیری یادیں مجھ پر
سو جاؤ تو جگا دیتی ہے ، اور جاگ جاؤ تو رولا دیتی ہے
---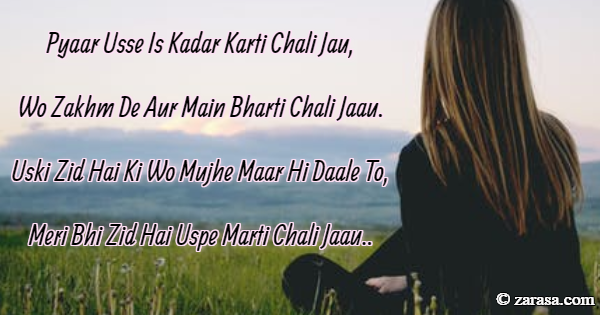 Pyaar Usse Is Kadar Karti Chali Jau,
Wo Zakhm De Aur Main Bharti Chali Jaau.
Uski Zid Hai Ki Wo Mujhe Maar Hi Daale To,
Meri Bhi Zid Hai Uspe Marti Chali Jaau..
प्यार उससे इस कदर करती चली जाऊँ,
वो जख़्म दे और मैं भरती चली जाऊँ.
उसकी ज़िद हैं कि वो मुझे मार ही डाले तो,
मेरी भी ज़िद हैं उसपे मरती चली जाऊँ..
پیار اسے اس کدر کرتی چلی جاو
وہ زخم دے اور می بھرتی چلی جاو
اسکی زد ہے کی وہ مجھے مار ہی دالے تو
میری بھی زد ہے اسپے مرتی چلی جاو
---
Vo Chod Gaya Mujhko Magar Yaad De Gaya ,
Puri Na Ho Sakegi Vo Fariyaad De Gaya ....
वो छोड़ गया मुझको मगर याद दे गया,
पूरी न हो सकेगी वो फरियाद दे गया।
وہ چھوڈ گیا مجھکو مگر یاد دے گیا
پوری نہ ہو سکےگی وہ فریاد دے گیا
---