Fariyaad Shayari "Fir Bhi Unhi Ki Khusiyo Ki Fariyad Karta Hai."
|
Dard Seh Kar Bhi Dil Unhe Pyar Karta Hai,
Juda Hokar Bhi Unhe Hi Yaad Karta Hai,
Diye Hai Ishq Me Itne Dard-e-Gum,
Fir Bhi Unhi Ki Khusiyo Ki Fariyad Karta Hai.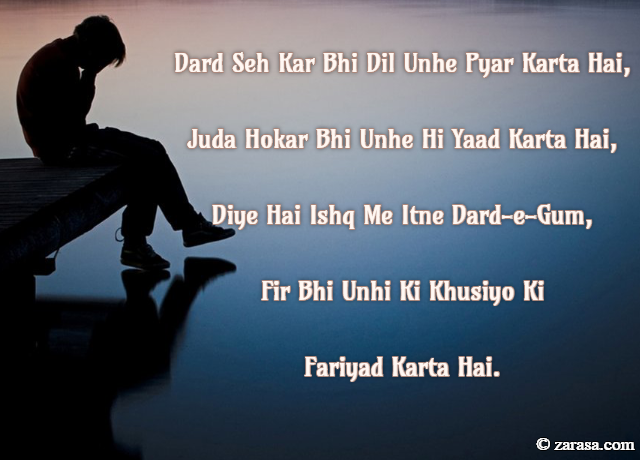 ---

दर्द सह कर भी दिल उन्हें प्यार करता है ,
जुदा होकर भी उन्हें ही याद करता है ,
दिए है इश्क़ में इतने दर्द -ए -गम,
फिर भी उन्हीं की खुशियों की फ़रियाद करता है।


---

درد سہ کر بھی دل انھ پیار کرتا ہے
جدا ہوکر بھی انھ ہی یاد کرتا ہے
دے ہے عشق مے اتنے درد- ے -گم
فر بھی انہی کی خوشیو کی فریاد کرتا ہے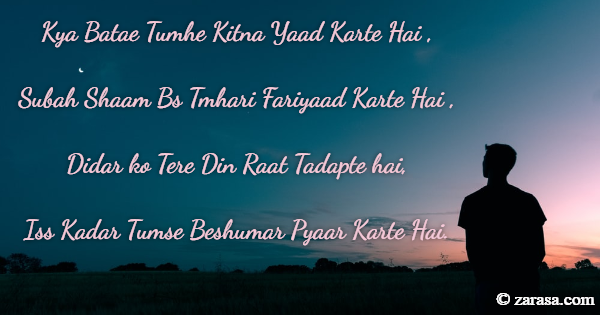 Kya Batae Tumhe Kitna Yaad Karte Hai ,
Subah Shaam Bs Tmhari Fariyaad Karte Hai ,
Didar ko Tere Din Raat Tadapte hai,
Iss Kadar Tumse Beshumar Pyaar Karte Hai.
क्या बताए तम्हें कितना याद करते है ,
सुबह शाम बस तम्हारी फ़रियाद करते है,
दीदार को तेरे दिन रात तड़पते है ,
इस कदर तुमसे बेशुमार प्यार करते है।
کیا بتاۓ تمھ کتنا یاد کرتے ہے
صوبہ شام بس تمہاری فریاد کرتے ہے
دیدار کو تیرے دن رات تداپتے ہے
اسس کدر تمسے بیشمار پیار کرتے ہے
---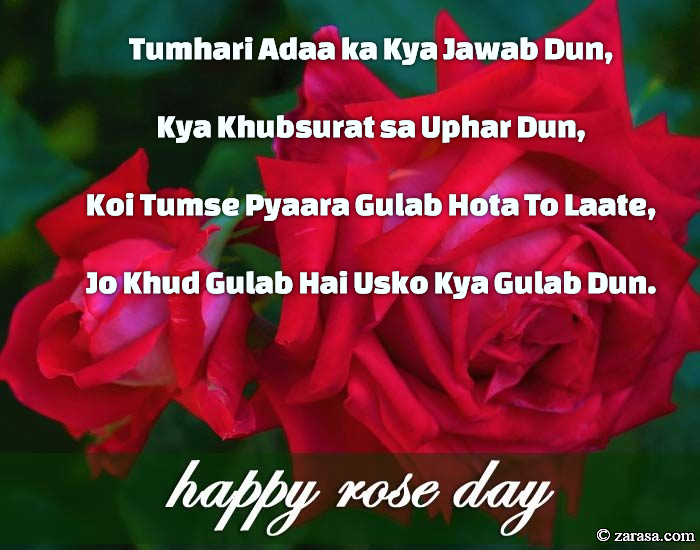 Tumhari Adaa ka Kya Jawab Dun,
Kya Khubsurat sa Uphar Dun,
Koi Tumse Pyaara Gulab Hota To Laate,
Jo Khud Gulab Hai Usko Kya Gulab Dun.
तुम्हारी अदा का क्या जवाब दूं,
क्या खूबसूरत सा उपहार दूं ,
कोई तुमसे प्यारा गुलाब होता तो लाते,
जो खुद गुलाब है उसको क्या गुलाब दूं।
تمہاری ادا کا کیا جواب دوں
کیا خوبصورت سا اپہار دوں
کوئی تمسے پیارا گلاب ہوتا تو لاتے
جو خود گلاب ہے اسکو کیا گلاب دوں
---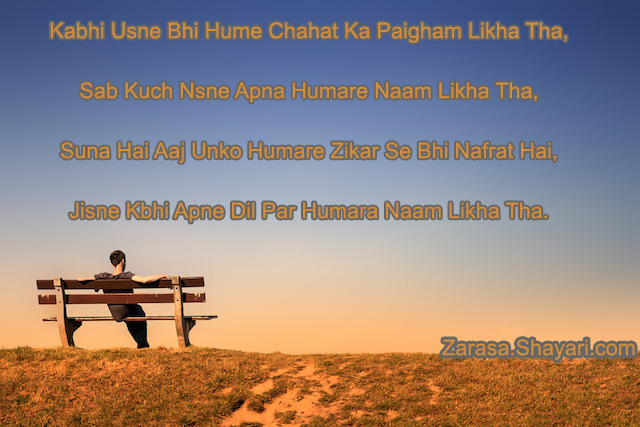 Kabhi Usne Bhi Hume Chahat Ka Paigham Likha Tha,
Sab Kuch Nsne Apna Humare Naam Likha Tha,
Suna Hai Aaj Unko Humare Zikar Se Bhi Nafrat Hai,
Jisne Kbhi Apne Dil Par Humara Naam Likha Tha.

 

 

कभी उसने भी हमें चाहत का पैग़ाम लिखा था,
सब कुछ उसने अपना हमारे नाम लिखा था,
सुना है आज उनको हमारे ज़िकर से भी नफ़रत है,
जिसने कभी अपने दिल पर हमारा नाम लिखा था।
کبھی  اسنے  بھی  ہمے  چاہت  کا  پےغام  لکھا  تھا
سب  کچھ  اسنے  اپنا  ہمارے  نام  لکھا  تھا
سنا  ہے  آج  انکو  ہمارے  ذکر سے  بھی  نفرت  ہے
جسنے  کبھی  اپنے  دل  پر  ہمارا  نام  لکھا  تھا
---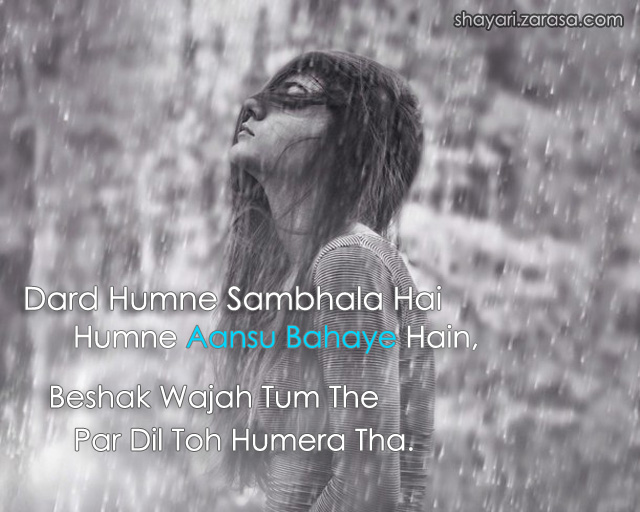 Dard Humne Sambhala Hai Humne Aansu Bahaye Hain,
Beshak Wajah Tum The Par Dil Toh Humara Tha.





दर्द हमने संभाला है हमने आँसू बहाए हैं,
बेशक वजह तुम थे पर दिल तो हमारा था।


درد ہمنے سمبھالا ہے ہمنے آنسو بھایں ہیں,
بیشک وجہ تم تھے پر دل تو ہمارا تھا.
---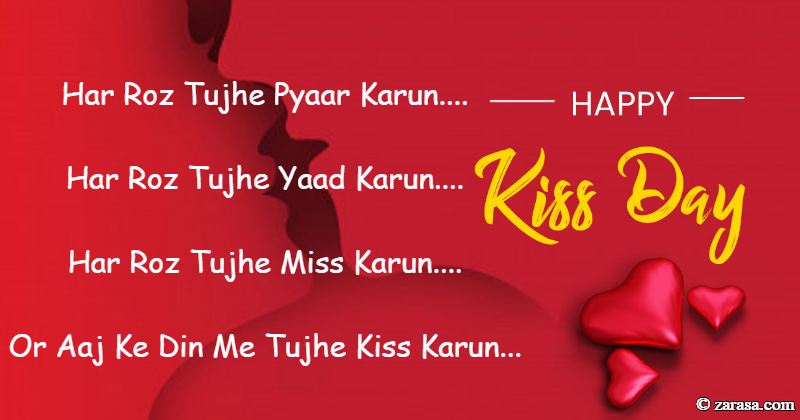 Har Roz Tujhe Pyaar Karun....
Har Roz Tujhe Yaad Karun....
Har Roz Tujhe Miss Karun....
Or Aaj Ke Din Me Tujhe Kiss Karun...

हर रोज़ तुझे प्यार करूँ..
हर रोज़ तुझे याद करूँ..
हर रोज़ तुझे मिस करूँ…
और आज के दिन में तुझे किस करूँ..

ہر روز تجھے پیار کروں
ہر روز تجھے یاد کروں
ہر روز تجھے مس کروں
اور آج کے دن مے یوجھے کیسس کروں
---