Shayari for Dard "Talaash Kar Meri Kami"
|
Talaash Kar Meri Kami Ko Apne Dil Mein Ae Yaar.
Dard Ho To Samajh Lena Ki Mohabbat Ab Bhi Baki Hai.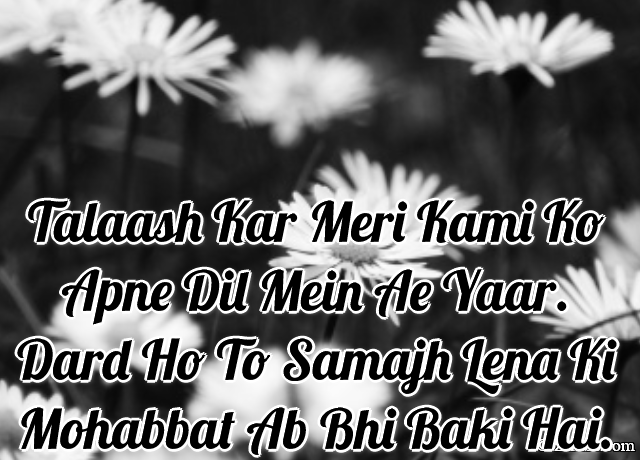 ---

तलाश कर मेरी कमी को अपने दिल में ऐ यार .
दर्द हो तो समझ लेना की मोहब्बत अब भी बाकि है .


---

تلاش کر میری کمی کو اپنے دل میں اے یار .
درد ہو تو سمجھ لینا کی موحبّت اب بھی باکی ہے .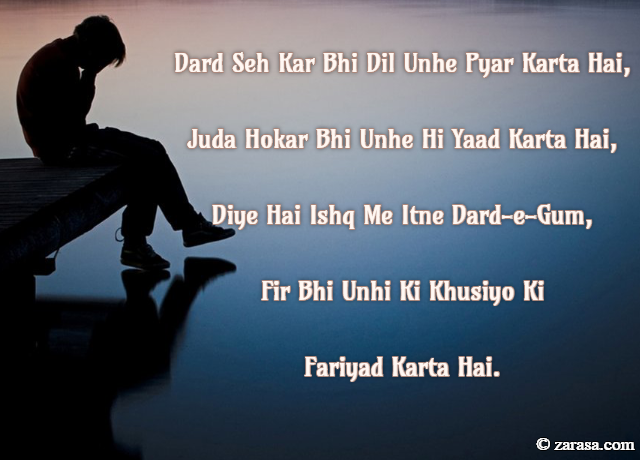 Dard Seh Kar Bhi Dil Unhe Pyar Karta Hai,
Juda Hokar Bhi Unhe Hi Yaad Karta Hai,
Diye Hai Ishq Me Itne Dard-e-Gum,
Fir Bhi Unhi Ki Khusiyo Ki Fariyad Karta Hai.
दर्द सह कर भी दिल उन्हें प्यार करता है ,
जुदा होकर भी उन्हें ही याद करता है ,
दिए है इश्क़ में इतने दर्द -ए -गम,
फिर भी उन्हीं की खुशियों की फ़रियाद करता है।
درد سہ کر بھی دل انھ پیار کرتا ہے
جدا ہوکر بھی انھ ہی یاد کرتا ہے
دے ہے عشق مے اتنے درد- ے -گم
فر بھی انہی کی خوشیو کی فریاد کرتا ہے
---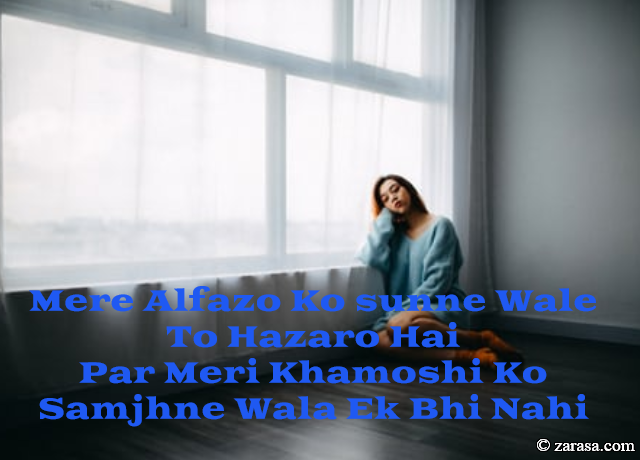 Mere Alfazo Ko sunne Wale To Hazaro Hai
Par Meri Khamoshi Ko Samjhne Wala Ek Bhi Nahi
मेरे अल्फाज़ो को सुनने वाले तो हज़ारो है
पर मेरी ख़ामोशी को समझने वाला एक भी नहीं
میرے الفاظو کو سنے والے تو ہزارو ہے
پر میری خاموشی کو سمجھنے والا ایک بھی نہیں
---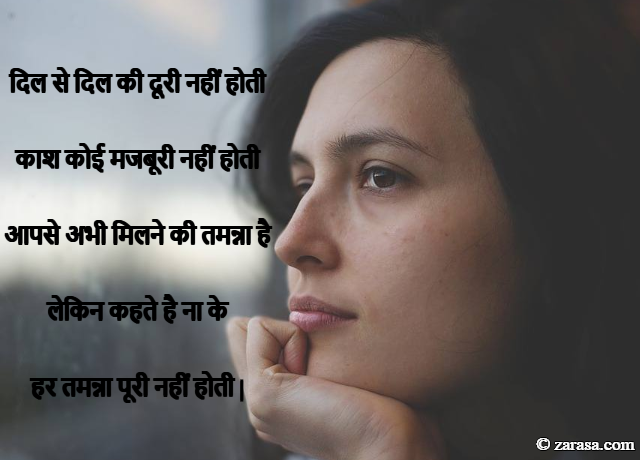 Dil se Dil ki Doori Nahi Hoti
Kash Koi Majburi nahi Hoti
Apse Abi Milne ki Tamanna Hai
Lekin Kehte Hain Na ke Har Tamanna Puri Nahi Hoti.
दिल से दिल की दूरी नहीं होती
काश कोई मजबूरी नहीं होती
आपसे अभी मिलने की तमन्ना है
लेकिन कहते है ना के हर तमन्ना पूरी नहीं होती |
دل سے دل کی دوری نہی ہوتی
کش کوئی مجبوری نہی ہوتی
آپسے ابھی ملنے کی تمنّا ہے
لیکن کہتے ہے نہ کے ہر تمننا پوری نہی ہوتی
---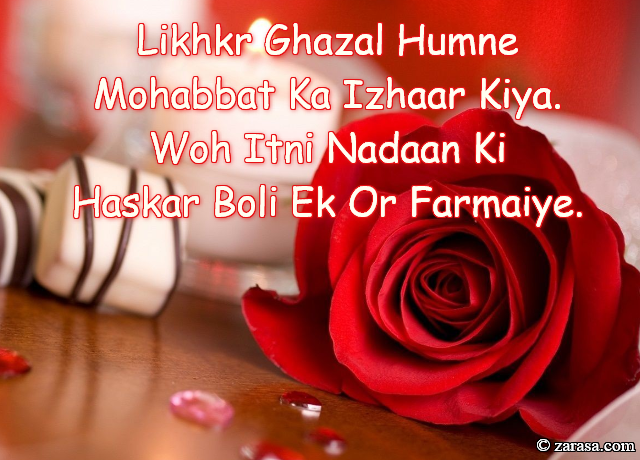 Likhkr Ghazal Humne Mohabbat Ka Izhaar Kiya.
Woh Itni Nadaan Ki Haskar Boli Ek Or Farmaiye.
लिखकर ग़ज़ल हमने मोहब्बत का इज़्हार किया .
वह इतनी नादान की हसकर बोली एक और फरमाइए .
لکھکر غزل ہمنے موحبّت کا اظہار کیا .
وہ اتنی ناداں کی حسکر بولی ایک اور فرمائے .
---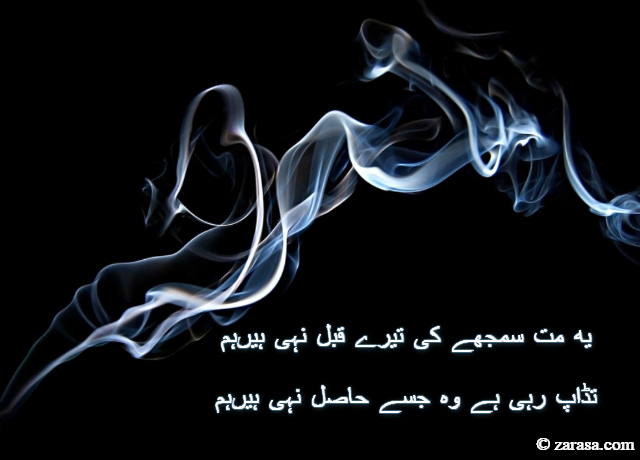 Yeh Mat Samjhiye Ki Tere Kabil Nhi Hain Hum,
Tadap Rhe Hai Vo Jise Haasil Nhi Hain Hum
ये मत समझ कि तेरे काबिल नहीं हैं हम,
तड़प रहे हैं वो जिसे हासिल नहीं हैं हम.....!!!
یه مت سمجھے کی تیرے قبل نہی ہیں ہم
تڈاپ رہی ہے وہ جسے حاصل نہی ہیں ہم
---