Funny Shayari "Kon Si Wali Yaad Kar Rahi Hai"
|
Ae Khuda Hichkiyon Main Kuchh To Fark Dala Hota.
Ab Kaise Pata Karu Ke Kon Si Wali Yaad Kar Rahi Hai.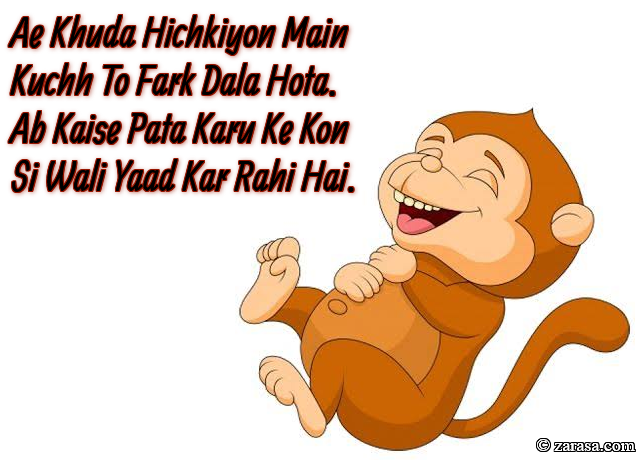 ---

ऐ खुदा हिचकियों में कुछ तो फर्क डाला होता,
अब कैसे पता करूँ के कौन सी वाली याद कर रही है।




---



اے خدا ہچکیوں میں کچھ تو پھڑک ڈالا ہوتا .
اب کیسے پتا کرو کے کون سی والی یاد کر رہی ہے .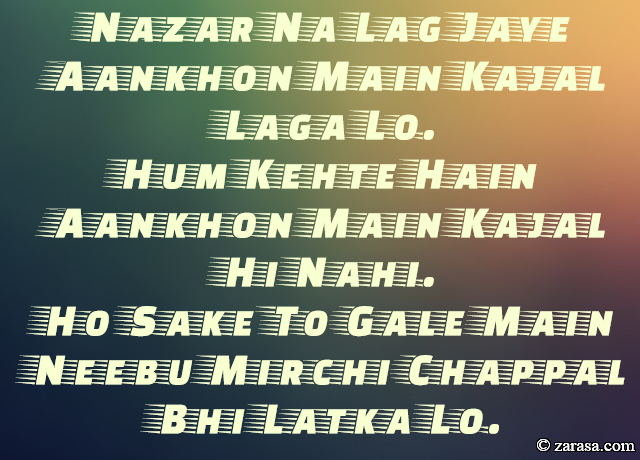 Nazar Na Lag Jaye Aankhon Main Kajal Laga Lo.
Hum Kehte Hain Aankhon Main Kajal Hi Nahi.
Ho Sake To Gale Main Neebu Mirchi Chappal Bhi Latka Lo.
नज़र ना लग जाये आँखों मैं काजल लगा लो .
हम कहते हैं आँखों मैं काजल ही नहीं .
हो सके तो गले मैं नीबू मिर्ची चप्पल भी लटका लो .
نظر نہ لگ جائے آنکھوں میں کاجل لگا لو .
ہم کہتے ہیں آنکھوں میں کاجل ہی نہیں .
ہو سکے تو گلے میں نیبو مرچی چپپل بھی لٹکا لو .
---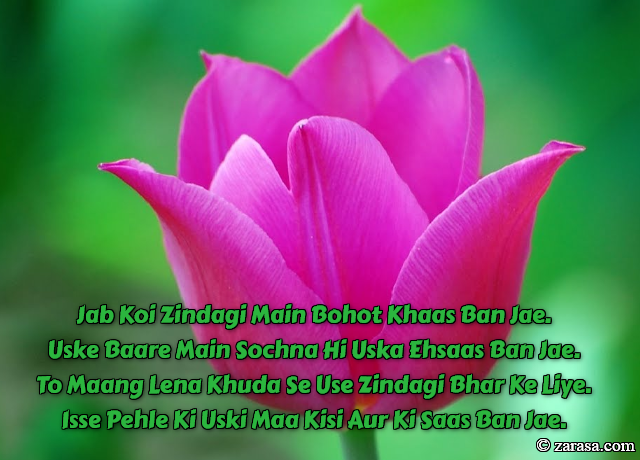 Jab Koi Zindagi Main Bohot Khaas Ban Jae.
Uske Baare Main Sochna Hi Uska Ehsaas Ban Jae.
To Maang Lena Khuda Se Use Zindagi Bhar Ke Liye.
Isse Pehle Ki Uski Maa Kisi Aur Ki Saas Ban Jae.
जब कोई ज़िन्दगी मैं बोहोत ख़ास बन जाए .
उसके बारे मैं सोचना ही उसका एहसास बन जाए .
तो मांग लेना खुदा से उसे ज़िन्दगी भर के लिए .
इससे पहले की उसकी माँ किसी और की सास बन जाए .

جب کوئی زندگی میں بوہوت خاص بن جاۓ .
اسکے بارے میں سوچنا ہی اسکا احساس بن جاۓ .
تو مانگ لینا خدا سے اسے زندگی بھر کے لئے .
اسے پہلے کی اسکی ما کسی اور کی ساس بن جاۓ .

---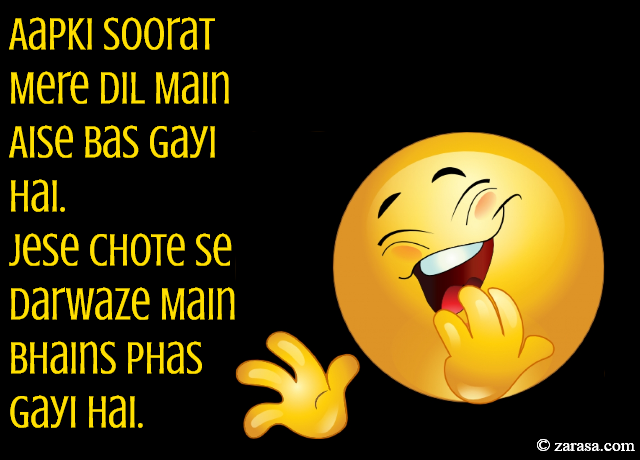 Aapki Soorat Mere Dil Main Aise Bas Gayi Hai.
Jese Chote Se Darwaze Main Bhains Phas Gayi Hai.


आपकी सूरत मेरे दिल में ऐसे बस गयी है,
जैसे छोटे से दरवाज़े में भैस फस गयी है।

آپکی صورت میرے دل میں ایسے بس گی ہے .
جیسے چھوٹے سے دروازے می بھینس فاس گی ہے .


---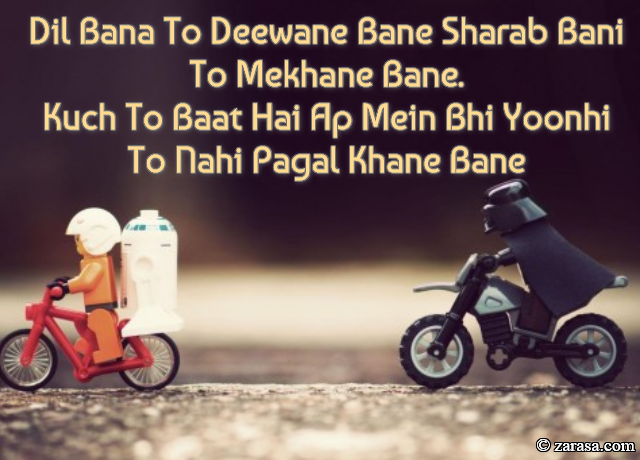 Dil Bana To Deewane Bane Sharab Bani To Mekhane Bane.
Kuch To Baat Hai Ap Mein Bhi Yoonhi To Nahi Pagal Khane Bane.
दिल बना तो दीवाने बने शराब बानी तो मखाने बने .
कुछ तो बात है आप में भी यूँही तो नहीं पागल खाने बने .
دل بنا تو دیوانے بنے شراب بنی تو میخانے بنے .
کچھ تو بات ہے اپ میں بھی یونہی تو نہیں پاگل خانے بنے .
---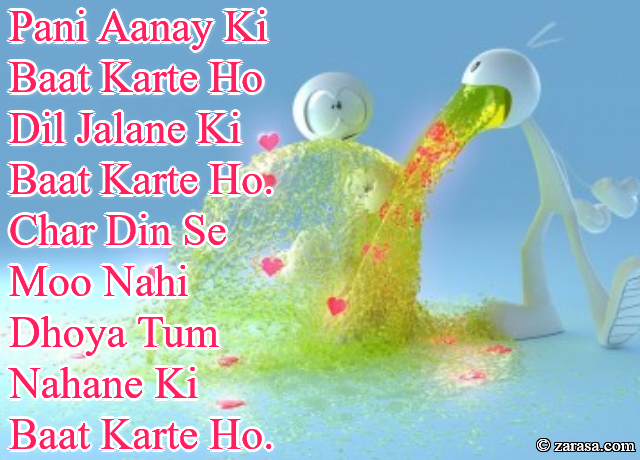 Pani Aanay Ki Baat Karte Ho Dil Jalane Ki Baat Karte Ho.
Char Din Se Moo Nahi Dhoya Tum Nahane Ki Baat Karte Ho.
पानी आने की बात करते हो दिल जलने की बात करते हो .
चार दिन से मू नहीं धोया तुम नहाने की बात करते हो .
پانی آنے کی بات کرتے ہو دل جلانے کی بات کرتا ہو .
چار دن سے مو نہیں دھویا تم نہانے کی بات کرتے ہو .
---