Judaai Shayari "Tu Gaya Khaawb"
|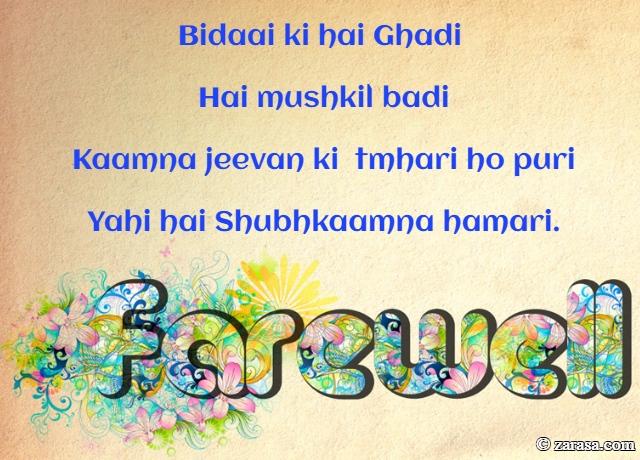 Bidaai ki hai Ghadi
Hai mushkil badi
Kaamna jeevan ki  tmhari ho puri
Yahi hai Shubhkaamna hamari.
विदाई की है घड़ी
है मुश्किल बड़ी
कामना जीवन की तम्हारी हो पूरी
यही है शुभकामना हमारी।
بدای کی ہے گھاڈی
ہے موشکل باڈی
کامنہ جیون کی تمہاری ھو پوری
یہی ہے شبھکامنہ ہماری
---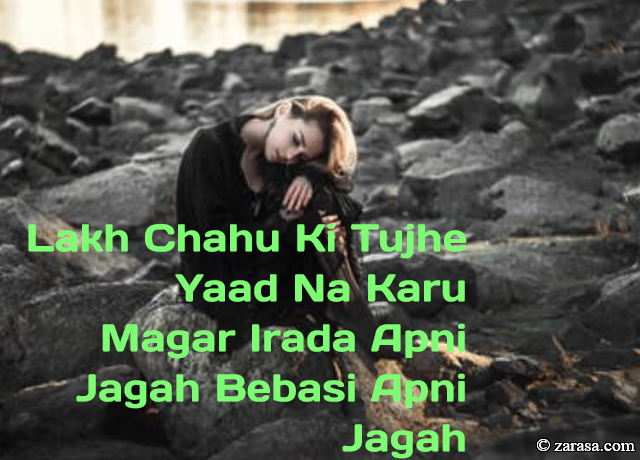 Lakh Chahu Ki Tujhe Yaad Na Karu
Magar Irada Apni Jagah Bebasi Apni Jagah
लाख चहु की तुझे याद न करू
मगर इरादा अपनी जगह बेबसी अपनी जगह
لکھ چاھو کی تجھے یاد نہ کرو
مگر ارادہ اپنی جگہ بےبسی اپنی جگہ
---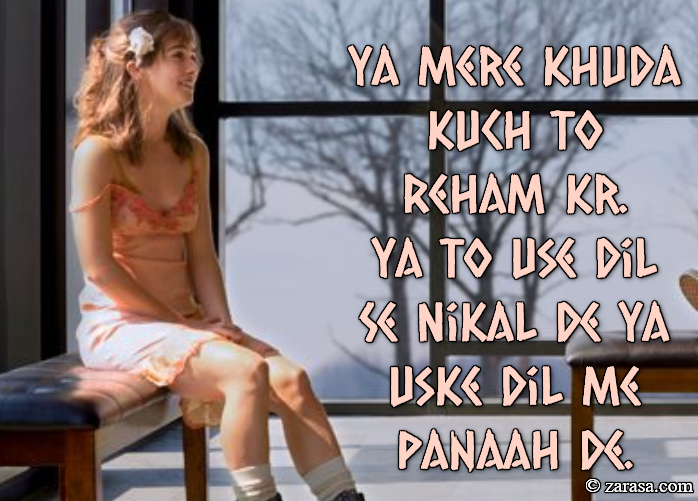 Ya Mere Khuda Kuch To Reham Kr.
Ya To Use Dil Se Nikal De Ya Uske Dil Me Panaah De.
या मेरे खुदा कुछ तो रेहम क्र .
या तो उसे दिल से निकल दे या उसके दिल में पनाह दे .
یا میرے خدا کچھ تو رحم کر .
یا تو اسے دل سے نکل دے یا اسکے دل مے پناہ دے .
---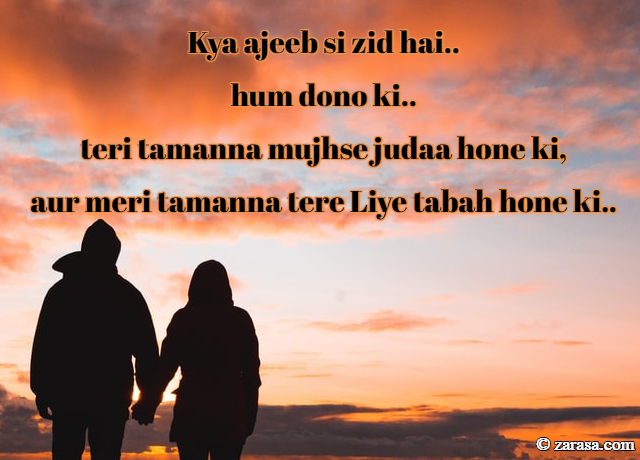 Kya ajeeb si zid hai..
hum dono ki..
teri tamanna mujhse judaa hone ki,
aur meri tamanna tere Liye tabah hone ki..
क्या अजीब सी ज़िद है..
हम दोनों की,
तेरी मर्ज़ी हमसे जुदा होने की..
और मेरी तेरे पीछे तबाह होने की..
کیا عجیب سی زد ہے
ہم دونو کی
تیری تمنّا مجھسے جدا ہونے کی
اور میری تمنّا تیرے لئے تباہ ہونے کی
---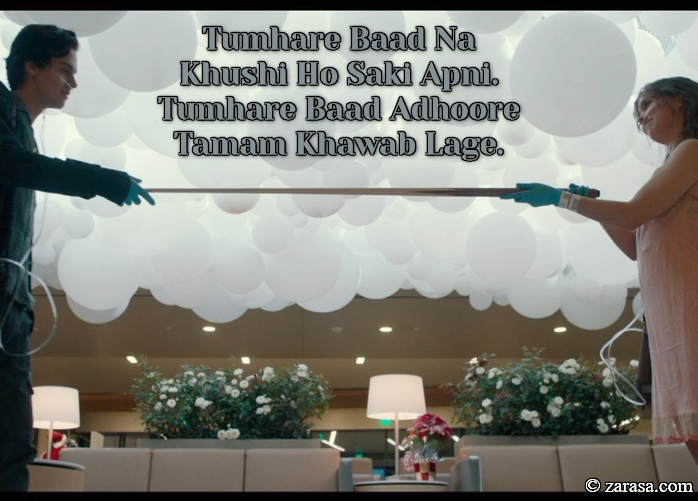 Tumhare Baad Na Khushi Ho Saki Apni.
Tumhare Baad Adhoore Tamam Khawab Lage.
तुम्हारे बाद ना ख़ुशी हो सकीय अपनी .
तुम्हारे बाद अधूरे तमाम खवाब लगे .
تمہارے بعد نہ خوشی ہو سکی اپنی .
تمہارے بعد ادھورے تمام خواب لگے .
---