MOTIIVATION SHAYARI "PEHECHAN SE MILA HUA KAAM"
|
PEHCHAN SE MILA HUA KAAM THODE WAQT KE LIY REHTA HAI
LEKIN KAAM SE MILLI HUI PECHAN UMAR BHER KE LIY REHTI HAI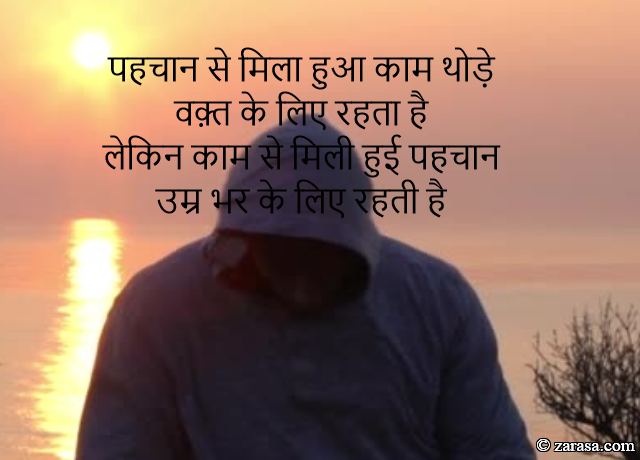 ---

पहचान से मिला हुआ काम थोड़े वक़्त के लिए रहता है
लेकिन काम से मिली हुई पहचान उम्र भर के लिए रहती है


---

پہچان سے ملا ہوا کام تھودے وقت کے لی رہتا ہے
لیکن کام سے میللی ہی پہچان امر بھر کے لی رہتی ہے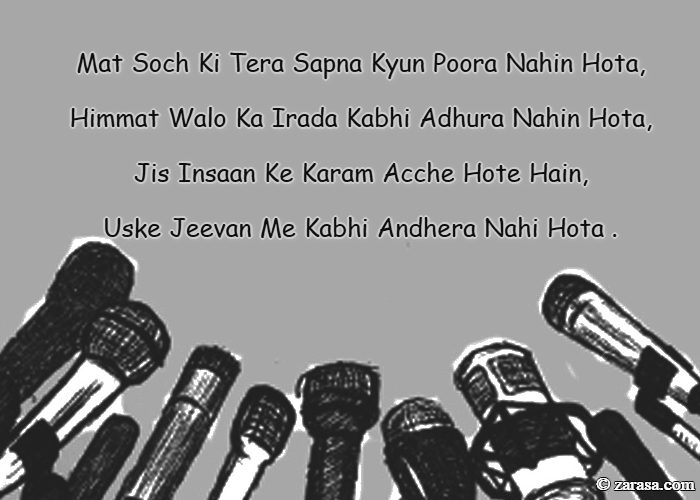 Mat Soch Ki Tera Sapna Kyun Poora Nahin Hota,
Himmat Walo Ka Irada Kabhi Adhura Nahin Hota,
Jis Insaan Ke Karam Acche Hote Hain,
Uske Jeevan Me Kabhi Andhera Nahi Hota .
मत सोच की तेरा सपना क्यों पूरा नहीं होता,
हिम्मत वालों का इरादा कभी अधूरा नहीं होता,
जिस इंसान के करम अच्छे होते है,
उसके जीवन में कभी अँधेरा नहीं होता।
مت سوچ کی تیرا سپنا کیو پورا نہی ہوتا
ہمّت والو کا اراد کبھی ادھورا نہی ہوتا
جس انسان کے کرم اچھے ہوتے ہے
اسکے جیون مے کبھی اندھیرا نہی ہوتا
---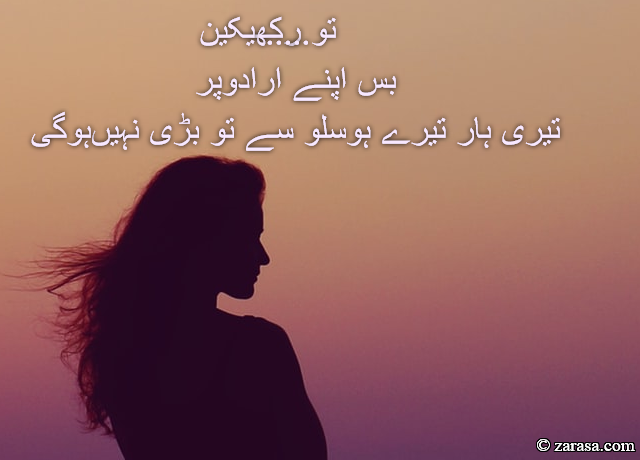 TU RAKH YAKEEN.........
BAS APNE IRADO PAR,
TERI HAR TERE HOSLE SE TO BADI NAHI HOGI
तू राख्न यकीन
बस अपने इरादों पर
तेरी हार तेरे हौसले से तो बड़ी नहीं होगी
تو رکھ یکین
بس اپنے ارادو پر ,
تیری ہر تیرے سے تو بدی نہیں ہوگی
---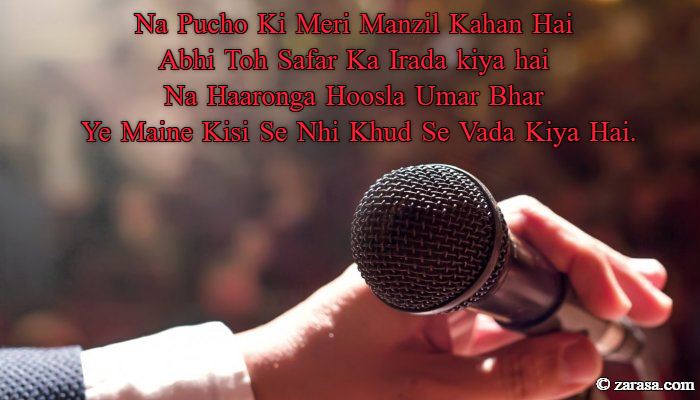 Na Pucho Ki Meri Manzil Kahan Hai
Abhi Toh Safar Ka Irada kiya hai
Na Haaronga Hoosla Umar Bhar
Ye Maine Kisi Se Nhi Khud Se Vada Kiya Hai.
ना पूछो कि मेरी मंजिल कहाँ है
अभी तो सफर का इरादा किया है
ना हारूंगा हौंसला उम्र भर
ये मैंने किसी से नहीं खुद से वादा किया है |
نہ پچو کی میری منزل کہاں ہے
ابھی تو سفر کا ارادہ کیا ہے
نہ ہارونگا حوصلہ امر بھر
یہ مہینے کسی سے نہی خود سے وادا کیا ہے
---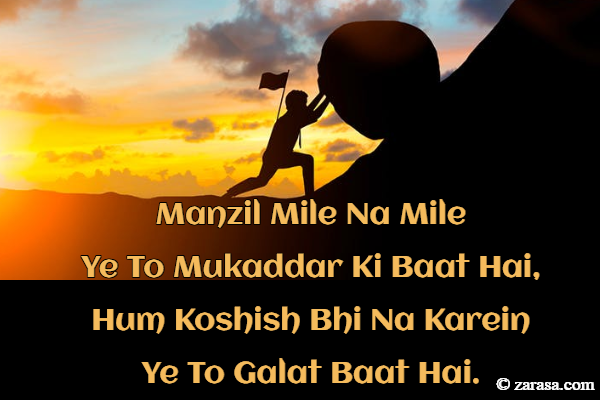 Manzil Mile Na Mile
Ye To Mukaddar Ki Baat Hai,
Hum Koshish Bhi Na Karein
Ye To Galat Baat Hai.

मंज़िल मिले न मिले
ये तो मुकद्दर की बात है,
हम कोशिश भी न करें
ये तो गलत बात है।
منزل میل نہ میل
یہ تو مقدار کی بات ہے
ہم کوشش بھی نہ کرے
یہ تو گلت بات ہے
---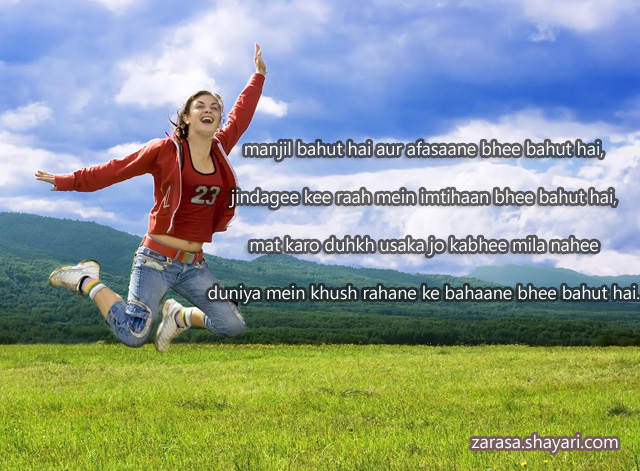 manjil bahut hai aur afasaane bhee bahut hai,
zindagee kee raah mein imtihaan bhee bahut hai,
mat karo duhkh usaka jo kabhee mila nahee
duniya mein khush rahane ke bahaane bhee bahut hai.

 

 

मंजिले बहुत है और अफ़साने भी बहुत है,
जिंदगी की राह में इम्तिहान भी बहुत है,
मत करो दुःख उसका जो कभी मिला नही
दुनिया में खुश रहने के बहाने भी बहुत है।
منجلیں  بہت  ہے  اور  افسانے  بھی  بہت ہے
زندگی کی  راہ  میں  امتحاں  بھی  بہت  ہے
مت  کرو  دھکہ  اسکا  جو  کبھی  ملا  نہی
دنیا  میں  خوش  رہنے  کے  بہانے  بھی  بہت  ہے
---