MOTIVATION " SHAYARI FOR STUDENT"
|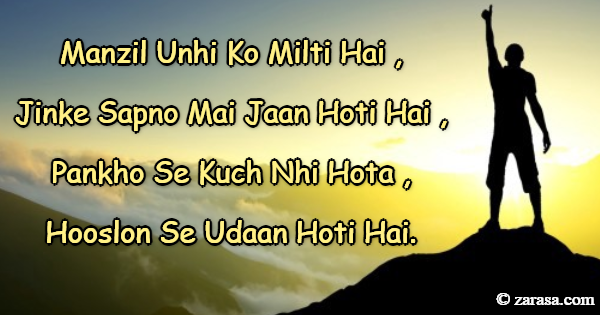 Manzil Unhi Ko Milti Hai ,
Jinke Sapno Mai Jaan Hoti Hai ,
Pankho Se Kuch Nhi Hota ,
Hooslon Se Udaan Hoti Hai.
मंजिल उन्हीं को मिलती है,
जिनके सपनों में जान होती है,
पंखों से कुछ नहीं होता,
हौसलों से उड़ान होती है |
منزل انہی کو ملتی ہے
جنکے سپنو می جان ہوتی ہے
پنکھو سے کچھ نہی ہوتا
حوصلوں سے وڈان ہوتی ہے
---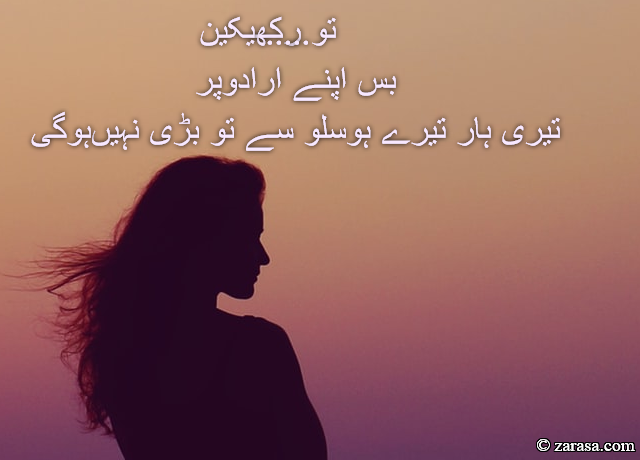 TU RAKH YAKEEN.........
BAS APNE IRADO PAR,
TERI HAR TERE HOSLE SE TO BADI NAHI HOGI
तू राख्न यकीन
बस अपने इरादों पर
तेरी हार तेरे हौसले से तो बड़ी नहीं होगी
تو رکھ یکین
بس اپنے ارادو پر ,
تیری ہر تیرے سے تو بدی نہیں ہوگی
---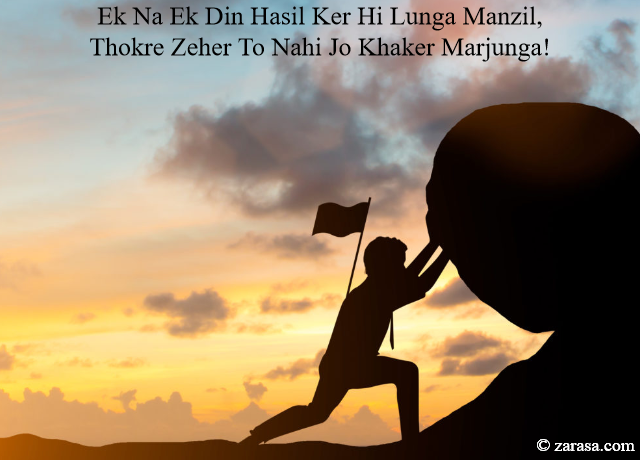 Ek Na Ek Din Hasil Ker Hi Lunga Manzil,
Thokre Zeher To Nahi Jo Khaker Marjunga!
एक न एक दिन हासिल कर ही लूंगा मंज़िल ,
ठोकरे ज़हर तो नहीं जो खाकर मेरजाऊँगा !
ایک نہ ایک دن حاصل کر ہی لونگا منزل ,
تھوکرے زہر تو نہیں جو کھاکر مرجاؤنگا !
---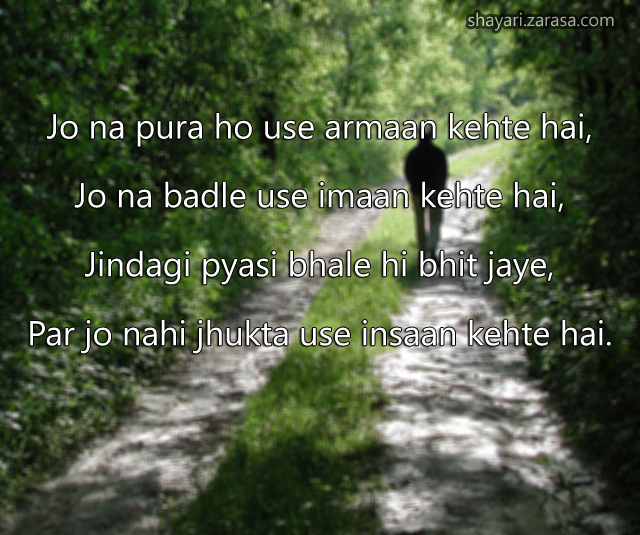 Jo na pura ho use armaan kehte hai,
Jo na badle use imaan kehte hai,
Zindagi pyasi bhale hi bhit jaye,
Par jo nahi jhukta use insaan kehte hai.






जो न पूरा हो उसे अरमाँ कहते है,
जो न बदले उसे ईमान कहते है,
जिंदगी प्यासी भले ही बीत जाये,
पर जो नहीं झुकता उसे इंसान कहते है.

جو  نہ  پورا  ہو اسے  ارمان  کہتے  ہے
جو  نہ  بدلے  اسے  امان کہتے  ہے
زندگی پیاسی  بھلے  ہی  بیت  جائے
پر  جو  نہیں  جھکتا  اسی  انسان  کہتے ہے
---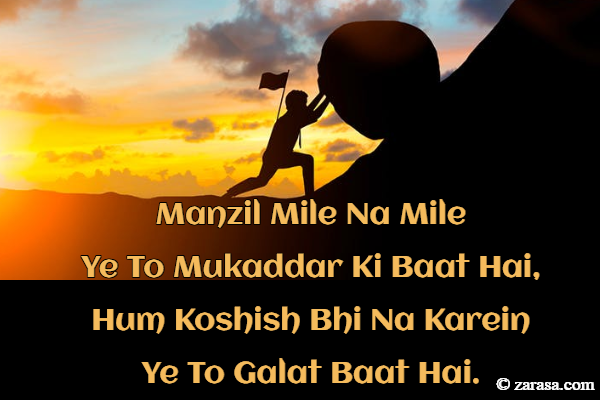 Manzil Mile Na Mile
Ye To Mukaddar Ki Baat Hai,
Hum Koshish Bhi Na Karein
Ye To Galat Baat Hai.

मंज़िल मिले न मिले
ये तो मुकद्दर की बात है,
हम कोशिश भी न करें
ये तो गलत बात है।
منزل میل نہ میل
یہ تو مقدار کی بات ہے
ہم کوشش بھی نہ کرے
یہ تو گلت بات ہے
---