MOTIVATION " SHAYARI FOR STUDENT"
|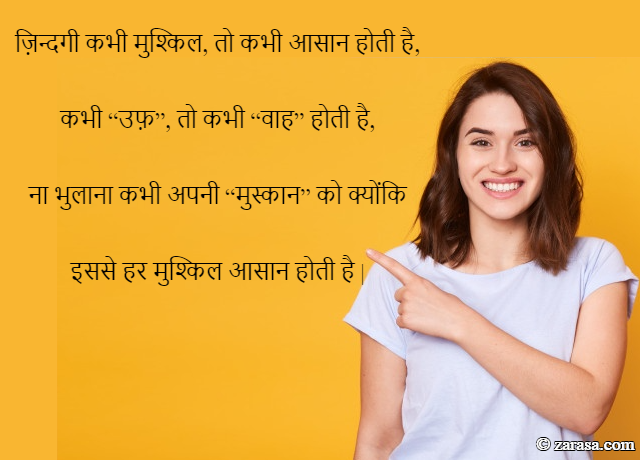 Zindagi Kabhi Mushkil, To Kabhi Aasaan Hoti Hai,
Kabhi "Uf", To Kabhi "Vaah" Hoti Hai,
Na Bhulaana Kabhi Apni "Muskaan" Ko Kyonki
Isse Har Mushkil Aasaan Hoti Hai .
ज़िन्दगी कभी मुश्किल, तो कभी आसान होती है,
कभी "उफ़", तो कभी "वाह" होती है,
ना भुलाना कभी अपनी "मुस्कान" को क्योंकि
इससे हर मुश्किल आसान होती है |
زندگی کبھی مشکل تو کبھی آسان ہوتی ہے
کبھی اف تو کبھی واہ ہوتی ہے
نہ بھلانا کبھی اپنی مسکان کو کیونکی
اسے ہر مشکل آسان ہوتی ہے
---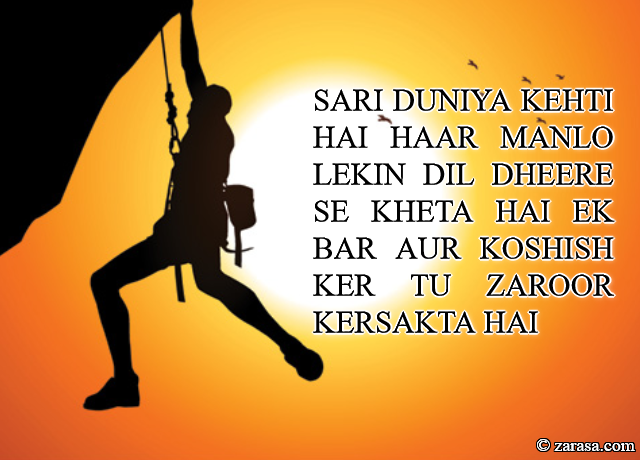 SARI DUNIYA KEHTI HAI HAAR MANLO
LEKIN DIL DHEERE SE KHETA HAI
EK BAR AUR KOSHISH KER
TU ZAROOR KERSAKTA HAI
साडी दुनिया खेती है हर मानलो
लेकिन दिल धीरे से कहता है
एक बार कोशिश कर
तू ज़रूर केर सकता है

سری دنیا کہتی ہے ہار مانلو
لیکن دل دھیرے سے کھتا ہے
ایک بار اور کوشش کر
تو ضرور کرسکتا ہے
---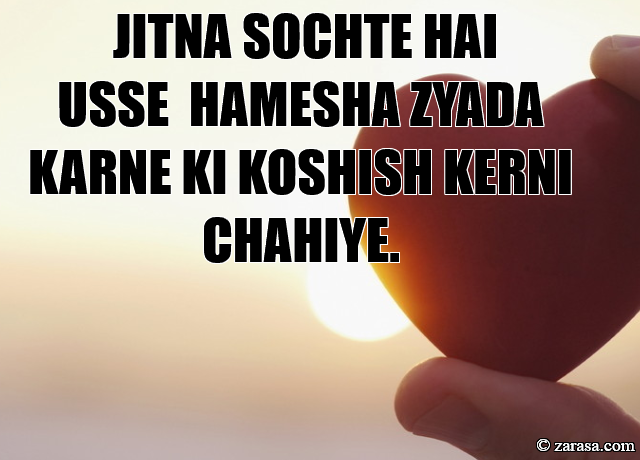 JITNA SOCHTE HAI
USSE  HAMESHA ZYADA KARNE KI KOSHISH KERNI CHAHIYE.
जितना सोचते है
उससे हमेशा ज़्यादा करने की कोशिश करनी चाहिए
جتنا سوچتے ہے
اسے ہمیشہ زیادہ کرنے کی کوشش کرنی چاہیے
---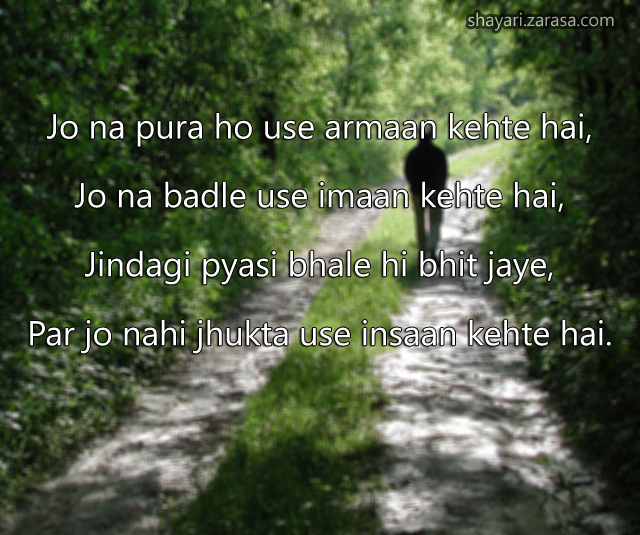 Jo na pura ho use armaan kehte hai,
Jo na badle use imaan kehte hai,
Zindagi pyasi bhale hi bhit jaye,
Par jo nahi jhukta use insaan kehte hai.






जो न पूरा हो उसे अरमाँ कहते है,
जो न बदले उसे ईमान कहते है,
जिंदगी प्यासी भले ही बीत जाये,
पर जो नहीं झुकता उसे इंसान कहते है.

جو  نہ  پورا  ہو اسے  ارمان  کہتے  ہے
جو  نہ  بدلے  اسے  امان کہتے  ہے
زندگی پیاسی  بھلے  ہی  بیت  جائے
پر  جو  نہیں  جھکتا  اسی  انسان  کہتے ہے
---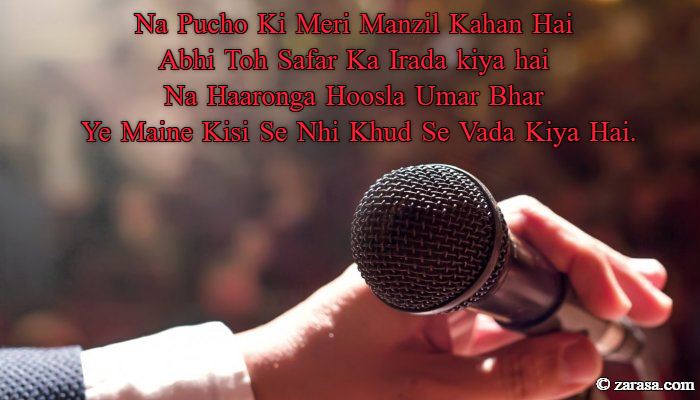 Na Pucho Ki Meri Manzil Kahan Hai
Abhi Toh Safar Ka Irada kiya hai
Na Haaronga Hoosla Umar Bhar
Ye Maine Kisi Se Nhi Khud Se Vada Kiya Hai.
ना पूछो कि मेरी मंजिल कहाँ है
अभी तो सफर का इरादा किया है
ना हारूंगा हौंसला उम्र भर
ये मैंने किसी से नहीं खुद से वादा किया है |
نہ پچو کی میری منزل کہاں ہے
ابھی تو سفر کا ارادہ کیا ہے
نہ ہارونگا حوصلہ امر بھر
یہ مہینے کسی سے نہی خود سے وادا کیا ہے
---