MOTIVATION SHAYARI FOR STUDENT "APKI KISMAT"
|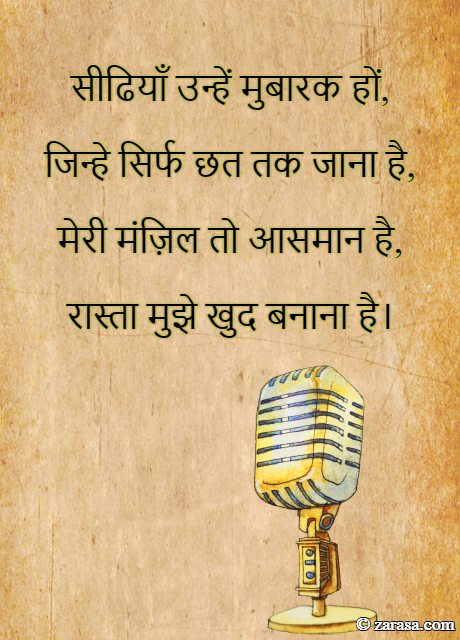 Sidiyan Unhe Mubarak Hon,
Jinhe Sirf Chhat Tak Jana Hai,
Meri Manzil To Aasmaan Hai,
Rasta Mujhe Khud Banana Hai.

सीढियाँ उन्हें मुबारक हों,
जिन्हे सिर्फ छत तक जाना है,
मेरी मंज़िल तो आसमान है,
रास्ता मुझे खुद बनाना है।
سیڈیاں انھ مبارک ہوں
جنھ صرف چھت تک جانا ہے
میری منزل تو آسمان ہے
راستا مجھے خود بنانا ہے
---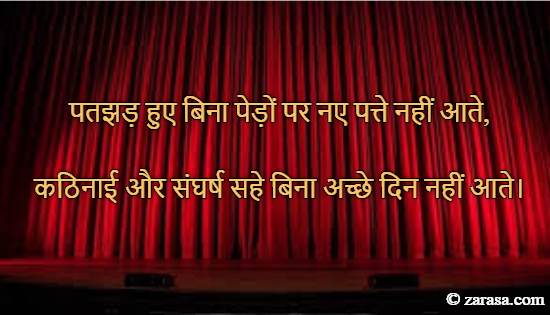 Patjhad Huye Bina Pedo Par Naye Patte Nahi Aate,
Kathinai Aur Sangharsh Sahe Bina Achhe Din Nahi Aate.

पतझड़ हुए बिना पेड़ों पर नए पत्ते नहीं आते,
कठिनाई और संघर्ष सहे बिना अच्छे दिन नहीं आते।
پتجہاڈ ہوئے بنا پیڈں پر نیے پتے نہی آتے
کٹھنائی اور سنگھرش سہی بنا اچھے دن نہیں آتے
---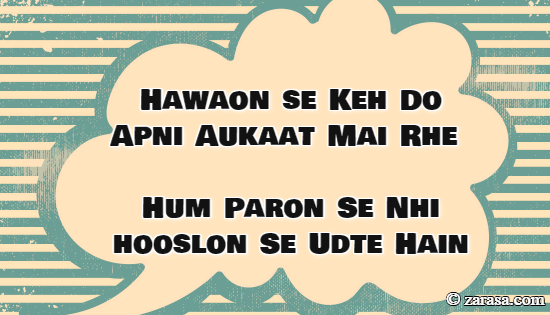 Hawaon se Keh Do Apni Aukaat Mai Rhe
Hum Paron Se Nhi hooslon Se Udte Hain.
हवाओं से कह दो अपनी औकात में रहे,
हम परों से नहीं हौसलों से उड़ते हैं |
ہواؤں سے کہدو اپنی اوکات می رہی
ہم پروں سے نہی حوصلوں سے اڑتے ہیں
---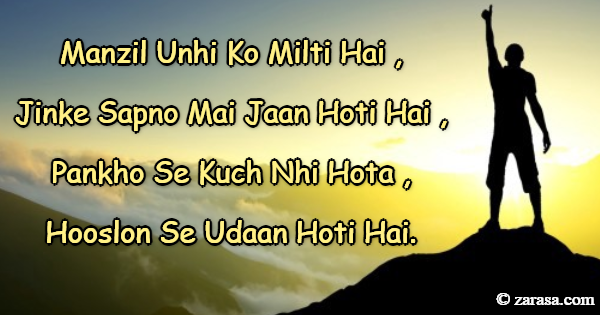 Manzil Unhi Ko Milti Hai ,
Jinke Sapno Mai Jaan Hoti Hai ,
Pankho Se Kuch Nhi Hota ,
Hooslon Se Udaan Hoti Hai.
मंजिल उन्हीं को मिलती है,
जिनके सपनों में जान होती है,
पंखों से कुछ नहीं होता,
हौसलों से उड़ान होती है |
منزل انہی کو ملتی ہے
جنکے سپنو می جان ہوتی ہے
پنکھو سے کچھ نہی ہوتا
حوصلوں سے وڈان ہوتی ہے
---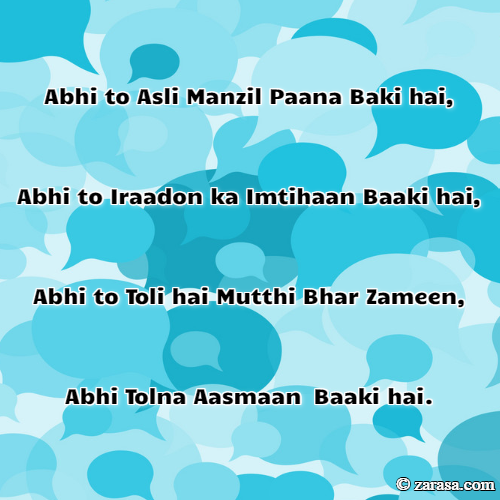 Abhi to Asli Manzil Paana Baki hai,
Abhi to Iraadon ka Imtihaan Baaki hai,
Abhi to Toli hai Mutthi Bhar Zameen,
Abhi Tolna Aasmaan  Baaki hai.
अभी तो असली मंजिल पाना बाकी है,
अभी तो इरादों का इम्तिहान बाकी है,
अभी तो तोली है मुट्ठी भर जमीन,
अभी तोलना आसमान बाकी है।
ابھی تو اصلی منزل پانا باکی ہے
ابھی تو ارادو کا امتحاں باکی ہے
ابھی تو ٹولی ہے مٹھی بھر زمین
ابھی تولنا آسمان باکی ہے
---