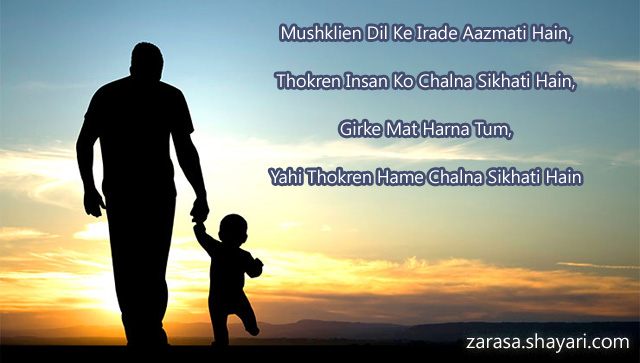 Mushklien Dil Ke Irade Aazmati Hain,
Thokren Insan Ko Chalna Sikhati Hain,
Girke Mat Harna Tum,
Yahi Thokren Hame Chalna Sikhati Hain





मुश्कलें दिल के इरादे आजमाती हैं,
ठोकरें इन्सान को चलना सिखाती हैं,
गिरके मत हारना तुम,
यही ठोकरें हमें चलना सिखाती है।
 مشکلیں دل کے ارادے آزماتی ہیں
ٹھوکریں انسان کو چلنا سختی ہیں
گرکے مت ہارنا تم
یہی ٹھوکریں ہمی چلنا سختی ہی
---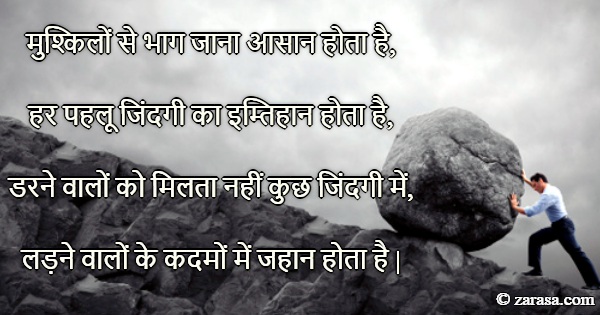 Mushkilon se Bhaag Jaana Aasan Hota Hai,
Har Pehlo Zindagi Ka Imtihaan Hota hai ,
Darne vaalon Ko Milta Nhi Kuch Zindagi Mai,
Ladne Vaalon Ke Kadmo Mai Jhan Hota Hai.
मुश्किलों से भाग जाना आसान होता है,
हर पहलू जिंदगी का इम्तिहान होता है,
डरने वालों को मिलता नहीं कुछ जिंदगी में,
लड़ने वालों के कदमों में जहान होता है |
مشکلوں سے بھاگ جانا آسان ہوتا ہے
ہر پہلو زندگی کا امتحاں ہوتا ہے
دارنے والو کو ملتا نہی کچھ زندگی می
لڑنے والو کے کدمو می جہاں ہوتا ہے
---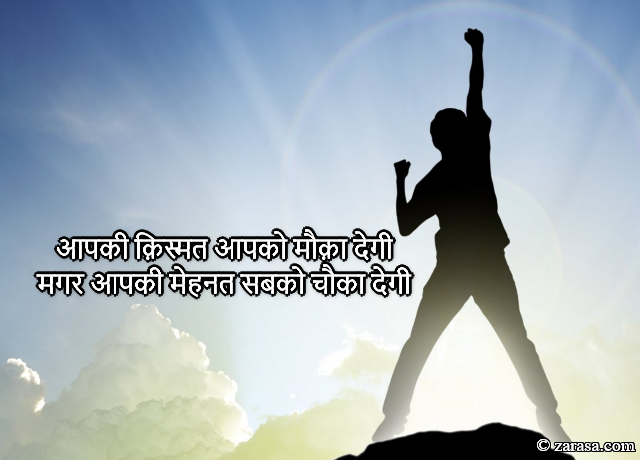 APKI KISMAT APKO MOQA DEGI
MAGER APKI MEHNAT SABKO CHOWKA DEGI
आपकी क़िस्मत आपको मौक़ा देगी
मगर आपकी मेहनत सबको चौका देगी
آپکی قسمت آپکو موقع دیگی
مگر آپکی محنت سبکو چوکا دیگی
---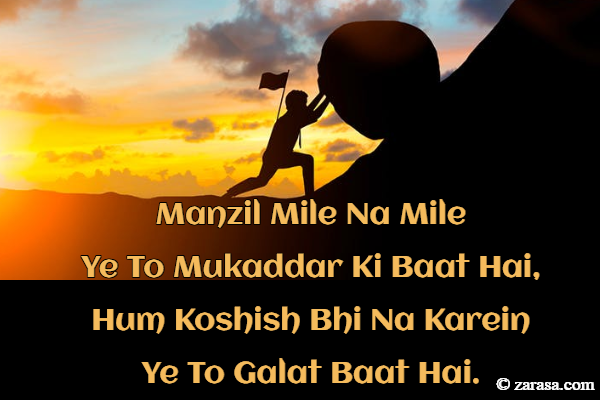 Manzil Mile Na Mile
Ye To Mukaddar Ki Baat Hai,
Hum Koshish Bhi Na Karein
Ye To Galat Baat Hai.

मंज़िल मिले न मिले
ये तो मुकद्दर की बात है,
हम कोशिश भी न करें
ये तो गलत बात है।
منزل میل نہ میل
یہ تو مقدار کی بات ہے
ہم کوشش بھی نہ کرے
یہ تو گلت بات ہے
---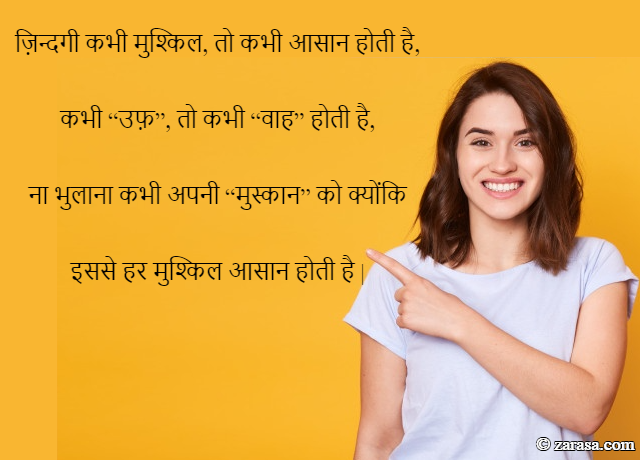 Zindagi Kabhi Mushkil, To Kabhi Aasaan Hoti Hai,
Kabhi "Uf", To Kabhi "Vaah" Hoti Hai,
Na Bhulaana Kabhi Apni "Muskaan" Ko Kyonki
Isse Har Mushkil Aasaan Hoti Hai .
ज़िन्दगी कभी मुश्किल, तो कभी आसान होती है,
कभी "उफ़", तो कभी "वाह" होती है,
ना भुलाना कभी अपनी "मुस्कान" को क्योंकि
इससे हर मुश्किल आसान होती है |
زندگی کبھی مشکل تو کبھی آسان ہوتی ہے
کبھی اف تو کبھی واہ ہوتی ہے
نہ بھلانا کبھی اپنی مسکان کو کیونکی
اسے ہر مشکل آسان ہوتی ہے
---