(Motivation Shayari For Students)"Haar Se Der Jane Se"
|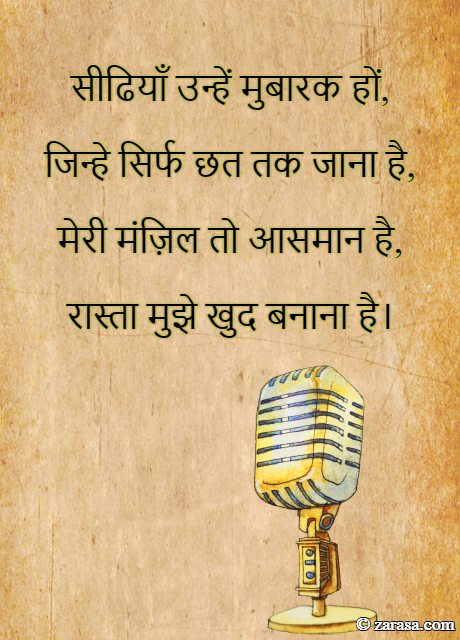 Sidiyan Unhe Mubarak Hon,
Jinhe Sirf Chhat Tak Jana Hai,
Meri Manzil To Aasmaan Hai,
Rasta Mujhe Khud Banana Hai.

सीढियाँ उन्हें मुबारक हों,
जिन्हे सिर्फ छत तक जाना है,
मेरी मंज़िल तो आसमान है,
रास्ता मुझे खुद बनाना है।
سیڈیاں انھ مبارک ہوں
جنھ صرف چھت تک جانا ہے
میری منزل تو آسمان ہے
راستا مجھے خود بنانا ہے
---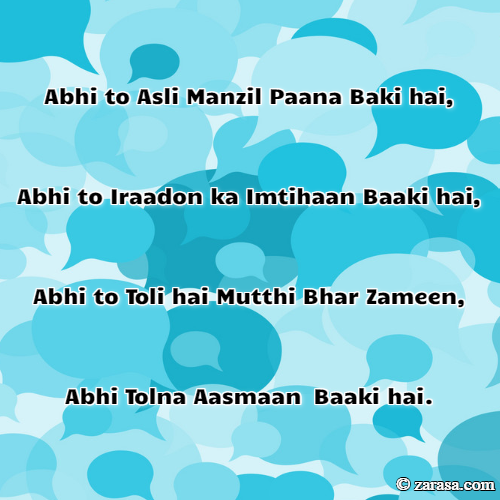 Abhi to Asli Manzil Paana Baki hai,
Abhi to Iraadon ka Imtihaan Baaki hai,
Abhi to Toli hai Mutthi Bhar Zameen,
Abhi Tolna Aasmaan  Baaki hai.
अभी तो असली मंजिल पाना बाकी है,
अभी तो इरादों का इम्तिहान बाकी है,
अभी तो तोली है मुट्ठी भर जमीन,
अभी तोलना आसमान बाकी है।
ابھی تو اصلی منزل پانا باکی ہے
ابھی تو ارادو کا امتحاں باکی ہے
ابھی تو ٹولی ہے مٹھی بھر زمین
ابھی تولنا آسمان باکی ہے
---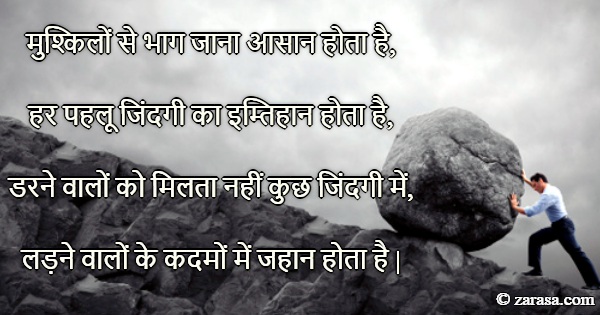 Mushkilon se Bhaag Jaana Aasan Hota Hai,
Har Pehlo Zindagi Ka Imtihaan Hota hai ,
Darne vaalon Ko Milta Nhi Kuch Zindagi Mai,
Ladne Vaalon Ke Kadmo Mai Jhan Hota Hai.
मुश्किलों से भाग जाना आसान होता है,
हर पहलू जिंदगी का इम्तिहान होता है,
डरने वालों को मिलता नहीं कुछ जिंदगी में,
लड़ने वालों के कदमों में जहान होता है |
مشکلوں سے بھاگ جانا آسان ہوتا ہے
ہر پہلو زندگی کا امتحاں ہوتا ہے
دارنے والو کو ملتا نہی کچھ زندگی می
لڑنے والو کے کدمو می جہاں ہوتا ہے
---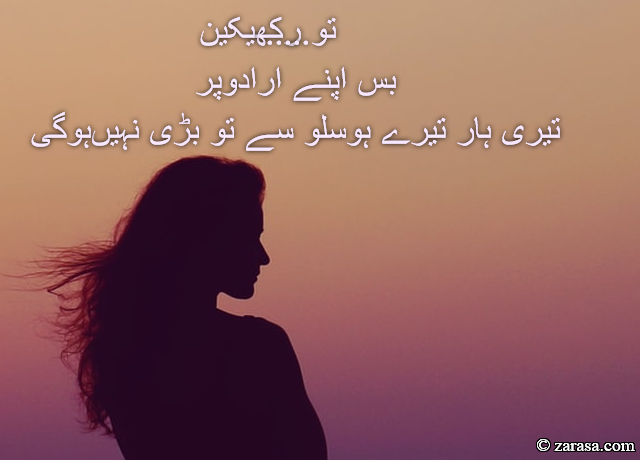 SHAAM SURAJ KO DHALNA SIKHATI HAI
SHAMA PERWANE KO JALNA SIKHATI HAI
GIRNE WALO KO HOTI TO HAI TAKLEEF PER,
THOKAR HI INSAN KO CHLNA SIKHATI HAI........
शाम सूरज को दहलना सिखाती है
शमा परवाने को जलना सिखाती है
गिरने वालो को होती तो है तकलीफ पर
ठोकर ही इंसान को चलना सिखाती है
شام سورج کو ڈھالنا سختی ہے
شمع پروانے کو جلنا سکھاتی ہے
گرنے والو کو ہوتی توہ ہے تکلیف پر
ٹھوکر ہی انسان کو چلنا سکھاتی ہے ......
---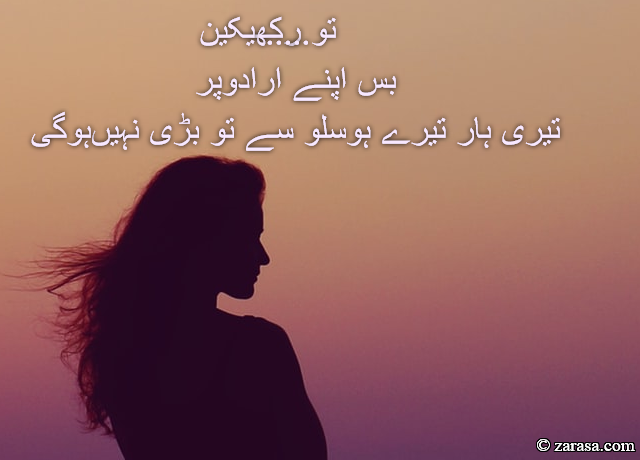 TU RAKH YAKEEN.........
BAS APNE IRADO PAR,
TERI HAR TERE HOSLE SE TO BADI NAHI HOGI
तू राख्न यकीन
बस अपने इरादों पर
तेरी हार तेरे हौसले से तो बड़ी नहीं होगी
تو رکھ یکین
بس اپنے ارادو پر ,
تیری ہر تیرے سے تو بدی نہیں ہوگی
---