MOTIVATION SHAYARI FOR STUDENTS"SHAM SURAJ KO DHALNA SIKHATI HAI "
|
SHAAM SURAJ KO DHALNA SIKHATI HAI
SHAMA PERWANE KO JALNA SIKHATI HAI
GIRNE WALO KO HOTI TO HAI TAKLEEF PER,
THOKAR HI INSAN KO CHLNA SIKHATI HAI……..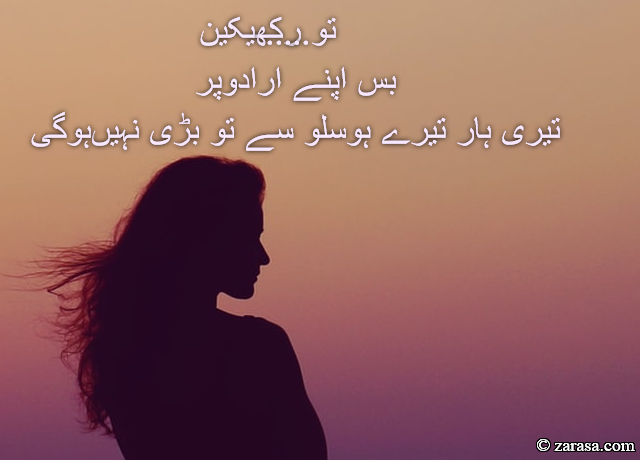 ---

शाम सूरज को दहलना सिखाती है
शमा परवाने को जलना सिखाती है
गिरने वालो को होती तो है तकलीफ पर
ठोकर ही इंसान को चलना सिखाती है


---

شام سورج کو ڈھالنا سختی ہے
شمع پروانے کو جلنا سکھاتی ہے
گرنے والو کو ہوتی توہ ہے تکلیف پر
ٹھوکر ہی انسان کو چلنا سکھاتی ہے ......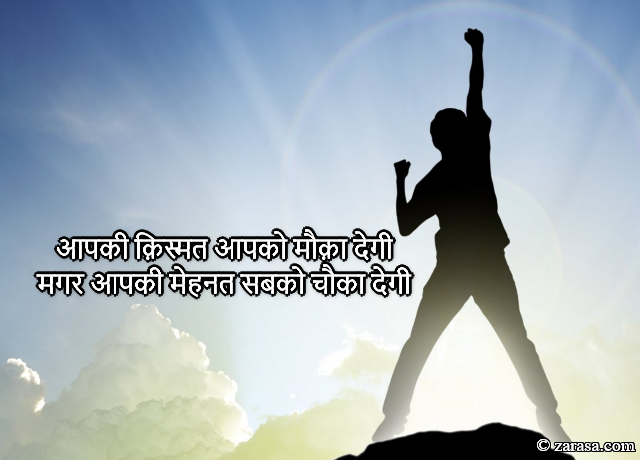 APKI KISMAT APKO MOQA DEGI
MAGER APKI MEHNAT SABKO CHOWKA DEGI
आपकी क़िस्मत आपको मौक़ा देगी
मगर आपकी मेहनत सबको चौका देगी
آپکی قسمت آپکو موقع دیگی
مگر آپکی محنت سبکو چوکا دیگی
---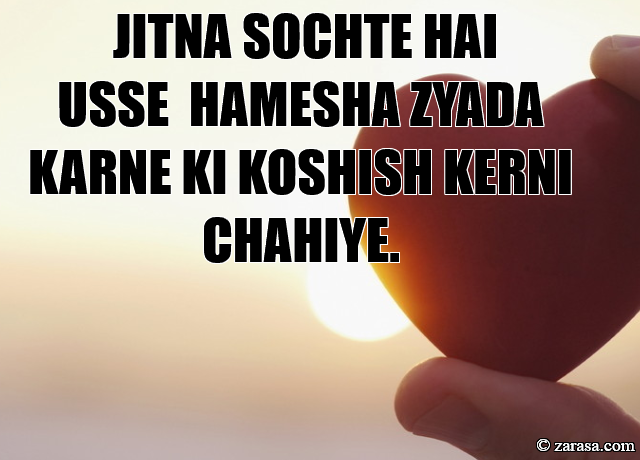 JITNA SOCHTE HAI
USSE  HAMESHA ZYADA KARNE KI KOSHISH KERNI CHAHIYE.
जितना सोचते है
उससे हमेशा ज़्यादा करने की कोशिश करनी चाहिए
جتنا سوچتے ہے
اسے ہمیشہ زیادہ کرنے کی کوشش کرنی چاہیے
---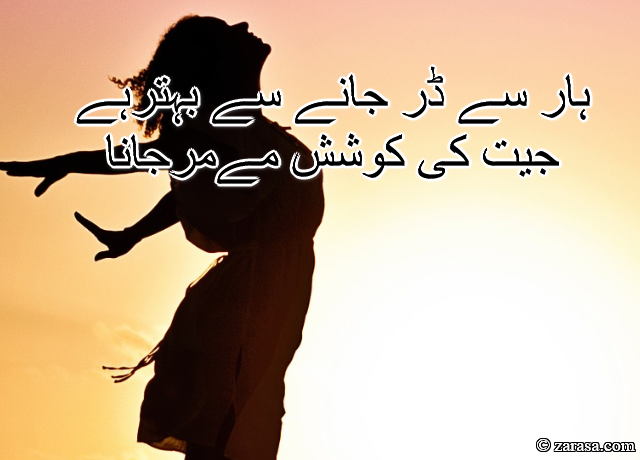 HAAR SE DER JANE SE BEHTER HAI ,
JEET KI KOSHISH ME MERJANA .
हार से डर जाने से बेहतर है
जीत की कोशिश में मरजाना
ہار سے ڈر جانے سے بہتر ہے
جیت کی کوشش مے مرجانا
---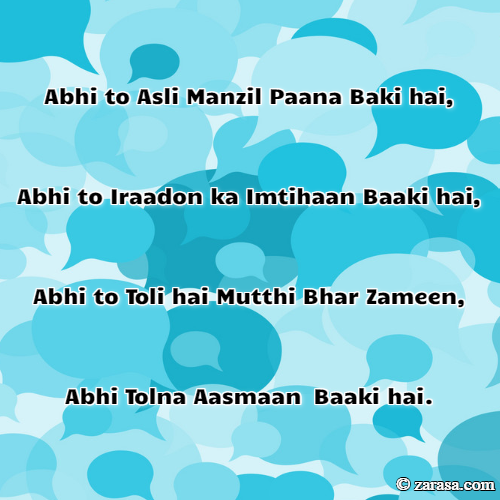 Abhi to Asli Manzil Paana Baki hai,
Abhi to Iraadon ka Imtihaan Baaki hai,
Abhi to Toli hai Mutthi Bhar Zameen,
Abhi Tolna Aasmaan  Baaki hai.
अभी तो असली मंजिल पाना बाकी है,
अभी तो इरादों का इम्तिहान बाकी है,
अभी तो तोली है मुट्ठी भर जमीन,
अभी तोलना आसमान बाकी है।
ابھی تو اصلی منزل پانا باکی ہے
ابھی تو ارادو کا امتحاں باکی ہے
ابھی تو ٹولی ہے مٹھی بھر زمین
ابھی تولنا آسمان باکی ہے
---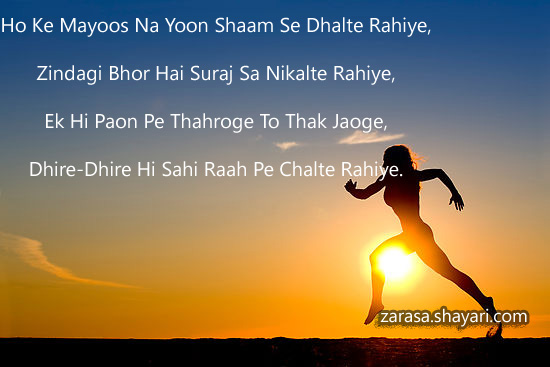 Ho Ke Mayoos Na Yoon Shaam Se Dhalte Rahiye,
Zindagi Bhor Hai Suraj Sa Nikalte Rahiye,
Ek Hi Paon Pe Thahroge To Thak Jaoge,
Dhire-Dhire Hi Sahi Raah Pe Chalte Rahiye.

 

 

हो  के  मायूस  न  यूं  शाम  से ढलते  रहिये ,
ज़िन्दगी  भोर  है  सूरज  सा  निकलते  रहिये ,
एक  ही पाऊँ  पे  ठहरोगे  तो थक  जाओगे,
धीरे -धीरे  ही  सही  राह  पे  चलते  रहिये ।
ہو کے مایوس نہ یوں شام سے ڈھلتے رہے
زندگی بھور ہے سورج سا نکلتے رہے
ایک ہی پاؤں پی ٹھہروگے تو تھک جاؤگے
دھرے -دھرے ہی سہی راہ پی چلتے رہے
---