MOTIVATION SHAYARI FOR STUDENTS"SHAM SURAJ KO DHALNA SIKHATI HAI "
|
SHAAM SURAJ KO DHALNA SIKHATI HAI
SHAMA PERWANE KO JALNA SIKHATI HAI
GIRNE WALO KO HOTI TO HAI TAKLEEF PER,
THOKAR HI INSAN KO CHLNA SIKHATI HAI……..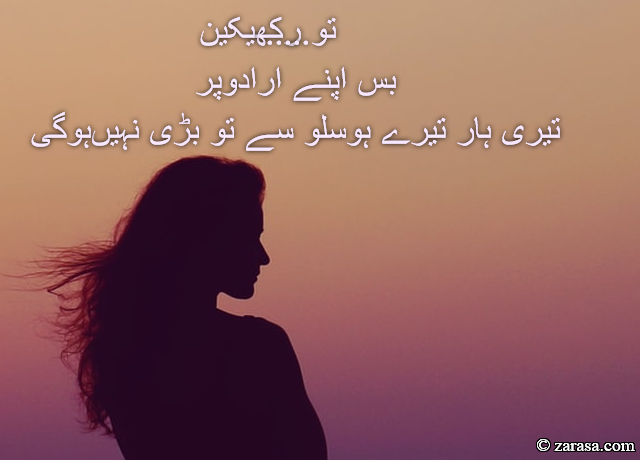 ---

शाम सूरज को दहलना सिखाती है
शमा परवाने को जलना सिखाती है
गिरने वालो को होती तो है तकलीफ पर
ठोकर ही इंसान को चलना सिखाती है


---

شام سورج کو ڈھالنا سختی ہے
شمع پروانے کو جلنا سکھاتی ہے
گرنے والو کو ہوتی توہ ہے تکلیف پر
ٹھوکر ہی انسان کو چلنا سکھاتی ہے ......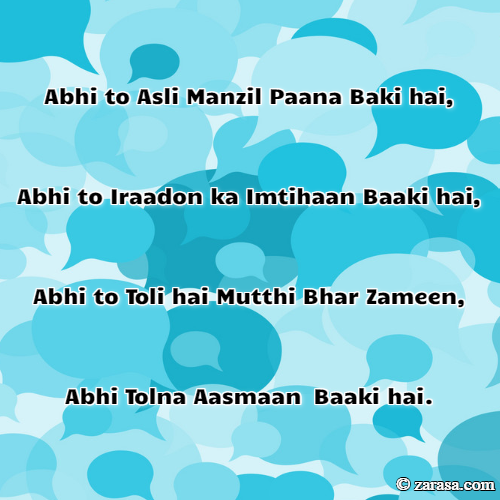 Abhi to Asli Manzil Paana Baki hai,
Abhi to Iraadon ka Imtihaan Baaki hai,
Abhi to Toli hai Mutthi Bhar Zameen,
Abhi Tolna Aasmaan  Baaki hai.
अभी तो असली मंजिल पाना बाकी है,
अभी तो इरादों का इम्तिहान बाकी है,
अभी तो तोली है मुट्ठी भर जमीन,
अभी तोलना आसमान बाकी है।
ابھی تو اصلی منزل پانا باکی ہے
ابھی تو ارادو کا امتحاں باکی ہے
ابھی تو ٹولی ہے مٹھی بھر زمین
ابھی تولنا آسمان باکی ہے
---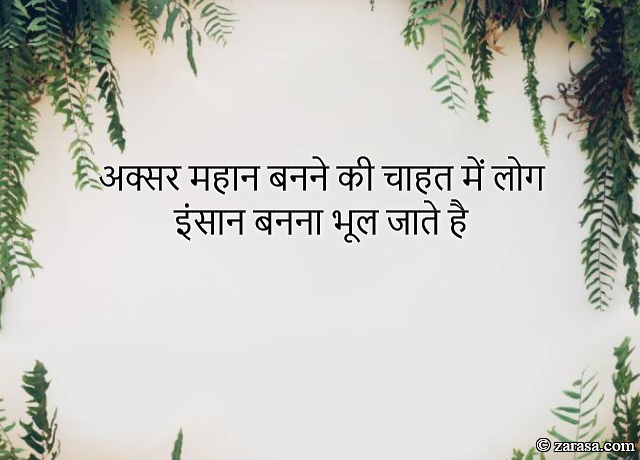 AKSER MAHAAN BANNNE KI CHAHAT
MEIN LOG INSAN BANNA BHUL JATE HAI
अक्सर महान बनने की चाहत में लोग
इंसान बनना भूल जाते है
اکثر مہان بننے کی چاہت میں لوگ
انسان بننا بھول جاتے ہے
---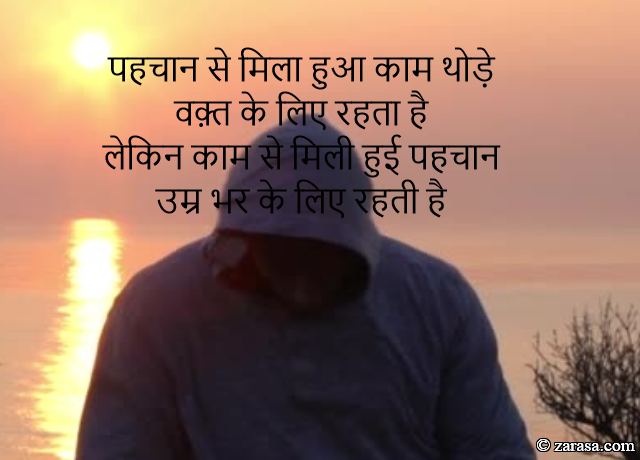 PEHCHAN SE MILA HUA KAAM THODE WAQT KE LIY REHTA HAI
LEKIN KAAM SE MILLI HUI PECHAN UMAR BHER KE LIY REHTI HAI
पहचान से मिला हुआ काम थोड़े वक़्त के लिए रहता है
लेकिन काम से मिली हुई पहचान उम्र भर के लिए रहती है
پہچان سے ملا ہوا کام تھودے وقت کے لی رہتا ہے
لیکن کام سے میللی ہی پہچان امر بھر کے لی رہتی ہے

---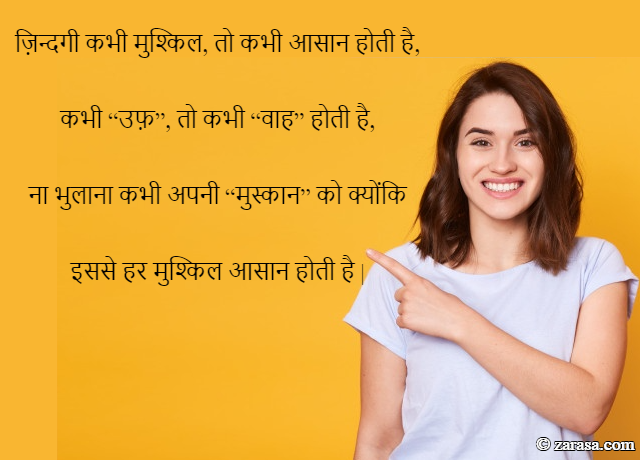 Zindagi Kabhi Mushkil, To Kabhi Aasaan Hoti Hai,
Kabhi "Uf", To Kabhi "Vaah" Hoti Hai,
Na Bhulaana Kabhi Apni "Muskaan" Ko Kyonki
Isse Har Mushkil Aasaan Hoti Hai .
ज़िन्दगी कभी मुश्किल, तो कभी आसान होती है,
कभी "उफ़", तो कभी "वाह" होती है,
ना भुलाना कभी अपनी "मुस्कान" को क्योंकि
इससे हर मुश्किल आसान होती है |
زندگی کبھی مشکل تو کبھی آسان ہوتی ہے
کبھی اف تو کبھی واہ ہوتی ہے
نہ بھلانا کبھی اپنی مسکان کو کیونکی
اسے ہر مشکل آسان ہوتی ہے
---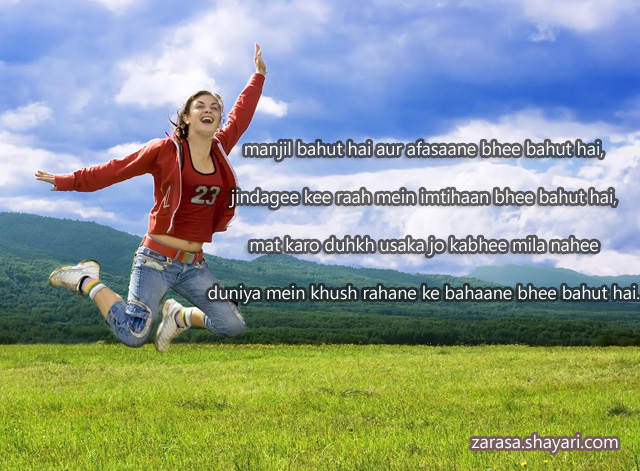 manjil bahut hai aur afasaane bhee bahut hai,
zindagee kee raah mein imtihaan bhee bahut hai,
mat karo duhkh usaka jo kabhee mila nahee
duniya mein khush rahane ke bahaane bhee bahut hai.

 

 

मंजिले बहुत है और अफ़साने भी बहुत है,
जिंदगी की राह में इम्तिहान भी बहुत है,
मत करो दुःख उसका जो कभी मिला नही
दुनिया में खुश रहने के बहाने भी बहुत है।
منجلیں  بہت  ہے  اور  افسانے  بھی  بہت ہے
زندگی کی  راہ  میں  امتحاں  بھی  بہت  ہے
مت  کرو  دھکہ  اسکا  جو  کبھی  ملا  نہی
دنیا  میں  خوش  رہنے  کے  بہانے  بھی  بہت  ہے
---