Motivational Shayari for Students | "जो न बदले उसे ईमान कहते है"
|
Jo na pura ho use armaan kehte hai,
Jo na badle use imaan kehte hai,
Zindagi pyasi bhale hi bhit jaye,
Par jo nahi jhukta use insaan kehte hai.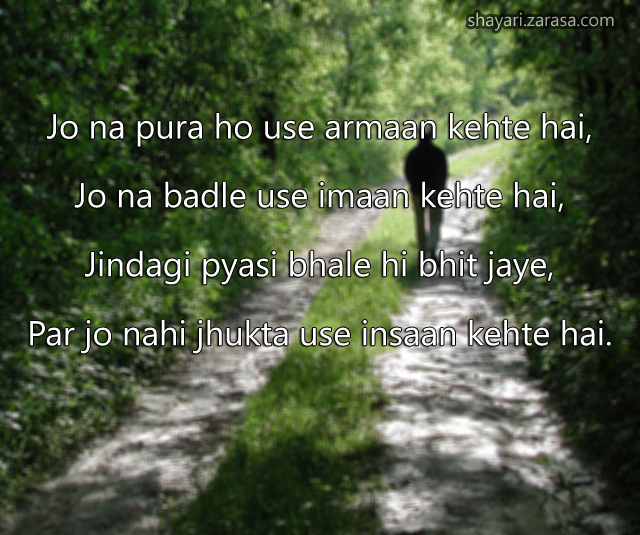 ---

जो न पूरा हो उसे अरमाँ कहते है,
जो न बदले उसे ईमान कहते है,
जिंदगी प्यासी भले ही बीत जाये,
पर जो नहीं झुकता उसे इंसान कहते है.


---


جو  نہ  پورا  ہو اسے  ارمان  کہتے  ہے
جو  نہ  بدلے  اسے  امان کہتے  ہے
زندگی پیاسی  بھلے  ہی  بیت  جائے
پر  جو  نہیں  جھکتا  اسی  انسان  کہتے ہے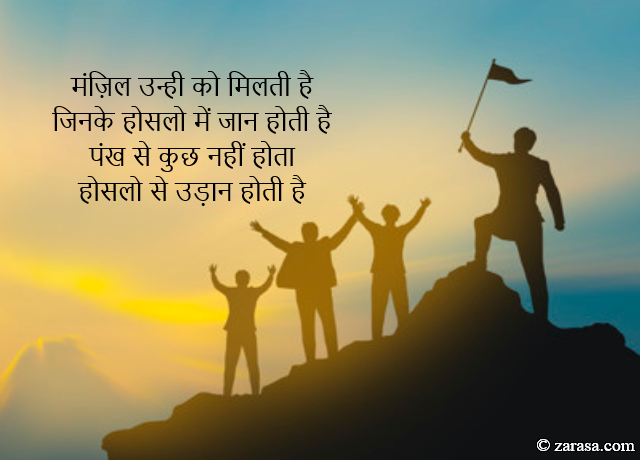 JITNA BADA SAPNA HOGA,
UTNI BADI TAKLEEFE HOGI,
AUR JITNI BADI TAKLEEFE HOGI,
UTNI BADI KAMIYABI HOGI..........
जितना बड़ा सपना होगा
उतनी बड़ी तकलीफे होगी
और जितनी बड़ी तकलीफे होगी
उतनी बड़ी कामियाबी होगी

جتنا بڑا سپنا ہوگا
اتنی بدی تکلیفے ہوگی
اور جتنی بدی تکلیفے ہوگی
اتنی بدی کامیابی ہوگی
---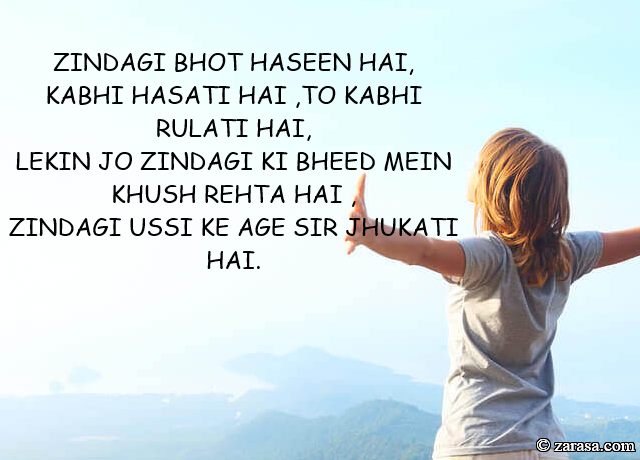 ZINDAGI BHOT HASEEN HAI,
HABHI HASTI HAI ,TO KABHI RULATI HAI,
LEKIN JO ZINDAGI KI BHEED MEIN KHUSH REHTA HAI ,
ZINDAGI USSI KE AGE SIR JHUKATI HAI.
ज़िन्दगी बोहोत हसींन है
कभी हसती है ,तोह कभी रुलाती है
लेकिन जो ज़िन्दगी की भीड़ में खुश रहता है
ज़िन्दगी उसी के आगे सर झुकाती है
زندگی بھوت حسین ہے -
کبھی ہستی ہے ,توہ کبھی رلاتی ہے -
لیکن جو زندگی کی بھیڈ میں خوش رہتاہ-
زندگی اسی کے اگے سر جھکاتی ہے -

---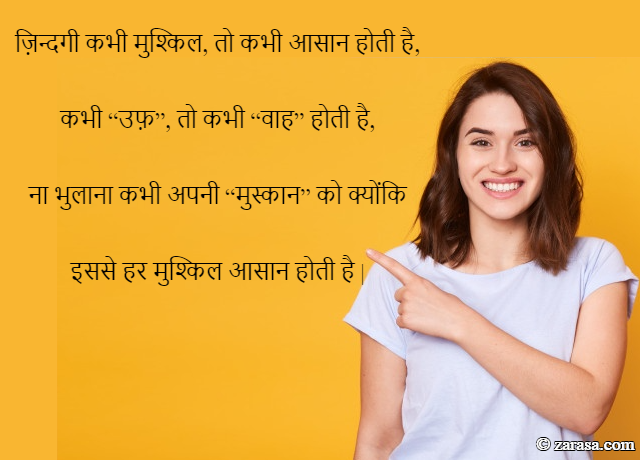 Zindagi Kabhi Mushkil, To Kabhi Aasaan Hoti Hai,
Kabhi "Uf", To Kabhi "Vaah" Hoti Hai,
Na Bhulaana Kabhi Apni "Muskaan" Ko Kyonki
Isse Har Mushkil Aasaan Hoti Hai .
ज़िन्दगी कभी मुश्किल, तो कभी आसान होती है,
कभी "उफ़", तो कभी "वाह" होती है,
ना भुलाना कभी अपनी "मुस्कान" को क्योंकि
इससे हर मुश्किल आसान होती है |
زندگی کبھی مشکل تو کبھی آسان ہوتی ہے
کبھی اف تو کبھی واہ ہوتی ہے
نہ بھلانا کبھی اپنی مسکان کو کیونکی
اسے ہر مشکل آسان ہوتی ہے
---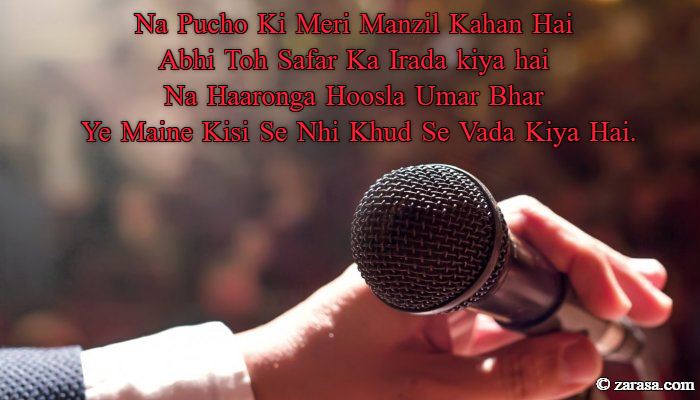 Na Pucho Ki Meri Manzil Kahan Hai
Abhi Toh Safar Ka Irada kiya hai
Na Haaronga Hoosla Umar Bhar
Ye Maine Kisi Se Nhi Khud Se Vada Kiya Hai.
ना पूछो कि मेरी मंजिल कहाँ है
अभी तो सफर का इरादा किया है
ना हारूंगा हौंसला उम्र भर
ये मैंने किसी से नहीं खुद से वादा किया है |
نہ پچو کی میری منزل کہاں ہے
ابھی تو سفر کا ارادہ کیا ہے
نہ ہارونگا حوصلہ امر بھر
یہ مہینے کسی سے نہی خود سے وادا کیا ہے
---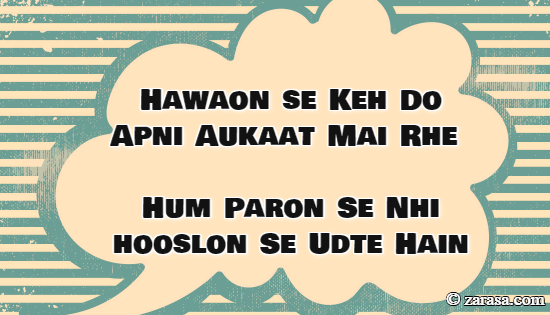 Hawaon se Keh Do Apni Aukaat Mai Rhe
Hum Paron Se Nhi hooslon Se Udte Hain.
हवाओं से कह दो अपनी औकात में रहे,
हम परों से नहीं हौसलों से उड़ते हैं |
ہواؤں سے کہدو اپنی اوکات می رہی
ہم پروں سے نہی حوصلوں سے اڑتے ہیں
---