Motivational Shayari for Students | "जो न बदले उसे ईमान कहते है"
|
Jo na pura ho use armaan kehte hai,
Jo na badle use imaan kehte hai,
Zindagi pyasi bhale hi bhit jaye,
Par jo nahi jhukta use insaan kehte hai.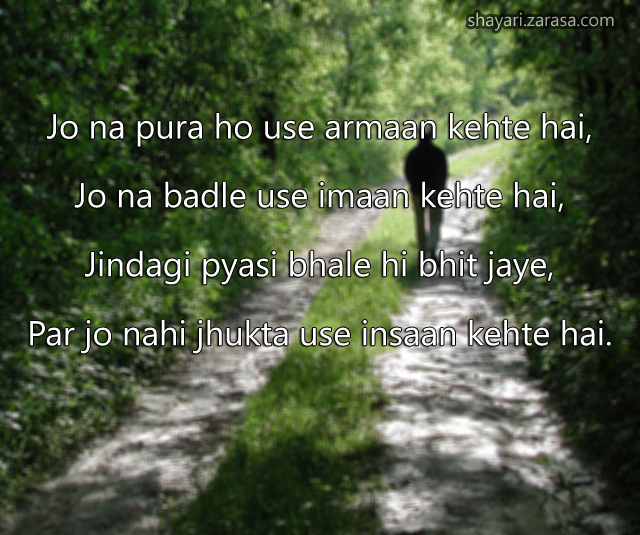 ---

जो न पूरा हो उसे अरमाँ कहते है,
जो न बदले उसे ईमान कहते है,
जिंदगी प्यासी भले ही बीत जाये,
पर जो नहीं झुकता उसे इंसान कहते है.


---


جو  نہ  پورا  ہو اسے  ارمان  کہتے  ہے
جو  نہ  بدلے  اسے  امان کہتے  ہے
زندگی پیاسی  بھلے  ہی  بیت  جائے
پر  جو  نہیں  جھکتا  اسی  انسان  کہتے ہے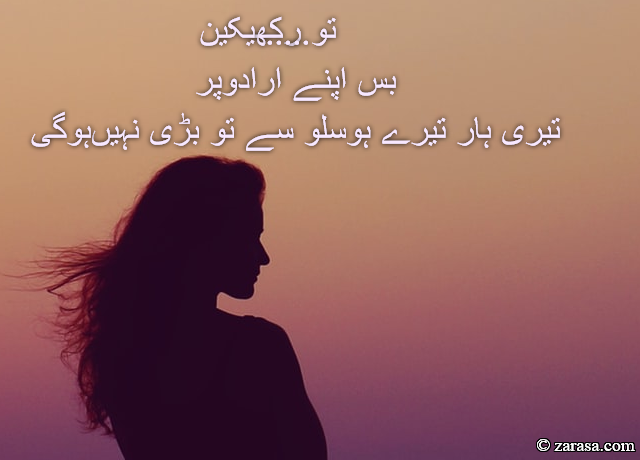 TU RAKH YAKEEN.........
BAS APNE IRADO PAR,
TERI HAR TERE HOSLE SE TO BADI NAHI HOGI
तू राख्न यकीन
बस अपने इरादों पर
तेरी हार तेरे हौसले से तो बड़ी नहीं होगी
تو رکھ یکین
بس اپنے ارادو پر ,
تیری ہر تیرے سے تو بدی نہیں ہوگی
---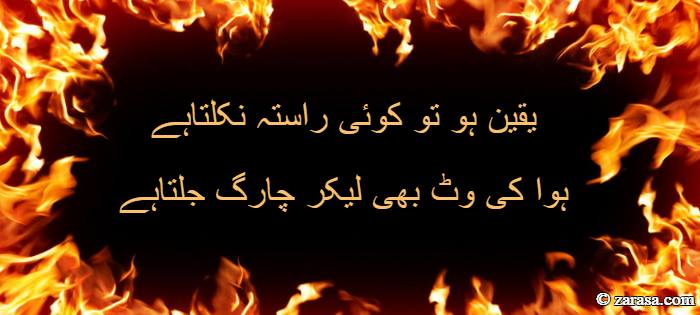 Yaqeen Ho To Koi Rasta Nikalta Hai,
Hawa Ki Ot Bhi Le Kar Charaag Jalta Hai.

यक़ीन हो तो कोई रास्ता निकलता है,
हवा की ओट भी ले कर चराग़ जलता है।
یقین ہو تو کوئی راستہ نکلتا ہے
ہوا کی وٹ بھی لیکر چارگ جلتا ہے
---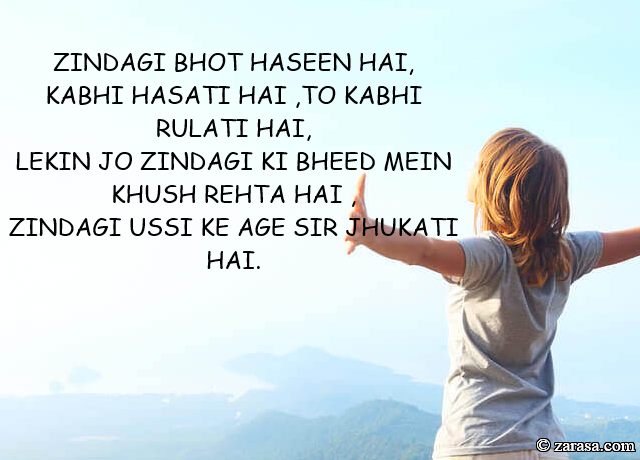 ZINDAGI BHOT HASEEN HAI,
HABHI HASTI HAI ,TO KABHI RULATI HAI,
LEKIN JO ZINDAGI KI BHEED MEIN KHUSH REHTA HAI ,
ZINDAGI USSI KE AGE SIR JHUKATI HAI.
ज़िन्दगी बोहोत हसींन है
कभी हसती है ,तोह कभी रुलाती है
लेकिन जो ज़िन्दगी की भीड़ में खुश रहता है
ज़िन्दगी उसी के आगे सर झुकाती है
زندگی بھوت حسین ہے -
کبھی ہستی ہے ,توہ کبھی رلاتی ہے -
لیکن جو زندگی کی بھیڈ میں خوش رہتاہ-
زندگی اسی کے اگے سر جھکاتی ہے -

---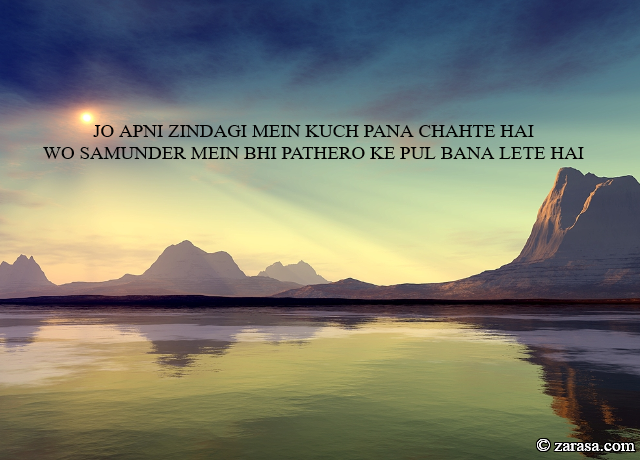 JO APNI ZINDAGI MEIN KUCH PANA CHAHTE HAI
WO SAMUNDER MEIN BHI PATHERO KE PUL BANA LETE HAI
जो अपनी में कुछ पाना चाहते है
वो समुन्दर में भी पथरो के पुल बना लेते है
جو اپنی زندگی میں کچھ پانا چاہتے ہے
وو سمندر میں بھی پتھرو کے پل بنا لیتے ہے
---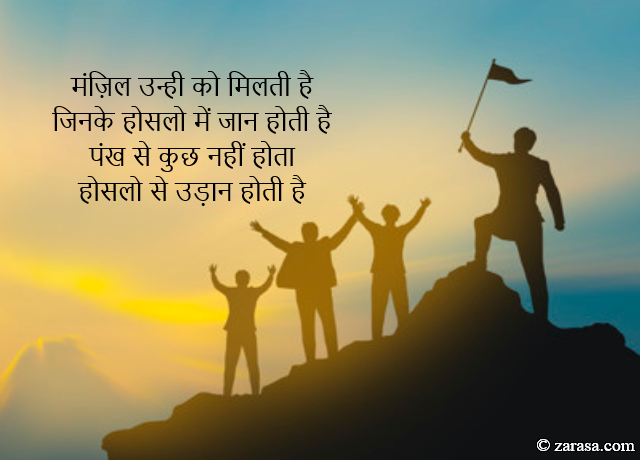 JITNA BADA SAPNA HOGA,
UTNI BADI TAKLEEFE HOGI,
AUR JITNI BADI TAKLEEFE HOGI,
UTNI BADI KAMIYABI HOGI..........
जितना बड़ा सपना होगा
उतनी बड़ी तकलीफे होगी
और जितनी बड़ी तकलीफे होगी
उतनी बड़ी कामियाबी होगी

جتنا بڑا سپنا ہوگا
اتنی بدی تکلیفے ہوگی
اور جتنی بدی تکلیفے ہوگی
اتنی بدی کامیابی ہوگی
---