Shayari for Speeches "Usi Ne Itihaas Racha Hai."
|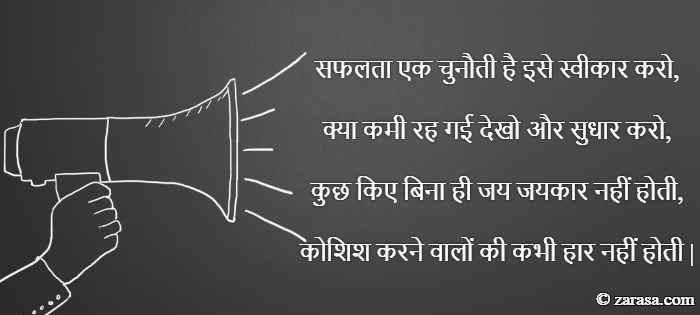 Safalta Ek Chunauti Hai Ese Sweekar Karo,
Kya kami Reh Gayi Dekho aur Sudhar Karo,
Kuch Kiye Bina Hi Jay Jaykar Nhi Hoti,
Koshish Karne Vaalo Ki Kabhi Haar Nhi Hoti.
सफलता एक चुनौती है इसे स्वीकार करो,
क्या कमी रह गई देखो और सुधार करो,
कुछ किए बिना ही जय जयकार नहीं होती,
कोशिश करने वालों की कभी हार नहीं होती |
سفلتا ایک چنوتی ہے اسے سوکار کرو
کیا کمی رہ گی دیکھو اور سدھار کرو
کچھ کے بنا ہی جے جیکر نہی ہوتی
کوشش کرنے والو کی کبھی ھار نہی ہوتی
---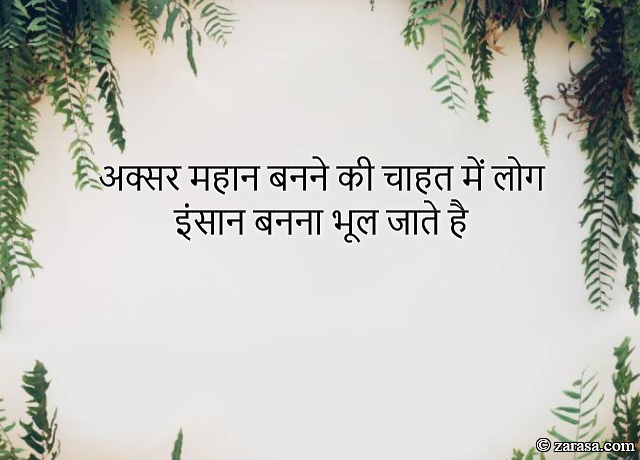 AKSER MAHAAN BANNNE KI CHAHAT
MEIN LOG INSAN BANNA BHUL JATE HAI
अक्सर महान बनने की चाहत में लोग
इंसान बनना भूल जाते है
اکثر مہان بننے کی چاہت میں لوگ
انسان بننا بھول جاتے ہے
---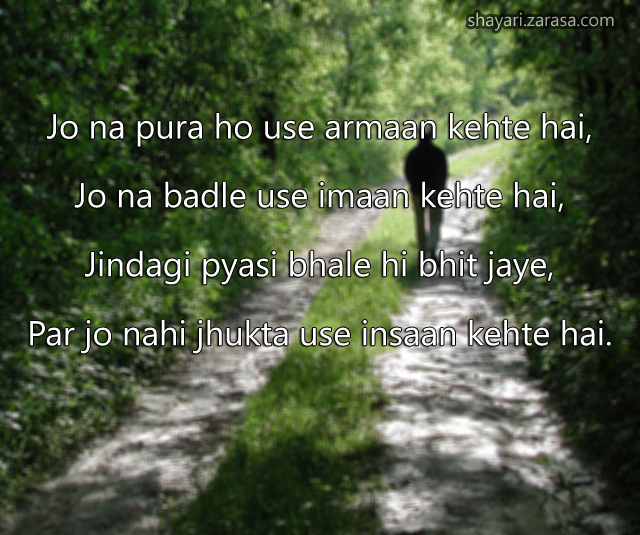 Jo na pura ho use armaan kehte hai,
Jo na badle use imaan kehte hai,
Zindagi pyasi bhale hi bhit jaye,
Par jo nahi jhukta use insaan kehte hai.






जो न पूरा हो उसे अरमाँ कहते है,
जो न बदले उसे ईमान कहते है,
जिंदगी प्यासी भले ही बीत जाये,
पर जो नहीं झुकता उसे इंसान कहते है.

جو  نہ  پورا  ہو اسے  ارمان  کہتے  ہے
جو  نہ  بدلے  اسے  امان کہتے  ہے
زندگی پیاسی  بھلے  ہی  بیت  جائے
پر  جو  نہیں  جھکتا  اسی  انسان  کہتے ہے
---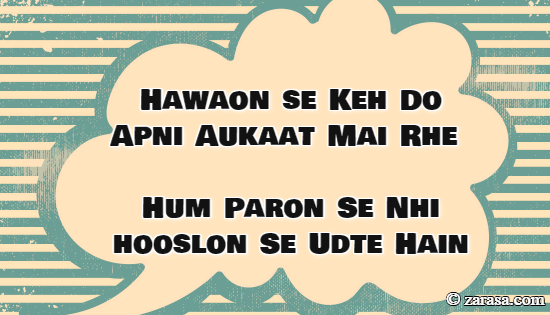 Hawaon se Keh Do Apni Aukaat Mai Rhe
Hum Paron Se Nhi hooslon Se Udte Hain.
हवाओं से कह दो अपनी औकात में रहे,
हम परों से नहीं हौसलों से उड़ते हैं |
ہواؤں سے کہدو اپنی اوکات می رہی
ہم پروں سے نہی حوصلوں سے اڑتے ہیں
---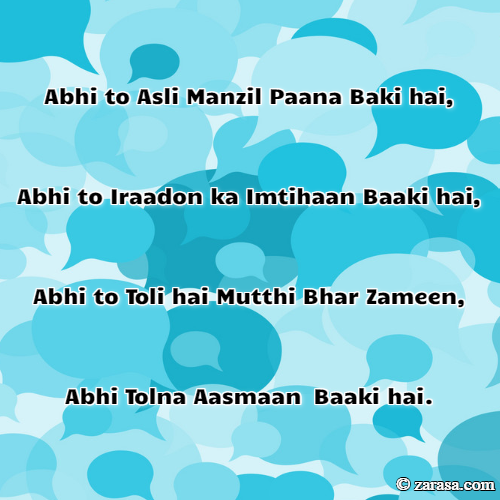 Abhi to Asli Manzil Paana Baki hai,
Abhi to Iraadon ka Imtihaan Baaki hai,
Abhi to Toli hai Mutthi Bhar Zameen,
Abhi Tolna Aasmaan  Baaki hai.
अभी तो असली मंजिल पाना बाकी है,
अभी तो इरादों का इम्तिहान बाकी है,
अभी तो तोली है मुट्ठी भर जमीन,
अभी तोलना आसमान बाकी है।
ابھی تو اصلی منزل پانا باکی ہے
ابھی تو ارادو کا امتحاں باکی ہے
ابھی تو ٹولی ہے مٹھی بھر زمین
ابھی تولنا آسمان باکی ہے
---