Shayari for Speeches "Usi Ne Itihaas Racha Hai."
|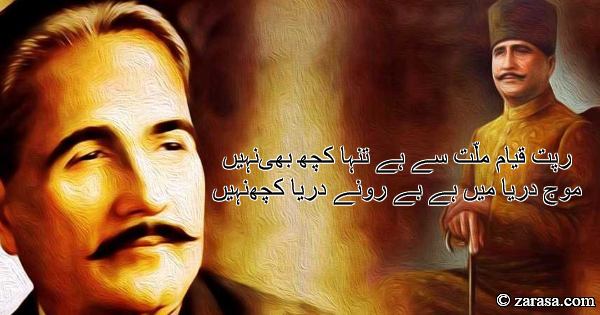 Rapt Qayam Millat se Hai, Tanha Kuchh Bhi Nahi
Moj Darya Mein Hai, Beroone Darya Kuchh Nahi.
रप्त क़ायम मिल्लत से है, तनहा कुछ भी नहीं
मौज दरया में है बेरूने दरया कुछ नहीं
رپت قیام ملّت سے ہے تنہا کچھ بھی نہیں
موج دریا میں ہے بے رونے دریا کچھ نہیں
---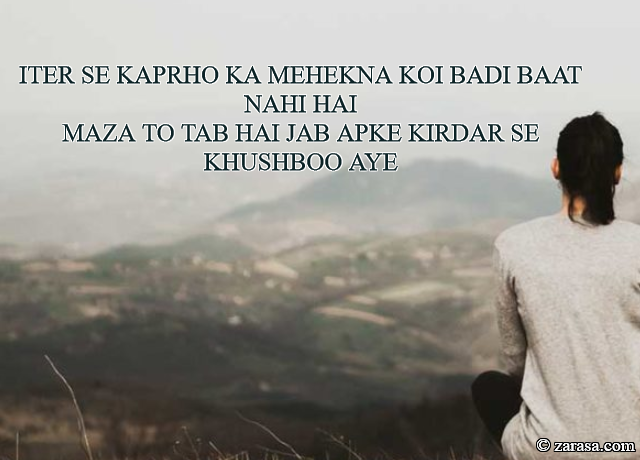 ITER SE KAPRHO KA MEHEKNA KOI BADI BAAT NAHI HAI
MAZA TO TAB HAI JAB APKE KIRDAR SE KHUSHBOO AYE
इतर से कपड़ो का मेहकना कोई बड़ी बात नहीं
मज़ा तो तब है जब आपके किरदार से खुशबू आए
اتر سے کپڑھو کا مہکنا کوئی باڈی بات نہیں ہے
مزہ تو تب ہے جب آپکے کردار سے خوشبو اے
---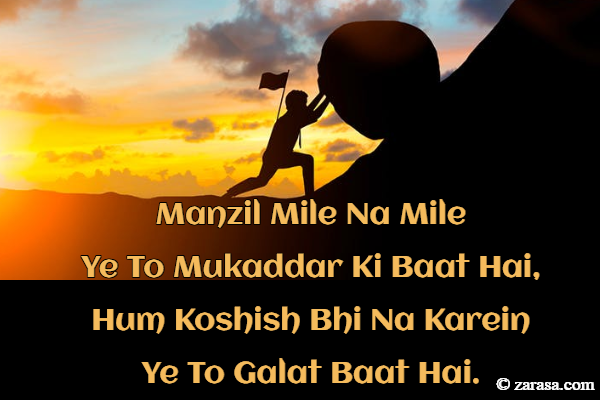 Manzil Mile Na Mile
Ye To Mukaddar Ki Baat Hai,
Hum Koshish Bhi Na Karein
Ye To Galat Baat Hai.

मंज़िल मिले न मिले
ये तो मुकद्दर की बात है,
हम कोशिश भी न करें
ये तो गलत बात है।
منزل میل نہ میل
یہ تو مقدار کی بات ہے
ہم کوشش بھی نہ کرے
یہ تو گلت بات ہے
---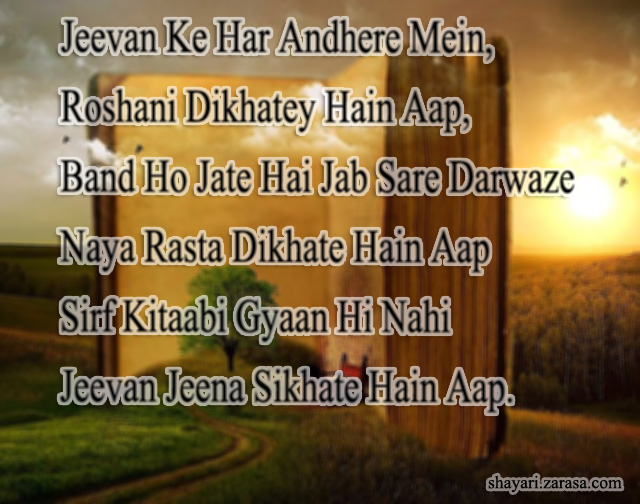 Jeevan Ke Har Andhere Mein,
Roshani Dikhatey Hain Aap,
Band Ho Jate Hai Jab Sare Darwaze
Naya Rasta Dikhate Hain Aap
Sirf Kitaabi Gyaan Hi Nahi
Jeevan Jeena Sikhate Hain Aap.


 
 

जीवन के हर अँधेरे में,
रोशनी दिखते हैं आप,
बंद हो जाते है जब सारे दरवाज़े
नया रास्ता दिखवाते हैं आप
सिर्फ किताबी ज्ञान ही नहीं
जीवन जीना सिखाते हैं आप.
زندگی کے ہر اندھیرے میں
روشنی نظر آتے ہیں آپ
بند ہو جاتے ہیں جب سارے دروازے
نیا راستہ دكھواتے ہیں آپ
صرف کتابی علم ہی نہیں
زندگی جینا سکھاتے ہیں آپ
---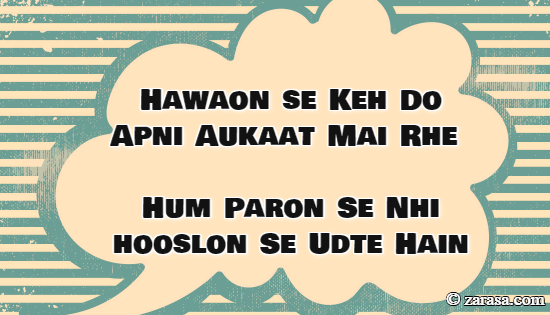 Hawaon se Keh Do Apni Aukaat Mai Rhe
Hum Paron Se Nhi hooslon Se Udte Hain.
हवाओं से कह दो अपनी औकात में रहे,
हम परों से नहीं हौसलों से उड़ते हैं |
ہواؤں سے کہدو اپنی اوکات می رہی
ہم پروں سے نہی حوصلوں سے اڑتے ہیں
---