Motivational Shayari for Students l"मत करो दुःख उसका जो कभी मिला नही"
|
manjil bahut hai aur afasaane bhee bahut hai,
zindagee kee raah mein imtihaan bhee bahut hai,
mat karo duhkh usaka jo kabhee mila nahee
duniya mein khush rahane ke bahaane bhee bahut hai.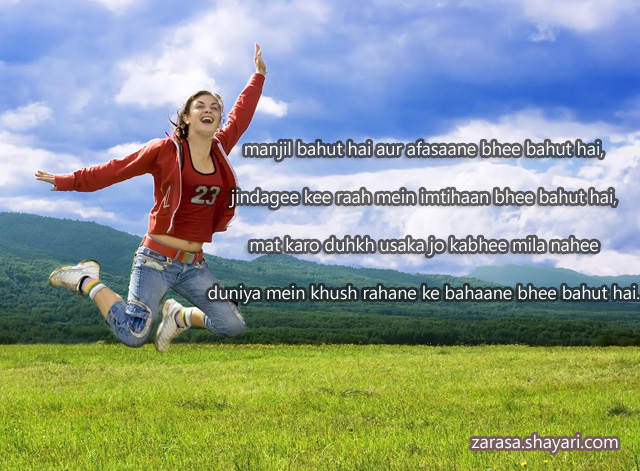 ---

मंजिले बहुत है और अफ़साने भी बहुत है,
जिंदगी की राह में इम्तिहान भी बहुत है,
मत करो दुःख उसका जो कभी मिला नही
दुनिया में खुश रहने के बहाने भी बहुत है।


---

منجلیں  بہت  ہے  اور  افسانے  بھی  بہت ہے
زندگی کی  راہ  میں  امتحاں  بھی  بہت  ہے
مت  کرو  دھکہ  اسکا  جو  کبھی  ملا  نہی
دنیا  میں  خوش  رہنے  کے  بہانے  بھی  بہت  ہے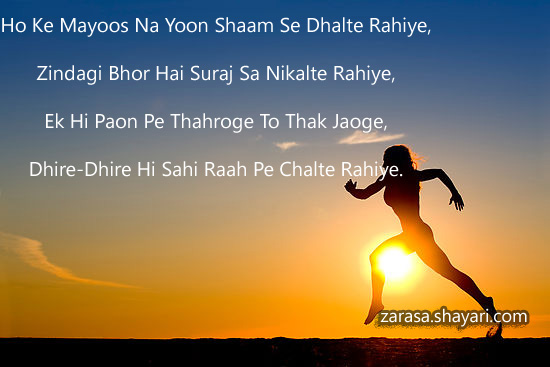 Ho Ke Mayoos Na Yoon Shaam Se Dhalte Rahiye,
Zindagi Bhor Hai Suraj Sa Nikalte Rahiye,
Ek Hi Paon Pe Thahroge To Thak Jaoge,
Dhire-Dhire Hi Sahi Raah Pe Chalte Rahiye.

 

 

हो  के  मायूस  न  यूं  शाम  से ढलते  रहिये ,
ज़िन्दगी  भोर  है  सूरज  सा  निकलते  रहिये ,
एक  ही पाऊँ  पे  ठहरोगे  तो थक  जाओगे,
धीरे -धीरे  ही  सही  राह  पे  चलते  रहिये ।
ہو کے مایوس نہ یوں شام سے ڈھلتے رہے
زندگی بھور ہے سورج سا نکلتے رہے
ایک ہی پاؤں پی ٹھہروگے تو تھک جاؤگے
دھرے -دھرے ہی سہی راہ پی چلتے رہے
---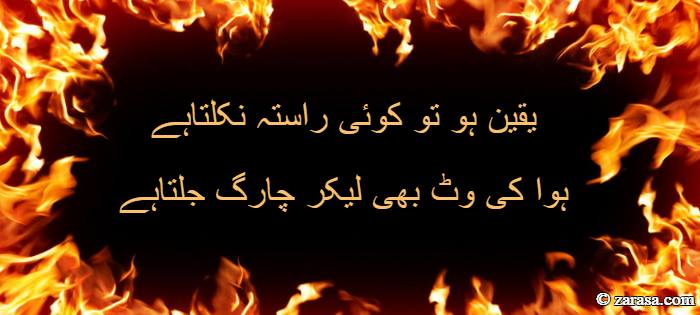 Yaqeen Ho To Koi Rasta Nikalta Hai,
Hawa Ki Ot Bhi Le Kar Charaag Jalta Hai.

यक़ीन हो तो कोई रास्ता निकलता है,
हवा की ओट भी ले कर चराग़ जलता है।
یقین ہو تو کوئی راستہ نکلتا ہے
ہوا کی وٹ بھی لیکر چارگ جلتا ہے
---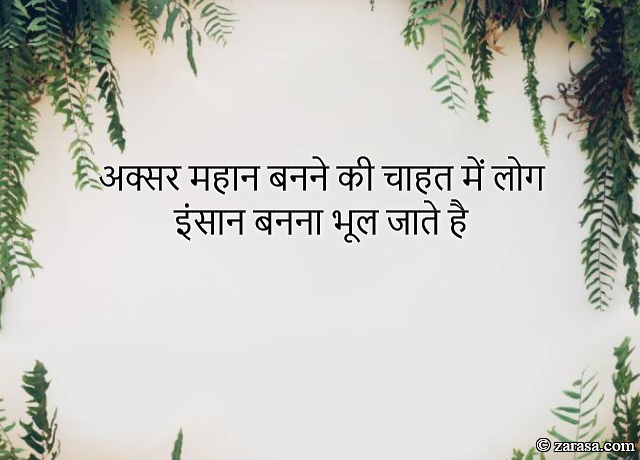 AKSER MAHAAN BANNNE KI CHAHAT
MEIN LOG INSAN BANNA BHUL JATE HAI
अक्सर महान बनने की चाहत में लोग
इंसान बनना भूल जाते है
اکثر مہان بننے کی چاہت میں لوگ
انسان بننا بھول جاتے ہے
---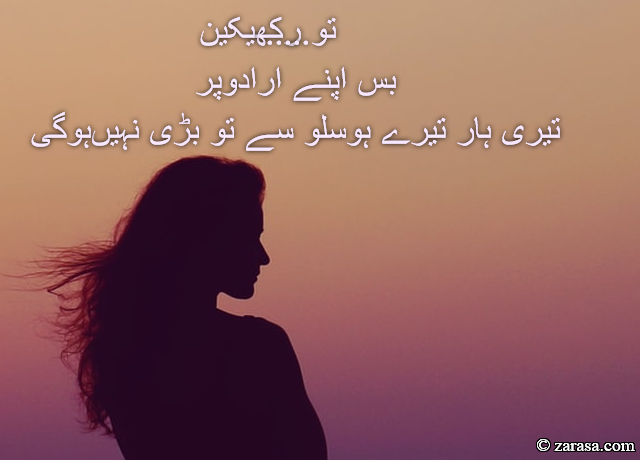 SHAAM SURAJ KO DHALNA SIKHATI HAI
SHAMA PERWANE KO JALNA SIKHATI HAI
GIRNE WALO KO HOTI TO HAI TAKLEEF PER,
THOKAR HI INSAN KO CHLNA SIKHATI HAI........
शाम सूरज को दहलना सिखाती है
शमा परवाने को जलना सिखाती है
गिरने वालो को होती तो है तकलीफ पर
ठोकर ही इंसान को चलना सिखाती है
شام سورج کو ڈھالنا سختی ہے
شمع پروانے کو جلنا سکھاتی ہے
گرنے والو کو ہوتی توہ ہے تکلیف پر
ٹھوکر ہی انسان کو چلنا سکھاتی ہے ......
---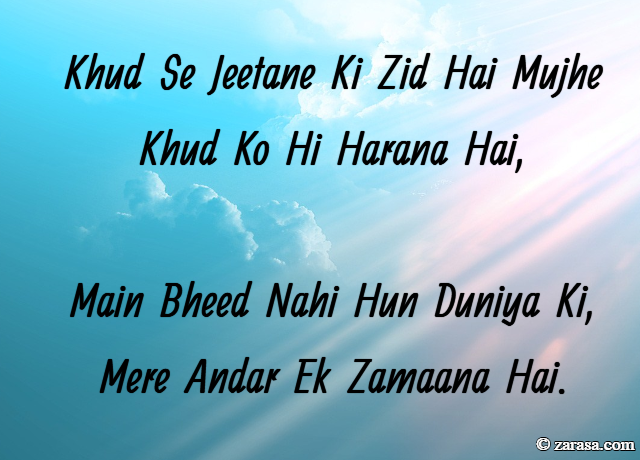 Khud Se Jeetane Ki Zid Hai Mujhe Khud Ko Hi Harana Hai,
Main Bheed Nahi Hun Duniya Ki, Mere Andar Ek Zamaana Hai.



खुद से जीतने की जिद है मुझे खुद को ही हराना है,
मै भीड़ नहीं हूँ दुनिया की ,मेरे अन्दर एक ज़माना है.
خود سے جیتنے کی زد ہے مجھے خود کو ہی ہرانا ہے
می بھیڈ نہی ہو دنیا کی میرے اندر ایک زمانہ ہے
---