Motivational Shayari for Students l"मत करो दुःख उसका जो कभी मिला नही"
|
manjil bahut hai aur afasaane bhee bahut hai,
zindagee kee raah mein imtihaan bhee bahut hai,
mat karo duhkh usaka jo kabhee mila nahee
duniya mein khush rahane ke bahaane bhee bahut hai.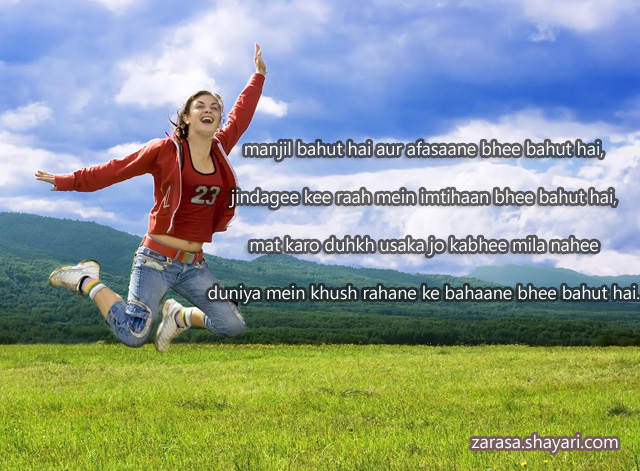 ---

मंजिले बहुत है और अफ़साने भी बहुत है,
जिंदगी की राह में इम्तिहान भी बहुत है,
मत करो दुःख उसका जो कभी मिला नही
दुनिया में खुश रहने के बहाने भी बहुत है।


---

منجلیں  بہت  ہے  اور  افسانے  بھی  بہت ہے
زندگی کی  راہ  میں  امتحاں  بھی  بہت  ہے
مت  کرو  دھکہ  اسکا  جو  کبھی  ملا  نہی
دنیا  میں  خوش  رہنے  کے  بہانے  بھی  بہت  ہے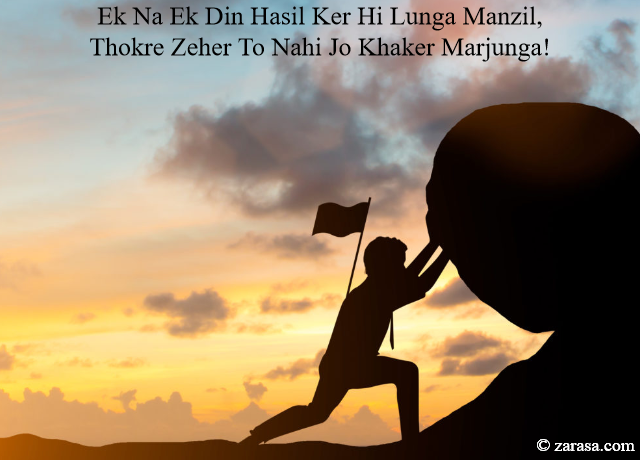 Ek Na Ek Din Hasil Ker Hi Lunga Manzil,
Thokre Zeher To Nahi Jo Khaker Marjunga!
एक न एक दिन हासिल कर ही लूंगा मंज़िल ,
ठोकरे ज़हर तो नहीं जो खाकर मेरजाऊँगा !
ایک نہ ایک دن حاصل کر ہی لونگا منزل ,
تھوکرے زہر تو نہیں جو کھاکر مرجاؤنگا !
---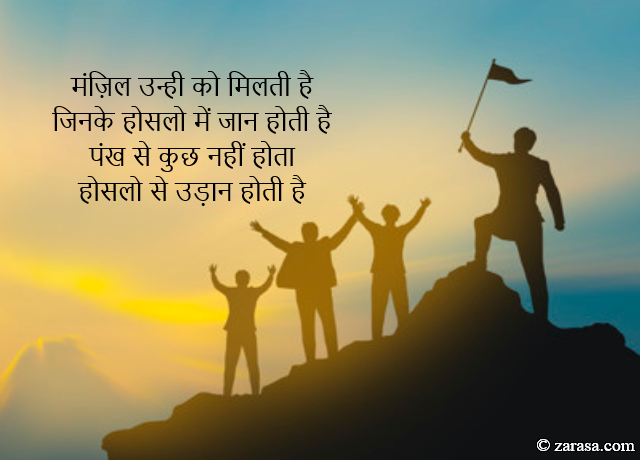 JITNA BADA SAPNA HOGA,
UTNI BADI TAKLEEFE HOGI,
AUR JITNI BADI TAKLEEFE HOGI,
UTNI BADI KAMIYABI HOGI..........
जितना बड़ा सपना होगा
उतनी बड़ी तकलीफे होगी
और जितनी बड़ी तकलीफे होगी
उतनी बड़ी कामियाबी होगी

جتنا بڑا سپنا ہوگا
اتنی بدی تکلیفے ہوگی
اور جتنی بدی تکلیفے ہوگی
اتنی بدی کامیابی ہوگی
---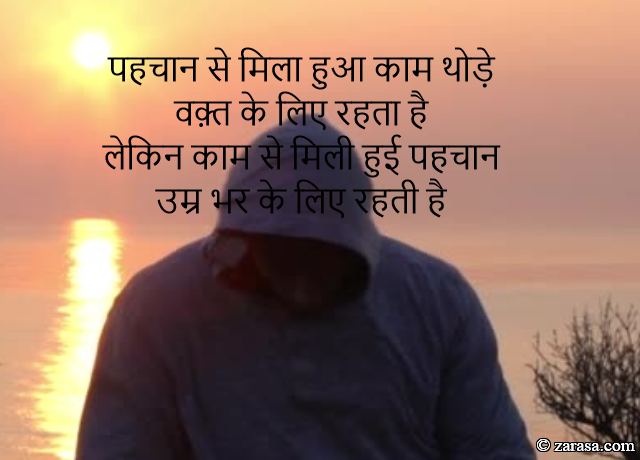 PEHCHAN SE MILA HUA KAAM THODE WAQT KE LIY REHTA HAI
LEKIN KAAM SE MILLI HUI PECHAN UMAR BHER KE LIY REHTI HAI
पहचान से मिला हुआ काम थोड़े वक़्त के लिए रहता है
लेकिन काम से मिली हुई पहचान उम्र भर के लिए रहती है
پہچان سے ملا ہوا کام تھودے وقت کے لی رہتا ہے
لیکن کام سے میللی ہی پہچان امر بھر کے لی رہتی ہے

---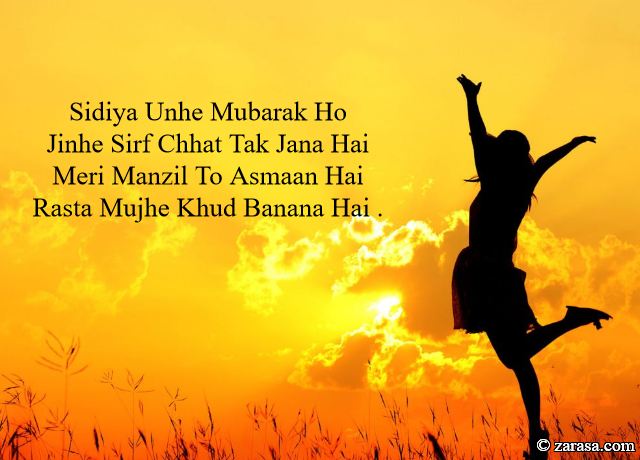 Sidiya Unhe Mubarak Ho
Jinhe Sirf Chhat Tak Jana Hai
Meri Manzil To Asmaan Hai
Rasta Mujhe Khud Banana Hai .
सिडिया उन्हें मुबारक हो
जिन्हे सिर्फ छत तक जाना है
मेरी मंज़िल तो आसमान है
रास्ता मुझे खुद बनाना है
صدیا انھ مبارک ہو
جنہے صرف چہت تک جانا ہے
میری منزل توه آسمان ہے
راستہ مجھے خود بنانا ہیں
---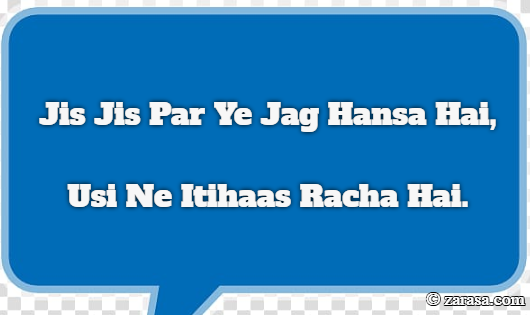 Jis Jis Par Ye Jag Hansa Hai,
Usi Ne Itihaas Racha Hai.

जिस-जिस पर ये जग हँसा है,

उसी ने इतिहास रचा है।
جس جس پر یہ جگ حسا ہے
اسی نے اتہاس رچا ہے
---