MOTIVATIONAL SHAYARI"YAAD RAKHNA"
|
JITNA BADA SAPNA HOGA,
UTNI BADI TAKLEEFE HOGI,
AUR JITNI BADI TAKLEEFE HOGI,
UTNI BADI KAMIYABI HOGI……….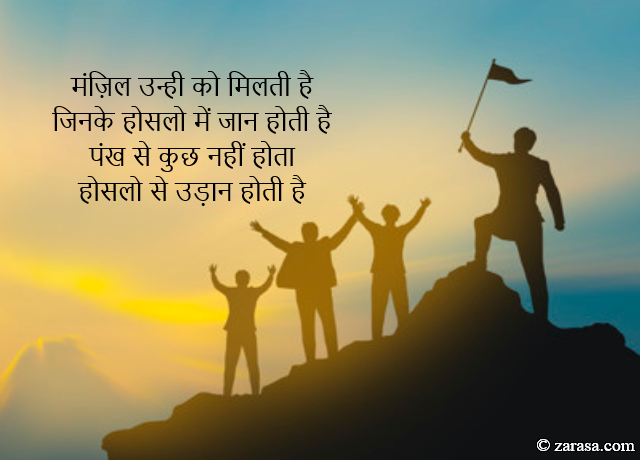 ---

जितना बड़ा सपना होगा
उतनी बड़ी तकलीफे होगी
और जितनी बड़ी तकलीफे होगी
उतनी बड़ी कामियाबी होगी



---

جتنا بڑا سپنا ہوگا
اتنی بدی تکلیفے ہوگی
اور جتنی بدی تکلیفے ہوگی
اتنی بدی کامیابی ہوگی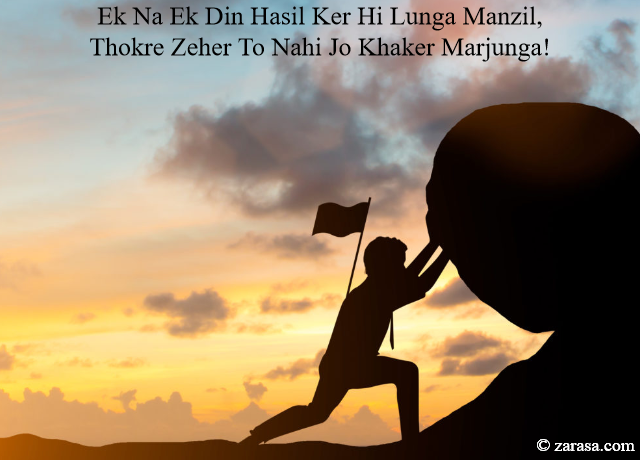 Ek Na Ek Din Hasil Ker Hi Lunga Manzil,
Thokre Zeher To Nahi Jo Khaker Marjunga!
एक न एक दिन हासिल कर ही लूंगा मंज़िल ,
ठोकरे ज़हर तो नहीं जो खाकर मेरजाऊँगा !
ایک نہ ایک دن حاصل کر ہی لونگا منزل ,
تھوکرے زہر تو نہیں جو کھاکر مرجاؤنگا !
---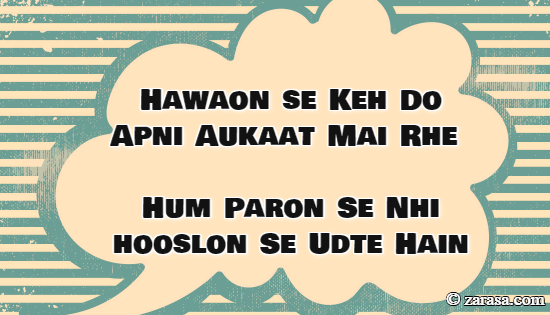 Hawaon se Keh Do Apni Aukaat Mai Rhe
Hum Paron Se Nhi hooslon Se Udte Hain.
हवाओं से कह दो अपनी औकात में रहे,
हम परों से नहीं हौसलों से उड़ते हैं |
ہواؤں سے کہدو اپنی اوکات می رہی
ہم پروں سے نہی حوصلوں سے اڑتے ہیں
---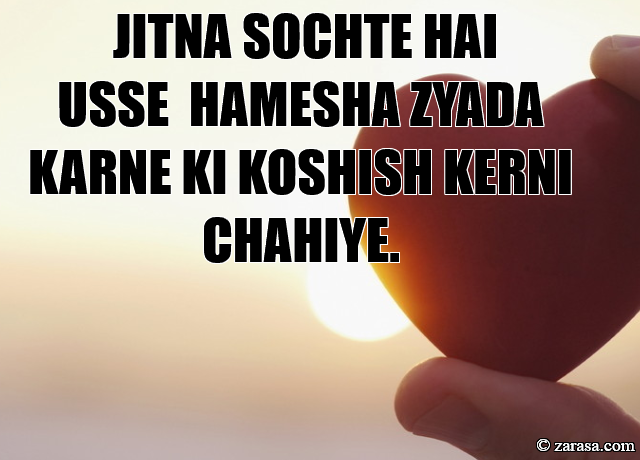 JITNA SOCHTE HAI
USSE  HAMESHA ZYADA KARNE KI KOSHISH KERNI CHAHIYE.
जितना सोचते है
उससे हमेशा ज़्यादा करने की कोशिश करनी चाहिए
جتنا سوچتے ہے
اسے ہمیشہ زیادہ کرنے کی کوشش کرنی چاہیے
---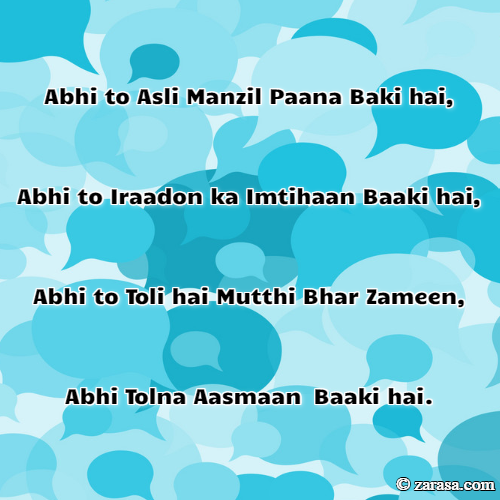 Abhi to Asli Manzil Paana Baki hai,
Abhi to Iraadon ka Imtihaan Baaki hai,
Abhi to Toli hai Mutthi Bhar Zameen,
Abhi Tolna Aasmaan  Baaki hai.
अभी तो असली मंजिल पाना बाकी है,
अभी तो इरादों का इम्तिहान बाकी है,
अभी तो तोली है मुट्ठी भर जमीन,
अभी तोलना आसमान बाकी है।
ابھی تو اصلی منزل پانا باکی ہے
ابھی تو ارادو کا امتحاں باکی ہے
ابھی تو ٹولی ہے مٹھی بھر زمین
ابھی تولنا آسمان باکی ہے
---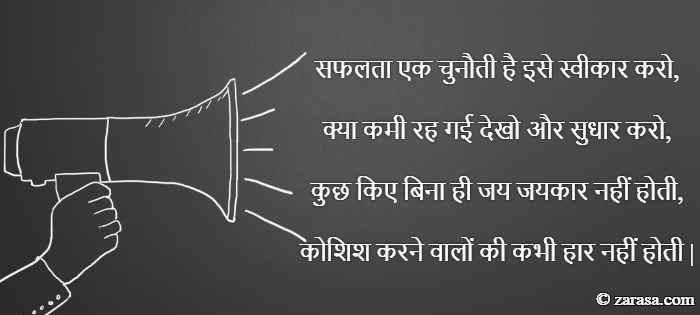 Safalta Ek Chunauti Hai Ese Sweekar Karo,
Kya kami Reh Gayi Dekho aur Sudhar Karo,
Kuch Kiye Bina Hi Jay Jaykar Nhi Hoti,
Koshish Karne Vaalo Ki Kabhi Haar Nhi Hoti.
सफलता एक चुनौती है इसे स्वीकार करो,
क्या कमी रह गई देखो और सुधार करो,
कुछ किए बिना ही जय जयकार नहीं होती,
कोशिश करने वालों की कभी हार नहीं होती |
سفلتا ایک چنوتی ہے اسے سوکار کرو
کیا کمی رہ گی دیکھو اور سدھار کرو
کچھ کے بنا ہی جے جیکر نہی ہوتی
کوشش کرنے والو کی کبھی ھار نہی ہوتی
---