Naseeb Shayari "Naseeb Hota Hai"
|
Na Koi Kisi Ke Paas Hota Hai Na Koi Kisi Ke Dur Hota Hai.
Pyar Khud Chalkar Aata Hai Jab Koi Kisi Ka Naseeb Hota Hai.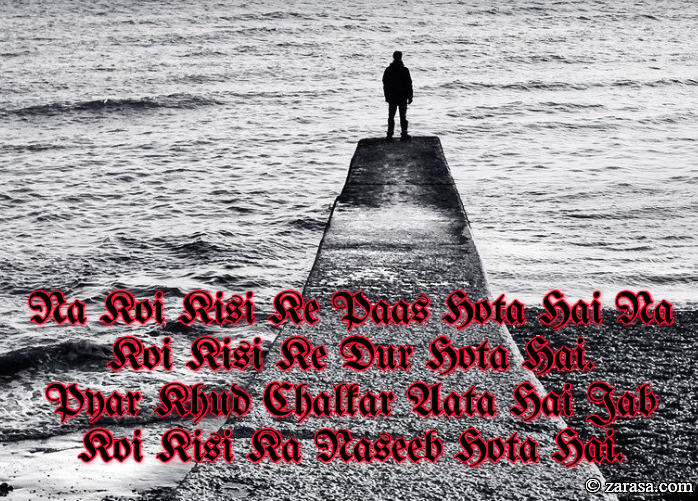 ---

ना कोई किसी के पास होता है ना कोई किसी के दूर होता है .
प्यार खुद चलकर आता है जब कोई किसी का नसीब होता है .


---

نہ کوئی کسی کے پاس ہوتا ہے نہ کوئی کسی کے دور ہوتا ہے .
پیار خود چلکر آتا ہے جب کوئی کسی کا نصیب ہوتا ہے .


Kon Kehta He Ke Aadmi Apni Kismat Khud Likhta Hai.
Agar Yeh Sach He To Kismat Mein Dard Kon Likta Hai?
कोण कहता हे के आदमी अपनी किस्मत खुद लिखता है .
अगर यह सच हे तो किस्मत में दर्द कोन लिकता है ?
کون کہتا ہے کے آدمی اپنی کسمت خود لکھتا ہے .
اگر یہ سچ ہے تو کسمت میں درد کون لکتا ہے ؟

---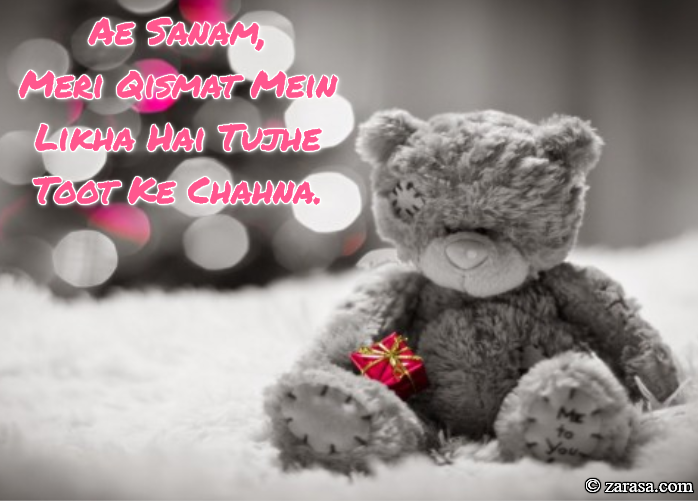 Ae Sanam,
Meri Qismat Mein Likha Hai Tujhe Toot Ke Chahna.
ऐ सनम ,
मेरी क़िस्मत में लिखा है तुझे टूट के चाहना .
اے سنم ,
میری قسمت میں لکھا ہے تجھے ٹوٹ کے چاہنا .
---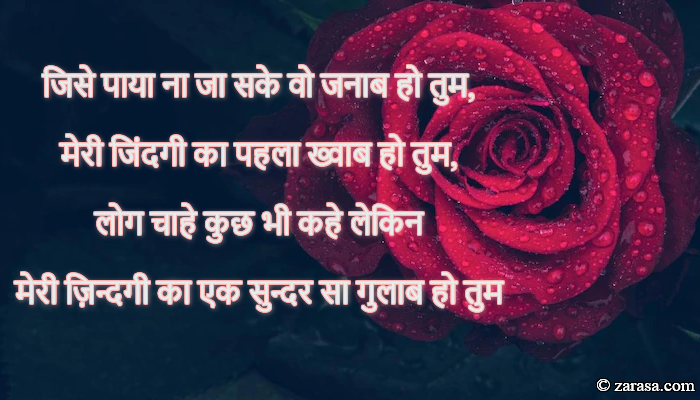 Jise Paya Na ja Sake Vo Janab Ho Tum,
Meri Zindagi Ka Pehla Khwab Ho Tum,
Log Chahe Kuch Bhi Kahe Lekin
Meri Zindagi Ka Ek Sundar sa Gulab Ho Tum.
जिसे पाया ना जा सके वो जनाब हो तुम,
मेरी जिंदगी का पहला ख्वाब हो तुम,
लोग चाहे कुछ भी कहे लेकिन
मेरी ज़िन्दगी का एक सुन्दर सा गुलाब हो तुम |

جسے پایا نہ جا سکے وو جناب ہو تم
میری زندگی کا پہلا خواب ہو تم
لوگ چاہے کچھ بھی کہے لیکن
میری زندگی کا ایک سندر سا گلاب ہو تم
---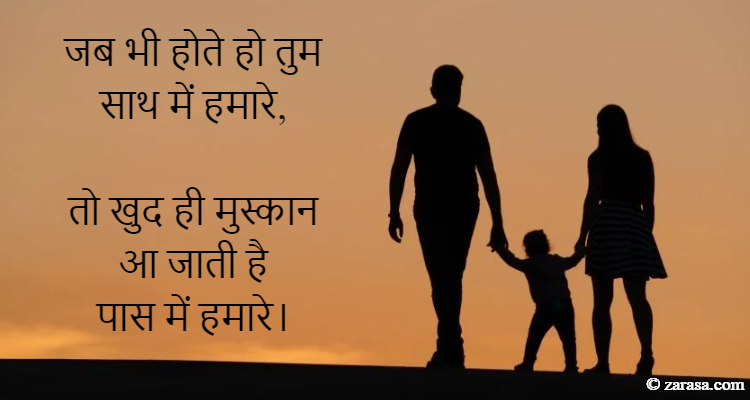 Jab Bhi Hote Ho Tum Saath Me Hamare,
To Khud Hi Muskan Aajati Hai Pass Me Hamare.
जब भी होते हो तुम साथ में हमारे,
तो खुद ही मुस्कान आ जाती है पास में हमारे।
جب بھی ہوتے ہو تم ساتھ مے ہمارے
تو خود ہی مسکن آجاتی ہے پاس مے ہمارے
---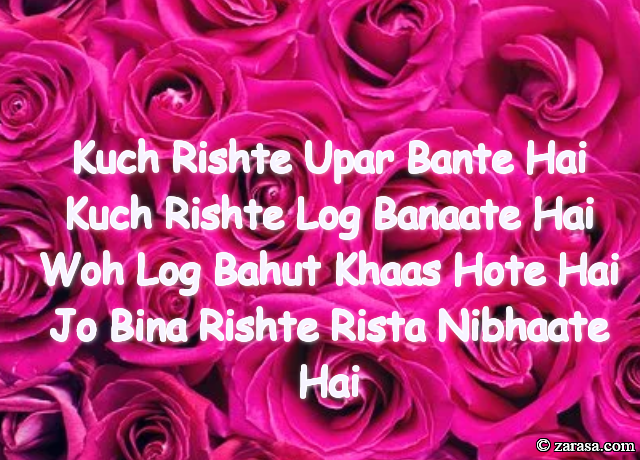 Kuch Rishte Upar Bante Hai
Kuch Rishte Log Banaate Hai
Woh Log Bahut Khaas Hote Hai
Jo Bina Rishte Rishta Nibhaate Hai
कुछ रिश्ते ऊपर बनते है
कुछ रिश्ते लोग बनाते है
वह लोग बहुत ख़ास होते है
जो बिना रिश्ते रिस्ता निभाते है
کچھ رشتے اپر بنتے ہے
کچھ رشتے لوگ بناتے ہے
وہ لوگ بہت خاص ہوتے ہے
جو بنا رشتے رستہ نبھاتے ہے
---