Patthar Shayari "Pattharo Se Nawaza"
|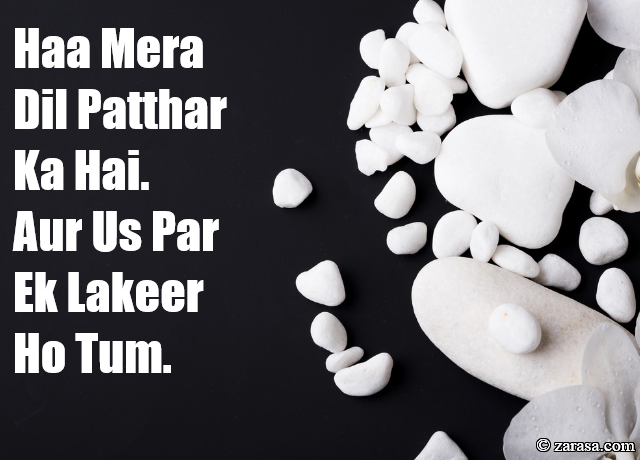 Haa Mera Dil Patthar Ka Hai.
Aur Us Par Ek Lakeer Ho Tum.
हां मेरा दिल पत्थर का है .
और उस पर एक लकीर हो तुम .

ہا میرا دل پتّھر کا ہے .
اور اس پر ایک لکیر ہو تم .

---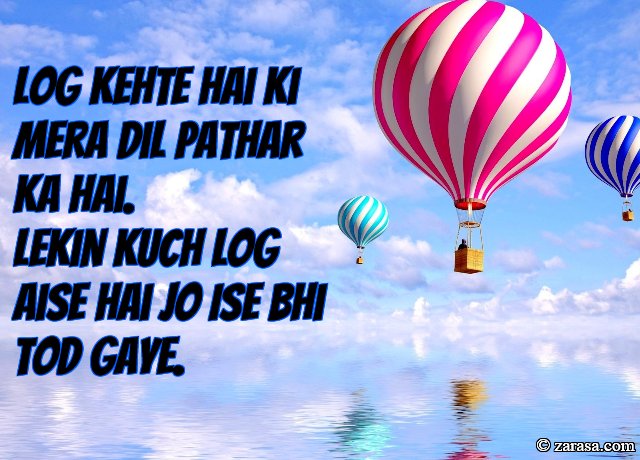 Log Kehte Hai Ki Mera Dil Pathar Ka Hai.
Lekin Kuch Log Aise Hai Jo Ise Bhi Tod Gaye.
लोग कहते है की मेरा दिल पत्थर का है .
लेकिन कुछ लोग ऐसे है जो इसे भी तोड़ गए .

لوگ کہتے ہے کی میرا دل پتھر کا ہے .
لیکن کچھ لوگ ایسے ہے جو اسے بھی توڈ گئے .

---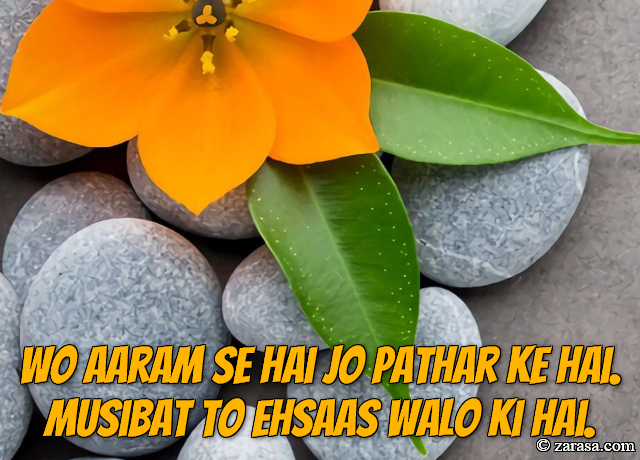 Wo Aaram Se Hai Jo Pathar Ke Hai.
Musibat To Ehsaas Walo Ki Hai.
वो आराम से है जो पत्थर के है .
मुसीबत तो एहसास वालो की है .
وو آرام سے ہے جو پتھر کے ہے .
مثبت تو احساس والو کی ہے .
---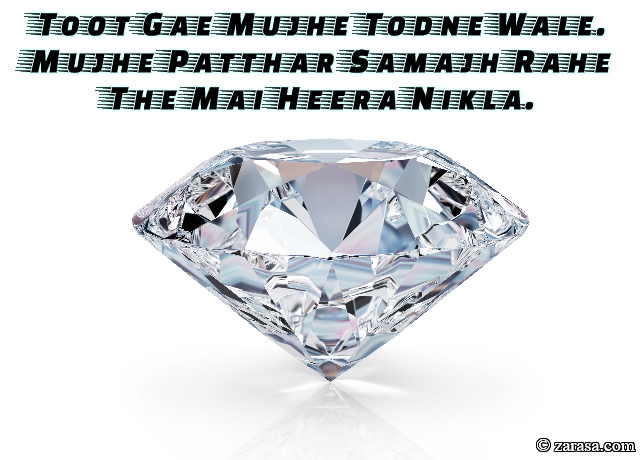 Toot Gae Mujhe Todne Wale.
Mujhe Patthar Samajh Rahe The Mai Heera Nikla.
टूट गए मुझे तोड़ने वाले .
मुझे पत्थर समझ रहे थे मै हीरा निकला .
ٹوٹ گے مجھے توڑنے والے .
مجھے پتھر سمجھ رہے تھے می ہیرا نکلا .
---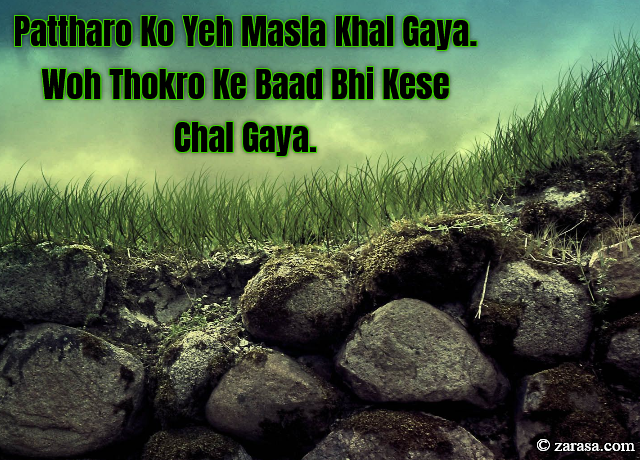 Pattharo Ko Yeh Masla Khal Gaya.
Woh Thokro Ke Baad Bhi Kese Chal Gaya.
पत्थरो को यह मसला खाल गया .
वह ठोकरो के बाद भी कैसे चल गया .
پتھرو کو یہ مثلا کھل گیا .
وہ ٹھوکرو کے بعد بھی کیسے چل گیا .
---