Patthar Shayari "Sunsan Sadak Par"
|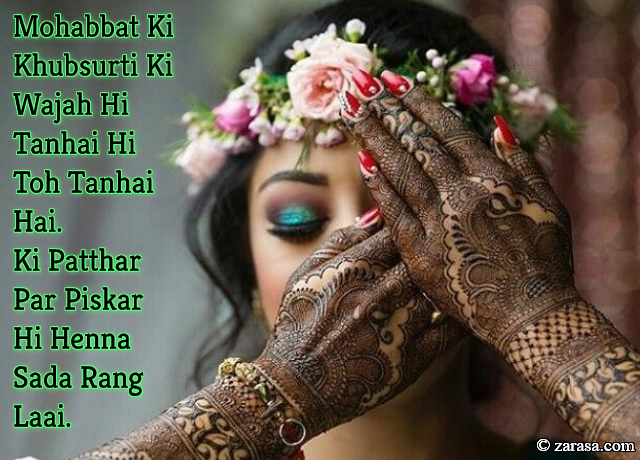 Mohabbat Ki Khubsurti Ki Wajah Hi Tanhai Hi Toh Tanhai Hai.
Ki Patthar Par Piskar Hi Henna Sada Rang Laai.

मोहब्बत की खूबसूरती की वजह ही तन्हाई ही तो तन्हाई है .
की पत्थर पर पिसकर ही हेन्ना सदा रंग लाइ .


موحبّت کی خوبصورتی کی وجہ ہی تنہائی ہی تو تنہائی ہے.
کی پتھر پر پصکر ہی ہننا سادہ رنگ لائی .

---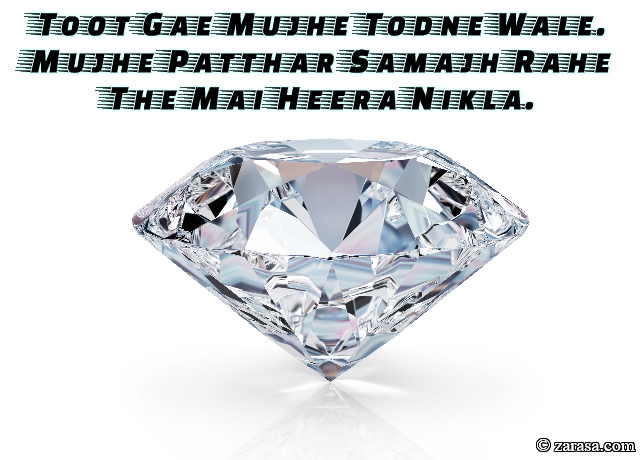 Toot Gae Mujhe Todne Wale.
Mujhe Patthar Samajh Rahe The Mai Heera Nikla.
टूट गए मुझे तोड़ने वाले .
मुझे पत्थर समझ रहे थे मै हीरा निकला .
ٹوٹ گے مجھے توڑنے والے .
مجھے پتھر سمجھ رہے تھے می ہیرا نکلا .
---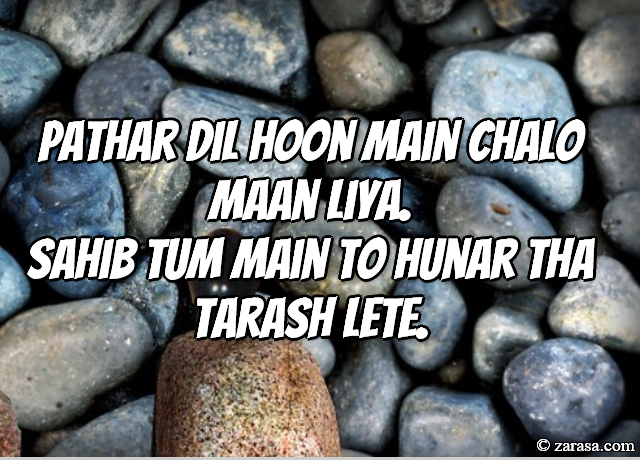 Pathar Dil Hoon Main Chalo Maan Liya.
Sahib Tum Main To Hunar Tha Tarash Lete.
पत्थर दिल हूँ मैं चलो मान लिया .
साहिब तुम मैं तो हुनर था तराश लेते .

پتّھر دل ہوں میں چلو ماں لیا .
صاحب تم میں تو ہنر تھا تراش لیتے .

---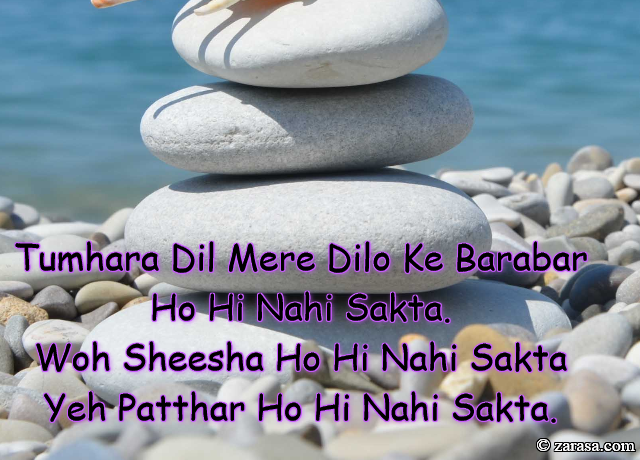 Tumhara Dil Mere Dilo Ke Barabar Ho Hi Nahi Sakta.
Woh Sheesha Ho Hi Nahi Sakta Yeh Patthar Ho Hi Nahi Sakta.
तुम्हारा दिल मेरे दिलो के बराबर हो ही नहीं सकता .
वह शीशा हो ही नहीं सकता यह पत्थर हो ही नहीं सकता .

تمہارا دل میرے دلو کے برابر ہو ہی نہیں سکتا .
وہ شیشا ہو ہی نہیں سکتا یہ پتھر ہو ہی نہیں سکتا .

---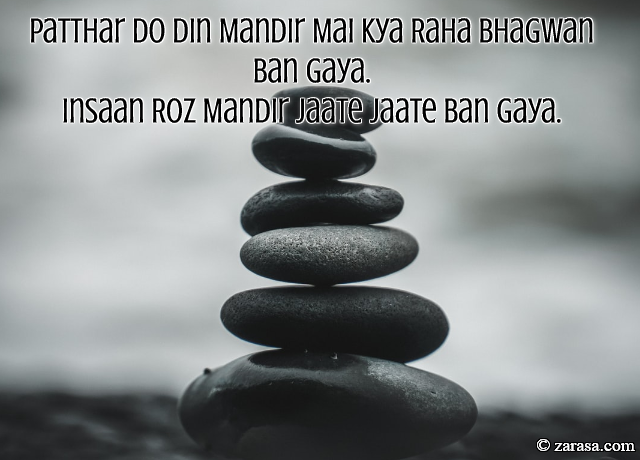 Patthar Do Din Mandir Mai Kya Raha Bhagwan Ban Gaya.
Insaan Roz Mandir Jaate Jaate Ban Gaya.
पत्थर दो दिन मंदिर मई क्या रहा भगवन बन गया .
इंसान रोज़ मंदिर जाते जाते बन गया .
پتھر دو دن مندر می کیا رہا بھگوان بن گیا .
انسان روز مندر جاتے جاتے بن گیا .
---