Phool SHAYARI "Ab Toh Kaanto Pe Bhi Haq Humara Nahi"
|
Ae Mere Humnashi Chal Aur Kahi Is Chaman Ab Apna Guzara Nahi.
Baat Hoti Gulon Tak To Seh Lete Hum Ab Toh Kaanto Pe Bhi Haq Humara Nahi.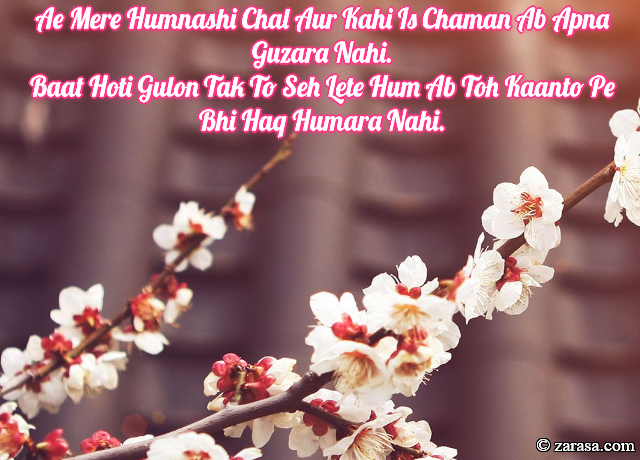 ---


ऐ मेरे हमनशी चल और कही इस चमन अब अपना गुज़ारा नहीं .
बात होती गुलों तक तो सेह लेते हम अब तोह कांटो पे भी हक़ हमारा नहीं .



---


اے میرے ہمنشی چل اور کہی اس چمن اب اپنا گزارا نہیں .
بات ہوتی گولوں تک تو سہ لیتے ہم اب تو کانٹو پی بھی حق ہمارا نہیں .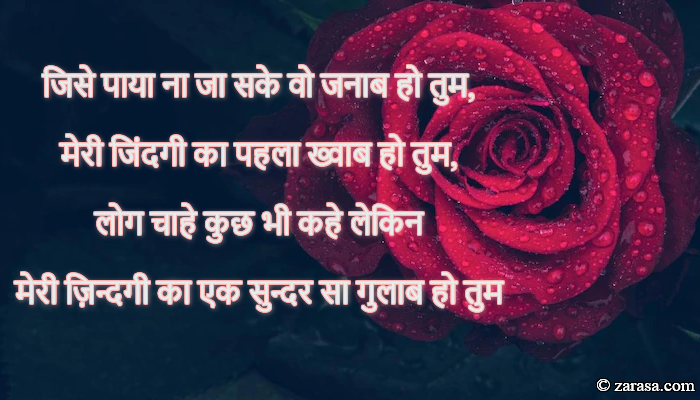 Jise Paya Na ja Sake Vo Janab Ho Tum,
Meri Zindagi Ka Pehla Khwab Ho Tum,
Log Chahe Kuch Bhi Kahe Lekin
Meri Zindagi Ka Ek Sundar sa Gulab Ho Tum.
जिसे पाया ना जा सके वो जनाब हो तुम,
मेरी जिंदगी का पहला ख्वाब हो तुम,
लोग चाहे कुछ भी कहे लेकिन
मेरी ज़िन्दगी का एक सुन्दर सा गुलाब हो तुम |

جسے پایا نہ جا سکے وو جناب ہو تم
میری زندگی کا پہلا خواب ہو تم
لوگ چاہے کچھ بھی کہے لیکن
میری زندگی کا ایک سندر سا گلاب ہو تم
---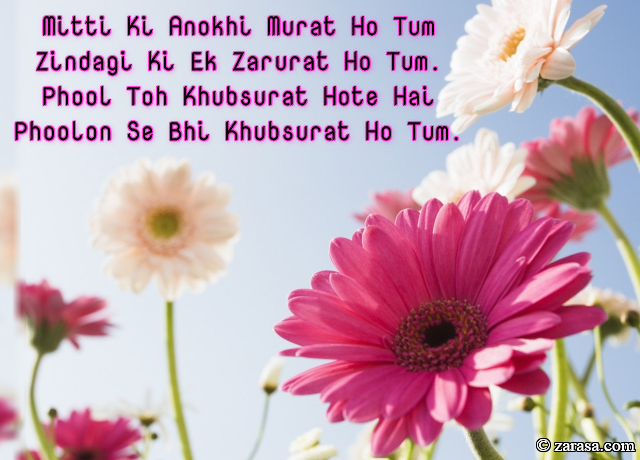 Mitti Ki Anokhi Murat Ho Tum Zindagi Ki Ek Zarurat Ho Tum.
Phool Toh Khubsurat Hote Hai Phoolon Se Bhi Khubsurat Ho Tum.
मिटटी की अनोखी मूरत हो तुम ज़िन्दगी की एक ज़रूरत हो तुम .
फूल तो ख़ूबसूरत होते है फूलों से भी ख़ूबसूरत हो तुम .
مٹی کی انوکھی مورت ہو تم زندگی کی ایک ضرورت ہو تم .
پھول تو خوبصورت ہوتے ہے پھولوں سے بھی خوبصورت ہو تم .
---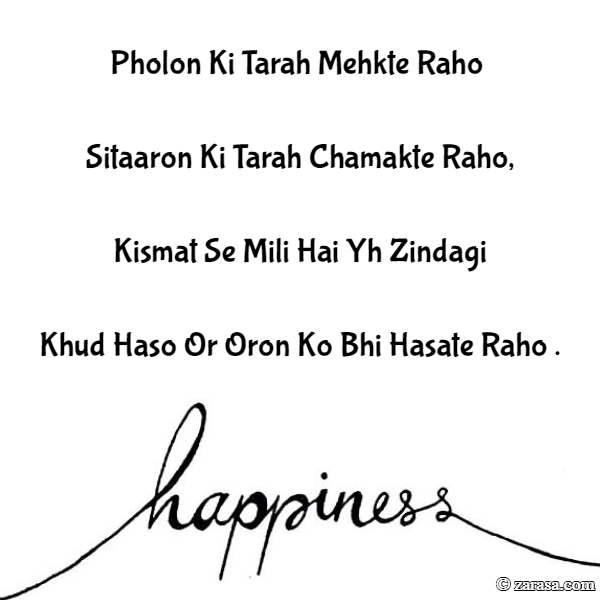 Pholon Ki Tarah Mehkte Raho
Sitaaron Ki Tarah Chamakte Raho,
Kismat Se Mili Hai Yh Zindagi
Khud Haso Or Oron Ko Bhi Hasate Raho .
फूलों की तरह महकते रहो
सितारों की तरह चमकते रहो,
किस्मत से मिली है ये ज़िन्दगी
ख़ुद हँसो और औरों को भी हंसाते रहो।
پھولوں کی طرح مہکتے رہو
ستاروں کی طرح چمکتے رہو
کسمت سے ملی ہے یہ زندگی
خود حصوں اور اروں کو بھی ہستے رہو
---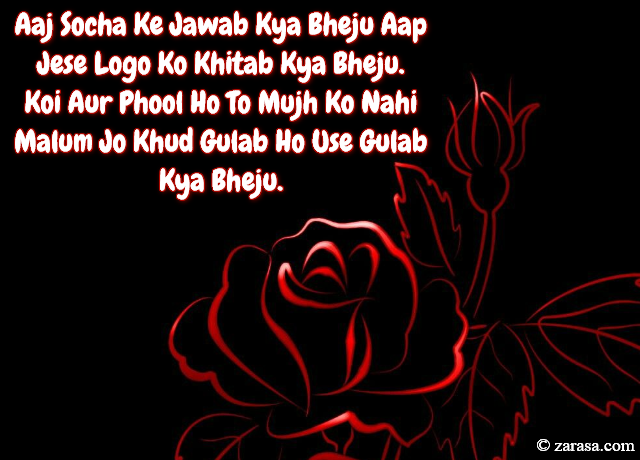 Aaj Socha Ke Jawab Kya Bheju Aap Jese Logo Ko Khitab Kya Bheju.
Koi Aur Phool Ho To Mujh Ko Nahi Malum Jo Khud Gulab Ho Use Gulab Kya Bheju.
आज सोचा के जवाब क्या भेजू आप जैसे लोगो को ख़िताब क्या भेजू .
कोई और फूल हो तो मुझ को नहीं मालूम जो ख़ुद गुलाब हो उसे गुलाब क्या भेजु .
آج سوچا کے جواب کیا بھیجو آپ جیسے لوگو کو کتاب کیا بھیجو .
کوئی اور پھول ہو تو مجھ کو نہیں معلم جو خود گلاب ہو اسے گلاب کیا بھیجو .
---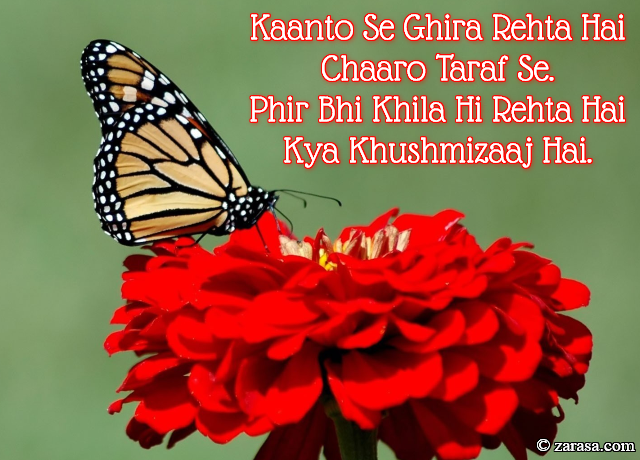 Kaanto Se Ghira Rehta Hai Chaaro Taraf Se.
Phir Bhi Khila Hi Rehta Hai Kya Khushmizaaj Hai.
कांटो से घिरा रहता है चारो तरफ़ से .
फिर भी खिला ही रहता है क्या खुशमिजाज़ है .


کانٹو سے گھرا رہتا ہے چارو طرف سے .
پھر بھی کھلا ہی رہتا ہے کیا خشمزاج ہے .

---