Phool SHAYARI "Log Be-Dard Hain Phoolon Ko Masal Dete Hain"
|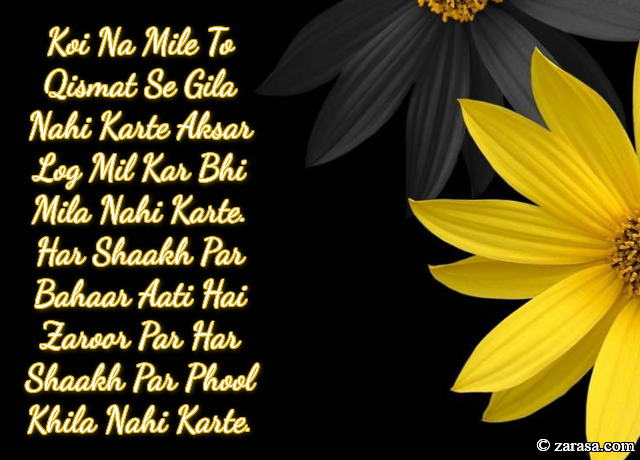 Koi Na Mile To Qismat Se Gila Nahi Karte Aksar Log Mil Kar Bhi Mila Nahi Karte.
Har Shaakh Par Bahaar Aati Hai Zaroor Par Har Shaakh Par Phool Khila Nahi Karte.

कोई न मिले तो क़िस्मत से गिला नहीं करते अक्सर लोग मिल कर भी मिला नहीं करते .
हर शाख पर बहार आती है ज़रूर पर हर शाख पर फूल खिला नहीं करते .


کوئی نہ میل تو قسمت سے گلا نہیں کرتے اکثر لوگ مل کر بھی ملا نہیں کرتے .
ہر شاخ پر بہار آتی ہے ضرور پر ہر شاخ پر پھول کھلا نہیں کرتے .

---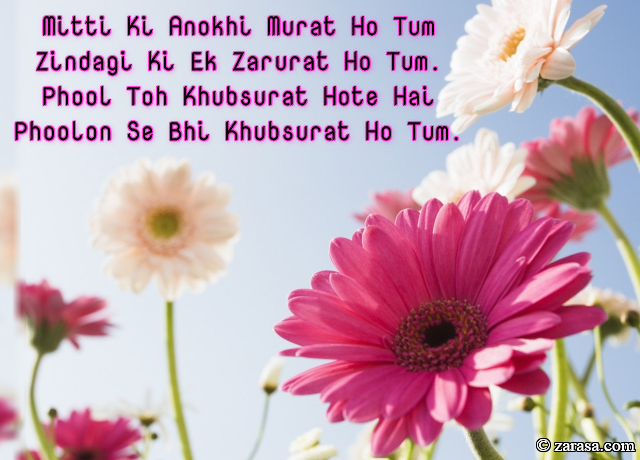 Mitti Ki Anokhi Murat Ho Tum Zindagi Ki Ek Zarurat Ho Tum.
Phool Toh Khubsurat Hote Hai Phoolon Se Bhi Khubsurat Ho Tum.
मिटटी की अनोखी मूरत हो तुम ज़िन्दगी की एक ज़रूरत हो तुम .
फूल तो ख़ूबसूरत होते है फूलों से भी ख़ूबसूरत हो तुम .
مٹی کی انوکھی مورت ہو تم زندگی کی ایک ضرورت ہو تم .
پھول تو خوبصورت ہوتے ہے پھولوں سے بھی خوبصورت ہو تم .
---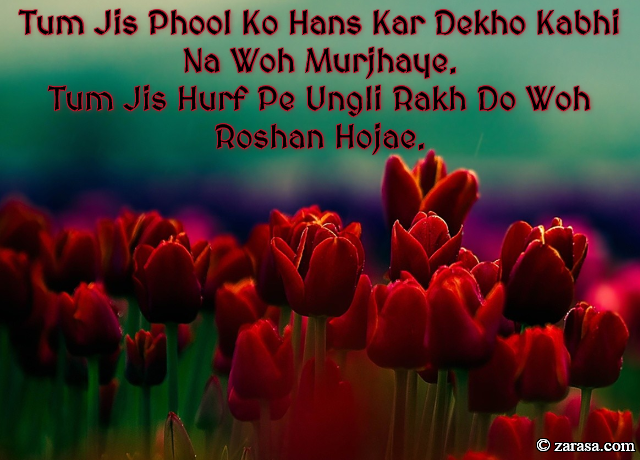 Tum Jis Phool Ko Hans Kar Dekho Kabhi Na Woh Murjhaye.
Tum Jis Hurf Pe Ungli Rakh Do Woh Roshan Hojae.
तुम जिस फूल को हंस कर देखो कभी न वह मुरझाए .
तुम जिस हर्फ़ पे ऊँगली रख दो वह रोशन होजाए .
تم جس پھول کو ہنس کر دیکھو کبھی نہ وہ مرجھیے .
تم جس حرف پی انگلی رکھ دو وہ روشن ہوجاۓ .
---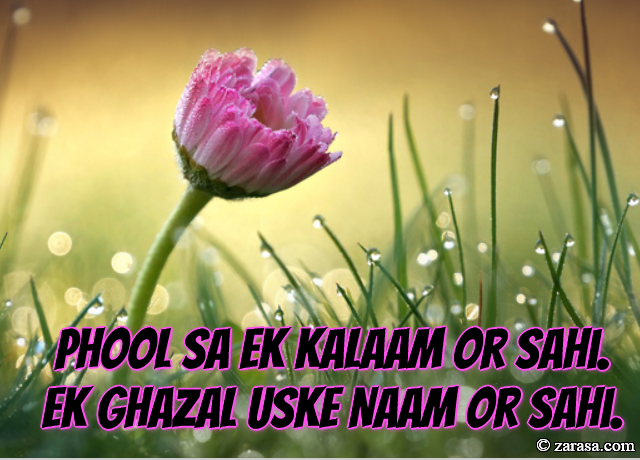 Phool Sa Ek Kalaam Or Sahi.
Ek Ghazal Uske Naam Or Sahi.
फूल सा एक कलाम और सही .
एक ग़ज़ल उसके नाम और सही .
پھول سا ایک کلام ور سہی .
ایک غزل اسکے نام اور سہی .
---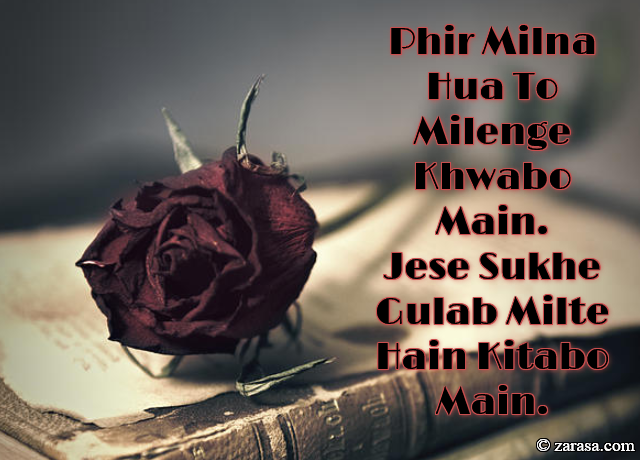 Phir Milna Hua To Milenge Khwabo Main.
Jese Sukhe Gulab Milte Hain Kitabo Main.
फिर मिलना हुआ तो मिलेंगे ख़्वाबों मैं .
जैसे सूखे गुलाब मिलते हैं किताबो मैं .
پھر ملنا ہوا تو ملینگے خوابو میں .
جیسے سکھ گلاب ملتے ہیں کتابو میں
---