Phool SHAYARI "Har Shaakh Par Phool Khila Nahi Karte"
|
Koi Na Mile To Qismat Se Gila Nahi Karte Aksar Log Mil Kar Bhi Mila Nahi Karte.
Har Shaakh Par Bahaar Aati Hai Zaroor Par Har Shaakh Par Phool Khila Nahi Karte.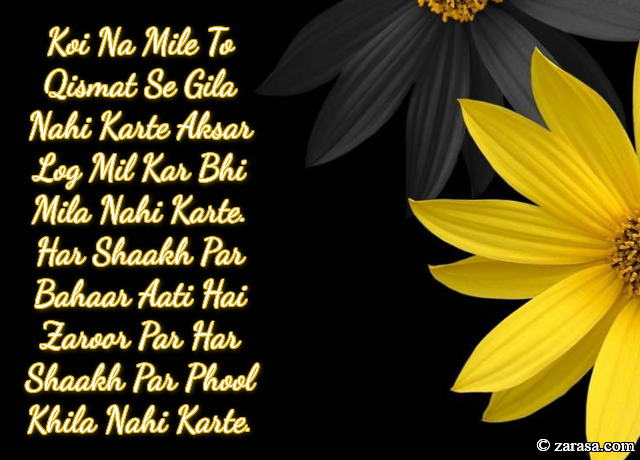 ---


कोई न मिले तो क़िस्मत से गिला नहीं करते अक्सर लोग मिल कर भी मिला नहीं करते .
हर शाख पर बहार आती है ज़रूर पर हर शाख पर फूल खिला नहीं करते .



---


کوئی نہ میل تو قسمت سے گلا نہیں کرتے اکثر لوگ مل کر بھی ملا نہیں کرتے .
ہر شاخ پر بہار آتی ہے ضرور پر ہر شاخ پر پھول کھلا نہیں کرتے .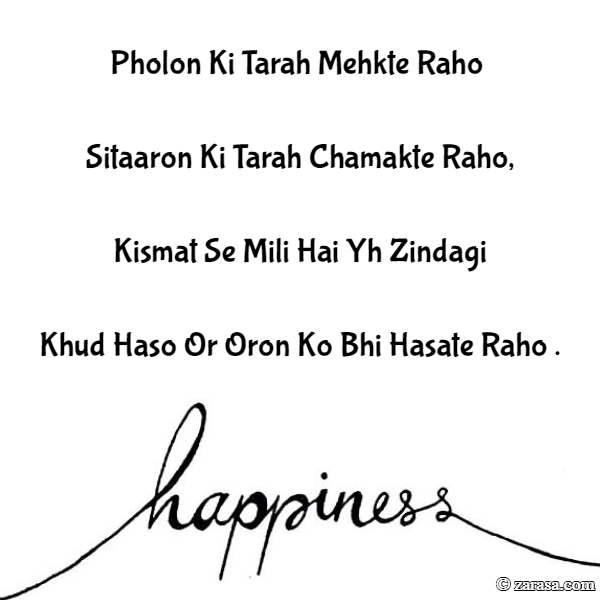 Pholon Ki Tarah Mehkte Raho
Sitaaron Ki Tarah Chamakte Raho,
Kismat Se Mili Hai Yh Zindagi
Khud Haso Or Oron Ko Bhi Hasate Raho .
फूलों की तरह महकते रहो
सितारों की तरह चमकते रहो,
किस्मत से मिली है ये ज़िन्दगी
ख़ुद हँसो और औरों को भी हंसाते रहो।
پھولوں کی طرح مہکتے رہو
ستاروں کی طرح چمکتے رہو
کسمت سے ملی ہے یہ زندگی
خود حصوں اور اروں کو بھی ہستے رہو
---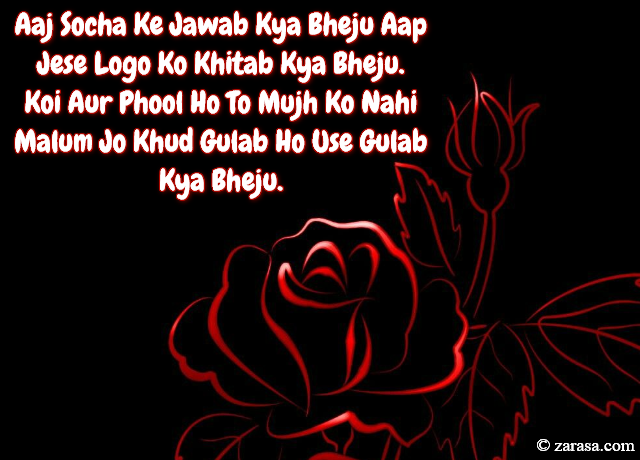 Aaj Socha Ke Jawab Kya Bheju Aap Jese Logo Ko Khitab Kya Bheju.
Koi Aur Phool Ho To Mujh Ko Nahi Malum Jo Khud Gulab Ho Use Gulab Kya Bheju.
आज सोचा के जवाब क्या भेजू आप जैसे लोगो को ख़िताब क्या भेजू .
कोई और फूल हो तो मुझ को नहीं मालूम जो ख़ुद गुलाब हो उसे गुलाब क्या भेजु .
آج سوچا کے جواب کیا بھیجو آپ جیسے لوگو کو کتاب کیا بھیجو .
کوئی اور پھول ہو تو مجھ کو نہیں معلم جو خود گلاب ہو اسے گلاب کیا بھیجو .
---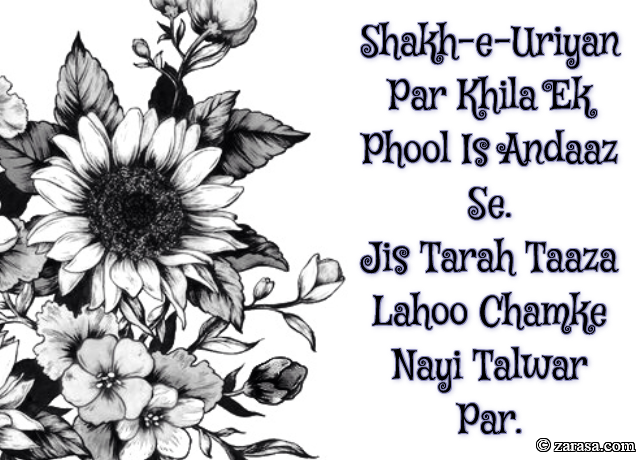 Shakh-e-Uriyan Par Khila Ek Phool Is Andaaz Se.
Jis Tarah Taaza Lahoo Chamke Nayi Talwar Par.
शाख -इ -ुरियाँ पर खिला एक फूल इस अंदाज़ से .
जिस तरह ताज़ा लहू चमके नयी तलवार पर .
شاخ -ا -عریاں پر کھلا ایک پھول اس انداز سے .
جس طرح تازہ لہو چمکے نیی تلوار پر .
---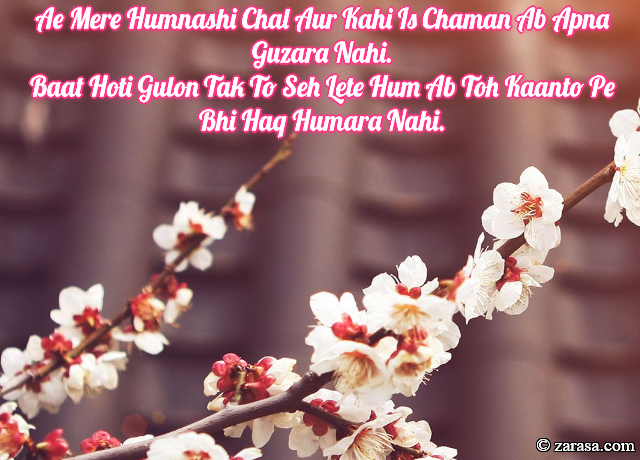 Ae Mere Humnashi Chal Aur Kahi Is Chaman Ab Apna Guzara Nahi.
Baat Hoti Gulon Tak To Seh Lete Hum Ab Toh Kaanto Pe Bhi Haq Humara Nahi.

ऐ मेरे हमनशी चल और कही इस चमन अब अपना गुज़ारा नहीं .
बात होती गुलों तक तो सेह लेते हम अब तोह कांटो पे भी हक़ हमारा नहीं .


اے میرے ہمنشی چل اور کہی اس چمن اب اپنا گزارا نہیں .
بات ہوتی گولوں تک تو سہ لیتے ہم اب تو کانٹو پی بھی حق ہمارا نہیں .

---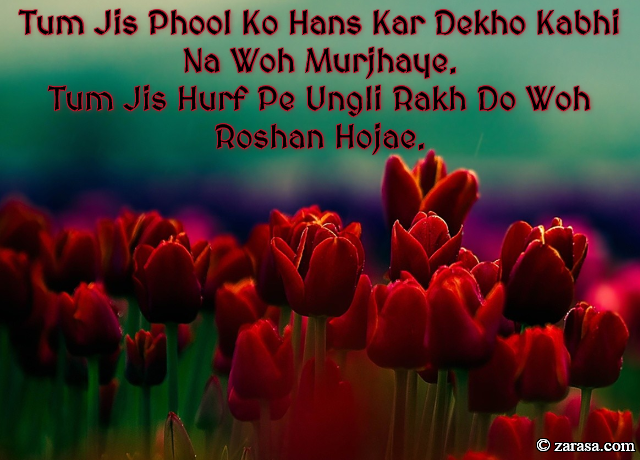 Tum Jis Phool Ko Hans Kar Dekho Kabhi Na Woh Murjhaye.
Tum Jis Hurf Pe Ungli Rakh Do Woh Roshan Hojae.
तुम जिस फूल को हंस कर देखो कभी न वह मुरझाए .
तुम जिस हर्फ़ पे ऊँगली रख दो वह रोशन होजाए .
تم جس پھول کو ہنس کر دیکھو کبھی نہ وہ مرجھیے .
تم جس حرف پی انگلی رکھ دو وہ روشن ہوجاۓ .
---