Shayari for Bewafai"Tere Baad Na Rakhi Kisi Se Mohabbat Ki Aas"
|
Hum Ne Tere Baad Na Rakhi Kisi Se Mohabbat Ki Aas.
Ek Shaks Hi Bohat Tha Jo Sab Kuch Sikha Gaya.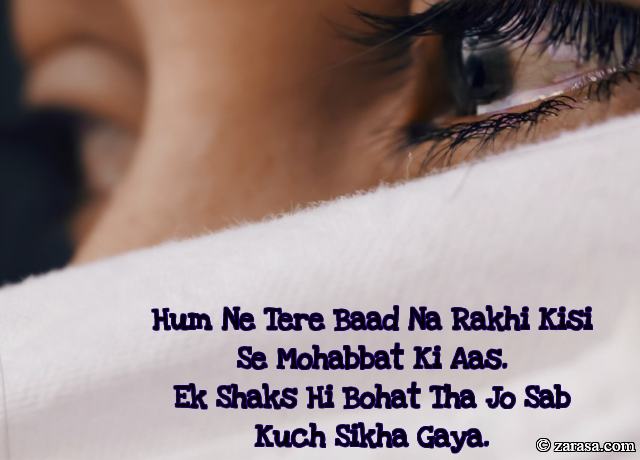 ---

हम ने तेरे बाद न राखी किसी से मोहब्बत की आस .
एक शख़्स ही बोहत था जो सब कुछ सीखा गया .


---

ہم نے تیرے بعد نہ رکھی کسی سے موحبّت کی ااس .
ایک شکس ہی بوہت تھا جو سب کچھ سکھا گیا .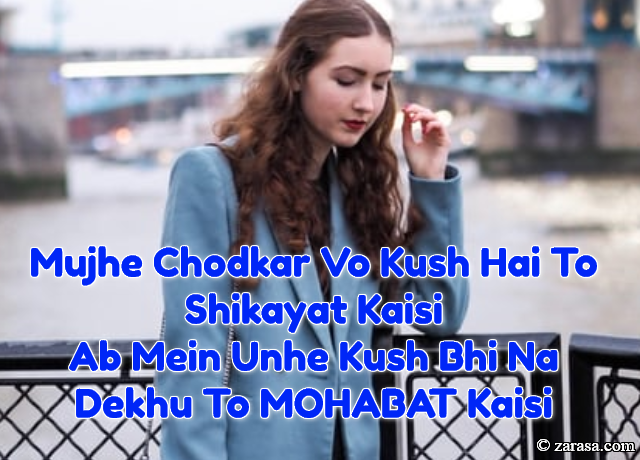 Mujhe Chodkar Vo Kush Hai To Shikayat Kaisi
Ab Mein Unhe Khush Bhi Na Dekhu To Mohabbat Kaisi
मुझे छोड़कर वो कुश है तो शिकायत कैसी
अब में उन्हें कुश भी न देखु तो मोहबत कैसी
مجھے چھوڑکر وہ خوش ہے تو شکایات کیسی
اب میں انھ خوش بھی نہ دیکھو تو موہبت کیسی
---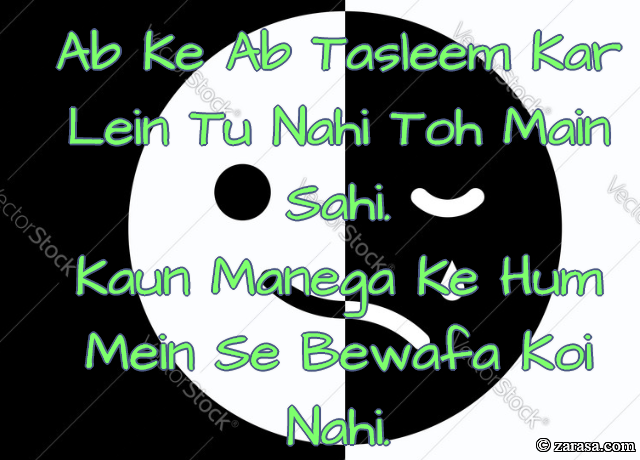 Ab Ke Ab Tasleem Kar Lein Tu Nahi Toh Main Sahi.
Kaun Manega Ke Hum Mein Se Bewafa Koi Nahi.
अब के अब तस्लीम कर लें तू नहीं तोह मैं सही .
कौन मानेगा के हम में से बेवफा कोई नहीं .
اب کے اب تسلیم کر لیں تو نہیں ٹوہ میں سہی .
کون مانگا کے ہم میں سے بیوفا کوئی نہیں .
---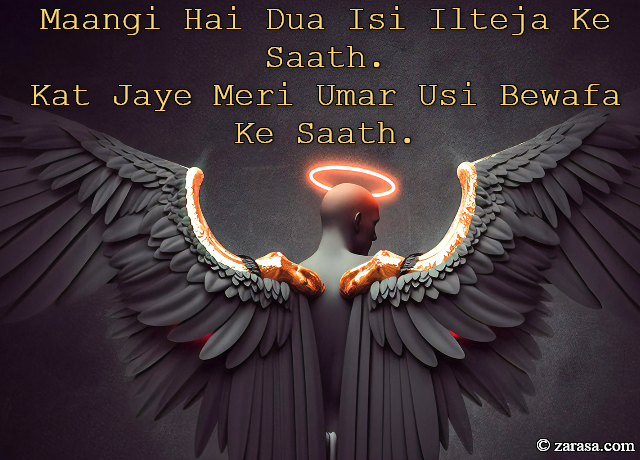 Maangi Hai Dua Isi Ilteja Ke Saath.
Kat Jaye Meri Umar Usi Bewafa Ke Saath.
मांगी है दुआ इसी इल्तेजा के साथ .
कट जाए मेरी उम्र उसी बेवफा के साथ .
مانگی ہے دوا اسی التجا کے ساتھ .
کٹ جائے میری امر اسی بیوفا کے ساتھ .
---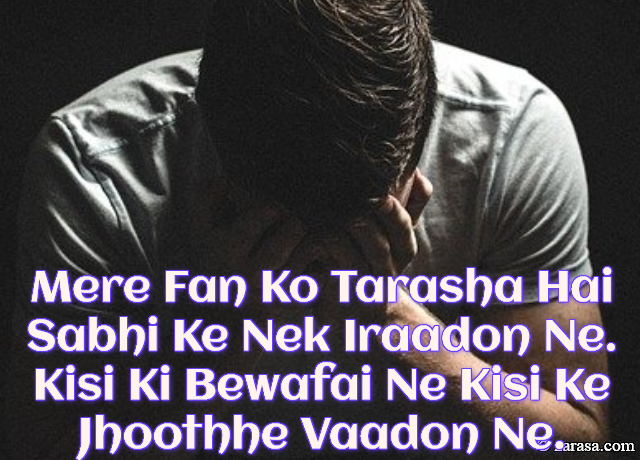 Mere Fan Ko Tarasha Hai Sabhi Ke Nek Iraadon Ne.
Kisi Ki Bewafai Ne Kisi Ke Jhoothhe Vaadon Ne.
मेरे फैन को तराशा है सभी के नेक इरादों ने .
किसी की बेवफाई ने किसी के झूठे वादों ने .
میرے فن کو تراشا ہے سبھی کے نیک ارادوں نے .
کسی کی بیوفائی نے کسی کے جھوٹھھے وادوں نے .
---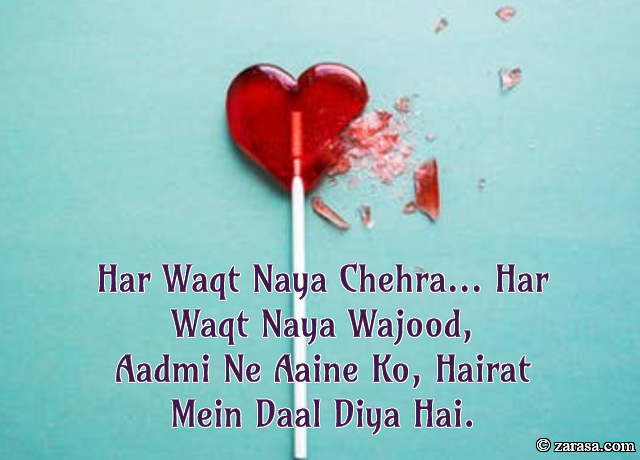 Har Waqt Naya Chehra... Har Waqt Naya Wajood,
Aadmi Ne Aaine Ko, Hairat Mein Daal Diya Hai.
हर वक़्त नया चेहरा ... हर वक़्त नया वजूद ,
आदमी ने आईने को , हैरत में दाल दिया है i.
ہر وقت نیا چہرہ ... ہر وقت نیا وجود ,
آدمی نے آئنے کو حیرت میں ڈال دیا ہے
---