Sitare Shayari "Sitare Ke Pate Pohchi Thi"
|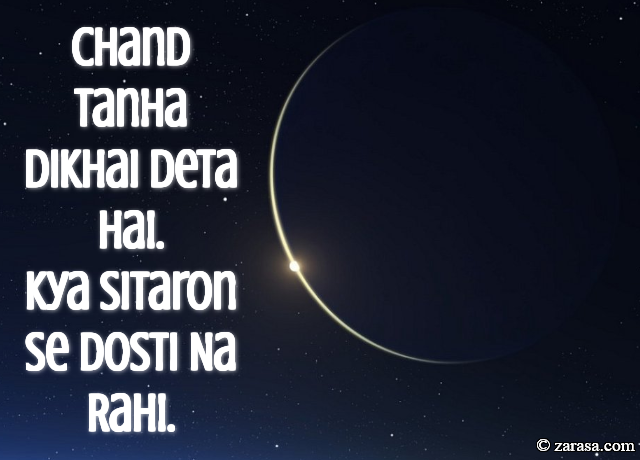 Chand Tanha Dikhai Deta Hai.
Kya Sitaron Se Dosti Na Rahi.

चाँद तनहा दिखाई देता है .
क्या सितारों से दोस्ती न रही .

چند تنہا دکھائی دیتا ہے .
کیا ستاروں سے دوستی نہ رہی .
---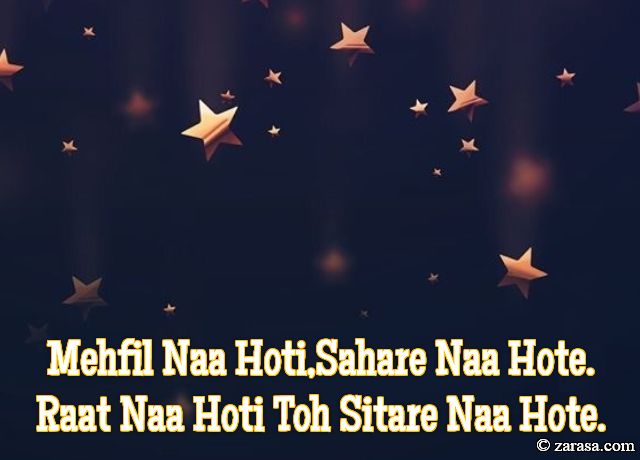 Mehfil Naa Hoti,Sahare Naa Hote.
Raat Naa Hoti Toh Sitare Naa Hote.
महफ़िल ना होती ,सहारे ना होते .
रात ना होती तो सितारे ना होते .
محفل نا ہوتی ,سہارے نا ہوتے .
رات نا ہوتی تو ستارے نا ہوتے .
---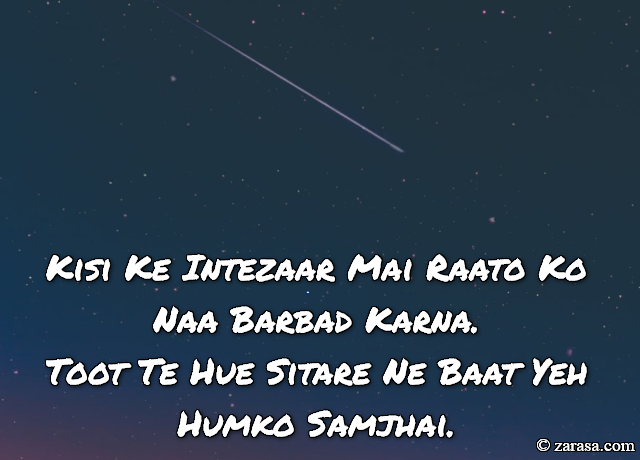 Kisi Ke Intezaar Mai Raato Ko Naa Barbad Karna.
Toot Te Hue Sitare Ne Baat Yeh Humko Samjhai.

किसी के इंतज़ार मई रातो को ना बर्बाद करना .
टूटते हुए सितारे ने बात यह हमको समझे .



کسی کے انتیزار می رہاتو کو نا برباد کرنا .
ٹوٹ تے ہوئے ستارے نے بات یہ ہمکو سمجھی .


---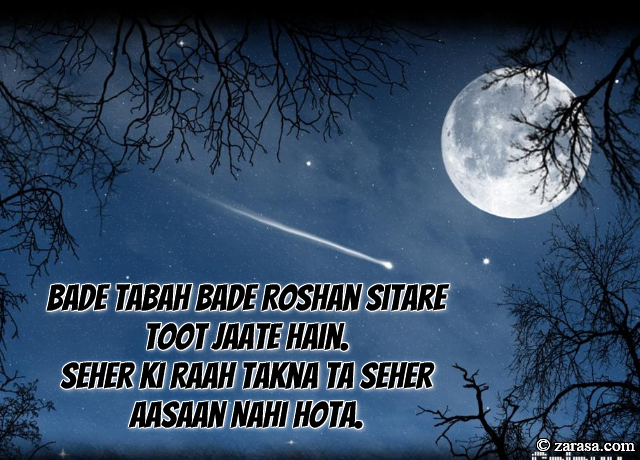 Bade Tabah Bade Roshan Sitare Toot Jaate Hain.
Seher Ki Raah Takna Ta Seher Aasaan Nahi Hota.
बड़े तबाह बड़े रोशन सितारे तूट जाते हैं .
सेहर की राह ताकना ता सेहर आसान नहीं होता .

بدی تباہ بدی روشن ستارے ٹوٹ جاتے ہیں .
سہر کی راہ تکنا تا سہر آسان نہیں ہوتا .

---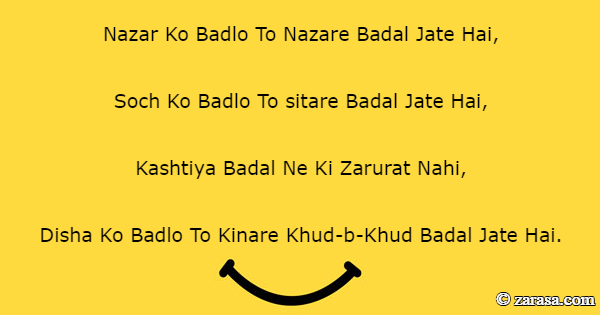 Nazar Ko Badlo To Nazare Badal Jate Hai,
Soch Ko Badlo To sitare Badal Jate Hai,
Kashtiya Badal Ne Ki Zarurat Nahi,
Disha Ko Badlo To Kinare Khud-b-Khud Badal Jate Hai.
नज़र को बदलो तो नज़ारे बदल जाते है,
सोच को बदलो तो सितारे बदल जाते है,
कश्तिया बदल ने की ज़रूरत नहीं ,
दिशा को बदलो तो किनारे खुद बा खुद बदल जाते है।
نظر کو بفلو تو نظارے بدل جاتے ہے
سوچ کو بدلو تو ستارے بدل جاتے ہے
کشتیا بدل نے کی ضرورت نہیں
دشا کو بدلو تو کنارے خود با خود بدل جاتے ہے
---