Sitare Shayari "Sitare Ke Pate Pohchi Thi"
|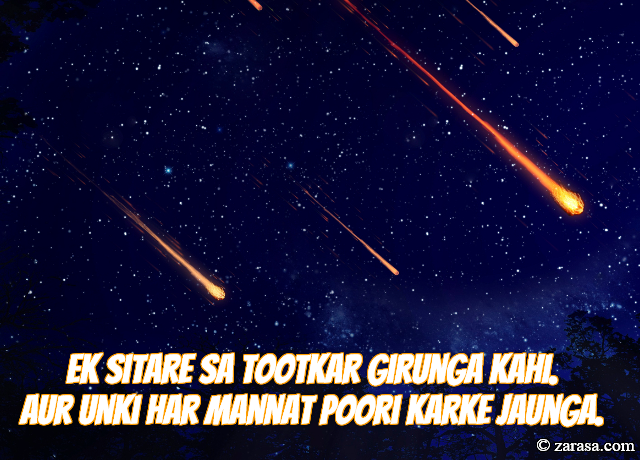 Ek Sitare Sa Tootkar Girunga Kahi.
Aur Unki Har Mannat Poori Karke Jaunga.
एक सितारे सा टूटकर गिरूंगा कही .
और उनकी हर मन्नत पूरी करके जाऊंगा .

ایک ستارے سا توتکار گرنگا کہی .
اور انکی ہر منّت پوری کرکے جاؤنگا .

---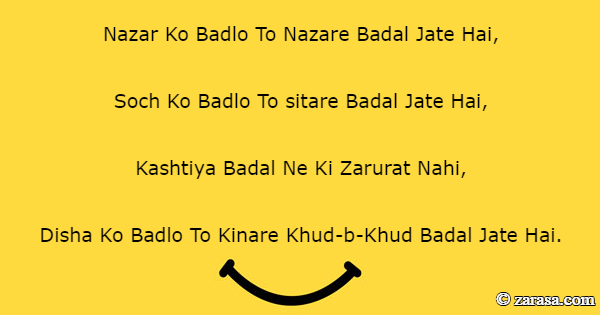 Nazar Ko Badlo To Nazare Badal Jate Hai,
Soch Ko Badlo To sitare Badal Jate Hai,
Kashtiya Badal Ne Ki Zarurat Nahi,
Disha Ko Badlo To Kinare Khud-b-Khud Badal Jate Hai.
नज़र को बदलो तो नज़ारे बदल जाते है,
सोच को बदलो तो सितारे बदल जाते है,
कश्तिया बदल ने की ज़रूरत नहीं ,
दिशा को बदलो तो किनारे खुद बा खुद बदल जाते है।
نظر کو بفلو تو نظارے بدل جاتے ہے
سوچ کو بدلو تو ستارے بدل جاتے ہے
کشتیا بدل نے کی ضرورت نہیں
دشا کو بدلو تو کنارے خود با خود بدل جاتے ہے
---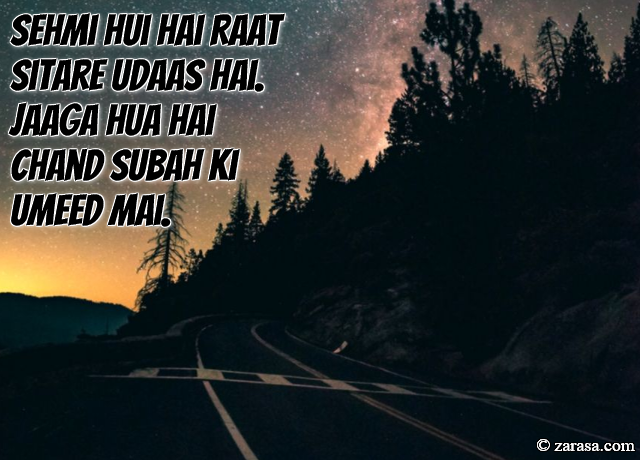 Sehmi Hui Hai Raat Sitare Udaas Hai.
Jaaga Hua Hai Chand Subah Ki Umeed Mai.
सेहमी हुई है रात सितारे उदास है .
जाएगा हुआ है चाँद सुबह की उम्मीद मै .
سہمی ہی ہے رات ستارے اداس ہے .
جاگا ہوا ہے چند صوبہ کی امید می .
---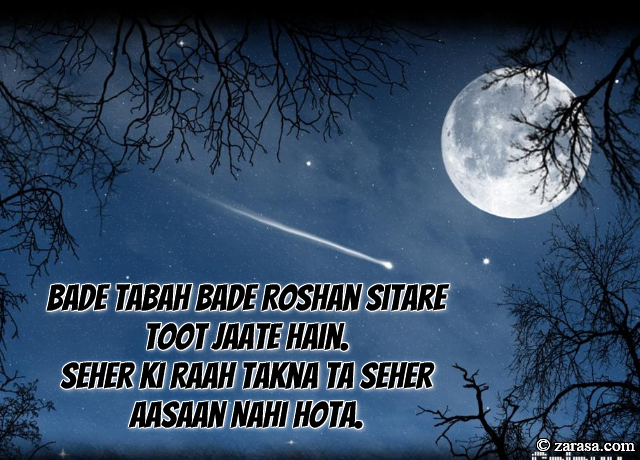 Bade Tabah Bade Roshan Sitare Toot Jaate Hain.
Seher Ki Raah Takna Ta Seher Aasaan Nahi Hota.
बड़े तबाह बड़े रोशन सितारे तूट जाते हैं .
सेहर की राह ताकना ता सेहर आसान नहीं होता .

بدی تباہ بدی روشن ستارے ٹوٹ جاتے ہیں .
سہر کی راہ تکنا تا سہر آسان نہیں ہوتا .

---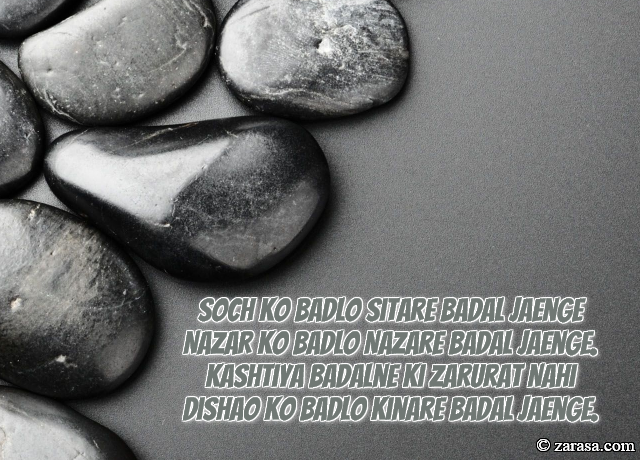 Soch Ko Badlo Sitare Badal Jaenge Nazar Ko Badlo Nazare Badal Jaenge.
Kashtiya Badalne Ki Zarurat Nahi Dishao Ko Badlo Kinare Badal Jaenge.

सोच को बदलो सितारे बदल जाएंगे नज़र को बदलो नज़ारे बदल जाएंगे .
कश्तिया बदलने की ज़रूरत नहीं दिशाओ को बदलो किनारे बदल जाएंगे .


سوچ کو بدلو ستارے بدل جاینگے نظر کو بدلو نظارے بدل جاینگے .
کشتیا بدلنے کی ضرورت نہیں دشو کو بدلو کنارے بدل جاینگے .

---