Shayari for Country "Ishq Toh Karta Hain Har Koyi"
|
Ishq Toh Karta Hain Har Koyi Mehboob Pe Marta Hain Har Koyi.
Kbhi Watan Ko Mehbub Bna Kr Dekho Tujh Pe Marega Har Koyi.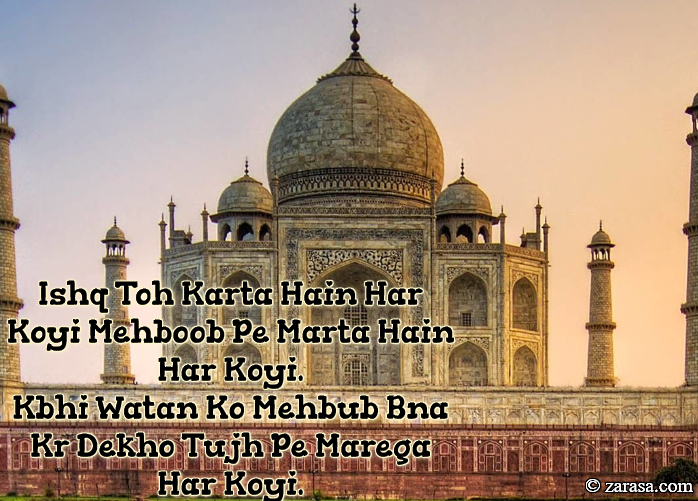 ---

इश्क़ तोह करता हैं हर कोई मेहबूब पे मरता हैं हर कोई .
कभी वतन को मेहबूब बना कर देखो तुझ पे मरेगा हर कोई .


---

عشق ٹوہ کرتا ہیں ہر کویی محبوب پی مارتا ہیں ہر کویی .
کبھی وطن کو محبوب بنا کر دیکھو تجھ پی مریگا ہر کویی .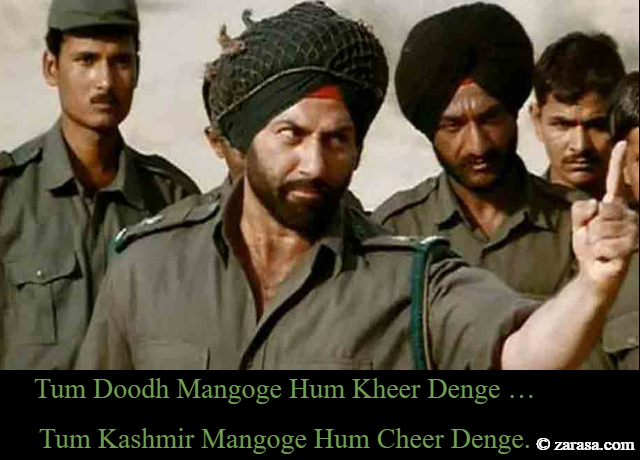 Tum Doodh Mangoge Hum Kheer Denge …
Tum Kashmir Mangoge Hum Cheer Denge.
तम दूध मांगोगे हम खीर देंगे ,
तम कश्मीर मांगोगे हम चीर देंगे। ....
تم دودھ مانگوگے ہم خیر دینگے
تم کشمیر مانگوگے ہم چیر دینگے
---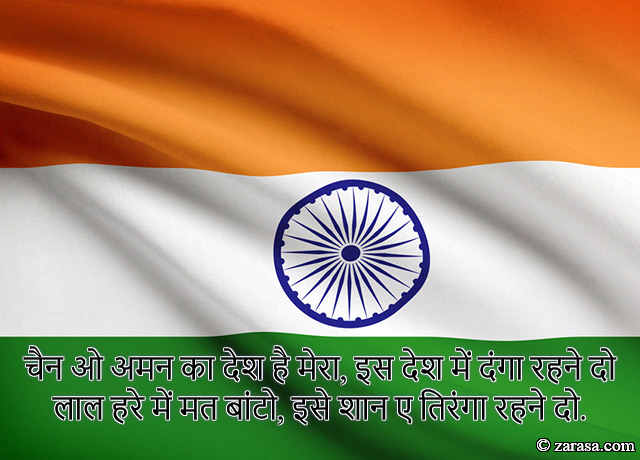 Chain O Aman Ka Desh Hai Mera, Is Desh Me Danga Rehne Do,

Lal Hare Mai Mat Baato, Ise Shan E Tiranga Rehne Do.


चैन ओ अमन का देश है मेरा, इस देश में दंगा रहने दो
लाल हरे में मत बांटो, इसे शान ए तिरंगा रहने दो i
چین و امن کا دیش ہے میرا, اس دیش مے دنگا رہنے دو,

لال ہارے می مت باتو, اسے شان ے ترنگا رہنے دو.
---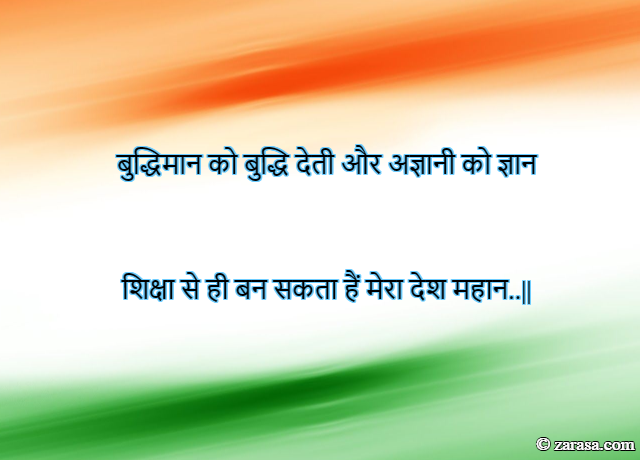 Budhimaan Ko Budhi deti Aur Gyaani Ko Gyaan
Shiksha Se Hi Ban Sakta Hai Mera Desh Mahaan.
बुद्धिमान को बुद्धि देती और अज्ञानी को ज्ञान

शिक्षा से ही बन सकता हैं मेरा देश महान..||
بوڑھیمان کو بوڑھی دیتی اور آگیانی کو گیان

شکشا سے ہی بن سکتا ہے میرا دیش مہان .
---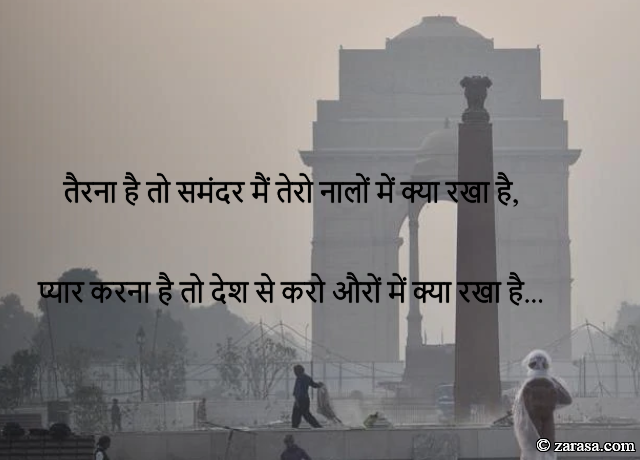 Terna Hai To Samandar Me Tero Naalon Me Kya Rakha Hai,
Pyar Karna Hai To Desh Se Karo Auron Me Kya Rakha Hai...
तैरना है तो समंदर मैं तेरो नालों मैं क्या रखा है,
प्यार करना है तो देश से करो औरों मैं क्या रखा है...
تیرنا ہے تو سمندر می تھرو نالوں میں کیا رکھا ہے'
پیار کرنا ہے تو دیش میں کرو آوروں میں کیا رکھا ہے -
---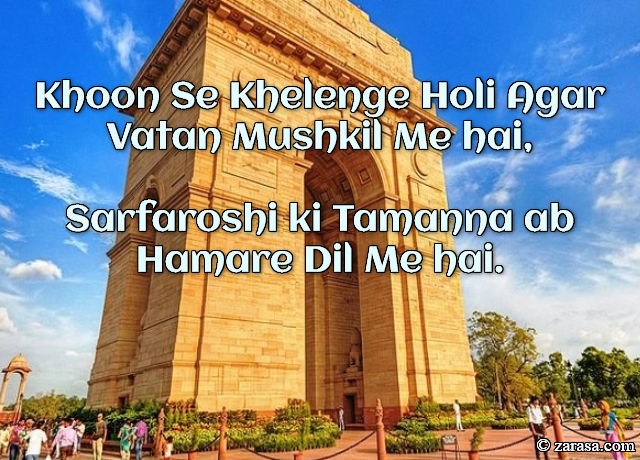 Khoon Se Khelenge Holi Agar Vatan Mushkil Me hai,
Sarfaroshi ki Tamanna ab Hamare Dil Me hai.
खून से खेलेंगे होली अगर वतन मुश्किल में है,
सरफ़रोशी की तमन्ना अब हमारे दिल में है.
خون سے کھیلینگے ہولی اگر وطن مشکل مے ہے,
سرفروشی کی تمنّ اب ہمارے دل مے ہے.
---