Shayari for India (Country) "Maru Toh Tiranga Kafan Ho Mera."
|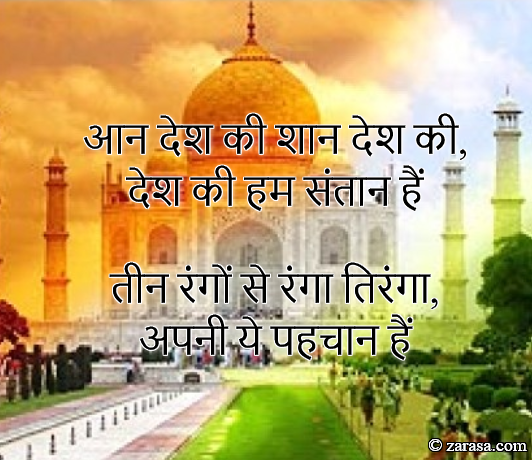 Aan Desh ki, Shaan Desh ki,
Desh ki Hum Santaan Hain

Teen Rango se Ranga Tiranga,
Apni Yeh Pehchaan Hai
आन देश की शान देश की,
देश की हम संतान हैं
तीन रंगों से रंगा तिरंगा,
अपनी ये पहचान हैं
آن دیش کی شان دیش کی ,
دیش کی ہم سنتان ہیں
تین رنگو سے رنگا ترنگا ,
اپنی یہ پہچان ہے -
---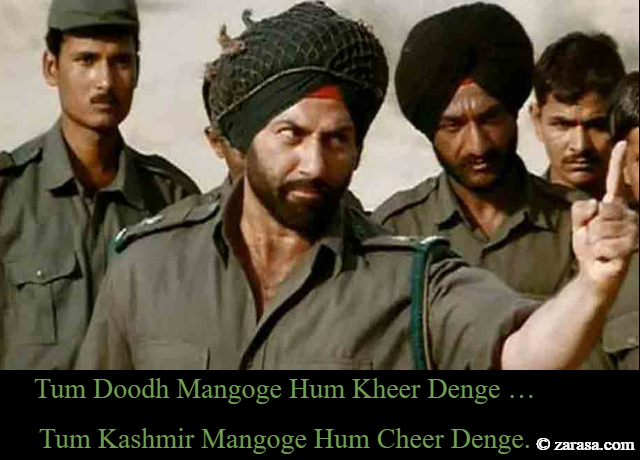 Tum Doodh Mangoge Hum Kheer Denge …
Tum Kashmir Mangoge Hum Cheer Denge.
तम दूध मांगोगे हम खीर देंगे ,
तम कश्मीर मांगोगे हम चीर देंगे। ....
تم دودھ مانگوگے ہم خیر دینگے
تم کشمیر مانگوگے ہم چیر دینگے
---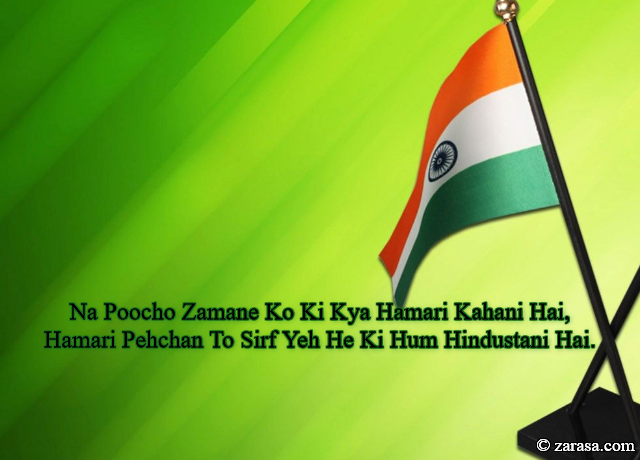 Na Poocho Zamane Ko Ki Kya Hamari Kahani Hai,
Hamari Pehchan To Sirf Yeh He Ki Hum Hindustani Hai.
ना पूछो जमाने को कि क्या हमारी कहानी है,
हमारी पहचान तो सिर्फ यह है कि हम हिंदुस्तानी हैं!
نہ پوچھو زمانے کو کی کیا ہماری کہانی ہے,
ہماری پہچان تو صرف یہ ہے کی ہم ہندوستانی ہے
---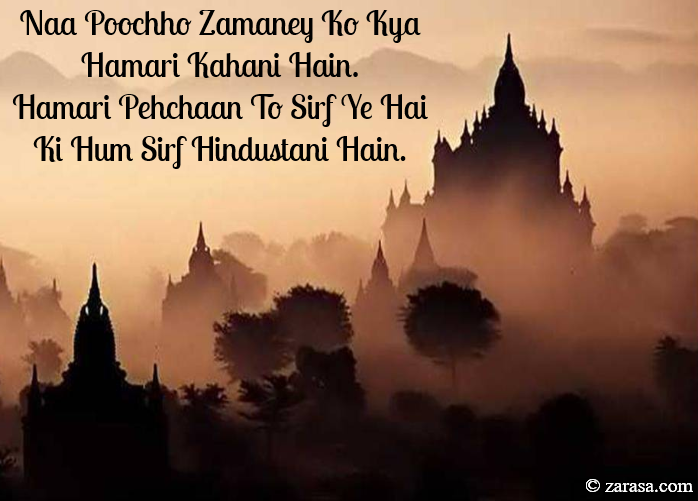 Naa Poochho Zamaney Ko Kya Hamari Kahani Hain.
Hamari Pehchaan To Sirf Ye Hai Ki Hum Sirf Hindustani Hain.
ना पूछो ज़माने को क्या हमारी कहानी हैं .
हमारी पहचान तो सिर्फ ये है की हम सिर्फ हिंदुस्तानी हैं .
نا پوچھو زمانے کو کیا ہماری کہانی ہیں .
ہماری پہچان تو صرف یہ ہے کی ہم صرف ہندوستانی ہیں .
---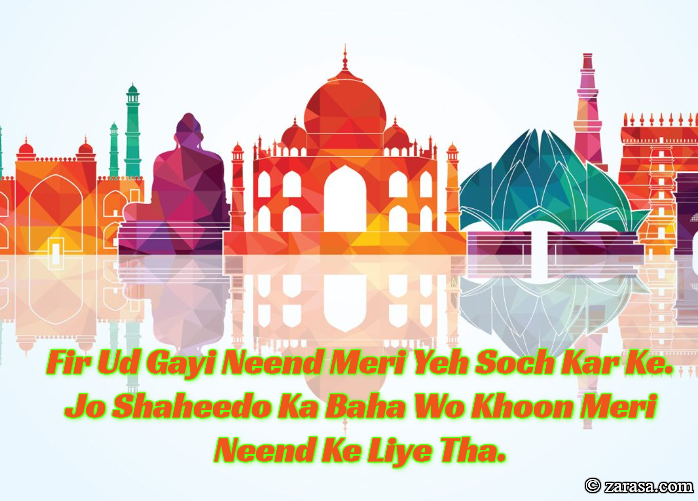 Fir Ud Gayi Neend Meri Yeh Soch Kar Ke.
Jo Shaheedo Ka Baha Wo Khoon Meri Neend Ke Liye Tha.
फिर उड़ गयी नींद मेरी यह सोच कर के .
जो शहीदों का बहा वो खून मेरी नींद के लिए था .
فر اد گی نیند میری یہ سوچ کر کے .
جو شہیدو کا بہا وو خون میری نیند کے لئے تھا .
---