Shayari for India (Country) "Maru Toh Tiranga Kafan Ho Mera."
|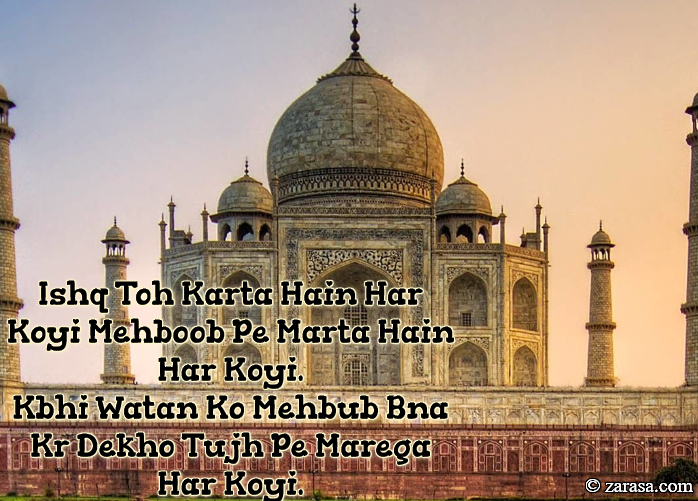 Ishq Toh Karta Hain Har Koyi Mehboob Pe Marta Hain Har Koyi.
Kbhi Watan Ko Mehbub Bna Kr Dekho Tujh Pe Marega Har Koyi.
इश्क़ तोह करता हैं हर कोई मेहबूब पे मरता हैं हर कोई .
कभी वतन को मेहबूब बना कर देखो तुझ पे मरेगा हर कोई .
عشق ٹوہ کرتا ہیں ہر کویی محبوب پی مارتا ہیں ہر کویی .
کبھی وطن کو محبوب بنا کر دیکھو تجھ پی مریگا ہر کویی .
---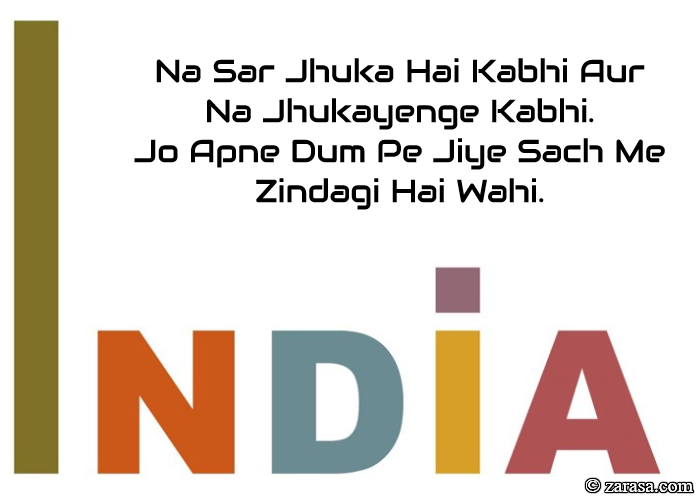 Na Sar Jhuka Hai Kabhi Aur Na Jhukayenge Kabhi.
Jo Apne Dum Pe Jiye Sach Me Zindagi Hai Wahi.
ना सर झुका है कभी और ना झुकायेंगे कभी .
जो अपने दम पे जिए सच में ज़िन्दगी है वही .
نہا سر جھکا ہے کبھی اور نہ جھکینگے کبھی .
جو اپنے دم پی جی سچ مے زندگی ہے وہی .
---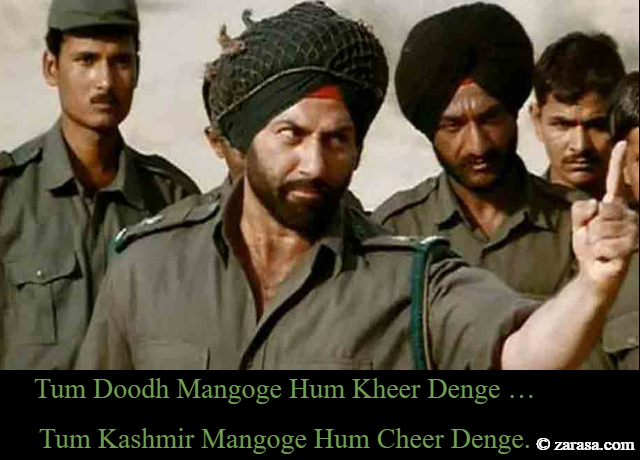 Tum Doodh Mangoge Hum Kheer Denge …
Tum Kashmir Mangoge Hum Cheer Denge.
तम दूध मांगोगे हम खीर देंगे ,
तम कश्मीर मांगोगे हम चीर देंगे। ....
تم دودھ مانگوگے ہم خیر دینگے
تم کشمیر مانگوگے ہم چیر دینگے
---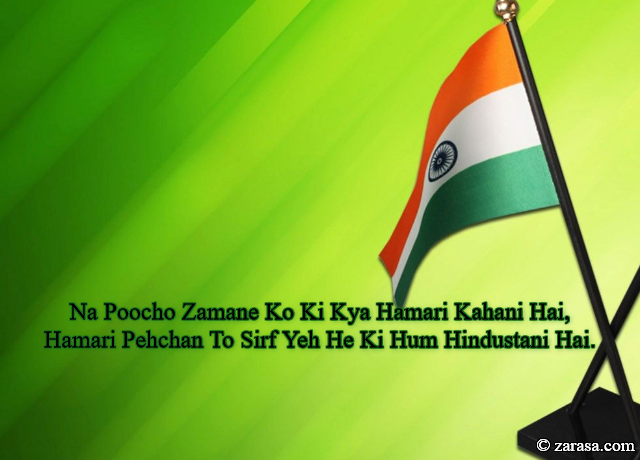 Na Poocho Zamane Ko Ki Kya Hamari Kahani Hai,
Hamari Pehchan To Sirf Yeh He Ki Hum Hindustani Hai.
ना पूछो जमाने को कि क्या हमारी कहानी है,
हमारी पहचान तो सिर्फ यह है कि हम हिंदुस्तानी हैं!
نہ پوچھو زمانے کو کی کیا ہماری کہانی ہے,
ہماری پہچان تو صرف یہ ہے کی ہم ہندوستانی ہے
---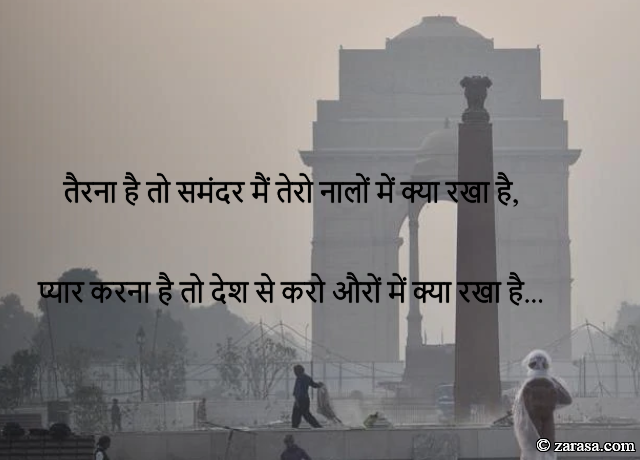 Terna Hai To Samandar Me Tero Naalon Me Kya Rakha Hai,
Pyar Karna Hai To Desh Se Karo Auron Me Kya Rakha Hai...
तैरना है तो समंदर मैं तेरो नालों मैं क्या रखा है,
प्यार करना है तो देश से करो औरों मैं क्या रखा है...
تیرنا ہے تو سمندر می تھرو نالوں میں کیا رکھا ہے'
پیار کرنا ہے تو دیش میں کرو آوروں میں کیا رکھا ہے -
---