Shayari for India (Country) "Maru Toh Tiranga Kafan Ho Mera."
|
Mere Desh Tujhko Naman Hai Mera,
Jeeon Toh Zubaan Par Naam Ho Tera,
Maru Toh Tiranga Kafan Ho Mera.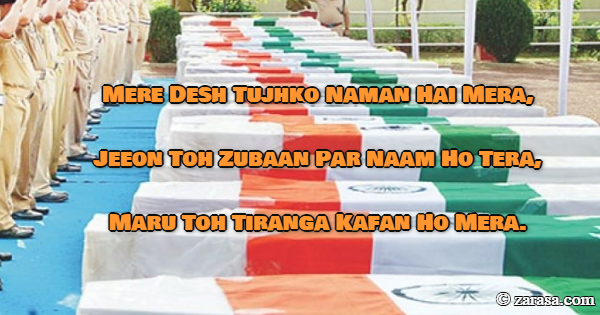 ---

मेरे देश तुझको नमन है मेरा,
जीऊं तो जुबां पर नाम हो तेरा,
मरूं तो तिरंगा कफन हो मेरा |


---

میرے دیش توجھکو نعمان ہے میرا
جیو تو زبان پر نام ہو تیرا
مرو تو ترنگا کفن ہو میرا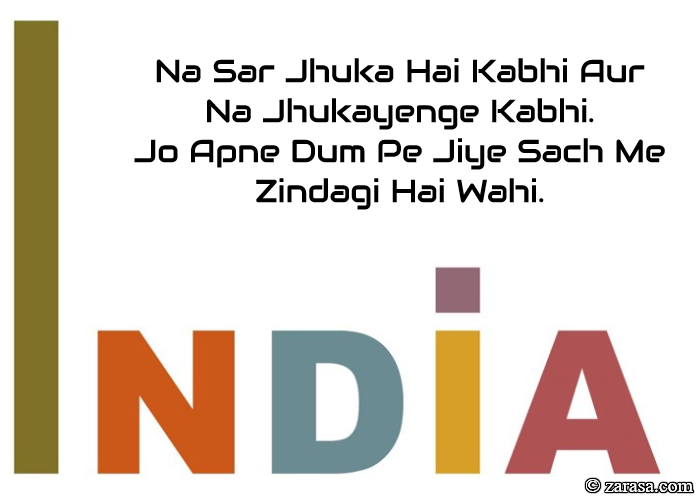 Na Sar Jhuka Hai Kabhi Aur Na Jhukayenge Kabhi.
Jo Apne Dum Pe Jiye Sach Me Zindagi Hai Wahi.
ना सर झुका है कभी और ना झुकायेंगे कभी .
जो अपने दम पे जिए सच में ज़िन्दगी है वही .
نہا سر جھکا ہے کبھی اور نہ جھکینگے کبھی .
جو اپنے دم پی جی سچ مے زندگی ہے وہی .
---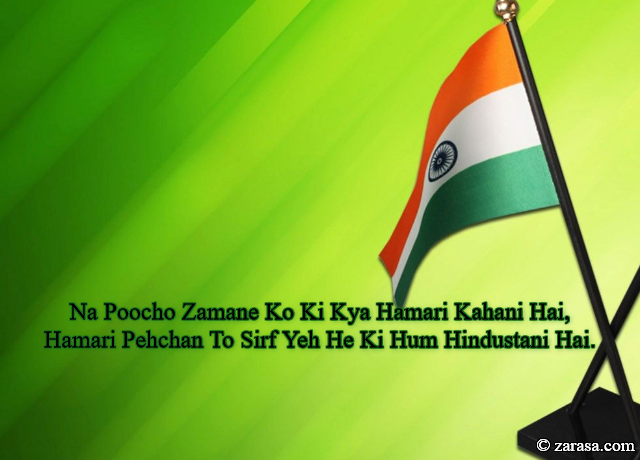 Na Poocho Zamane Ko Ki Kya Hamari Kahani Hai,
Hamari Pehchan To Sirf Yeh He Ki Hum Hindustani Hai.
ना पूछो जमाने को कि क्या हमारी कहानी है,
हमारी पहचान तो सिर्फ यह है कि हम हिंदुस्तानी हैं!
نہ پوچھو زمانے کو کی کیا ہماری کہانی ہے,
ہماری پہچان تو صرف یہ ہے کی ہم ہندوستانی ہے
---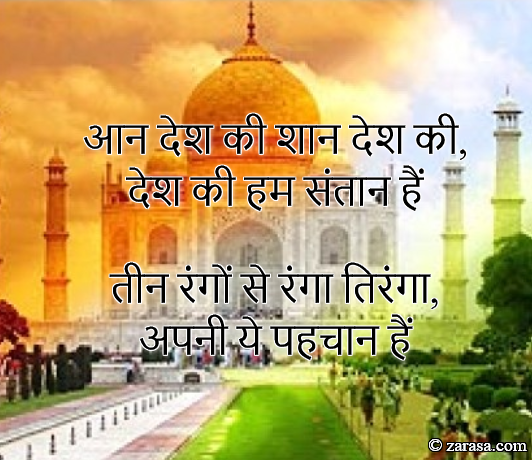 Aan Desh ki, Shaan Desh ki,
Desh ki Hum Santaan Hain

Teen Rango se Ranga Tiranga,
Apni Yeh Pehchaan Hai
आन देश की शान देश की,
देश की हम संतान हैं
तीन रंगों से रंगा तिरंगा,
अपनी ये पहचान हैं
آن دیش کی شان دیش کی ,
دیش کی ہم سنتان ہیں
تین رنگو سے رنگا ترنگا ,
اپنی یہ پہچان ہے -
---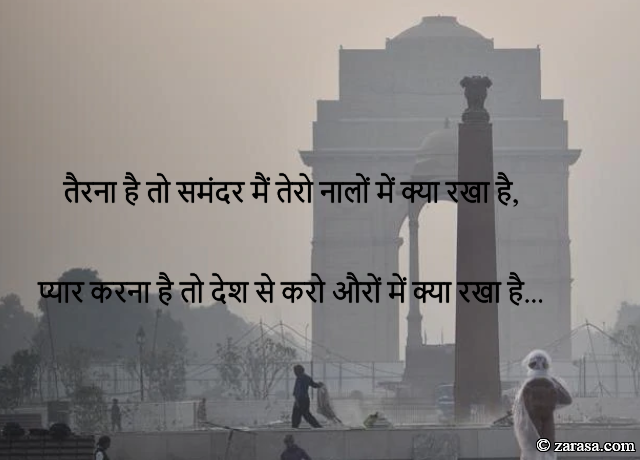 Terna Hai To Samandar Me Tero Naalon Me Kya Rakha Hai,
Pyar Karna Hai To Desh Se Karo Auron Me Kya Rakha Hai...
तैरना है तो समंदर मैं तेरो नालों मैं क्या रखा है,
प्यार करना है तो देश से करो औरों मैं क्या रखा है...
تیرنا ہے تو سمندر می تھرو نالوں میں کیا رکھا ہے'
پیار کرنا ہے تو دیش میں کرو آوروں میں کیا رکھا ہے -
---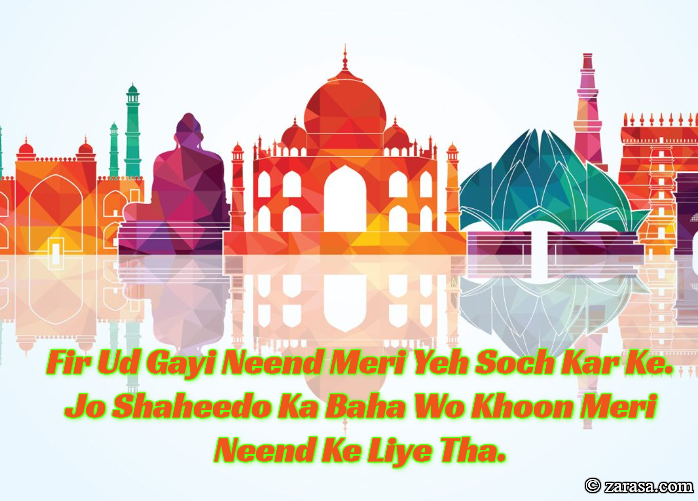 Fir Ud Gayi Neend Meri Yeh Soch Kar Ke.
Jo Shaheedo Ka Baha Wo Khoon Meri Neend Ke Liye Tha.
फिर उड़ गयी नींद मेरी यह सोच कर के .
जो शहीदों का बहा वो खून मेरी नींद के लिए था .
فر اد گی نیند میری یہ سوچ کر کے .
جو شہیدو کا بہا وو خون میری نیند کے لئے تھا .
---