Shayari for Country "Jawan Sarhad Par Khada Hai"
|
Mita Diya Hai Wajood Unka Jo Bhi Inse Bhida Hai.
Desh Ki Raksha Ka Sankalp Liye Jo Jawan Sarhad Par Khada Hai.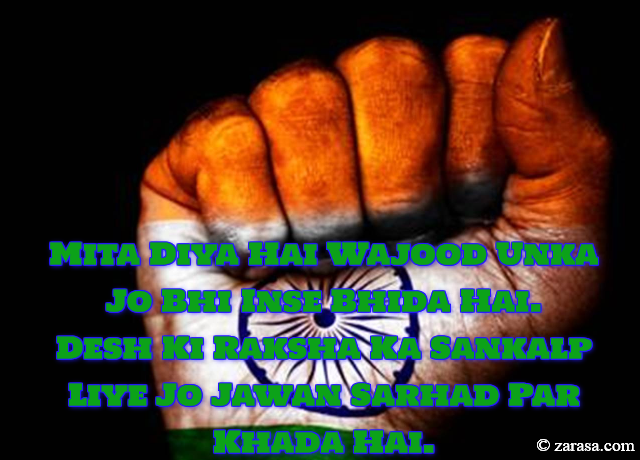 ---

मिटा दिया है वजूद उनका जो भी इनसे भिड़ा है .
देश की रक्षा का संकल्प लिए जो जवान सरहद पर खड़ा है .


---

مٹا دیا ہے وجود انکا جو بھی انسے بھدا ہے .
دیش کی رکشہ کا سنکلپ لئے جو جوان سرحد پر خدا ہے .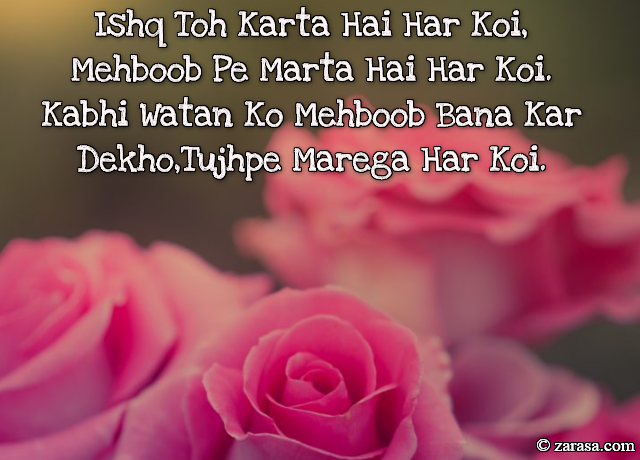 Ishq Toh Karta Hai Har Koi, Mehboob Pe Marta Hai Har Koi.
Kabhi Watan Ko Mehboob Bana Kar Dekho,Tujhpe Marega Har Koi.
इश्क़ तोह करता है हर कोई , मेहबूब पे मरता है हर कोई .
कभी वतन को मेहबूब बना कर देखो ,तुझपे मरेगा हर कोई .
عشق توہ کرتا ہے ہر کوئی , محبوب پی مارتا ہے ہر کوئی .
کبھی وطن کو محبوب بنا کر دیکھو ,تجھپے مریگا ہر کوئی .
---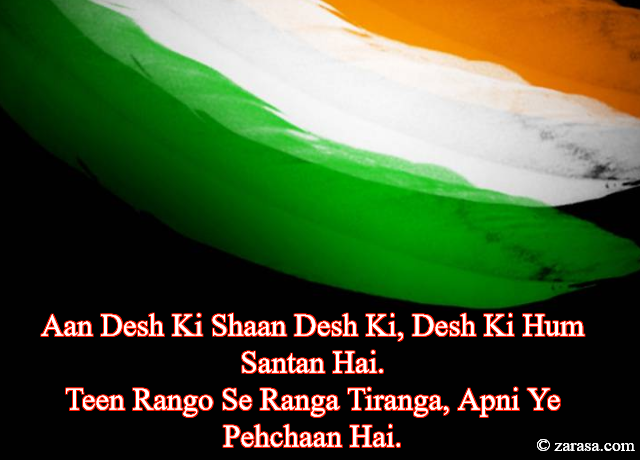 Aan Desh Ki Shaan Desh Ki Desh Ki Hum Santan Hai.
Teen Rango Se Ranga Tiranga Apni Ye Pehchaan Hai.
ाँ देश की शान देश की , देश की हम संतान है .
तीन रंगो से रंगा तिरंगा , अपनी ये पहचान है .
آن دیش کی شان دیش کی , دیش کی ہم سنتان ہے .
تین رنگو سے رنگ ترنگا , اپنی یہ پہچان ہے .
---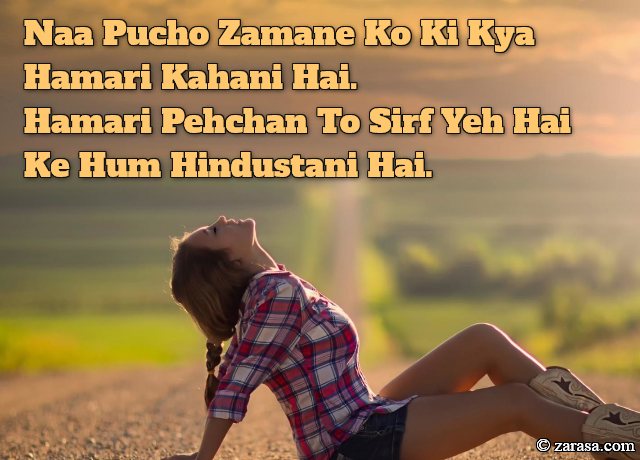 Naa Pucho Zamane Ko Ki Kya Hamari Kahani Hai.
Hamari Pehchan To Sirf Yeh Hai Ke Hum Hindustani Hai.
ना पूछो ज़माने को की क्या हमारी कहानी है .
हमारी पहचान तो सिर्फ यह है के हम हिंदुस्तानी है .
نا پوچھو زمانے کو کی کیا ہماری کہانی ہے .
ہماری پہچان تو صرف یہ ہے کے ہم ہندوستانی ہے .
---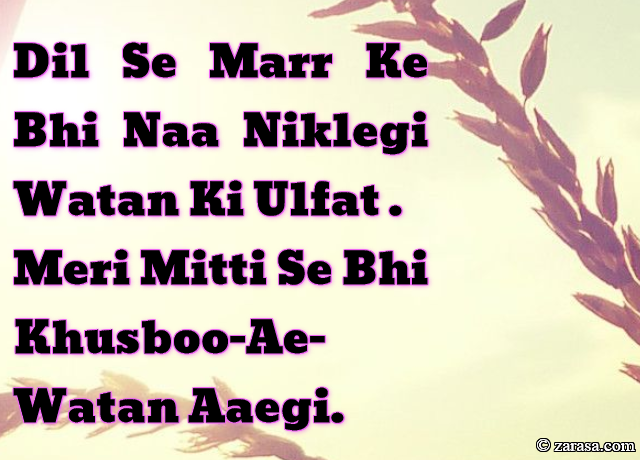 Dil Se Marr Ke Bhi Naa Niklegi Watan Ki Ulfat .
Meri Mitti Se Bhi Khusboo-Ae-Watan Aaegi.
दिल से मर के भी ना निकलेगी वतन की उल्फत .
मेरी मिटटी से भी खुसबू -ऐ -वतन आएगी .
دل سے مر کے بھی نا نکلیگی وطن کی الفت .
میری میٹی سے بھی خسبو -اے -وطن ایگی .
---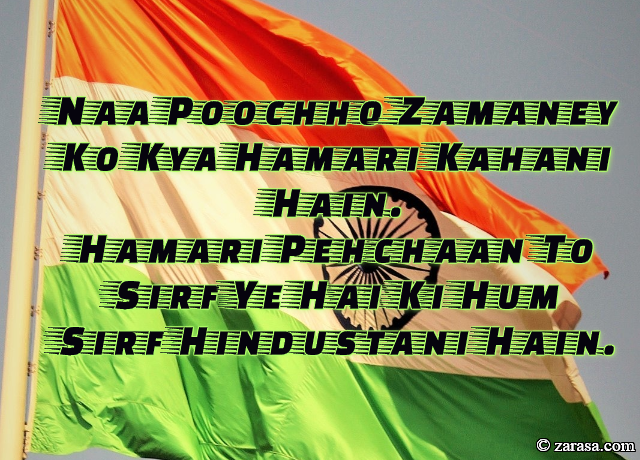 Naa Poochho Zamaney Ko Kya Hamari Kahani Hain.
Hamari Pehchaan To Sirf Ye Hai Ki Hum Sirf Hindustani Hain.
ना पूछो ज़माने को क्या हमारी कहानी हैं .
हमारी पहचान तो सिर्फ ये है की हम सिर्फ हिंदुस्तानी हैं .
نا پوچھو زمانے کو کیا ہماری کہانی ہیں .
ہماری پہچان تو صرف یہ ہے کی ہم صرف ہندوستانی ہیں .
---