Shayari for Country "Desh Ke Kaam"
|
Aao Jhuk Kar Salam Kare Unko Jinke Hisse Me Ye Mukam Aata Hai.
Khushnaseeb Hai Wo Khoon Jo Desh Ke Kaam Aata Hai.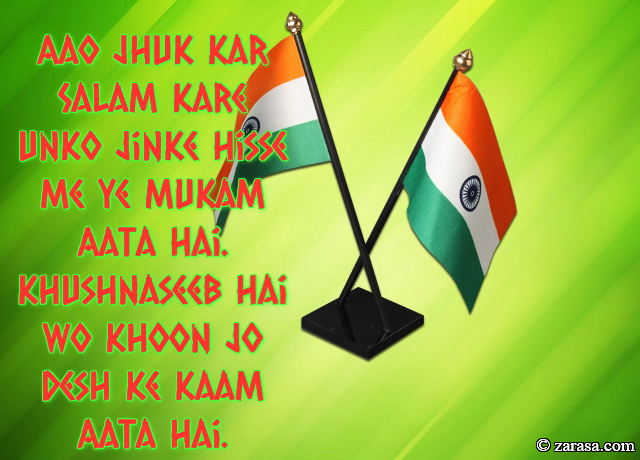 ---

आओ झुक कर सलाम करे उनको जिनके हिस्से में ये मुकाम आता है .
खुशनसीब है वो खून जो देश के काम आता है .


---

او جھک کر سلام کرے انکو جنکے حصّے مے یہ مکم آتا ہے .
خوشنصیب ہے وو خون جو دیش کے کام آتا ہے .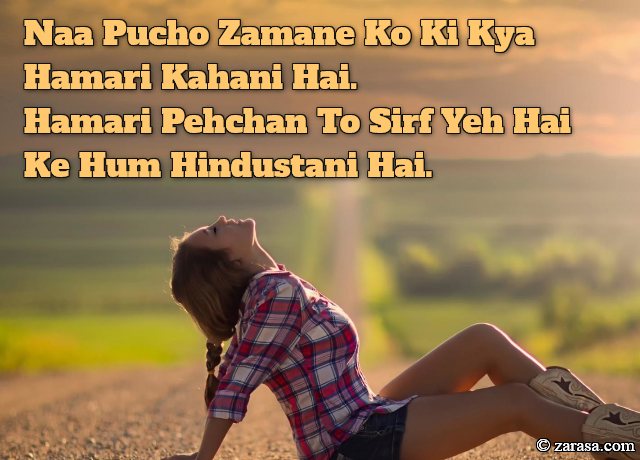 Naa Pucho Zamane Ko Ki Kya Hamari Kahani Hai.
Hamari Pehchan To Sirf Yeh Hai Ke Hum Hindustani Hai.
ना पूछो ज़माने को की क्या हमारी कहानी है .
हमारी पहचान तो सिर्फ यह है के हम हिंदुस्तानी है .
نا پوچھو زمانے کو کی کیا ہماری کہانی ہے .
ہماری پہچان تو صرف یہ ہے کے ہم ہندوستانی ہے .
---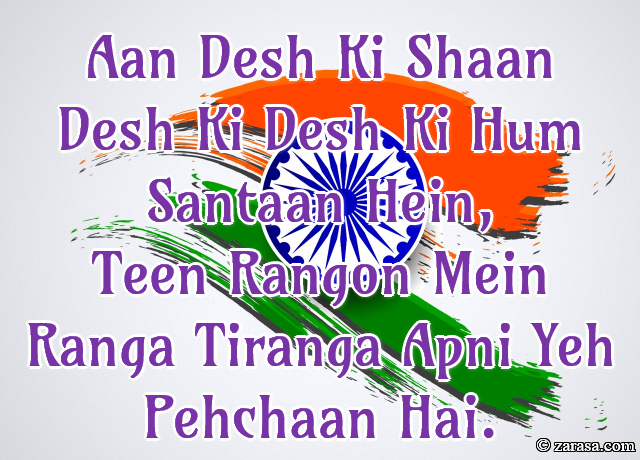 Aan Desh Ki Shaan Desh Ki Desh Ki Hum Santaan Hein,
Teen Rangon Mein Ranga Tiranga Apni Yeh Pehchaan Hai.
ाँ देश की शान देश की देश की हम संतान हैं ,
तीन रंगों में रंगा तिरंगा अपनी यह पहचान है .
ان دیش کی شان دیش کی دیش کی ہم سنتان ہیں ,
تین رنگوں میں رنگ ترنگا اپنی یہ پہچان ہے .
---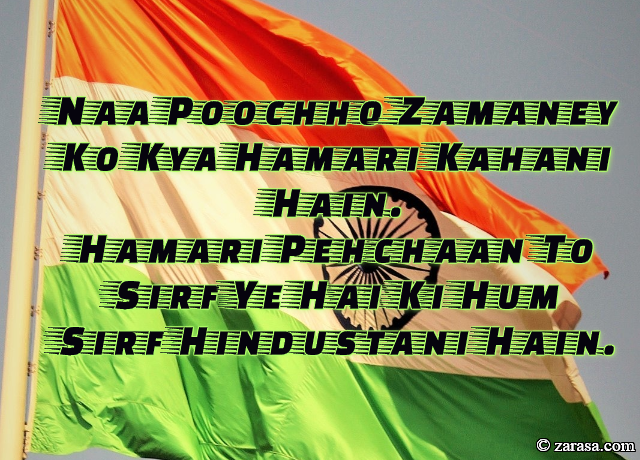 Naa Poochho Zamaney Ko Kya Hamari Kahani Hain.
Hamari Pehchaan To Sirf Ye Hai Ki Hum Sirf Hindustani Hain.
ना पूछो ज़माने को क्या हमारी कहानी हैं .
हमारी पहचान तो सिर्फ ये है की हम सिर्फ हिंदुस्तानी हैं .
نا پوچھو زمانے کو کیا ہماری کہانی ہیں .
ہماری پہچان تو صرف یہ ہے کی ہم صرف ہندوستانی ہیں .
---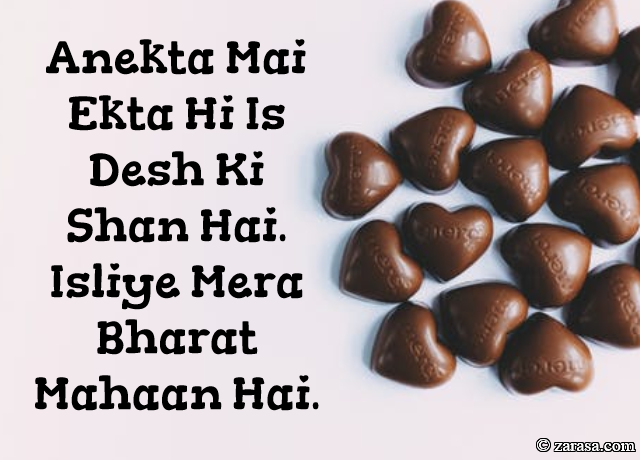 Anekta Mai Ekta Hi Is Desh Ki Shan Hai.
Isliye Mera Bharat Mahaan Hai.
अनेकता मैं एकता ही इस देश की शान है .
इसलिए मेरा भारत महान है .
انیکتا می ایکتا ہی اس دیش کی شان ہے .
اسلئے میرا بھارت مہان ہے .
---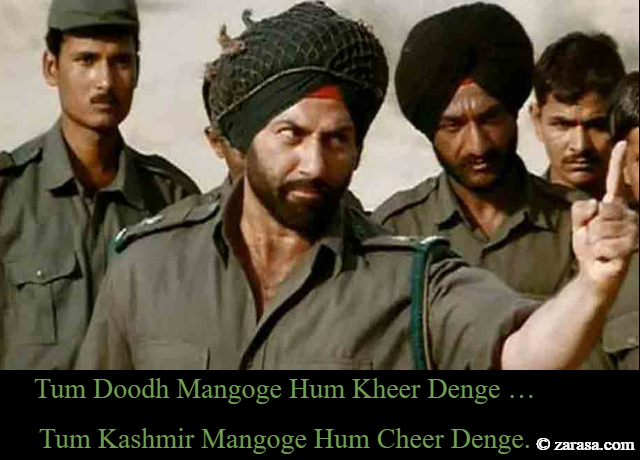 Tum Doodh Mangoge Hum Kheer Denge …
Tum Kashmir Mangoge Hum Cheer Denge.
तम दूध मांगोगे हम खीर देंगे ,
तम कश्मीर मांगोगे हम चीर देंगे। ....
تم دودھ مانگوگے ہم خیر دینگے
تم کشمیر مانگوگے ہم چیر دینگے
---