Shayari for Country "Desh Ke Kaam"
|
Aao Jhuk Kar Salam Kare Unko Jinke Hisse Me Ye Mukam Aata Hai.
Khushnaseeb Hai Wo Khoon Jo Desh Ke Kaam Aata Hai.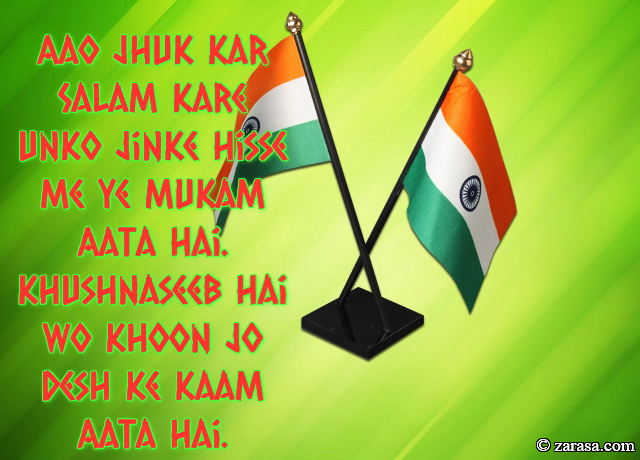 ---

आओ झुक कर सलाम करे उनको जिनके हिस्से में ये मुकाम आता है .
खुशनसीब है वो खून जो देश के काम आता है .


---

او جھک کر سلام کرے انکو جنکے حصّے مے یہ مکم آتا ہے .
خوشنصیب ہے وو خون جو دیش کے کام آتا ہے .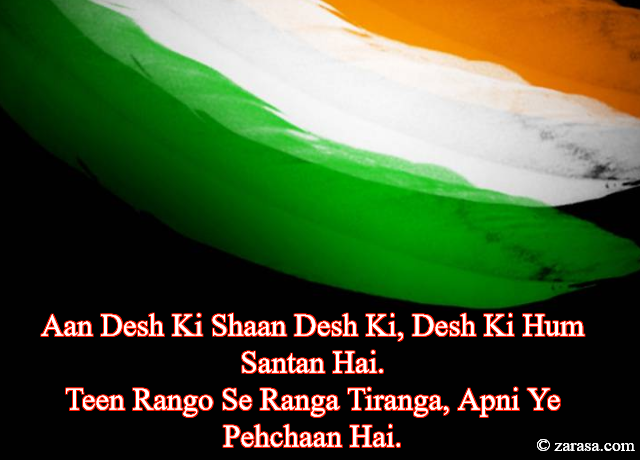 Aan Desh Ki Shaan Desh Ki Desh Ki Hum Santan Hai.
Teen Rango Se Ranga Tiranga Apni Ye Pehchaan Hai.
ाँ देश की शान देश की , देश की हम संतान है .
तीन रंगो से रंगा तिरंगा , अपनी ये पहचान है .
آن دیش کی شان دیش کی , دیش کی ہم سنتان ہے .
تین رنگو سے رنگ ترنگا , اپنی یہ پہچان ہے .
---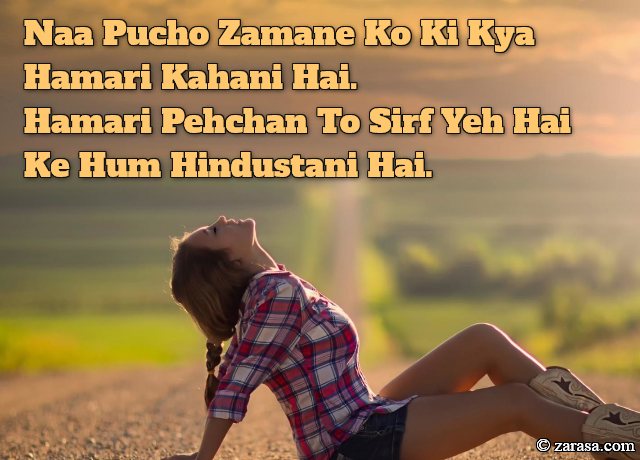 Naa Pucho Zamane Ko Ki Kya Hamari Kahani Hai.
Hamari Pehchan To Sirf Yeh Hai Ke Hum Hindustani Hai.
ना पूछो ज़माने को की क्या हमारी कहानी है .
हमारी पहचान तो सिर्फ यह है के हम हिंदुस्तानी है .
نا پوچھو زمانے کو کی کیا ہماری کہانی ہے .
ہماری پہچان تو صرف یہ ہے کے ہم ہندوستانی ہے .
---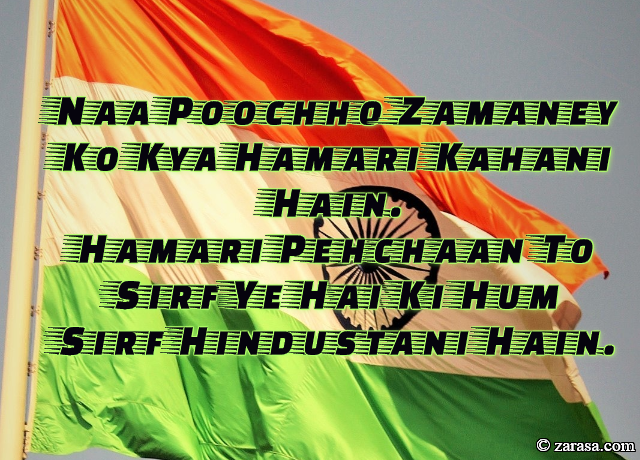 Naa Poochho Zamaney Ko Kya Hamari Kahani Hain.
Hamari Pehchaan To Sirf Ye Hai Ki Hum Sirf Hindustani Hain.
ना पूछो ज़माने को क्या हमारी कहानी हैं .
हमारी पहचान तो सिर्फ ये है की हम सिर्फ हिंदुस्तानी हैं .
نا پوچھو زمانے کو کیا ہماری کہانی ہیں .
ہماری پہچان تو صرف یہ ہے کی ہم صرف ہندوستانی ہیں .
---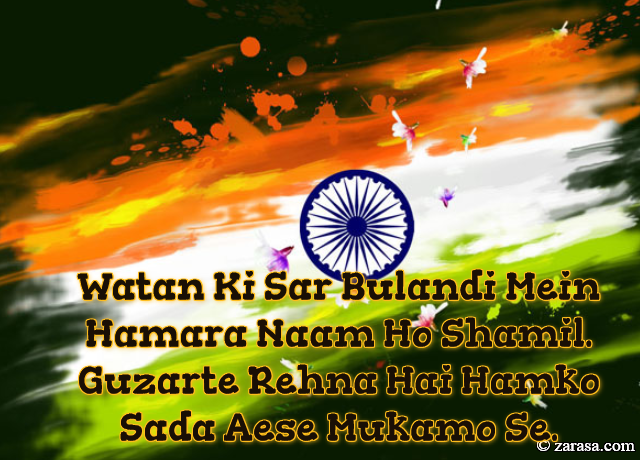 Watan Ki Sar Bulandi Mein Hamara Naam Ho Shamil.
Guzarte Rehna Hai Hamko Sada Aese Mukamo Se.
वतन की सर बुलंदी में हमारा नाम हो शामिल .
गुज़रते रहना है हमको सदा ऐसे मुकामो से .
وطن کی سر بلندی میں ہمارا نام ہو شامل .
گزرتے رہنا ہے ہمکو سدہ ایسے مکمو سے .
---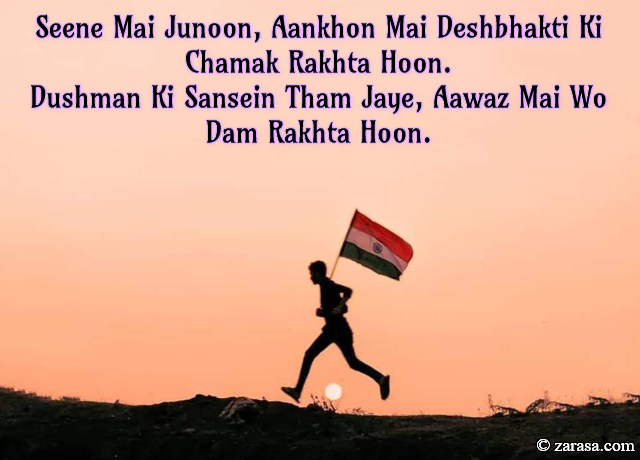 Seene Mai Junoon, Aankhon Mai Deshbhakti Ki Chamak Rakhta Hoon.
Dushman Ki Sansein Tham Jaye, Aawaz Mai Wo Dam Rakhta Hoon.
सीने मैं जूनून , आँखों मैं देशभक्ति की चमक रखता हूँ .
दुश्मन की सांसें थम जाये , आवाज़ मैं वो दम रखता हूँ .
سینے می جنوں , آنکھوں می دشبھکتی کی چمک رکھتا ہوں .
دشمن کی سانسیں تھام جائے , آواز می وو ڈیم رکھتا ہوں .
---