Shayari for Country "Desh Ke Kaam"
|
Aao Jhuk Kar Salam Kare Unko Jinke Hisse Me Ye Mukam Aata Hai.
Khushnaseeb Hai Wo Khoon Jo Desh Ke Kaam Aata Hai.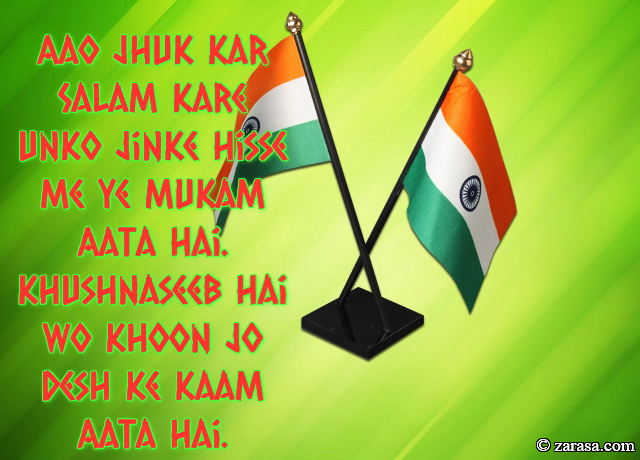 ---

आओ झुक कर सलाम करे उनको जिनके हिस्से में ये मुकाम आता है .
खुशनसीब है वो खून जो देश के काम आता है .


---

او جھک کر سلام کرے انکو جنکے حصّے مے یہ مکم آتا ہے .
خوشنصیب ہے وو خون جو دیش کے کام آتا ہے .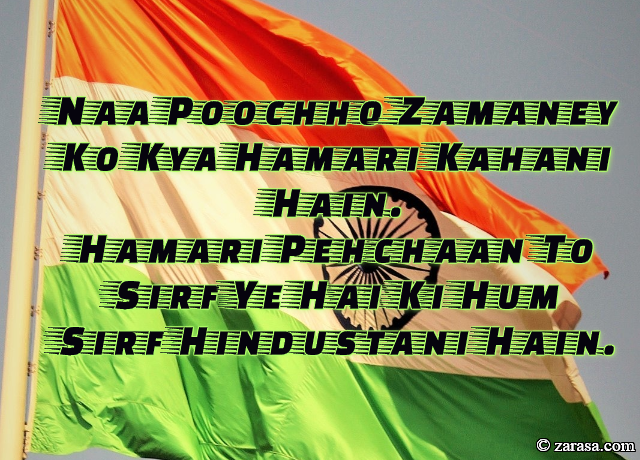 Naa Poochho Zamaney Ko Kya Hamari Kahani Hain.
Hamari Pehchaan To Sirf Ye Hai Ki Hum Sirf Hindustani Hain.
ना पूछो ज़माने को क्या हमारी कहानी हैं .
हमारी पहचान तो सिर्फ ये है की हम सिर्फ हिंदुस्तानी हैं .
نا پوچھو زمانے کو کیا ہماری کہانی ہیں .
ہماری پہچان تو صرف یہ ہے کی ہم صرف ہندوستانی ہیں .
---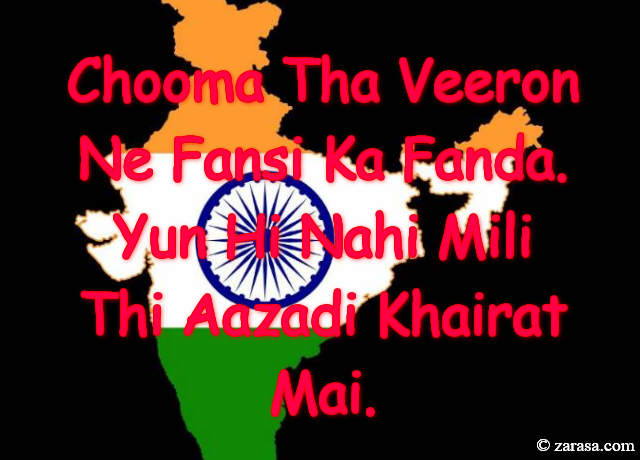 Chooma Tha Veeron Ne Fansi Ka Fanda.
Yun Hi Nahi Mili Thi Aazadi Khairat Mai.
चूमा था वीरों ने फांसी का फंदा .
यूँ ही नहीं मिली थी आज़ादी खैरात मै .
چوما تھا ویروں نے پھانسی کا پھندہ .
یوں ہی نہیں ملی تھی آزادی خیرات می .
---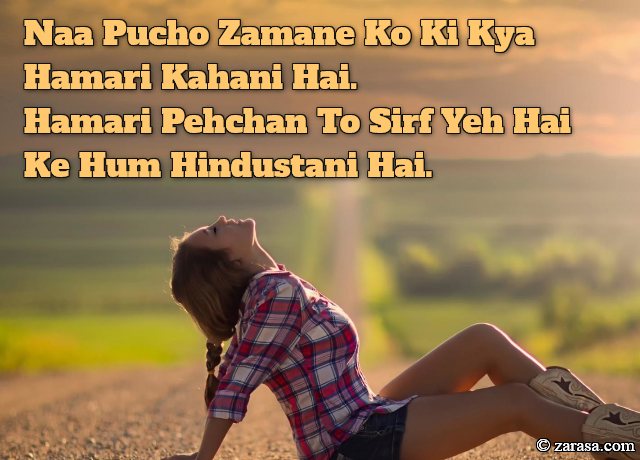 Naa Pucho Zamane Ko Ki Kya Hamari Kahani Hai.
Hamari Pehchan To Sirf Yeh Hai Ke Hum Hindustani Hai.
ना पूछो ज़माने को की क्या हमारी कहानी है .
हमारी पहचान तो सिर्फ यह है के हम हिंदुस्तानी है .
نا پوچھو زمانے کو کی کیا ہماری کہانی ہے .
ہماری پہچان تو صرف یہ ہے کے ہم ہندوستانی ہے .
---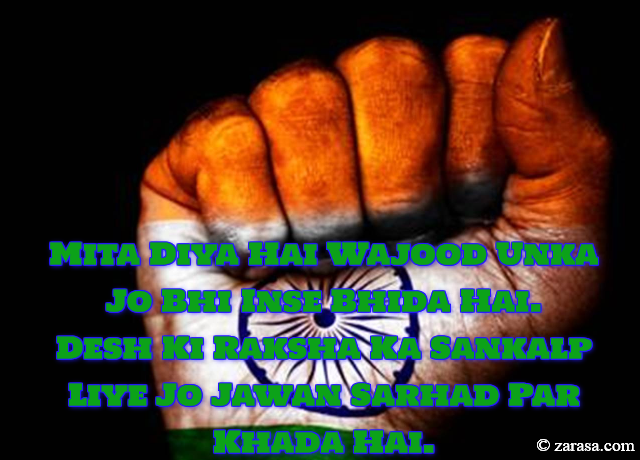 Mita Diya Hai Wajood Unka Jo Bhi Inse Bhida Hai.
Desh Ki Raksha Ka Sankalp Liye Jo Jawan Sarhad Par Khada Hai.
मिटा दिया है वजूद उनका जो भी इनसे भिड़ा है .
देश की रक्षा का संकल्प लिए जो जवान सरहद पर खड़ा है .
مٹا دیا ہے وجود انکا جو بھی انسے بھدا ہے .
دیش کی رکشہ کا سنکلپ لئے جو جوان سرحد پر خدا ہے .
---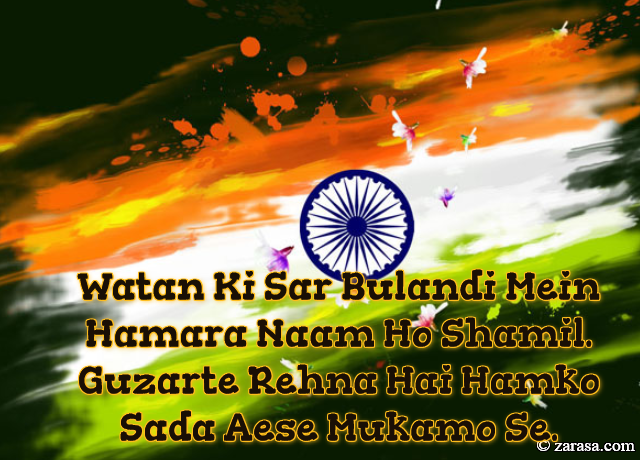 Watan Ki Sar Bulandi Mein Hamara Naam Ho Shamil.
Guzarte Rehna Hai Hamko Sada Aese Mukamo Se.
वतन की सर बुलंदी में हमारा नाम हो शामिल .
गुज़रते रहना है हमको सदा ऐसे मुकामो से .
وطن کی سر بلندی میں ہمارا نام ہو شامل .
گزرتے رہنا ہے ہمکو سدہ ایسے مکمو سے .
---