Shayari for Country"Pyaar Karna Hai Toh Desh Se Karo"
|
Tairna Hai Toh Samandar Mai Tairo Naalo Mai Kya Rakha Hai.
Pyaar Karna Hai Toh Desh Se Karo Auro Mai Kya Rakha Hai.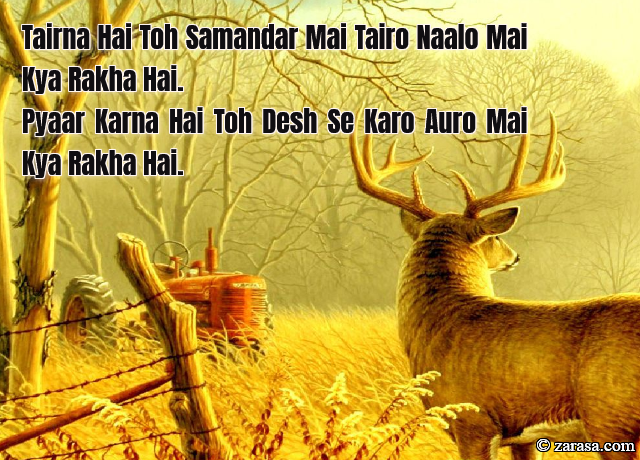 ---

तैरना है तो समंदर मै तैरो नालो मै क्या रखा है .
प्यार करना है तो देश से करो औरो मै क्या रखा है .


---

تیرنا ہے تو سمندر می تیرو نالو می کیا رکھا ہے .
پیار کرنا ہے تو دیش سے کرو اورو می کیا رکھا ہے .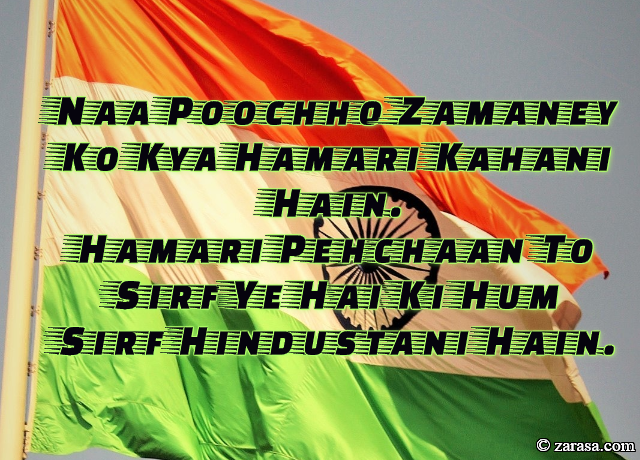 Naa Poochho Zamaney Ko Kya Hamari Kahani Hain.
Hamari Pehchaan To Sirf Ye Hai Ki Hum Sirf Hindustani Hain.
ना पूछो ज़माने को क्या हमारी कहानी हैं .
हमारी पहचान तो सिर्फ ये है की हम सिर्फ हिंदुस्तानी हैं .
نا پوچھو زمانے کو کیا ہماری کہانی ہیں .
ہماری پہچان تو صرف یہ ہے کی ہم صرف ہندوستانی ہیں .
---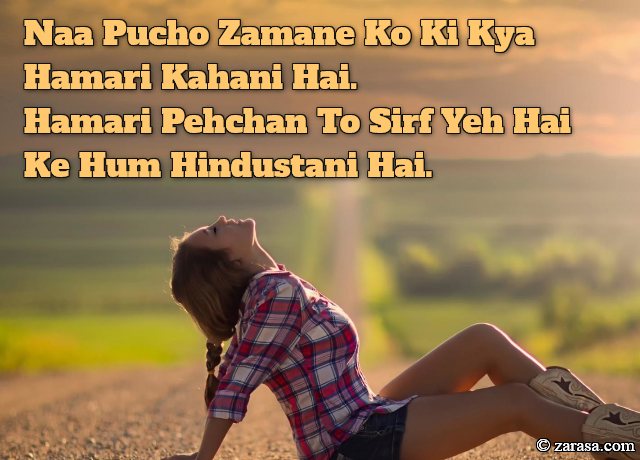 Naa Pucho Zamane Ko Ki Kya Hamari Kahani Hai.
Hamari Pehchan To Sirf Yeh Hai Ke Hum Hindustani Hai.
ना पूछो ज़माने को की क्या हमारी कहानी है .
हमारी पहचान तो सिर्फ यह है के हम हिंदुस्तानी है .
نا پوچھو زمانے کو کی کیا ہماری کہانی ہے .
ہماری پہچان تو صرف یہ ہے کے ہم ہندوستانی ہے .
---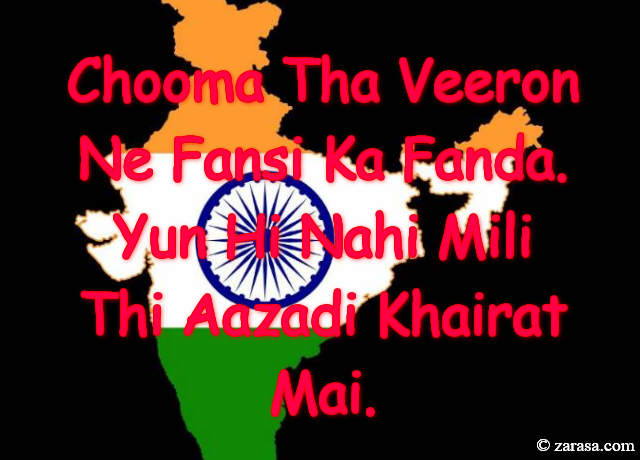 Chooma Tha Veeron Ne Fansi Ka Fanda.
Yun Hi Nahi Mili Thi Aazadi Khairat Mai.
चूमा था वीरों ने फांसी का फंदा .
यूँ ही नहीं मिली थी आज़ादी खैरात मै .
چوما تھا ویروں نے پھانسی کا پھندہ .
یوں ہی نہیں ملی تھی آزادی خیرات می .
---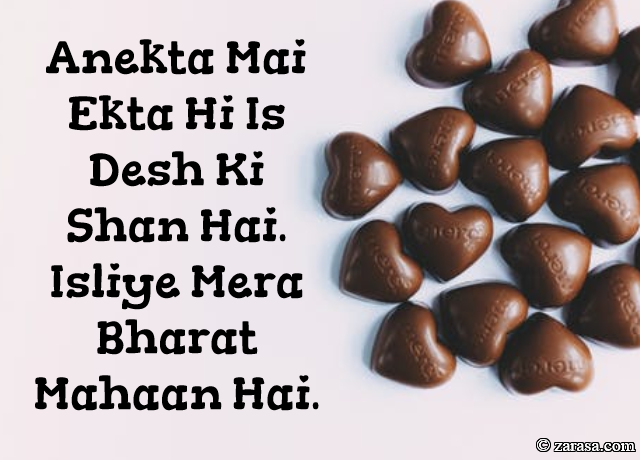 Anekta Mai Ekta Hi Is Desh Ki Shan Hai.
Isliye Mera Bharat Mahaan Hai.
अनेकता मैं एकता ही इस देश की शान है .
इसलिए मेरा भारत महान है .
انیکتا می ایکتا ہی اس دیش کی شان ہے .
اسلئے میرا بھارت مہان ہے .
---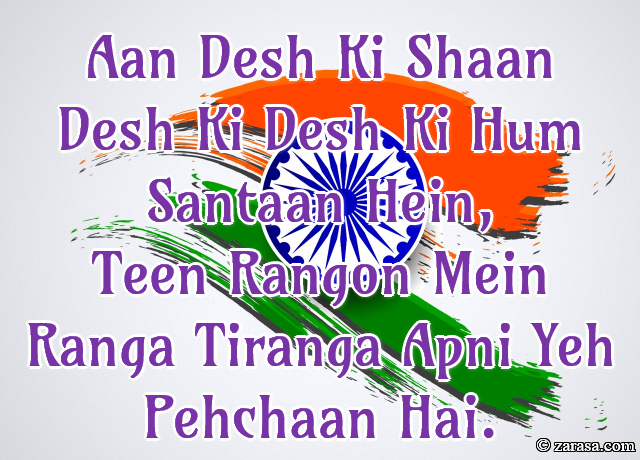 Aan Desh Ki Shaan Desh Ki Desh Ki Hum Santaan Hein,
Teen Rangon Mein Ranga Tiranga Apni Yeh Pehchaan Hai.
ाँ देश की शान देश की देश की हम संतान हैं ,
तीन रंगों में रंगा तिरंगा अपनी यह पहचान है .
ان دیش کی شان دیش کی دیش کی ہم سنتان ہیں ,
تین رنگوں میں رنگ ترنگا اپنی یہ پہچان ہے .
---