Shayari for Country"Pyaar Karna Hai Toh Desh Se Karo"
|
Tairna Hai Toh Samandar Mai Tairo Naalo Mai Kya Rakha Hai.
Pyaar Karna Hai Toh Desh Se Karo Auro Mai Kya Rakha Hai.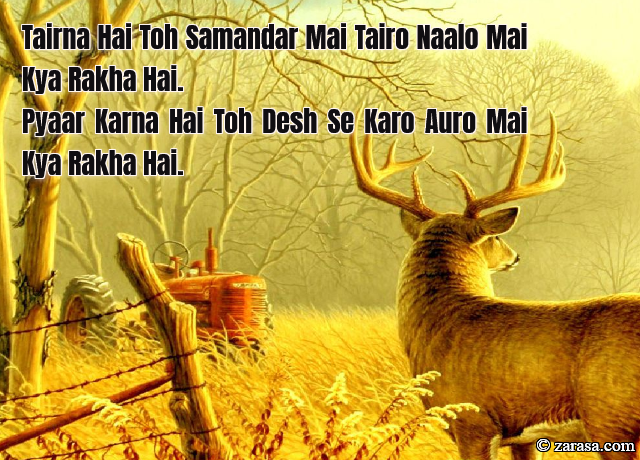 ---

तैरना है तो समंदर मै तैरो नालो मै क्या रखा है .
प्यार करना है तो देश से करो औरो मै क्या रखा है .


---

تیرنا ہے تو سمندر می تیرو نالو می کیا رکھا ہے .
پیار کرنا ہے تو دیش سے کرو اورو می کیا رکھا ہے .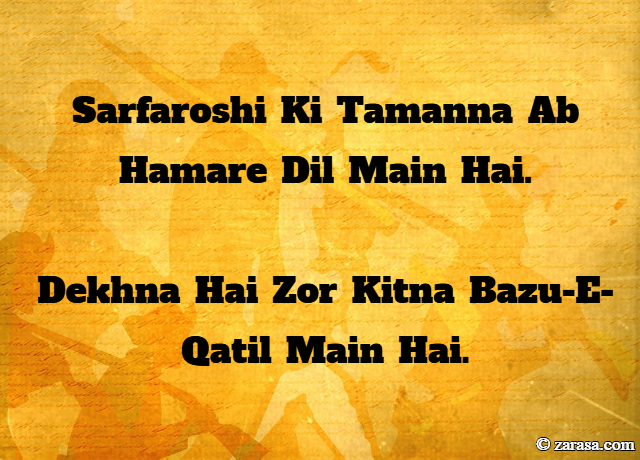 Sarfaroshi Ki Tamanna Ab Hamare Dil Main Hai.
Dekhna Hai Zor Kitna Bazu-E-Qatil Main Hai.

सरफ़रोशी की तमन्ना अब हमारे दिल में है।

देखना है ज़ोर कितना बाज़ू-ए-क़ातिल में है।
سرفروشی کی تمنّا اب ہمارے دل می ہے
دیکھنا ہے زور کتنا بازو ے قاتل می ہے
---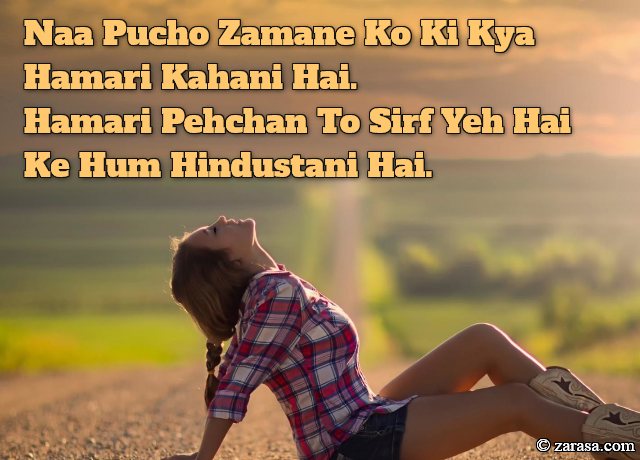 Naa Pucho Zamane Ko Ki Kya Hamari Kahani Hai.
Hamari Pehchan To Sirf Yeh Hai Ke Hum Hindustani Hai.
ना पूछो ज़माने को की क्या हमारी कहानी है .
हमारी पहचान तो सिर्फ यह है के हम हिंदुस्तानी है .
نا پوچھو زمانے کو کی کیا ہماری کہانی ہے .
ہماری پہچان تو صرف یہ ہے کے ہم ہندوستانی ہے .
---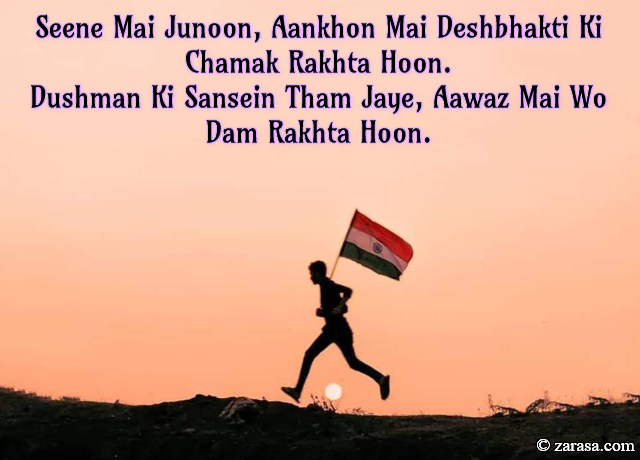 Seene Mai Junoon, Aankhon Mai Deshbhakti Ki Chamak Rakhta Hoon.
Dushman Ki Sansein Tham Jaye, Aawaz Mai Wo Dam Rakhta Hoon.
सीने मैं जूनून , आँखों मैं देशभक्ति की चमक रखता हूँ .
दुश्मन की सांसें थम जाये , आवाज़ मैं वो दम रखता हूँ .
سینے می جنوں , آنکھوں می دشبھکتی کی چمک رکھتا ہوں .
دشمن کی سانسیں تھام جائے , آواز می وو ڈیم رکھتا ہوں .
---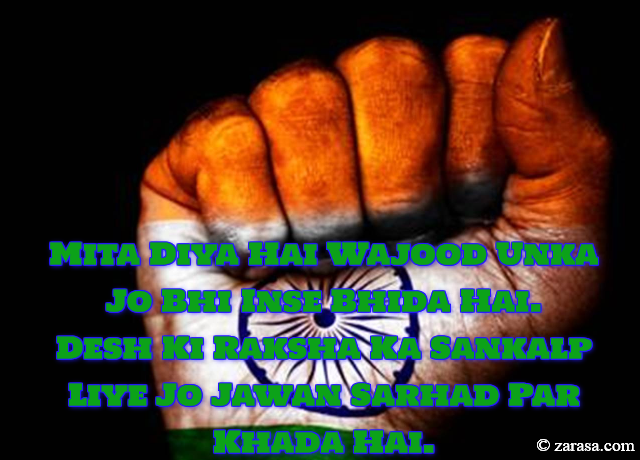 Mita Diya Hai Wajood Unka Jo Bhi Inse Bhida Hai.
Desh Ki Raksha Ka Sankalp Liye Jo Jawan Sarhad Par Khada Hai.
मिटा दिया है वजूद उनका जो भी इनसे भिड़ा है .
देश की रक्षा का संकल्प लिए जो जवान सरहद पर खड़ा है .
مٹا دیا ہے وجود انکا جو بھی انسے بھدا ہے .
دیش کی رکشہ کا سنکلپ لئے جو جوان سرحد پر خدا ہے .
---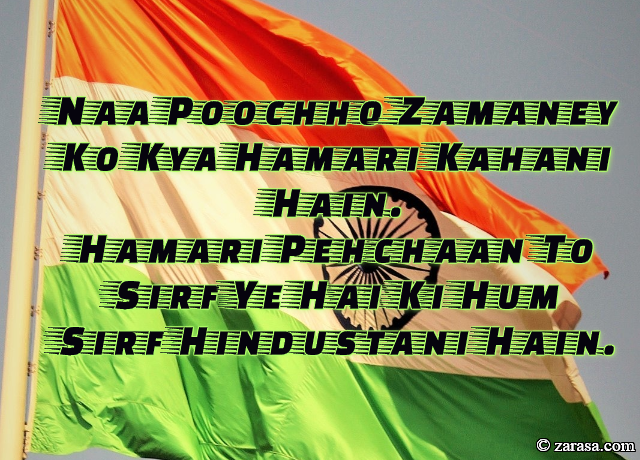 Naa Poochho Zamaney Ko Kya Hamari Kahani Hain.
Hamari Pehchaan To Sirf Ye Hai Ki Hum Sirf Hindustani Hain.
ना पूछो ज़माने को क्या हमारी कहानी हैं .
हमारी पहचान तो सिर्फ ये है की हम सिर्फ हिंदुस्तानी हैं .
نا پوچھو زمانے کو کیا ہماری کہانی ہیں .
ہماری پہچان تو صرف یہ ہے کی ہم صرف ہندوستانی ہیں .
---