Shayari for Country"Fir Udd Gayi Neend Meri Yeh Soch Kar"
|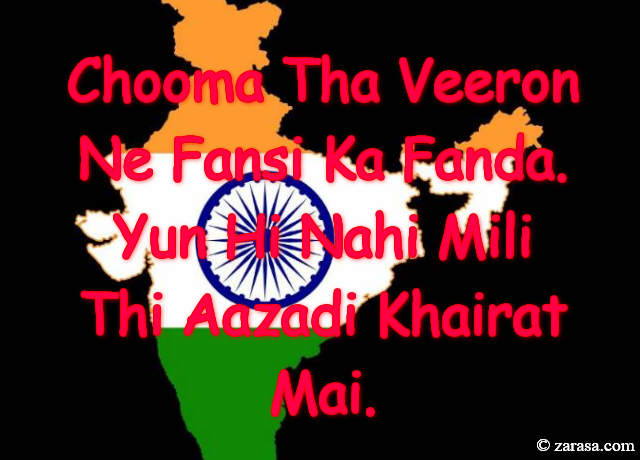 Chooma Tha Veeron Ne Fansi Ka Fanda.
Yun Hi Nahi Mili Thi Aazadi Khairat Mai.
चूमा था वीरों ने फांसी का फंदा .
यूँ ही नहीं मिली थी आज़ादी खैरात मै .
چوما تھا ویروں نے پھانسی کا پھندہ .
یوں ہی نہیں ملی تھی آزادی خیرات می .
---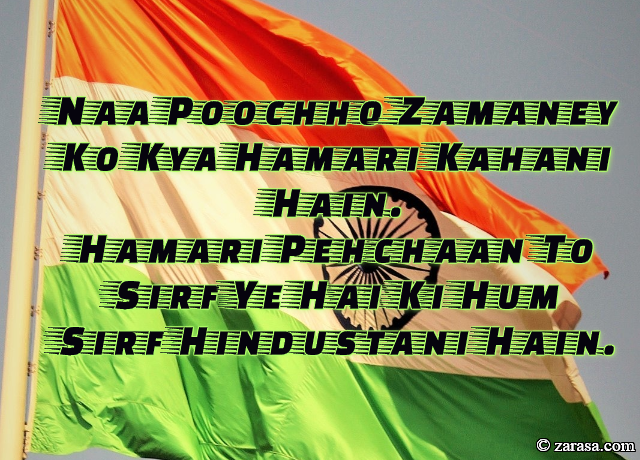 Naa Poochho Zamaney Ko Kya Hamari Kahani Hain.
Hamari Pehchaan To Sirf Ye Hai Ki Hum Sirf Hindustani Hain.
ना पूछो ज़माने को क्या हमारी कहानी हैं .
हमारी पहचान तो सिर्फ ये है की हम सिर्फ हिंदुस्तानी हैं .
نا پوچھو زمانے کو کیا ہماری کہانی ہیں .
ہماری پہچان تو صرف یہ ہے کی ہم صرف ہندوستانی ہیں .
---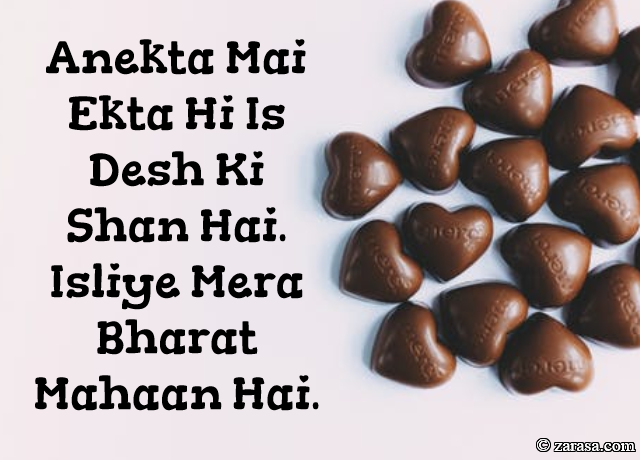 Anekta Mai Ekta Hi Is Desh Ki Shan Hai.
Isliye Mera Bharat Mahaan Hai.
अनेकता मैं एकता ही इस देश की शान है .
इसलिए मेरा भारत महान है .
انیکتا می ایکتا ہی اس دیش کی شان ہے .
اسلئے میرا بھارت مہان ہے .
---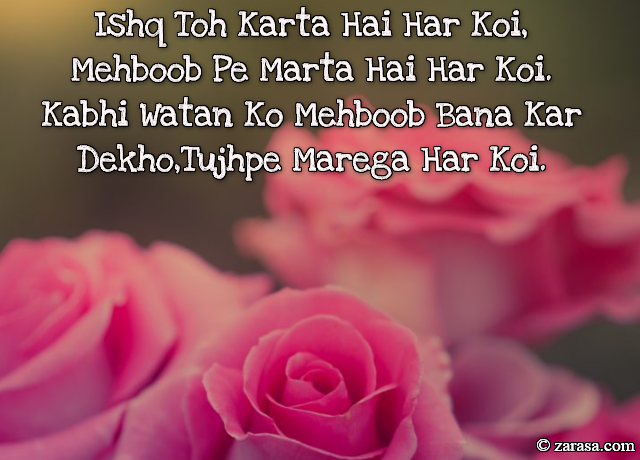 Ishq Toh Karta Hai Har Koi, Mehboob Pe Marta Hai Har Koi.
Kabhi Watan Ko Mehboob Bana Kar Dekho,Tujhpe Marega Har Koi.
इश्क़ तोह करता है हर कोई , मेहबूब पे मरता है हर कोई .
कभी वतन को मेहबूब बना कर देखो ,तुझपे मरेगा हर कोई .
عشق توہ کرتا ہے ہر کوئی , محبوب پی مارتا ہے ہر کوئی .
کبھی وطن کو محبوب بنا کر دیکھو ,تجھپے مریگا ہر کوئی .
---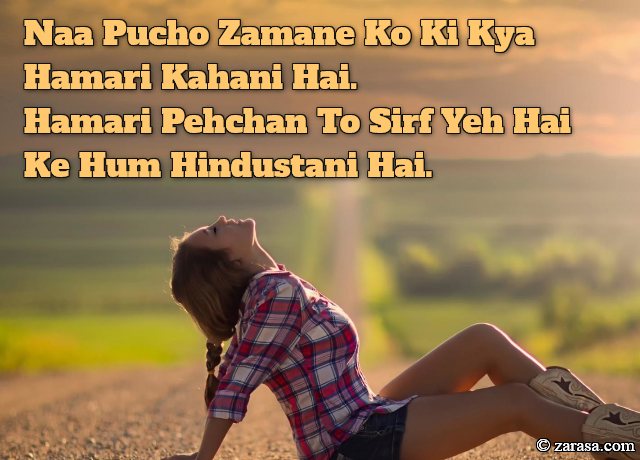 Naa Pucho Zamane Ko Ki Kya Hamari Kahani Hai.
Hamari Pehchan To Sirf Yeh Hai Ke Hum Hindustani Hai.
ना पूछो ज़माने को की क्या हमारी कहानी है .
हमारी पहचान तो सिर्फ यह है के हम हिंदुस्तानी है .
نا پوچھو زمانے کو کی کیا ہماری کہانی ہے .
ہماری پہچان تو صرف یہ ہے کے ہم ہندوستانی ہے .
---