Shayari for Dosti(Friendship) "खुशबू में एहसास होता है, दोस्ती का रिश्ता कुछ ख़ास होता है"
|
Kushboo Mein Ehsaas Hota Hai,
Dosti Ka Rista Kuch Khaas Hota Hai,
Har Baat Juba Se Kehna Mumkin Nahi,
Isliye To Dosti Ka Naam Vishwas Hota Hai.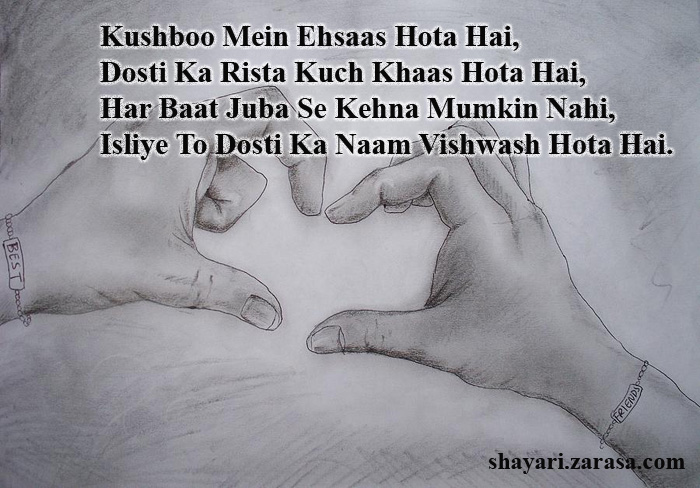 ---

खुशबू में एहसास होता है,
दोस्ती का रिश्ता कुछ ख़ास होता है,
हर बात ज़ुबां से कहना मुमकिन नहीं,
इसलिए तो दोस्ती का नाम विश्वास होता है.


---

خوشبو میں احساس ہوتا ہے،
دوستی کا رشتہ کچھ خاص ہوتا ہے،
ہر بات زباں سے کہنا ممکن نہیں،
لہذا تو دوستی کا نام وشواس ہوتا ہے.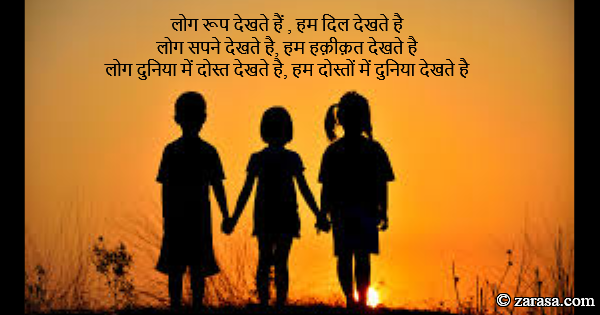 Log Roop Dekhte Hai , Hum Dil Dekhte Hai,
Log Sapne Dekhte Hai , Hum Haqiqat Dekhte Hai,
Log Duniya Mein Dost Dekhte Hai ,Hum Dosto Mein Duniya Dekhte Hai.
लोग रूप देखते हैं , हम दिल देखते है
लोग सपने देखते है, हम हक़ीक़त देखते है
लोग दुनिया में दोस्त देखते है, हम दोस्तों में दुनिया देखते है
لوگ روپ دیکھتے ہے, ہم دل دیکھتے ہے
لوگ سپنے دیکھتے, ہے ہم حقیقت دیکھتے ہے
لوگ دنیا میں دوست دیکھتے, ہے ہم دوستوں میں دنیا دیکھتے ہے
---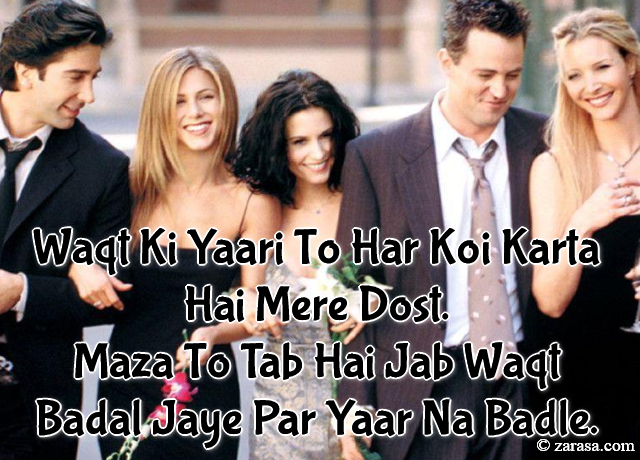 Waqt Ki Yaari To Har Koi Karta Hai Mere Dost.
Maza To Tab Hai Jab Waqt Badal Jaye Par Yaar Na Badle.
वक़्त की यारी तो हर कोई करता है मेरे दोस्त .
मज़ा तो तब है जब वक़्त बदल जाये पर यार ना बदले .
وقت کی یاری تو ہر کوئی کرتا ہے میرے دوست .
مزہ تو ٹیب ہے جب وقت بدل جائے پر یار نہ بدلے .
---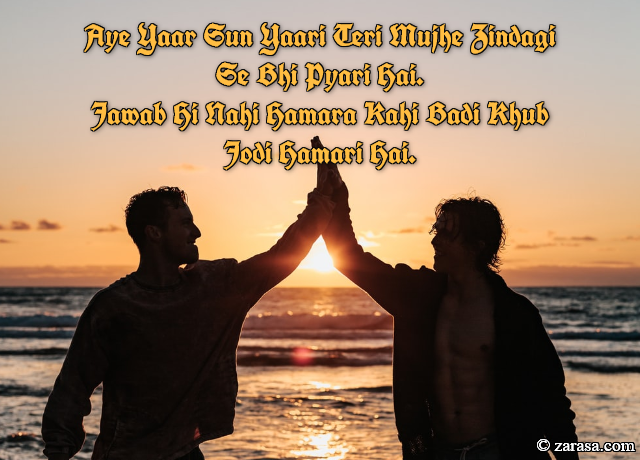 Aye Yaar Sun Yaari Teri Mujhe Zindagi Se Bhi Pyari Hai.
Jawab Hi Nahi Hamara Kahi Badi Khub Jodi Hamari Hai.
ए यार सुन यारी तेरी मुझे ज़िन्दगी से भी प्यारी है .
जवाब ही नहीं हमारा कही बड़ी खूब जोड़ी हमारी है .
ہے یار سن یاری تیری مجھے زندگی سے بھی پیاری ہے .
جواب ہی نہیں ہمارا کہی بدی خوب جوڈی ہماری ہے .
---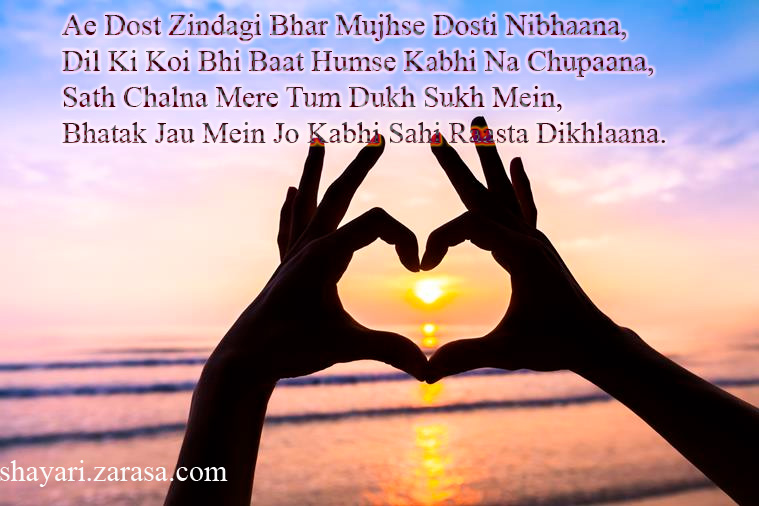 Ae Dost Zindagi Bhar Mujhse Dosti Nibhaana,
Dil Ki Koi Bhi Baat Humse Kabhi Na Chupaana,
Sath Chalna Mere Tum Dukh Sukh Mein,
Bhatak Jau Mein Jo Kabhi Sahi Raasta Dikhlaana.



ऐ दोस्त ज़िन्दगी भर मुझसे दोस्ती निभाना,
दिल की कोई भी बात हमसे कभी न छुपाना,
साथ चलना मेरे तुम दुःख सुख में,
भटक जाऊ में जो कभी सही रास्ता दिखलाना।
اے دوست زندگی بھر مجھ سے دوستی نبھانا
دل کی کوئی بھی بات حمسے کبھی نہ چھپانا
ساتھ چلنا میرے آپ دکھ سکھ میں،
گمراہ جاو میں جو کبھی صحیح راستہ دكھلانا
---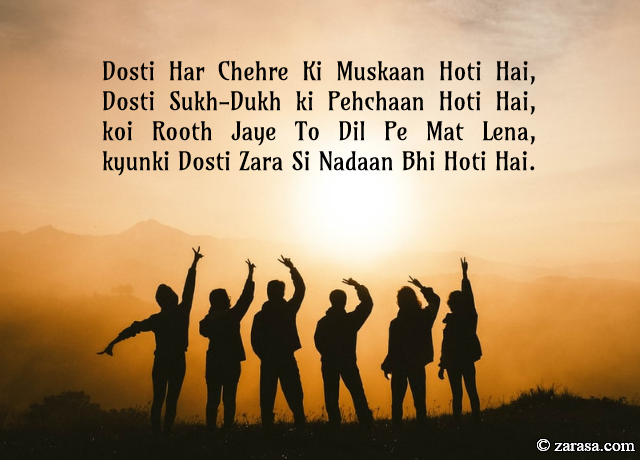 Dosti Har Chehre Ki Muskaan Hoti Hai,
Dosti Sukh-Dukh ki Pehchaan Hoti Hai,
koi Rooth Jaye To Dil Pe Mat Lena,
kyunki Dosti Zara Si Nadaan Bhi Hoti Hai.
दोस्ती हर चेहरे की मुस्कान होती है,
दोस्ती ही सुख-दुःख की पहचान होती है,
कोई रूठ भी जाये तो दिल पे मत लेना,
क्यूंकि दोस्ती ज़रा सी नादान होती है।
دوستی ہر چہرے کی مسکراہٹ ہوتی ہے
دوستی سکھ-افسوس کی شناخت ہوتی ہے
کوئی روٹھ جائے تو دل پہ مت لینا
کیوںک دوستی ذرا سی نادان بھی ہوتی ہے
---