Shayari for Dosti(Friendship) "खुशबू में एहसास होता है, दोस्ती का रिश्ता कुछ ख़ास होता है"
|
Kushboo Mein Ehsaas Hota Hai,
Dosti Ka Rista Kuch Khaas Hota Hai,
Har Baat Juba Se Kehna Mumkin Nahi,
Isliye To Dosti Ka Naam Vishwas Hota Hai.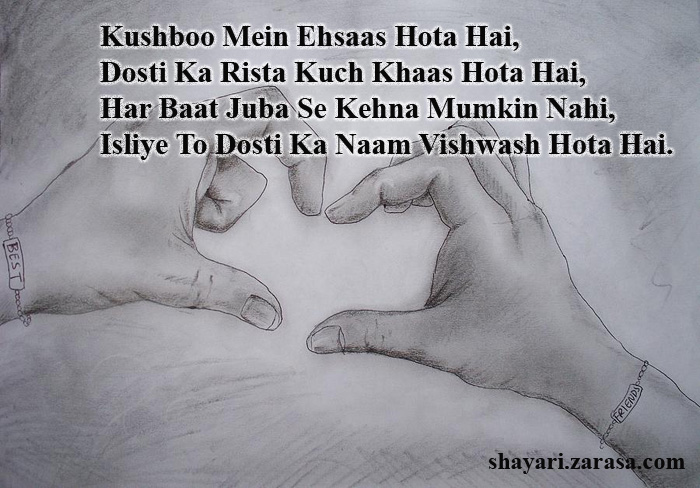 ---

खुशबू में एहसास होता है,
दोस्ती का रिश्ता कुछ ख़ास होता है,
हर बात ज़ुबां से कहना मुमकिन नहीं,
इसलिए तो दोस्ती का नाम विश्वास होता है.


---

خوشبو میں احساس ہوتا ہے،
دوستی کا رشتہ کچھ خاص ہوتا ہے،
ہر بات زباں سے کہنا ممکن نہیں،
لہذا تو دوستی کا نام وشواس ہوتا ہے.


Jinki Dosti Sachi Hai Wo Kab Fariyad Karte Hai.
Zubaan Khamosh Hoti Hai Magar Dilse Yaad Karti Hai.
जिनकी दोस्ती सच्ची है वो कब फरियाद करते है .
ज़ुबान खामोश होती है मगर दिलसे याद करती है .
جنکی دوستی سچی ہے وو کب فریاد کرتے ہے .
زبان خاموش ہوتی ہے مگر دلسے یاد کرتی ہے .
---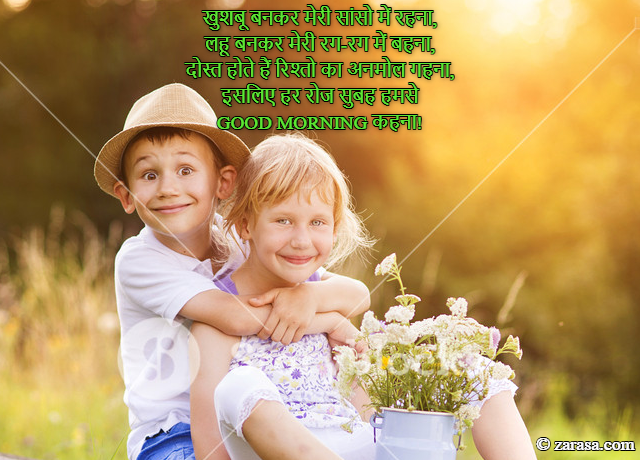 khushbu bankar meri Sason mai rehna ,
Lahu bankar meri rag-rag mai behna,
Dost Hote hai rishton ka anmol Gehna,
Isliye har roz subah hm se
Good Morning kehna.
खुशबू बनकर मेरी सांसो में रहना,
लहू बनकर मेरी रग-रग में बहना,
दोस्त होते हैं रिश्तो का अनमोल गहना,
इसलिए हर रोज सुबह हमसे
सु प्रभात कहना!
خوشبو بنکر میری ساسوں می رہنا
لہو بنکر میری رگ رگ می بہنا
دوست ہوتے ہے رشتوں کا انمول گہنا
اسلئے ہر روز سبھا ہم سے
گود مورننگ کہنا
---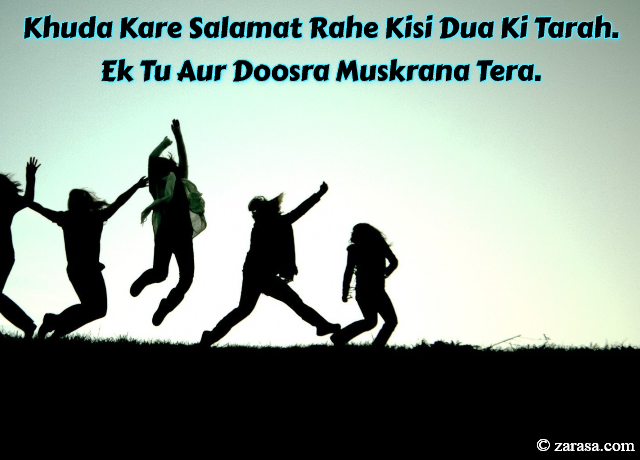 Khuda Kare Salamat Rahe Kisi Dua Ki Tarah.
Ek Tu Aur Doosra Muskrana Tera.
ख़ुदा करे सलामत रहे किसी दुआ की तरह .
एक तू और दूसरा मुस्कुराना तेरा .
خدا کرے سلامت رہے کسی دوا کی طرح .
ایک تو اور دوسرا مسکرانا تیرا .
---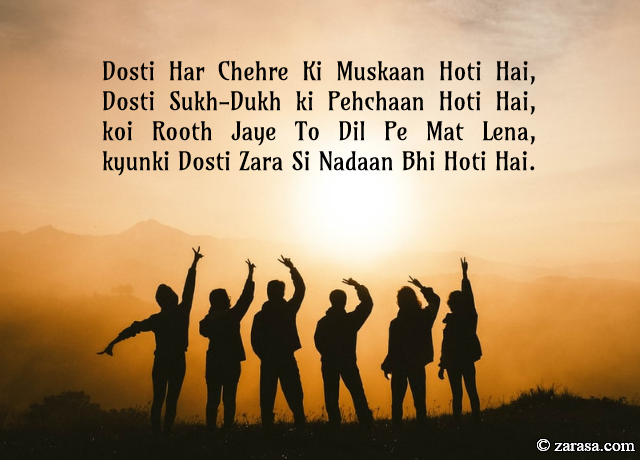 Dosti Har Chehre Ki Muskaan Hoti Hai,
Dosti Sukh-Dukh ki Pehchaan Hoti Hai,
koi Rooth Jaye To Dil Pe Mat Lena,
kyunki Dosti Zara Si Nadaan Bhi Hoti Hai.
दोस्ती हर चेहरे की मुस्कान होती है,
दोस्ती ही सुख-दुःख की पहचान होती है,
कोई रूठ भी जाये तो दिल पे मत लेना,
क्यूंकि दोस्ती ज़रा सी नादान होती है।
دوستی ہر چہرے کی مسکراہٹ ہوتی ہے
دوستی سکھ-افسوس کی شناخت ہوتی ہے
کوئی روٹھ جائے تو دل پہ مت لینا
کیوںک دوستی ذرا سی نادان بھی ہوتی ہے
---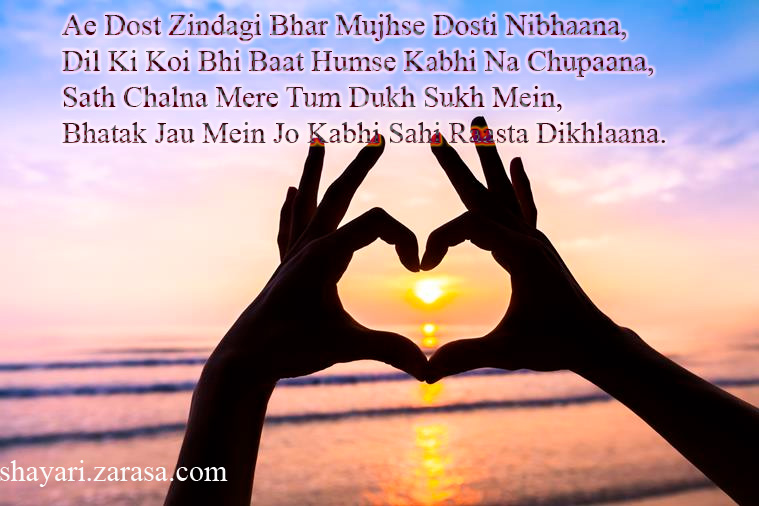 Ae Dost Zindagi Bhar Mujhse Dosti Nibhaana,
Dil Ki Koi Bhi Baat Humse Kabhi Na Chupaana,
Sath Chalna Mere Tum Dukh Sukh Mein,
Bhatak Jau Mein Jo Kabhi Sahi Raasta Dikhlaana.



ऐ दोस्त ज़िन्दगी भर मुझसे दोस्ती निभाना,
दिल की कोई भी बात हमसे कभी न छुपाना,
साथ चलना मेरे तुम दुःख सुख में,
भटक जाऊ में जो कभी सही रास्ता दिखलाना।
اے دوست زندگی بھر مجھ سے دوستی نبھانا
دل کی کوئی بھی بات حمسے کبھی نہ چھپانا
ساتھ چلنا میرے آپ دکھ سکھ میں،
گمراہ جاو میں جو کبھی صحیح راستہ دكھلانا
---