Shayari for Dosti(Friendship) l "दोस्ती ज़रा सी नादान"
|

Dosti Har Chehre Ki Muskaan Hoti Hai,
Dosti Sukh-Dukh ki Pehchaan Hoti Hai,
koi Rooth Jaye To Dil Pe Mat Lena,
kyunki Dosti Zara Si Nadaan Bhi Hoti Hai.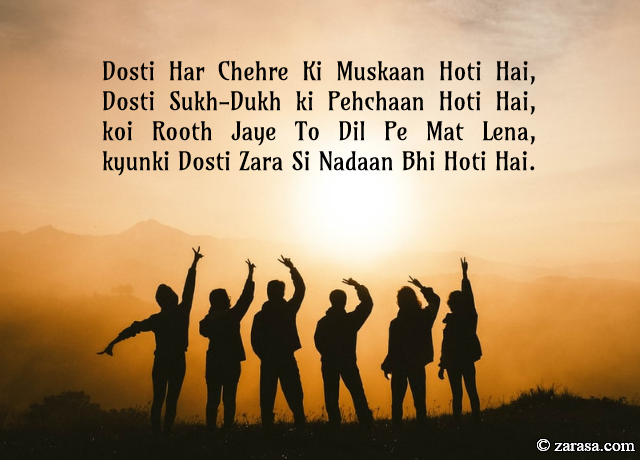 ---

दोस्ती हर चेहरे की मुस्कान होती है,
दोस्ती ही सुख-दुःख की पहचान होती है,
कोई रूठ भी जाये तो दिल पे मत लेना,
क्यूंकि दोस्ती ज़रा सी नादान होती है।


---

دوستی ہر چہرے کی مسکراہٹ ہوتی ہے
دوستی سکھ-افسوس کی شناخت ہوتی ہے
کوئی روٹھ جائے تو دل پہ مت لینا
کیوںک دوستی ذرا سی نادان بھی ہوتی ہے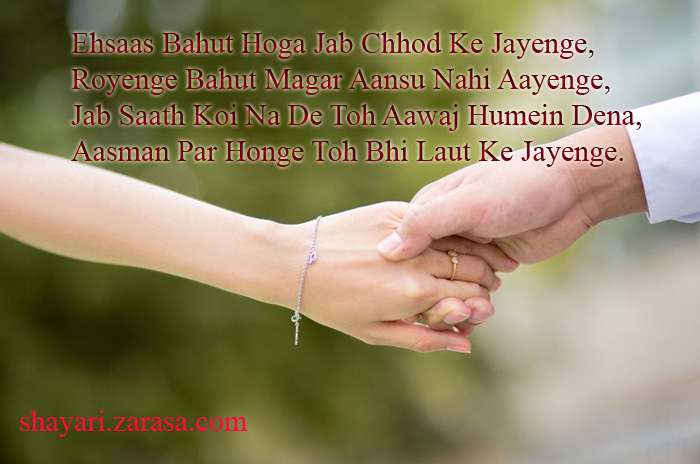 Ehsaas Bahut Hoga Jab Chhod Ke Jayenge,
Royenge Bahut Magar Aansu Nahi Aayenge,
Jab Saath Koi Na De Toh Aawaj Humein Dena,
Aasman Par Honge Toh Bhi Laut Ke Jayenge.



एहसास बहुत होगा जब छोड़ के जायेंगे,
रोयेंगे बहुत मगर आंसू नहीं आएंगे,
जब साथ कोई न दे तो आवाज हमें देना,
आसमान पर होंगे तो भी लौट के जायेंगे।
احساس بہت ہوگا جب چھوڑ کے جائیں گے،
رونا بہت مگر آنسو نہیں آئیں گے،
جب ساتھ کوئی نہ دے تو آواز ہمیں دینا،
آسمان پر ہوں گے تو بھی لوٹ کے جائیں گے
---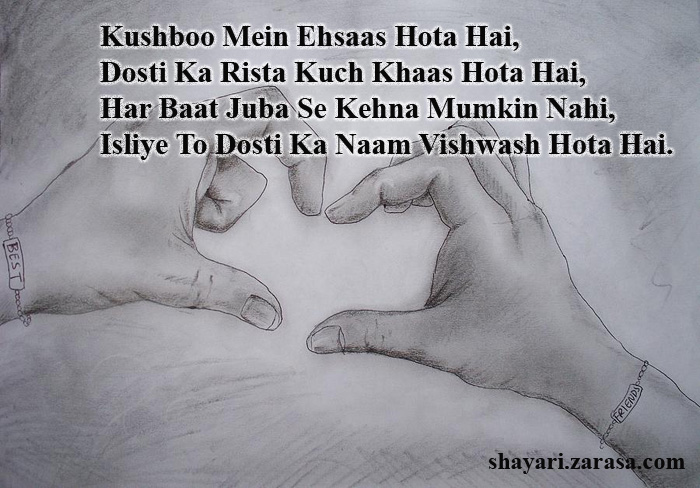 Kushboo Mein Ehsaas Hota Hai,
Dosti Ka Rista Kuch Khaas Hota Hai,
Har Baat Juba Se Kehna Mumkin Nahi,
Isliye To Dosti Ka Naam Vishwas Hota Hai.


खुशबू में एहसास होता है,
दोस्ती का रिश्ता कुछ ख़ास होता है,
हर बात ज़ुबां से कहना मुमकिन नहीं,
इसलिए तो दोस्ती का नाम विश्वास होता है.
خوشبو میں احساس ہوتا ہے،
دوستی کا رشتہ کچھ خاص ہوتا ہے،
ہر بات زباں سے کہنا ممکن نہیں،
لہذا تو دوستی کا نام وشواس ہوتا ہے.
---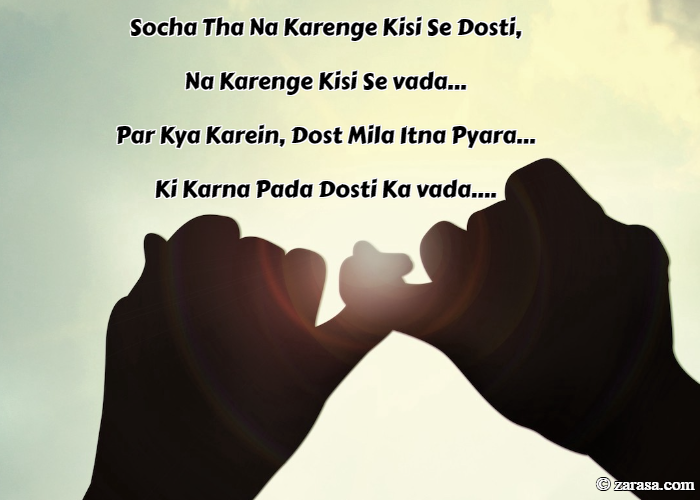 Socha Tha Na Karenge Kisi Se Dosti,
Na Karenge Kisi Se vada...
Par Kya Karein, Dost Mila Itna Pyara...
Ki Karna Pada Dosti Ka vada....
सोचा था ना करेंगे किसी से दोस्ती,
ना करेंगेे किसी से वादा…
पर क्या करें, दोस्त मिला इतना प्यारा…
कि करना पड़ा दोस्ती का वादा…
سوچا تھا نہ کرینگے کسی سے دوستی
نہ کرینگے کسی سے وادا
پر کیا کرے دوست ملا اتنا پیارا
کی کرنا پڑا دوستی کا وادا
---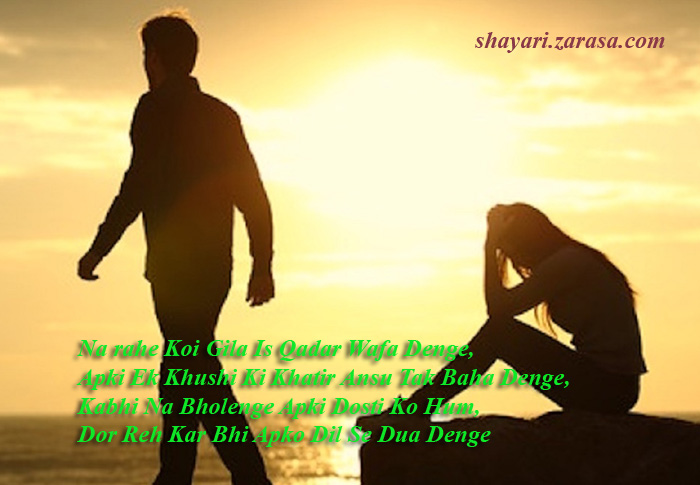 Na rahe Koi Gila Is Qadar Wafa Denge,
Apki Ek Khushi Ki Khatir Ansu Tak Baha Denge,
Kabhi Na Bholenge Apki Dosti Ko Hum,
Dor Reh Kar Bhi Apko Dil Se Dua Deng



न रहे कोई गिला इस क़दर वफ़ा देंगे,
आपकी एक ख़ुशी की खातिर आंसू तक बहा देंगे,
कभी न भूलेंगे आपकी दोस्ती को हम,
दूर रह कर भी आपको दिल से दुआ देंगे .
نہ رہے کوئی گلہ اس قدر وفا دیں گے،
آپ کی ایک خوشی کی خاطر آنسو تک بہا دیں گے،
کبھی نہ بھولیں گے آپ کی دوستی کو ہم،
دور رہ کر بھی آپ کو دل سے دعا دیں گے
---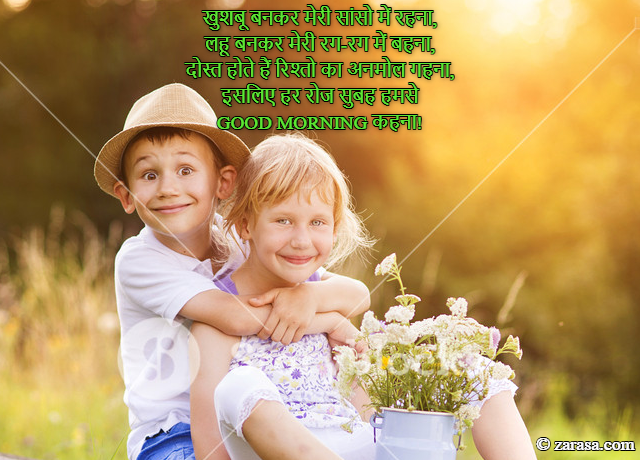 khushbu bankar meri Sason mai rehna ,
Lahu bankar meri rag-rag mai behna,
Dost Hote hai rishton ka anmol Gehna,
Isliye har roz subah hm se
Good Morning kehna.
खुशबू बनकर मेरी सांसो में रहना,
लहू बनकर मेरी रग-रग में बहना,
दोस्त होते हैं रिश्तो का अनमोल गहना,
इसलिए हर रोज सुबह हमसे
सु प्रभात कहना!
خوشبو بنکر میری ساسوں می رہنا
لہو بنکر میری رگ رگ می بہنا
دوست ہوتے ہے رشتوں کا انمول گہنا
اسلئے ہر روز سبھا ہم سے
گود مورننگ کہنا
---