Shayari for Dua "जिस दिन मौत की गोद में सोना होगा"
|
Jis Din Maut Ki Gaud Mein Sona Hoga,
Na Koi Takiya Na Koi Bichona Hoga,
Saath Rahe Gi Bus Aap Jisy Logon Ki Dua,
Or Kabristan Ka Aik Chota Sa Konna Ho Ga.!!!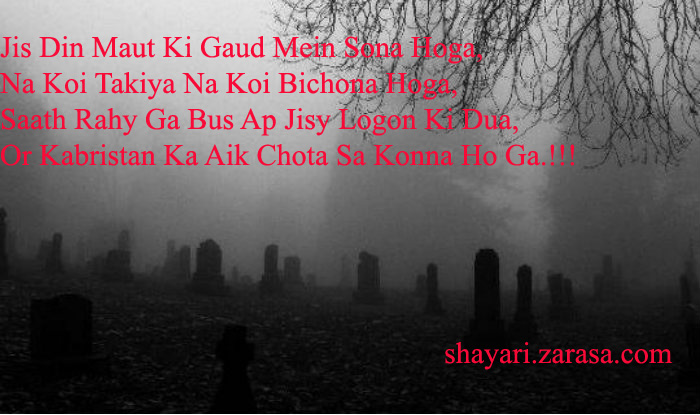 ---

जिस दिन मौत की गोद में सोना होगा
न कोई तकिया न कोई बिछोना होगा,
साथ रहे गी बस आप जैसे लोगों की दुआ,
और कब्रिस्तान का एक छोटा सा कोना हो गा!!!


---

جس دن موت کی گود میں سونا گے
نہ کوئی تکیا نہ کوئی بچھونا گے
ساتھ رہے گی بس آپ جیسے لوگوں کی دوا
اور قبرستان کا ایک چھوٹا سا کونا ہو گا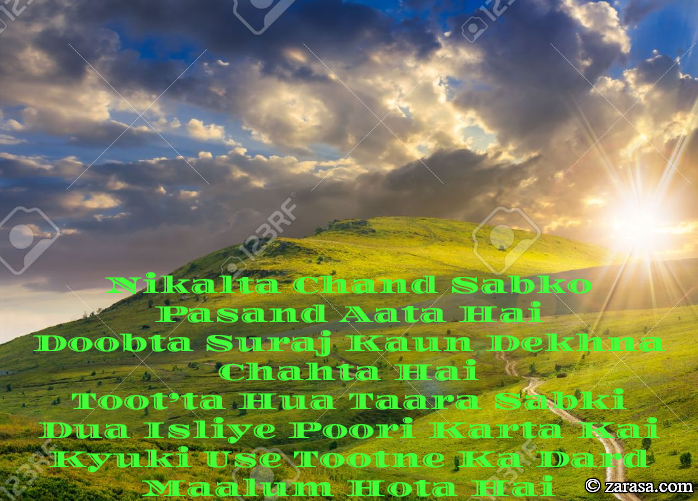 Nikalta Chand Sabko Pasand Aata Hai
Doobta Suraj Kaun Dekhna Chahta Hai
Toot'ta Hua Taara Sabki Dua Isliye Poori Karta Kai
Kyuki Use Tootne Ka Dard Maalum Hota Hai
निकलता चाँद सबको पसंद आता है
डूबता सूरज कौन देखना चाहता है
टूट 'ता हुआ तारा सबकी दुआ इसलिए पूरी करता है
क्युकी उसे टूटने का दर्द मालुम होता है
نکلتا چاند سبکو پسند آتا ہے
ڈوبتا سورج کون دیکھنا چاہتا ہے
ٹوٹ 'تا ہوا تارا سبکی دوا اسلئے پوری کرتا ہے
کیونکی اسے ٹوٹنے درد معلوم ہوتا ہے
---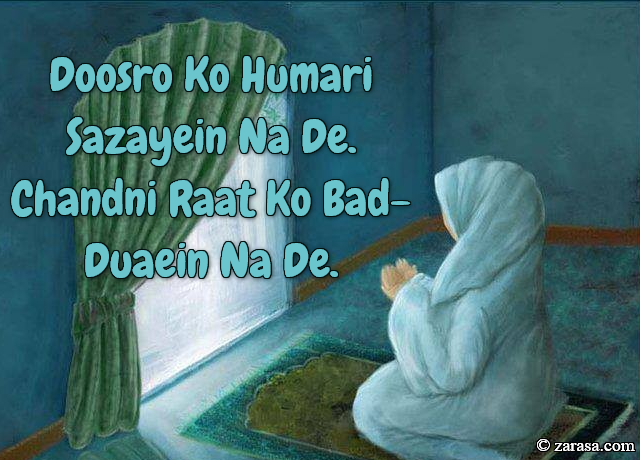 Doosro Ko Humari Sazayein Na De.
Chandni Raat Ko Bad-Duaein Na De.
दूसरो को हमारी सज़ाएं ना दे .
चांदनी रात को बाद -दुआएं ना दे .
دوسرو کو ہماری سزےیں نہ دیں .
چاندنی رات کو بعد -دعائیں نہ دے .
---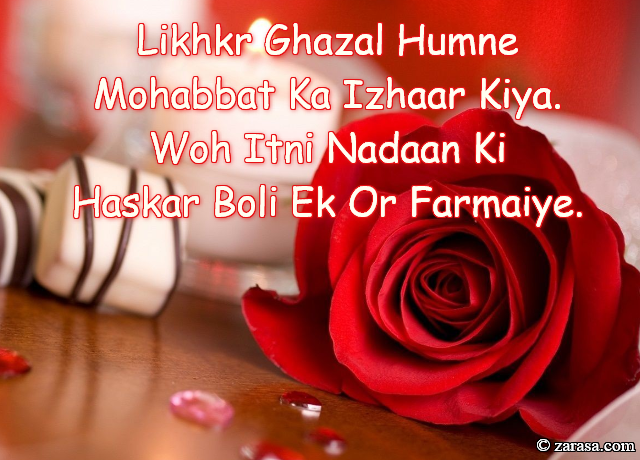 Likhkr Ghazal Humne Mohabbat Ka Izhaar Kiya.
Woh Itni Nadaan Ki Haskar Boli Ek Or Farmaiye.
लिखकर ग़ज़ल हमने मोहब्बत का इज़्हार किया .
वह इतनी नादान की हसकर बोली एक और फरमाइए .
لکھکر غزل ہمنے موحبّت کا اظہار کیا .
وہ اتنی ناداں کی حسکر بولی ایک اور فرمائے .
---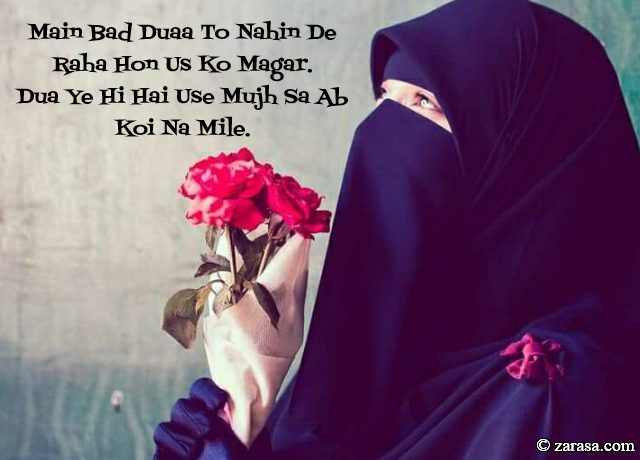 Main Bad Duaa To Nahin De Raha Hon Us Ko Magar.
Dua Ye Hi Hai Use Mujh Sa Ab Koi Na Mile.
मैं बाद दुआ तो नहीं दे रहा हों उस को मगर .
दुआ ये ही है उसे मुझ सा अब कोई ना मिले .
میں بددوا تو نہیں دے رہا ہوں اس کو مگر .
دوا یہ ہی ہے اسے مجھ سا اب کوئی نہ میل .
---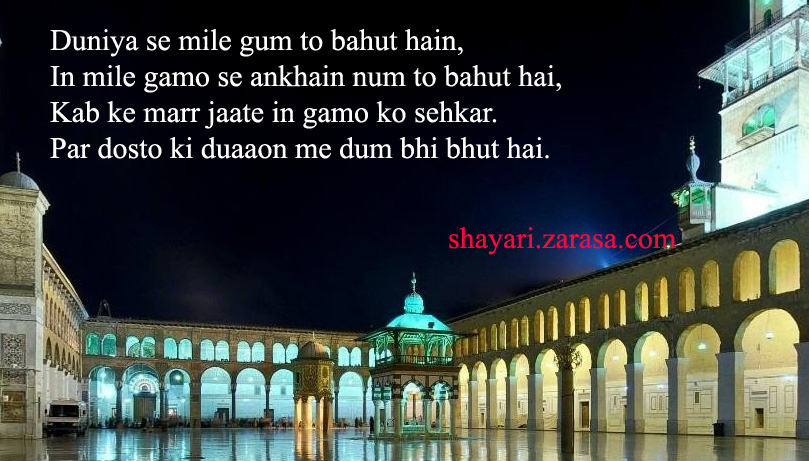 Duniya se mile gum to bahut hain,
In mile gamo se ankhain num to bahut hai,
Kab ke mar jaate in gamo ko sehkar.
Par dosto ki duaaon me dum bhi bhut hai.



दुनिया से मिले गम तो बहुत हैं,
इन मिले गमो से आँखें नम तो बहुत है,
कब के मर जाते इन गमो को सहकर.
पर दोस्तों की दुआओं में दम भी बहुत है.
دنیا سے ملے گم تو بہت ہیں
ان ملے گمو سے آنکھیں نم تو بہت ہے
کب کے مر جاتے ان گمو کو برداشت کرکے
پر دوستوں کی دعاؤں میں دم بھی بہت ہے
---