Shayari for Eyes "तुम्हारी आँखों की क्या तारीफ़ करूं"
|
Tumhari Aankhon Ki Kya Taarif Karon
Bas Inme Doob Jane Ki Khwahish Hai
Pehle Hi Teri Ada Ke Deewane Hain
Ab Kis Baat Ki Gunjaish Hai.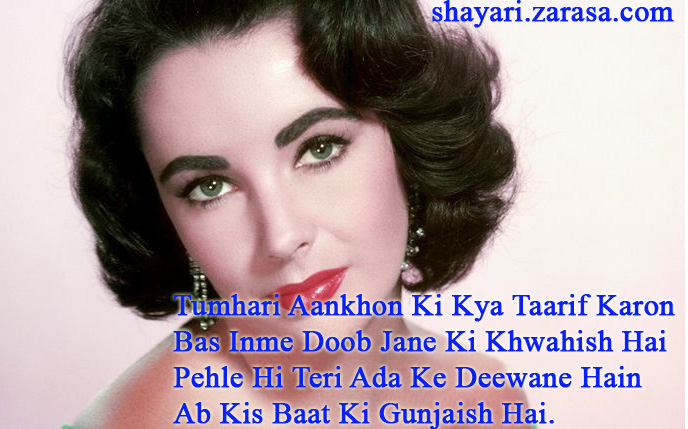 ---

तुम्हारी आँखों की क्या तारीफ़ करूं,
बस इनमे डूब जाने की ख्वाहिश है,
पहले ही तेरी अदा के दीवाने हैं,
अब किस बात की गुंजाईश है।


---

تمہاری انکھون کی کیا تاریف کرون
بس ان مین ڈوب جانے کو جی چاحتا ہے
پہلے حی تیری ادا کے دیوانے ہین
اب کسبات کی گنجایش ہے۔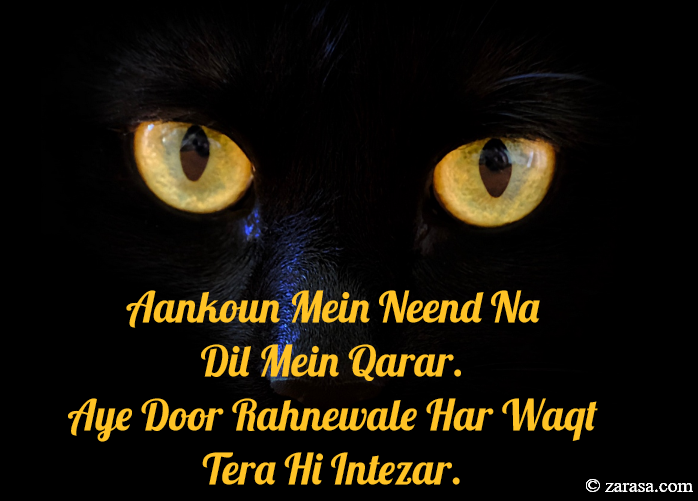 Aankoun Mein Neend Na Dil Mein Qarar.
Aye Door Rahnewale Har Waqt Tera Hi Intezar.
आँखोँ में नींद न दिल में क़रार .
ए दूर रहनेवाले हर वक़्त तेरा ही इंतज़ार .
آنکوں میں نیند نہ دل میں قرار .
ہے دور رہنےوالے ہر وقت تیرا ہی انتظار .
---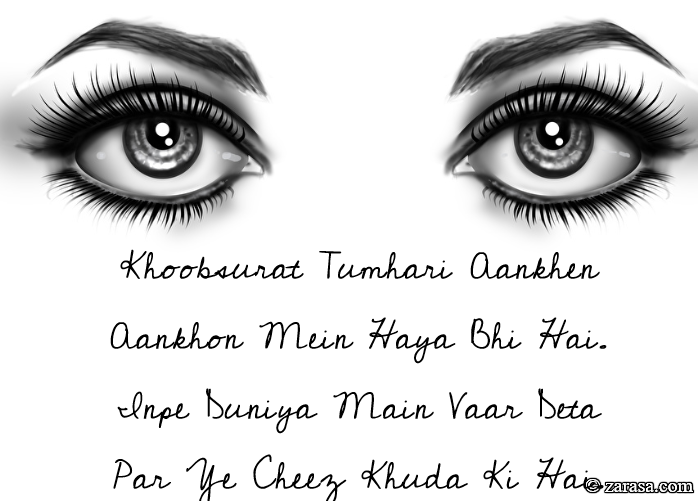 Khoobsurat Tumhari Aankhen Aankhon Mein Haya Bhi Hai.
Inpe Duniya Main Vaar Deta Par Ye Cheez Khuda Ki Hai.
खूबसूरत तुम्हारी आँखें आँखों में हाय भी है .
इनपे दुनिया मैं वार देता पर ये चीज़ खुदा की है .
خوبصورت تمہاری آنکھیں آنکھوں میں ہی بھی ہے .
انپے دنیا میں وار دیتا پر یہ چیز خدا کی ہے .
---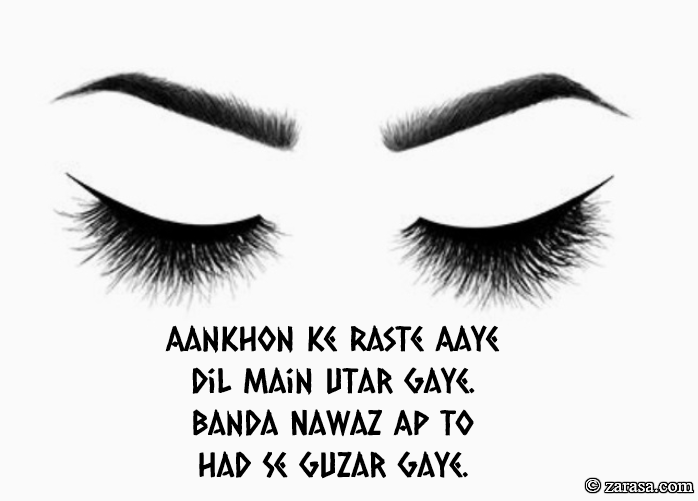 Aankhon Ke Raste Aaye Dil Main Utar Gaye.
Banda Nawaz Ap To Had Se Guzar Gaye.
आँखों के रस्ते आये दिल मैं उतर गए .
बाँदा नवाज़ आप तो हद से गुज़र गए .
آنکھوں کے راستے اے دل میں اتر گئے .
بندا نواز اپ تو حد سے گزر گئے .
---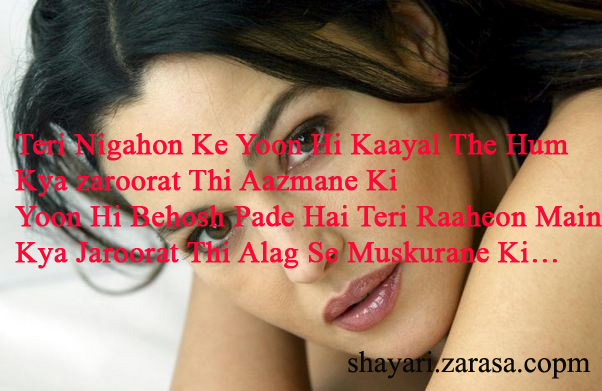 Teri Nigahon Ke Yoon Hi Kaayal The Hum
Kya zaroorat Thi Aazmane Ki
Yoon Hi Behosh Pade Hai Teri Raaheon Main
Kya Jaroorat Thi Alag Se Muskurane Ki…



तेरी निगाहों के यूं ही कायल थे हम
क्या ज़रुरत थी आज़माने की
यूं ही बेहोश पड़े है तेरी राहों मैं
क्या जरूरत थी अलग से मुस्कुराने की…
تیری نگاہوں کے یوں ہی کایل تھے ہم
کیا ضرورت تھی آزمانے کی
یوں ہی بیہوش پڑے ہے تیری راہوں میں
کیا ضرورت تھی الگ سے مسکرانے کی
---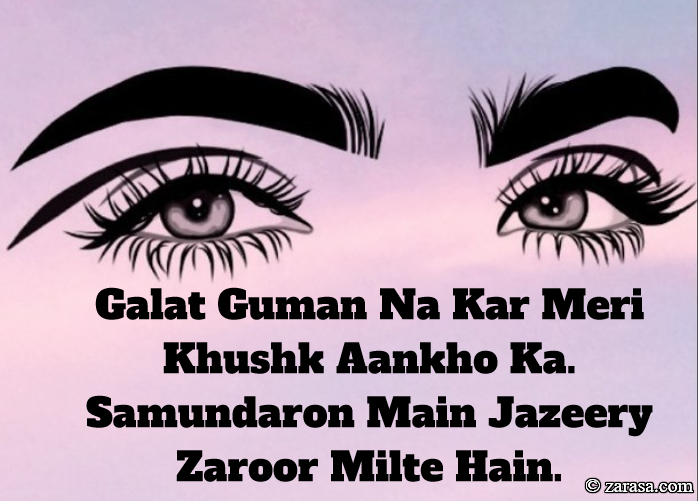 Galat Guman Na Kar Meri Khushk Aankho Ka.
Samundaron Main Jazeery Zaroor Milte Hain.
गलत गुमान ना कर मेरी खुश्क आँखों का .
समन्दरों मैं जज़ीरी ज़रूर मिलते हैं .
گلت گمان نہ کر میری خشک آنکھوں کا .
سمندروں میں جزیرے ضرور ملتے ہیں
---