Shayari for Eyes "तुम्हारी आँखों की क्या तारीफ़ करूं"
|
Tumhari Aankhon Ki Kya Taarif Karon
Bas Inme Doob Jane Ki Khwahish Hai
Pehle Hi Teri Ada Ke Deewane Hain
Ab Kis Baat Ki Gunjaish Hai.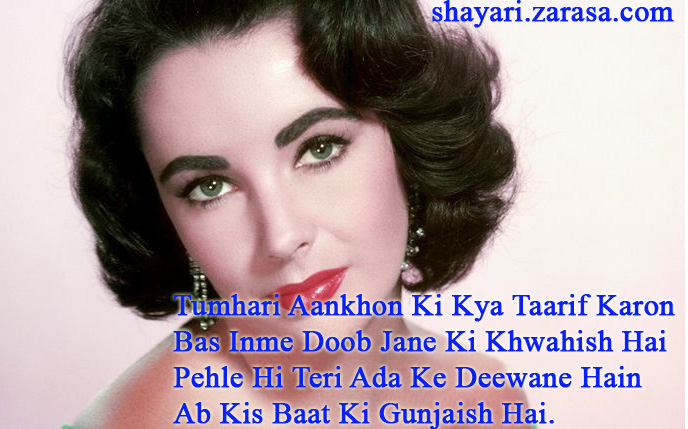 ---

तुम्हारी आँखों की क्या तारीफ़ करूं,
बस इनमे डूब जाने की ख्वाहिश है,
पहले ही तेरी अदा के दीवाने हैं,
अब किस बात की गुंजाईश है।


---

تمہاری انکھون کی کیا تاریف کرون
بس ان مین ڈوب جانے کو جی چاحتا ہے
پہلے حی تیری ادا کے دیوانے ہین
اب کسبات کی گنجایش ہے۔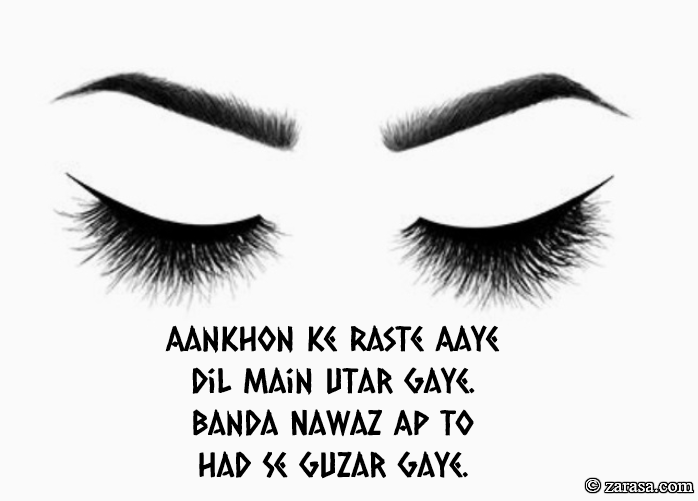 Aankhon Ke Raste Aaye Dil Main Utar Gaye.
Banda Nawaz Ap To Had Se Guzar Gaye.
आँखों के रस्ते आये दिल मैं उतर गए .
बाँदा नवाज़ आप तो हद से गुज़र गए .
آنکھوں کے راستے اے دل میں اتر گئے .
بندا نواز اپ تو حد سے گزر گئے .
---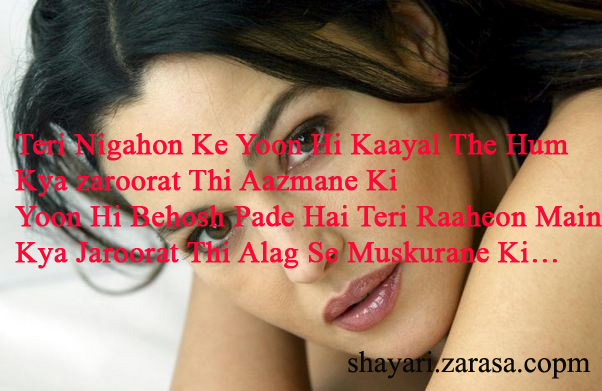 Teri Nigahon Ke Yoon Hi Kaayal The Hum
Kya zaroorat Thi Aazmane Ki
Yoon Hi Behosh Pade Hai Teri Raaheon Main
Kya Jaroorat Thi Alag Se Muskurane Ki…



तेरी निगाहों के यूं ही कायल थे हम
क्या ज़रुरत थी आज़माने की
यूं ही बेहोश पड़े है तेरी राहों मैं
क्या जरूरत थी अलग से मुस्कुराने की…
تیری نگاہوں کے یوں ہی کایل تھے ہم
کیا ضرورت تھی آزمانے کی
یوں ہی بیہوش پڑے ہے تیری راہوں میں
کیا ضرورت تھی الگ سے مسکرانے کی
---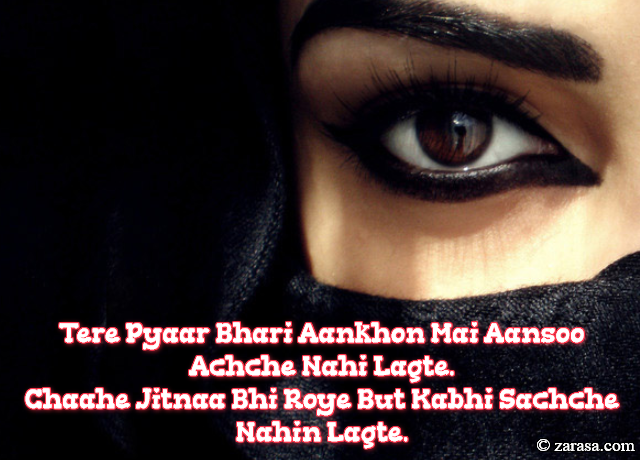 Tere Pyaar Bhari Aankhon Mai Aansoo Achche Nahi Lagte.
Chaahe Jitnaa Bhi Roye But Kabhi Sachche Nahin Lagte.
तेरे प्यार भरी आँखों मै आंसू अच्छे नहीं लगते .
चाहे जितना भी रोए बट कभी सच्चे नहीं लगते .
تیرے پیار بھری آنکھوں می آنسو اچّھے نہیں لگتے .
چاہے جتنا بھی رویے بٹ کبھی سچچے نہیں لگتے .
---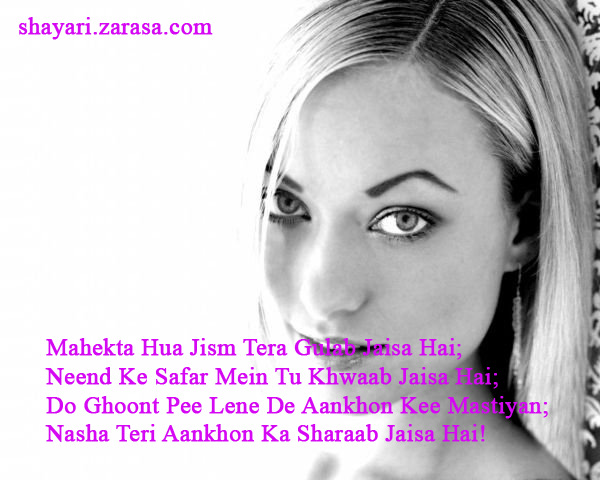 Mahekta Hua Jism Tera Gulab Jaisa Hai;
Neend Ke Safar Mein Tu Khwaab Jaisa Hai;
Do Ghoont Pee Lene De Aankhon Kee Mastiyan;
Nasha Teri Aankhon Ka Sharaab Jaisa Hai!




महेकता हुआ जिस्म तेरा गुलाब जैसा है,
नींद के सफर में तू ख्वाब जैसा है,
दो घूँट पी लेने दे आँखों की मस्तियाँ,
नशा तेरी आँखों का शराब जैसा है।
مہکتا ہوا جسم تیرا گلاب جیسا ہے,
نیند کے سفر مے تو خواب جیسا ہے,
دو گھونٹ پی لینے دے آنکھوں کی مستیاں,
نشہ تیری آنکھوں کا شراب جیسا ہ
---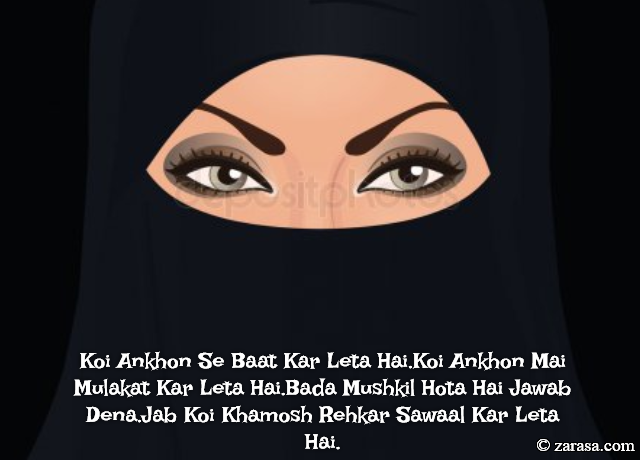 Koi Ankhon Se Baat Kar Leta Hai.Koi Ankhon Mai Mulakat Kar Leta Hai.Bada Mushkil Hota Hai Jawab Dena.Jab Koi Khamosh Rehkar Sawaal Kar Leta Hai.
कोई आँखों से बात कर लेता है .कोई आँखों मै मुलाकात कर लेता है .बड़ा मुश्किल होता है जवाब देना .जब कोई ख़ामोश रहकर सवाल कर लेता है .
کوئی آنکھوں سے بات کر لیتا ہے کوئی آنکھوں می ملکت کر لیتا ہے .بد مشکل ہوتا ہے جواب دینا .جب کوئی خاموش رہکر سوال کر لیتا ہے .
---