Shayari for Eyes "महेकता हुआ जिस्म तेरा गुलाब जैसा है"
|
Mahekta Hua Jism Tera Gulab Jaisa Hai;
Neend Ke Safar Mein Tu Khwaab Jaisa Hai;
Do Ghoont Pee Lene De Aankhon Kee Mastiyan;
Nasha Teri Aankhon Ka Sharaab Jaisa Hai!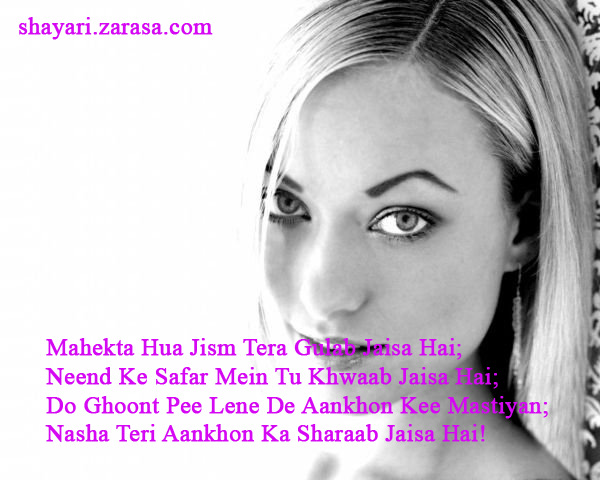 ---

महेकता हुआ जिस्म तेरा गुलाब जैसा है,
नींद के सफर में तू ख्वाब जैसा है,
दो घूँट पी लेने दे आँखों की मस्तियाँ,
नशा तेरी आँखों का शराब जैसा है।


---

مہکتا ہوا جسم تیرا گلاب جیسا ہے,
نیند کے سفر مے تو خواب جیسا ہے,
دو گھونٹ پی لینے دے آنکھوں کی مستیاں,
نشہ تیری آنکھوں کا شراب جیسا ہ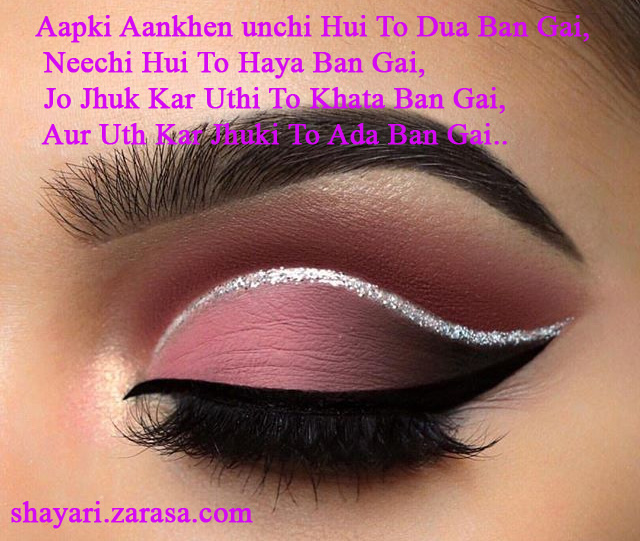 Aapki Aankhen unchi Hui To Dua Ban Gai,
Neechi Hui To Haya Ban Gai,
Jo Jhuk Kar Uthi To Khata Ban Gai,
Aur Uth Kar Jhuki To Ada Ban Gai..



आपकी आँखें ऊँची हुई तो दुआ बन गई,
नीची हुई तो हाय बन गई,
जो झुक कर उठी तो खता बन गई,
और उठ कर झुकी तो अदा बन गई।
اپ کی انکحعن اءنچی حوی تو حےا بن گی
نععچحی حوی تو حےا بن گین
جو جھک کر اٹھی تو ختا بن گین
اور اٹھ کر جھکی تو ادا بن گین۔
---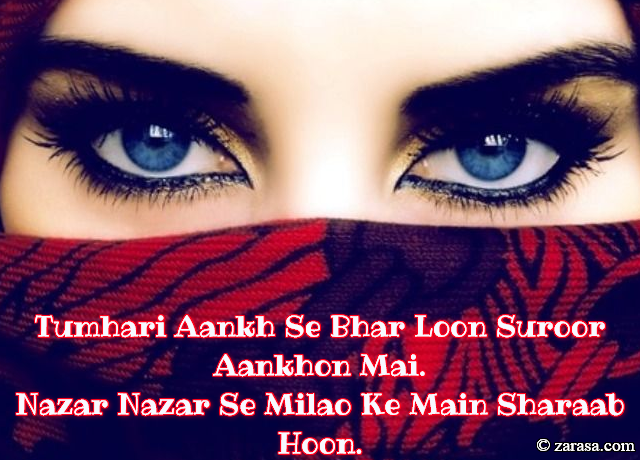 Tumhari Aankh Se Bhar Loon Suroor Aankhon Mai.
Nazar Nazar Se Milao Ke Main Sharaab Hoon.
तुम्हारी आँख से भर लून सुरूर आँखों में .
नज़र नज़र से मिलाओ के मैं शराब हु .
تمہاری آنکھ سے بھر لوں سرور آنکھوں می .
نظر نظر سے ملاؤ کے میں شراب ہوں .
---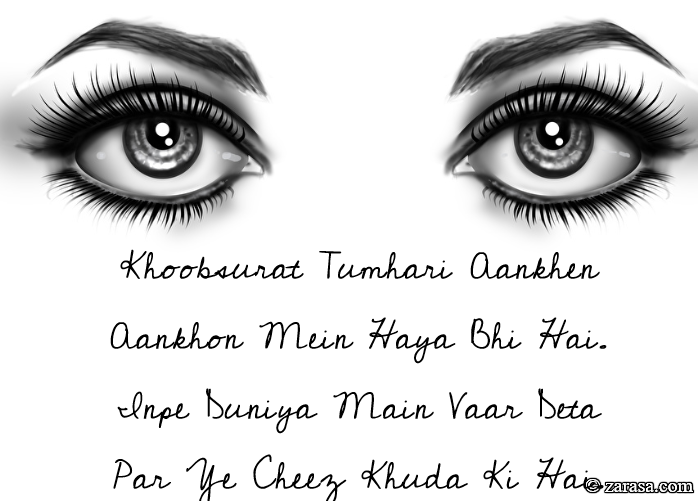 Khoobsurat Tumhari Aankhen Aankhon Mein Haya Bhi Hai.
Inpe Duniya Main Vaar Deta Par Ye Cheez Khuda Ki Hai.
खूबसूरत तुम्हारी आँखें आँखों में हाय भी है .
इनपे दुनिया मैं वार देता पर ये चीज़ खुदा की है .
خوبصورت تمہاری آنکھیں آنکھوں میں ہی بھی ہے .
انپے دنیا میں وار دیتا پر یہ چیز خدا کی ہے .
---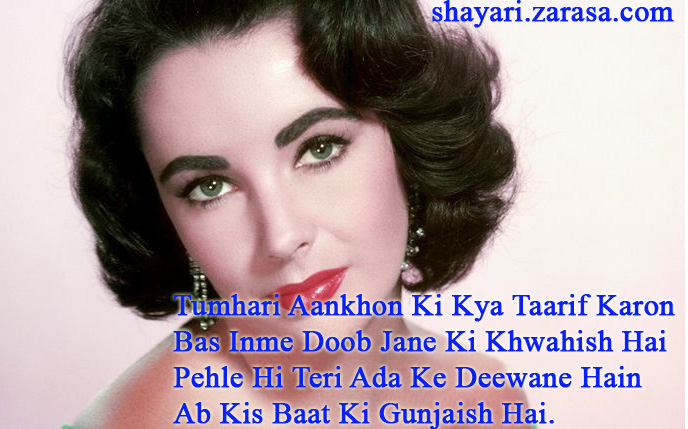 Tumhari Aankhon Ki Kya Taarif Karon
Bas Inme Doob Jane Ki Khwahish Hai
Pehle Hi Teri Ada Ke Deewane Hain
Ab Kis Baat Ki Gunjaish Hai.




तुम्हारी आँखों की क्या तारीफ़ करूं,
बस इनमे डूब जाने की ख्वाहिश है,
पहले ही तेरी अदा के दीवाने हैं,
अब किस बात की गुंजाईश है।
تمہاری انکھون کی کیا تاریف کرون
بس ان مین ڈوب جانے کو جی چاحتا ہے
پہلے حی تیری ادا کے دیوانے ہین
اب کسبات کی گنجایش ہے۔
---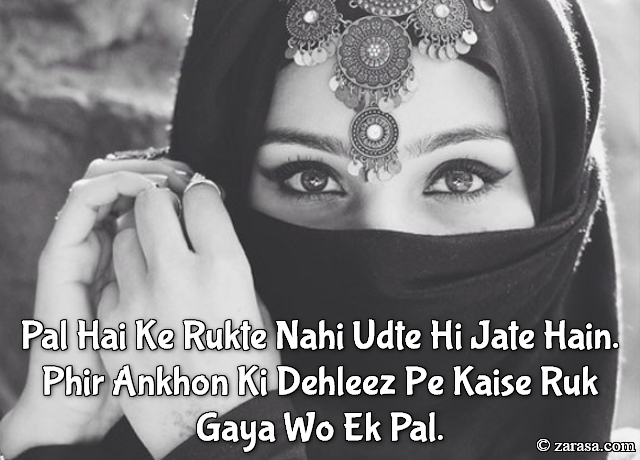 Pal Hai Ke Rukte Nahi Udte Hi Jate Hain.
Phir Ankhon Ki Dehleez Pe Kaise Ruk Gaya Wo Ek Pal.
पल है के रुकते नहीं उड़ते ही जाते है .
फिर आँखों की देहलीज़ पे कैसे रुक गया वो एक पल .
پل ہے کے روکتے نہیں اوڈتے ہی جاتے ہیں .
پھر آنکھوں کی دہلیز پی کیسے روک گیا وہ ایک پل .
---