Shayari for Eyes "महेकता हुआ जिस्म तेरा गुलाब जैसा है"
|
Mahekta Hua Jism Tera Gulab Jaisa Hai;
Neend Ke Safar Mein Tu Khwaab Jaisa Hai;
Do Ghoont Pee Lene De Aankhon Kee Mastiyan;
Nasha Teri Aankhon Ka Sharaab Jaisa Hai!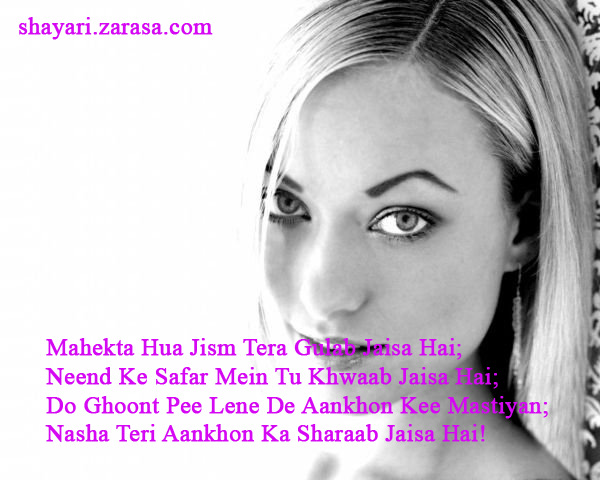 ---

महेकता हुआ जिस्म तेरा गुलाब जैसा है,
नींद के सफर में तू ख्वाब जैसा है,
दो घूँट पी लेने दे आँखों की मस्तियाँ,
नशा तेरी आँखों का शराब जैसा है।


---

مہکتا ہوا جسم تیرا گلاب جیسا ہے,
نیند کے سفر مے تو خواب جیسا ہے,
دو گھونٹ پی لینے دے آنکھوں کی مستیاں,
نشہ تیری آنکھوں کا شراب جیسا ہ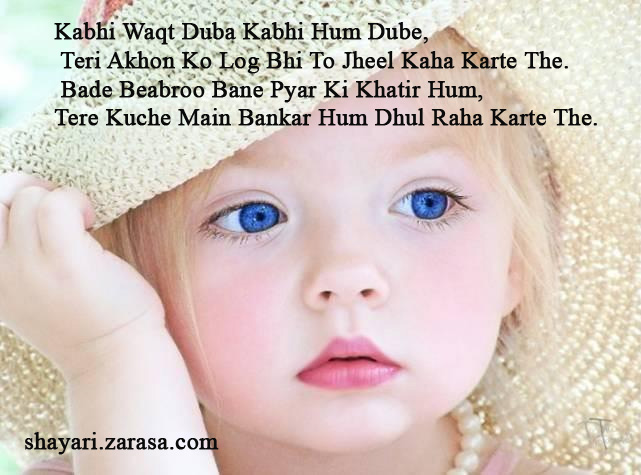 Kabhi Waqt Duba Kabhi Hum Dube,
Teri Akhon Ko Log Bhi To Jheel Kaha Karte The.
Bade Beabroo Bane Pyar Ki Khatir Hum,
Tere Kuche Main Bankar Hum Dhul Raha Karte The.


कभी वक़्त डूबा कभी हम दुबे,
तेरी आँखों को लोग भी तो झील कहा करते थे.
बड़े बेआबरू बने प्यार की खातिर हम,
तेरे कूचे मैं बनकर हम धूल रहा करते थे।
کبھی وقت ڈوبا کبھی ہم ڈوبے
تیری انکھون کو لوگ بھی جھیل کہا کرتے تھے
برھے بےابرو بنے پیار کی خھاتر ہم
تیرے کوچے مے بنکر ہم دھول رحا کرتے تھے
---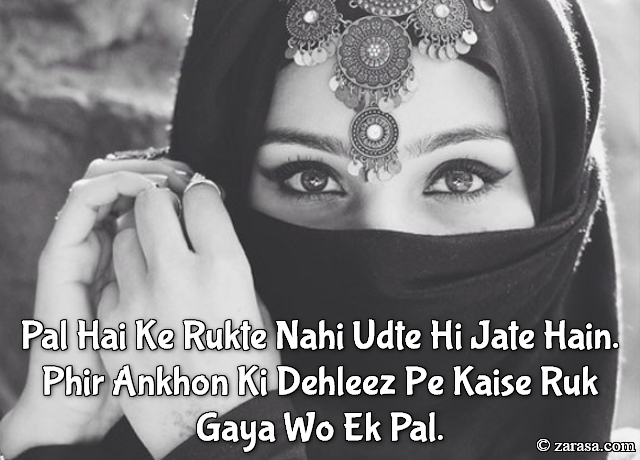 Pal Hai Ke Rukte Nahi Udte Hi Jate Hain.
Phir Ankhon Ki Dehleez Pe Kaise Ruk Gaya Wo Ek Pal.
पल है के रुकते नहीं उड़ते ही जाते है .
फिर आँखों की देहलीज़ पे कैसे रुक गया वो एक पल .
پل ہے کے روکتے نہیں اوڈتے ہی جاتے ہیں .
پھر آنکھوں کی دہلیز پی کیسے روک گیا وہ ایک پل .
---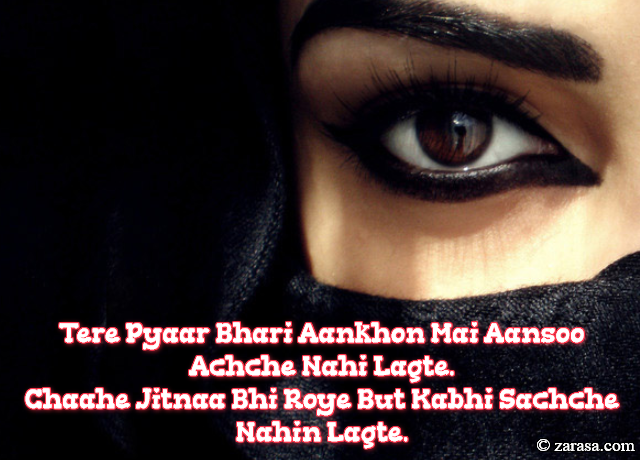 Tere Pyaar Bhari Aankhon Mai Aansoo Achche Nahi Lagte.
Chaahe Jitnaa Bhi Roye But Kabhi Sachche Nahin Lagte.
तेरे प्यार भरी आँखों मै आंसू अच्छे नहीं लगते .
चाहे जितना भी रोए बट कभी सच्चे नहीं लगते .
تیرے پیار بھری آنکھوں می آنسو اچّھے نہیں لگتے .
چاہے جتنا بھی رویے بٹ کبھی سچچے نہیں لگتے .
---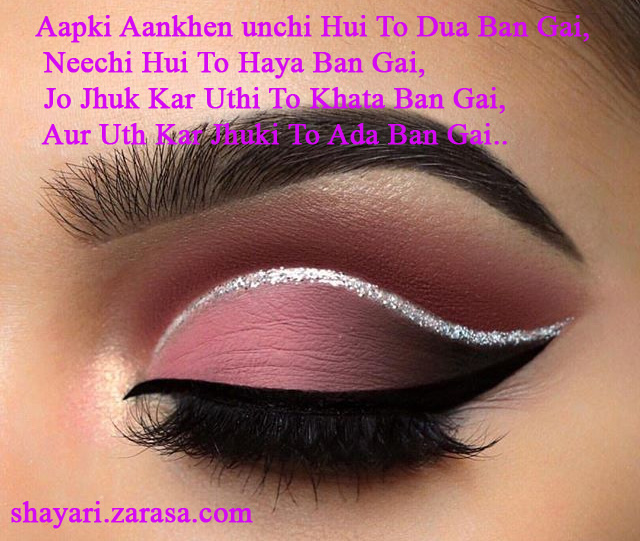 Aapki Aankhen unchi Hui To Dua Ban Gai,
Neechi Hui To Haya Ban Gai,
Jo Jhuk Kar Uthi To Khata Ban Gai,
Aur Uth Kar Jhuki To Ada Ban Gai..



आपकी आँखें ऊँची हुई तो दुआ बन गई,
नीची हुई तो हाय बन गई,
जो झुक कर उठी तो खता बन गई,
और उठ कर झुकी तो अदा बन गई।
اپ کی انکحعن اءنچی حوی تو حےا بن گی
نععچحی حوی تو حےا بن گین
جو جھک کر اٹھی تو ختا بن گین
اور اٹھ کر جھکی تو ادا بن گین۔
---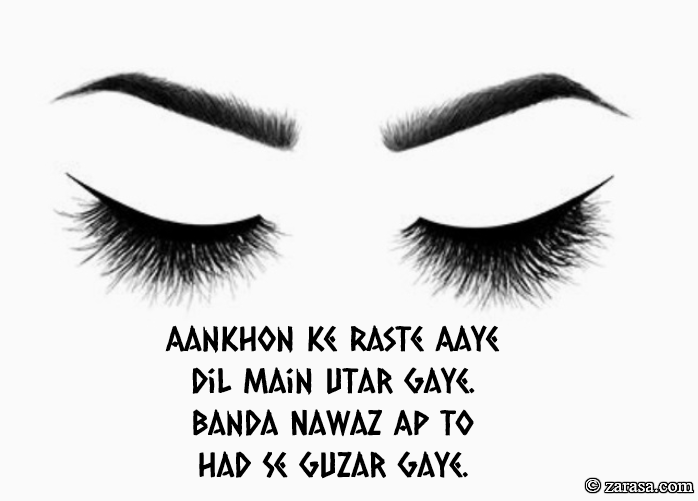 Aankhon Ke Raste Aaye Dil Main Utar Gaye.
Banda Nawaz Ap To Had Se Guzar Gaye.
आँखों के रस्ते आये दिल मैं उतर गए .
बाँदा नवाज़ आप तो हद से गुज़र गए .
آنکھوں کے راستے اے دل میں اتر گئے .
بندا نواز اپ تو حد سے گزر گئے .
---