Shayari For Fikr "Zikar Nahi"
|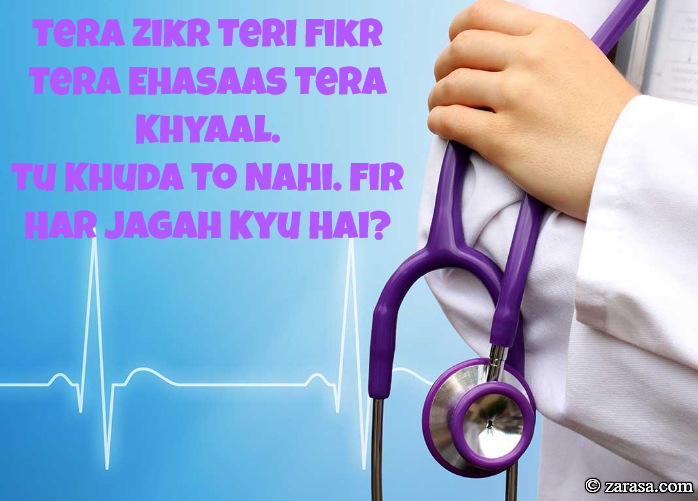 Tera Zikr Teri Fikr Tera Ehasaas Tera Khyaal.
Tu Khuda To Nahi. Fir Har Jagah Kyu Hai?
तेरा ज़िक्र तेरी फ़िक्र तेरा एहसास तेरा ख्याल .
तू खुदा तो नहीं . फिर हर जगह क्यों है ?
تیرا ذکر تیری فکر تیرا احساس تیرا خیال .
تو خدا تو نہیں . فر ہر جگہ کیو ہے ؟
---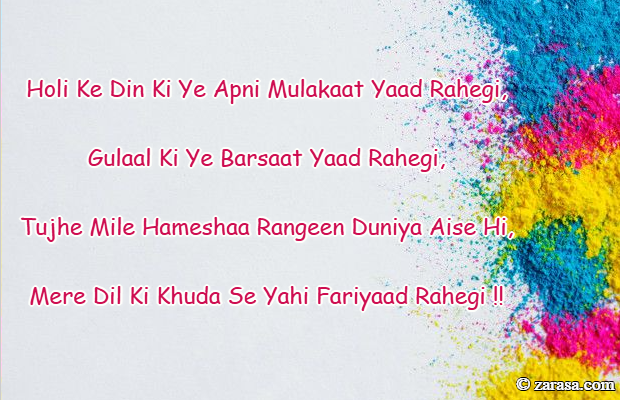 Holi Ke Din Ki Ye Apni Mulakaat Yaad Rahegi,
Gulaal Ki Ye Barsaat Yaad Rahegi,
Tujhe Mile Hameshaa Rangeen Duniya Aise Hi,
Mere Dil Ki Khuda Se Yahi Fariyaad Rahegi !!
होली के दिन की ये अपनी मुलाकात याद रहेगी,
गुलाल की ये बरसात याद रहेगी,
तुझे मिले हमेशा रंगीन दुनिया ऐसे ही,
मेरे दिल की खुद से यही फ़रियाद रहेगी !!
ہولی کے دن کی یہ اپنی ملاقات یاد رہیگی
گلال کی یہ برسات یاد رہیگی
تجھے میل ہمیشہ رنگین دنیا ایسے ہی
میرے دل کی خدا سے یہی فریاد رہیگی
---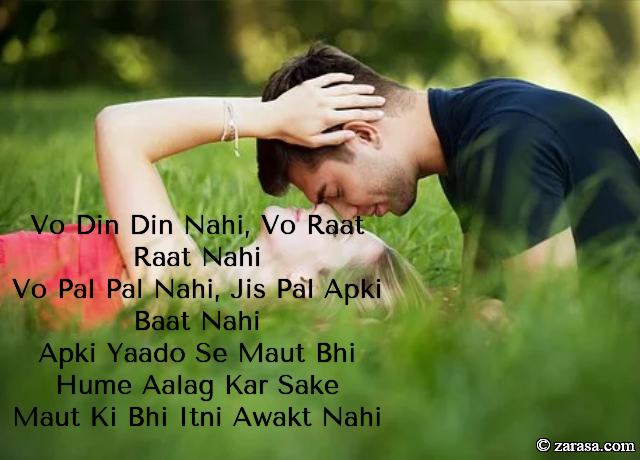 Vo Din Din Nahi, Vo Raat Raat Nahi
Vo Pal Pal Nahi, Jis Pal Apki Baat Nahi
Apki Yaado Se Maut Bhi Hume Aalag Kar Sake
Maut Ki Bhi Itni Awakt Nahi
वो दिन दिन नहीं , वो रात रात नहीं
वो पल पल नहीं , जिस पल आपकी बात नहीं
आपकी यादो से मौत भी हमे अलग कर सके
मौत की भी इतनी अव्यक्त नहीं
وہ دن دن نہیں , وو رات رات نہیں
وہ پل پل نہیں , جس پل آپکی بات نہیں
آپکی یادو سے موت بھی ہمیں الگ کر سکے
موت کی بھی اتنی آواکت نہیں
---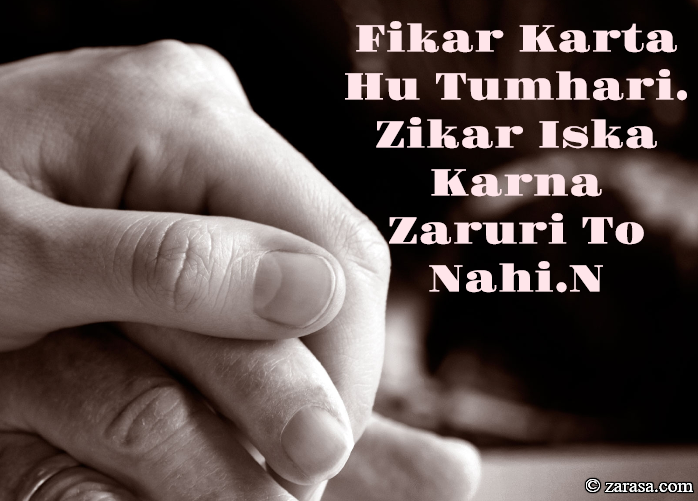 Fikar Karta Hu Tumhari.
Zikar Iska Karna Zaruri To Nahi.
फ़िक्र करता हु तुम्हारी .
ज़िकर इसका करना ज़रूरी तो नहीं .
فکر کرتا ہو تمہاری .
ذکر اسکا کرنا ضروری تو نہیں .
---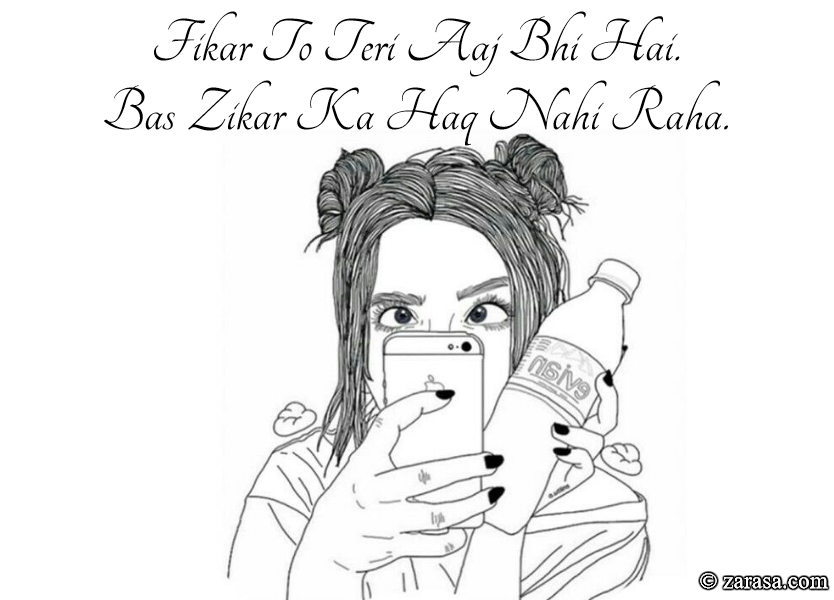 Fikar To Teri Aaj Bhi Hai.
Bas Zikar Ka Haq Nahi Raha.
फ़िक्र तो तेरी आज भी है .
बस ज़िकर का हक़ नहीं रहा .
فکر تو تیری آج بھی ہے .
بس ذکر کا حق نہیں رہا .
---