Shayari For Mohabbat "Ye Online Mohabbat Bhi "
|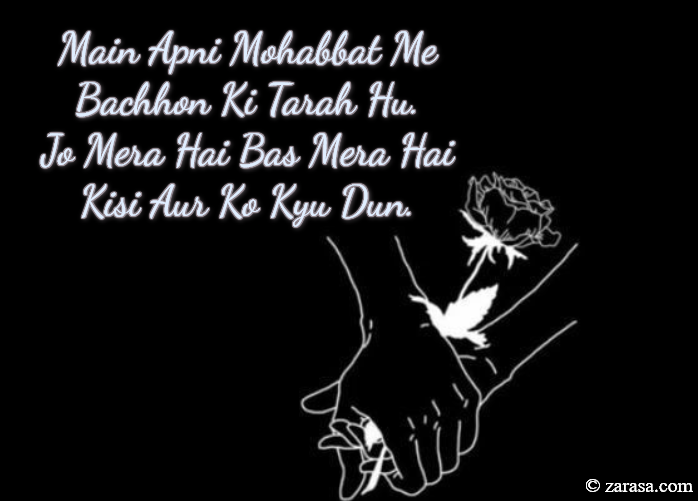 Main Apni Mohabbat Me Bachhon Ki Tarah Hu.
Jo Mera Hai Bas Mera Hai Kisi Aur Ko Kyu Dun.
मैं अपनी मोहब्बत में बच्चों की तरह हु .
जो मेरा है बस मेरा है किसी और को क्यों दूँ .
میں اپنی موحبّت مے بچھون کی طرح ہو .
جو میرا ہے بس میرا ہے کسی اور کو کیو دن .
---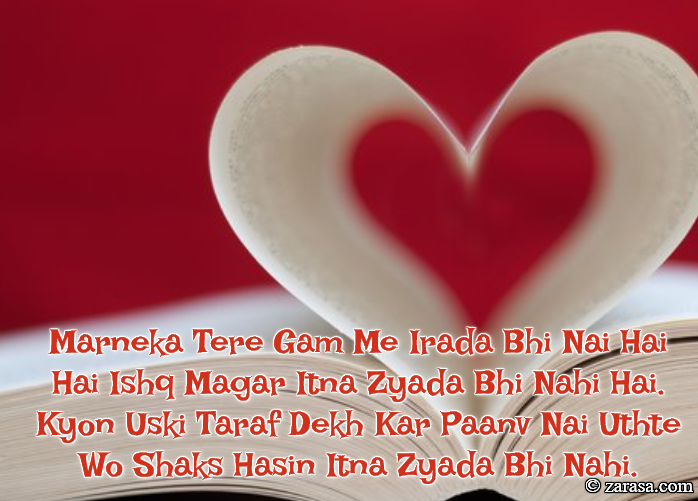 Marneka Tere Gam Me Irada Bhi Nai Hai Hai Ishq Magar Itna Zyada Bhi Nahi Hai.
Kyon Uski Taraf Dekh Kar Paanv Nai Uthte Wo Shaks Hasin Itna Zyada Bhi Nahi.
मरनेका तेरे गम में इरादा भी नहीं है इश्क़ मगर इतना ज़्यादा भी नहीं है .
क्यों उसकी तरफ देख कर पाँव नहीं उठते वो शख्स हसीं इतना ज़्यादा भी नहीं .
مرنیکا تیرے گم مے ارادہ بھی نہیں ہے عشق مگر اتنا زیادہ بھی نہیں ہے .
کیوں اسکی طرف دیکھ کر پہنو نہیں اٹھیں وو شکس حسین اتنا زیادہ بھی نہیں .
---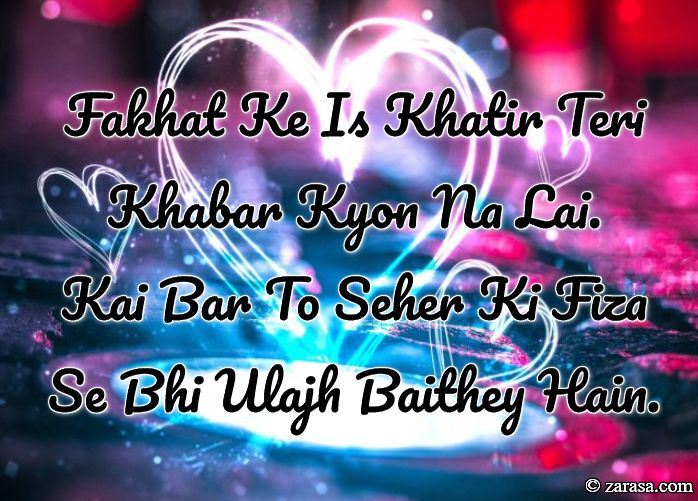 Fakhat Ke Is Khatir Teri Khabar Kyon Na Lai.
Kai Bar To Seher Ki Fiza Se Bhi Ulajh Baithey Hain.
फखत के इस खातिर तेरी खबर क्यों ना ले .
कई बार तो सेहर की फ़िज़ा से भी उलझ बैठे हैं .
فاخت کے اس خاطر تیری خبر کیوں نہ لی .
کی بار تو سہر کی فضا سے بھی الجھ بیٹھے ہیں .
---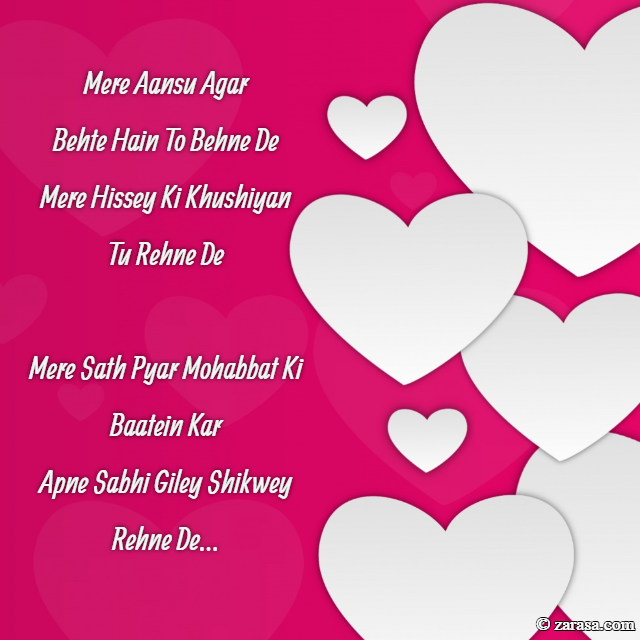 Mere Aansu Agar Behte Hain To Behne De
Mere Hissey Ki Khushiyan Tu Rehne De
Mere Sath Pyar Mohabbat Ki Baatein Kar
Apne Sabhi Giley Shikwey Rehne De…
मेरे आंसू अगर बहते हैं तो बहने दे
मेरे हिस्से की खुशियाँ तू रहने दे
मेरे साथ प्यार मोहब्बत की बातें कर
अपने सभी गिले शिकवे रहने दे।
میرے آنسو اگر بہتے ہیں تو بہنے دے
میرے حصّے کی خوشیاں تو رہنے دے
میرے ساتھ پیار موحبّت کی باتیں کر
اپنے سبھی گلے شکوے رہنےدے
---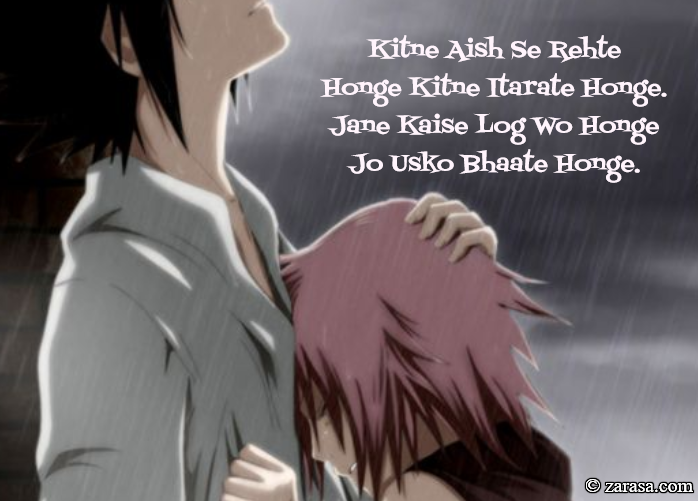 Kitne Aish Se Rehte Honge Kitne Itarate Honge.
Jane Kaise Log Wo Honge Jo Usko Bhaate Honge.
कितने ऐश से रहते होंगे कितने इतराते होंगे .
जाने कैसे लोग वो होंगे जो उसको भाते होंगे .
کتنے ایش سے رہتے ہونگے کتنے اترتے ہونگے .
جانے کیسے لوگ وو ہونگے جو اسکو بھاتے ہونگے .
---