Shayari for Husband"Teri Maang Mai Mere Naam Ka Sindoor Hoga"
|
Tere Chehre Mai Mera Noor Hoga Fir Tu Na Kabhi Mujhse Door Hoga Soch Kya Khushi MiLegi Jaan Us Pal Jis Pal Teri Maang Mai Mere Naam Ka Sindoor Hoga.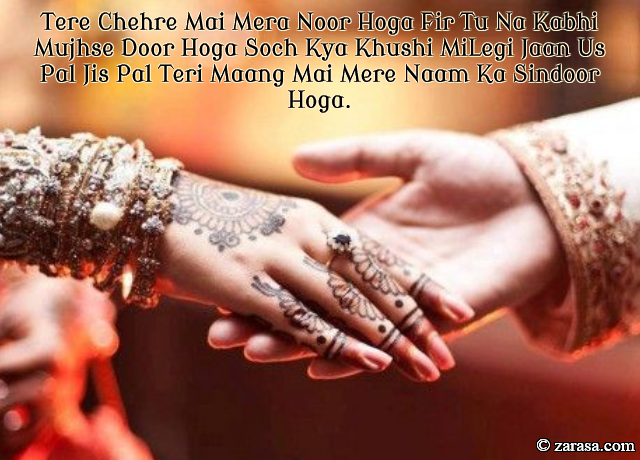 ---

तेरे चेहरे में मेरा नूर होगा फिर तू न कभी मुझसे दूर होगा सोच क्या ख़ुशी मिलेगी जान उस पल जिस पल तेरी मांग में मेरे नाम का सिन्दूर होगा .


---

تیرے چہرے میں میرا نور ہوگا فر تو نہ کبھی مجھسے دور ہوگا سوچ کیا خوشی ملیگی جان اس پل جس پل تیری مانگ میں میرے نام کا سندور ہوگا .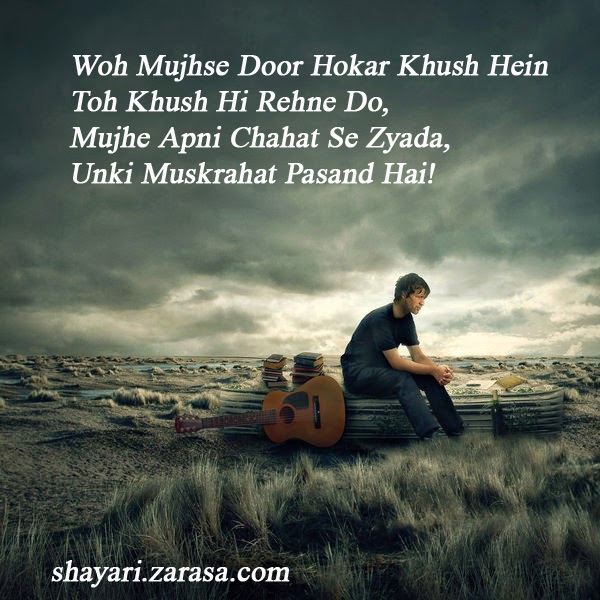 Woh Mujhse Door Hokar Khush Hein Toh Khush Hi Rehne Do,
Mujhe Apni Chahat Se Zyada, Unki Muskrahat Pasand Hai!



वह मुझसे दूर होकर खुश हैं तोह खुश ही रहने दो,
मुझे अपनी चाहत से ज़्यादा, उनकी मुस्कराहट पसंद है!
وہ مجھ سے دور ہو کر خوش ہیں تو خوش ہی رہنے دو
مجھے اپنی چاہت سے زیادہ، ان کی مسکراہٹ پسند ہے
---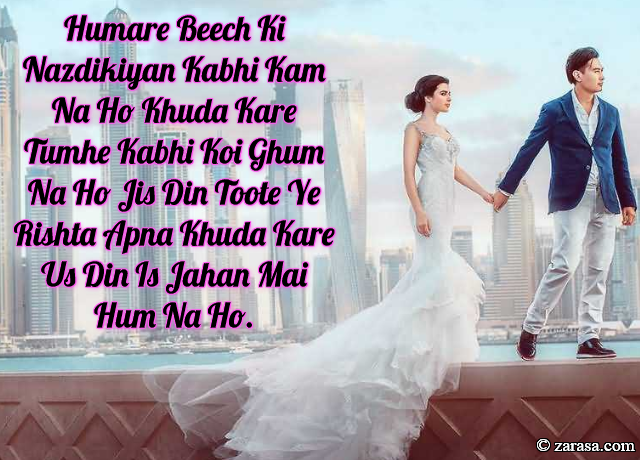 Humare Beech Ki Nazdikiyan Kabhi Kam Na Ho Khuda Kare Tumhe Kabhi Koi Ghum Na Ho Jis Din Toote Ye Rishta Apna Khuda Kare Us Din Is Jahan Mai Hum Na Ho.
हमारे बीच की नज़दीकियां कभी कम ना हो खुदा करे तुम्हे कभी कोई घूम ना हो जिस दिन तूटे ये रिश्ता अपना खुदा करे उस दिन इस जहाँ मैं हम ना हो .
ہمارے بیچ کی نزدیکیاں کبھی کم نہ ہو خدا کرے تمھ کبھی کوئی غم نہ ہو جس دن توٹے یہ رشتہ اپنا خدا کرے اس دن اس جہاں می ہم نہ ہو.
---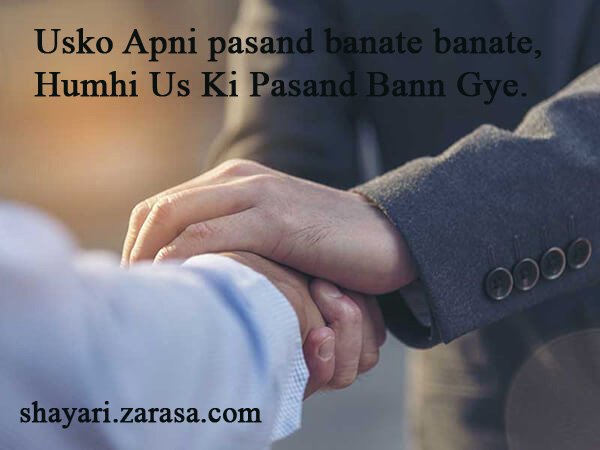 Usko Apni pasand banate banate,
Humhi Us Ki Pasand Bann Gye.




उसको अपनी पसंद बनते बनते,
हमहि उस की पसंद बन गए.
اسکو اپنی پسند بناتے بناتے
ہم ہی اس کی پسند بن گئے
---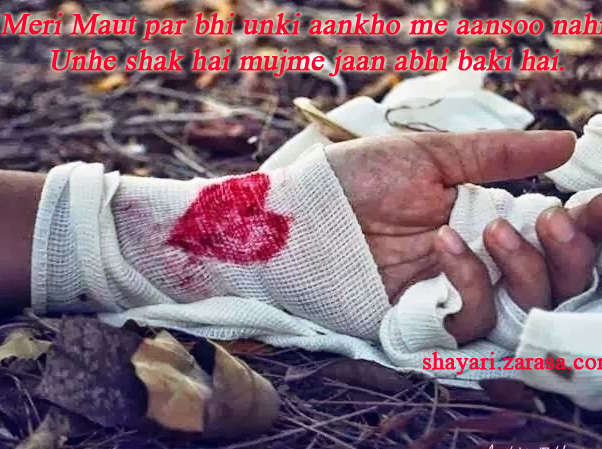 Meri Maut par bhi unki aankho me aansoo nahi,
Unhe shak hai mujme jaan abhi baki hai.


मेरी मौत पर भी उनकी आँखों में आंसू नहीं,
उन्हें शक है मुजमे जान अभी बाकी है.
میری موت پر بھی ان کی آنکھوں میں آنسو نہیں،
انہیں شک ہے مجمے جان ابھی باقی ہے
---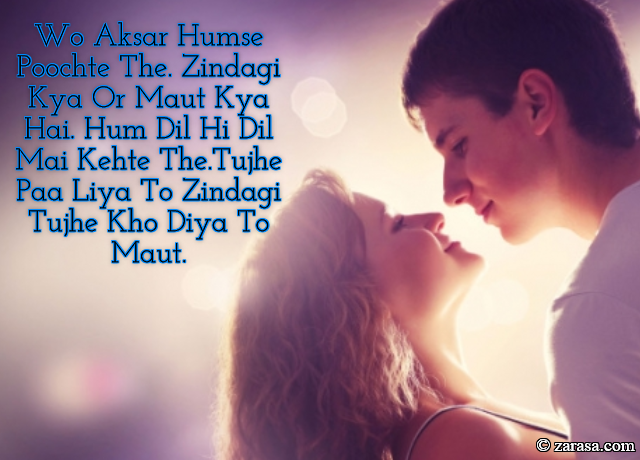 Wo Aksar Humse Poochte The. Zindagi Kya Or Maut Kya Hai. Hum Dil Hi Dil Mai Kehte The.Tujhe Paa Liya To Zindagi Tujhe Kho Diya To Maut.
वो अक्सर हमसे पूछते थे .ज़िन्दगी क्या और मौत क्या है . हम दिल ही दिल मई कहते थे .तुझे पा लिया तो ज़िन्दगी तुझे खो दिया तो मौत .
وہ اکثر ہمسے پوچھتے تھے . زندگی کیا اور موت کیا ہے . ہم دل ہی دل می کہتے تھے .تجھے پا لیا تو زندگی تجھے کھو دیا تو موت .
---