Shayari for India (Country) "आन देश की शान देश की, Apni Yeh Pehchaan Hai"
|
Aan Desh ki, Shaan Desh ki,
Desh ki Hum Santaan Hain
Teen Rango se Ranga Tiranga,
Apni Yeh Pehchaan Hai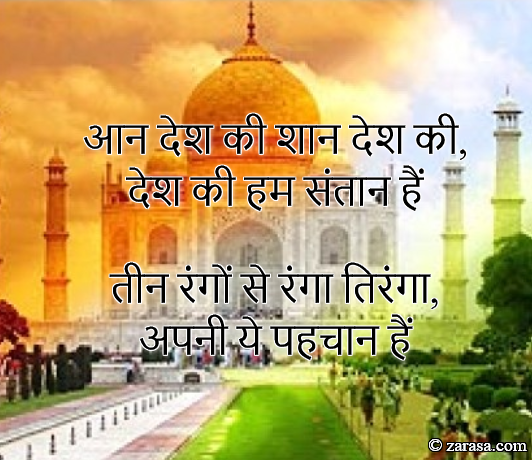 ---

आन देश की शान देश की,
देश की हम संतान हैं
तीन रंगों से रंगा तिरंगा,
अपनी ये पहचान हैं


---

آن دیش کی شان دیش کی ,
دیش کی ہم سنتان ہیں
تین رنگو سے رنگا ترنگا ,
اپنی یہ پہچان ہے -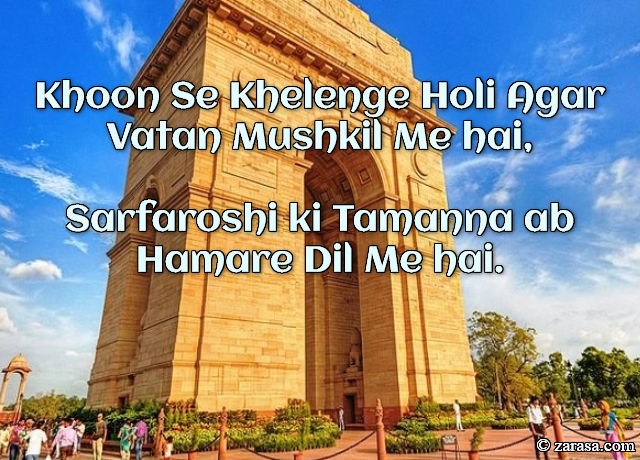 Khoon Se Khelenge Holi Agar Vatan Mushkil Me hai,
Sarfaroshi ki Tamanna ab Hamare Dil Me hai.
खून से खेलेंगे होली अगर वतन मुश्किल में है,
सरफ़रोशी की तमन्ना अब हमारे दिल में है.
خون سے کھیلینگے ہولی اگر وطن مشکل مے ہے,
سرفروشی کی تمنّ اب ہمارے دل مے ہے.
---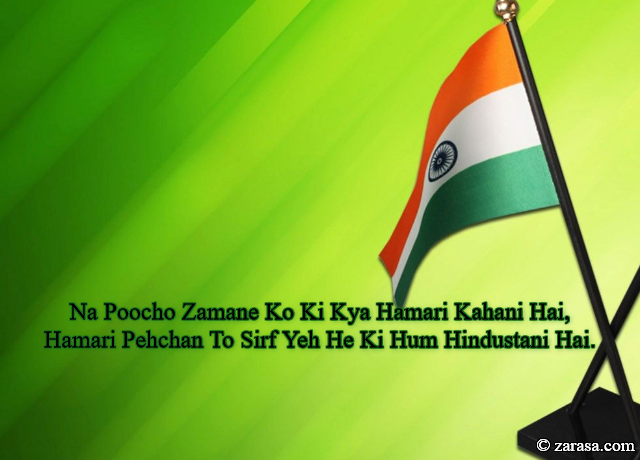 Na Poocho Zamane Ko Ki Kya Hamari Kahani Hai,
Hamari Pehchan To Sirf Yeh He Ki Hum Hindustani Hai.
ना पूछो जमाने को कि क्या हमारी कहानी है,
हमारी पहचान तो सिर्फ यह है कि हम हिंदुस्तानी हैं!
نہ پوچھو زمانے کو کی کیا ہماری کہانی ہے,
ہماری پہچان تو صرف یہ ہے کی ہم ہندوستانی ہے
---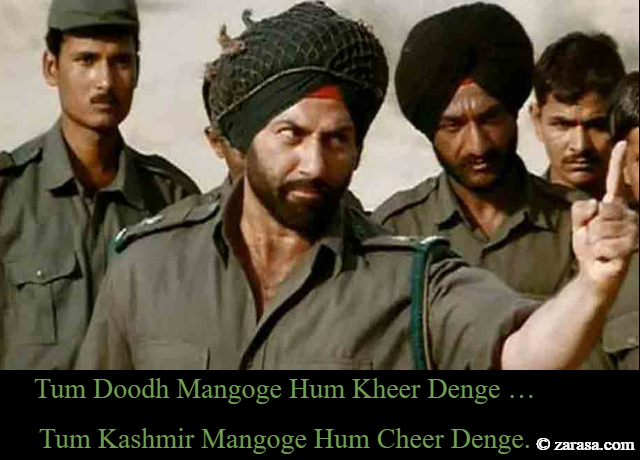 Tum Doodh Mangoge Hum Kheer Denge …
Tum Kashmir Mangoge Hum Cheer Denge.
तम दूध मांगोगे हम खीर देंगे ,
तम कश्मीर मांगोगे हम चीर देंगे। ....
تم دودھ مانگوگے ہم خیر دینگے
تم کشمیر مانگوگے ہم چیر دینگے
---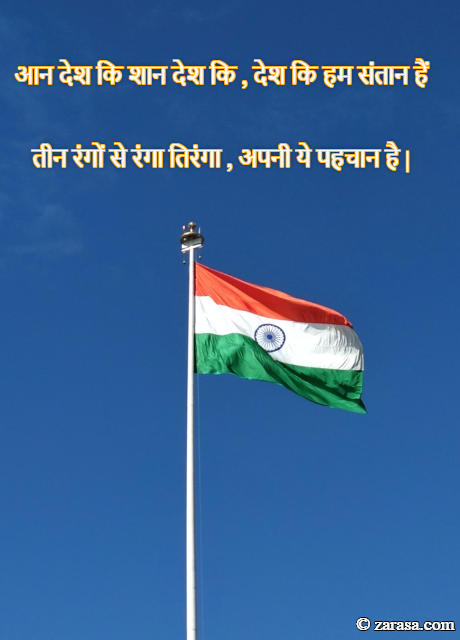 Aan desh ki shaan desh ki, desh ki ham santan hain
Teen rango se ranga tiranga, apni ye pahchaan hai
आन देश कि शान देश कि , देश कि हम संतान हैं

तीन रंगों से रंगा तिरंगा , अपनी ये पहचान है |
ان دیش کی شان کی ، دیش کی ہم سنتان ہیں

تین رنگو سے رنگ ترنگا ، اپنی یہ پہچان ہے .
---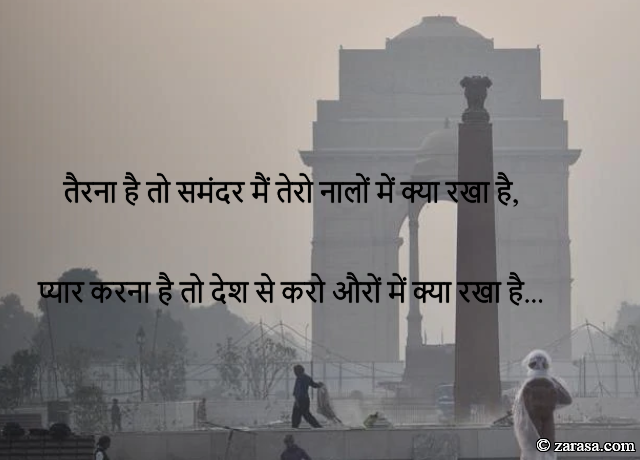 Terna Hai To Samandar Me Tero Naalon Me Kya Rakha Hai,
Pyar Karna Hai To Desh Se Karo Auron Me Kya Rakha Hai...
तैरना है तो समंदर मैं तेरो नालों मैं क्या रखा है,
प्यार करना है तो देश से करो औरों मैं क्या रखा है...
تیرنا ہے تو سمندر می تھرو نالوں میں کیا رکھا ہے'
پیار کرنا ہے تو دیش میں کرو آوروں میں کیا رکھا ہے -
---